Vegan Tempeh Tacos
These tempeh tacos are filled with smoky flavor and packed with tons of plant-based protein. Add your favorite toppings and try these for your next taco night!
If we're being totally honest, I think we've eaten Mexican food every single day for the past week. Once the house is stocked with limes, cilantro, and avocado… it's hard to convince me to eat anything else. So we've had everything from this spicy Mexican street corn salad to these black bean enchiladas. Alex and I both enjoy Mexican food, so neither of us will complain if it's on repeat. Lately, we've been hooked on tempeh tacos.
What is tempeh?
If you're not familiar with tempeh, it's a soy-based product, sort of like tofu but with a different texture. It doesn't have much flavor on its own but it does a great job of absorbing flavor and sauces. Personally, I think the texture of tempeh is much better than tofu. It's hearty, chewy, and is a great vegetarian substitute for meat. Plus a 3oz serving of tempeh has 15g of protein and only 170 calories.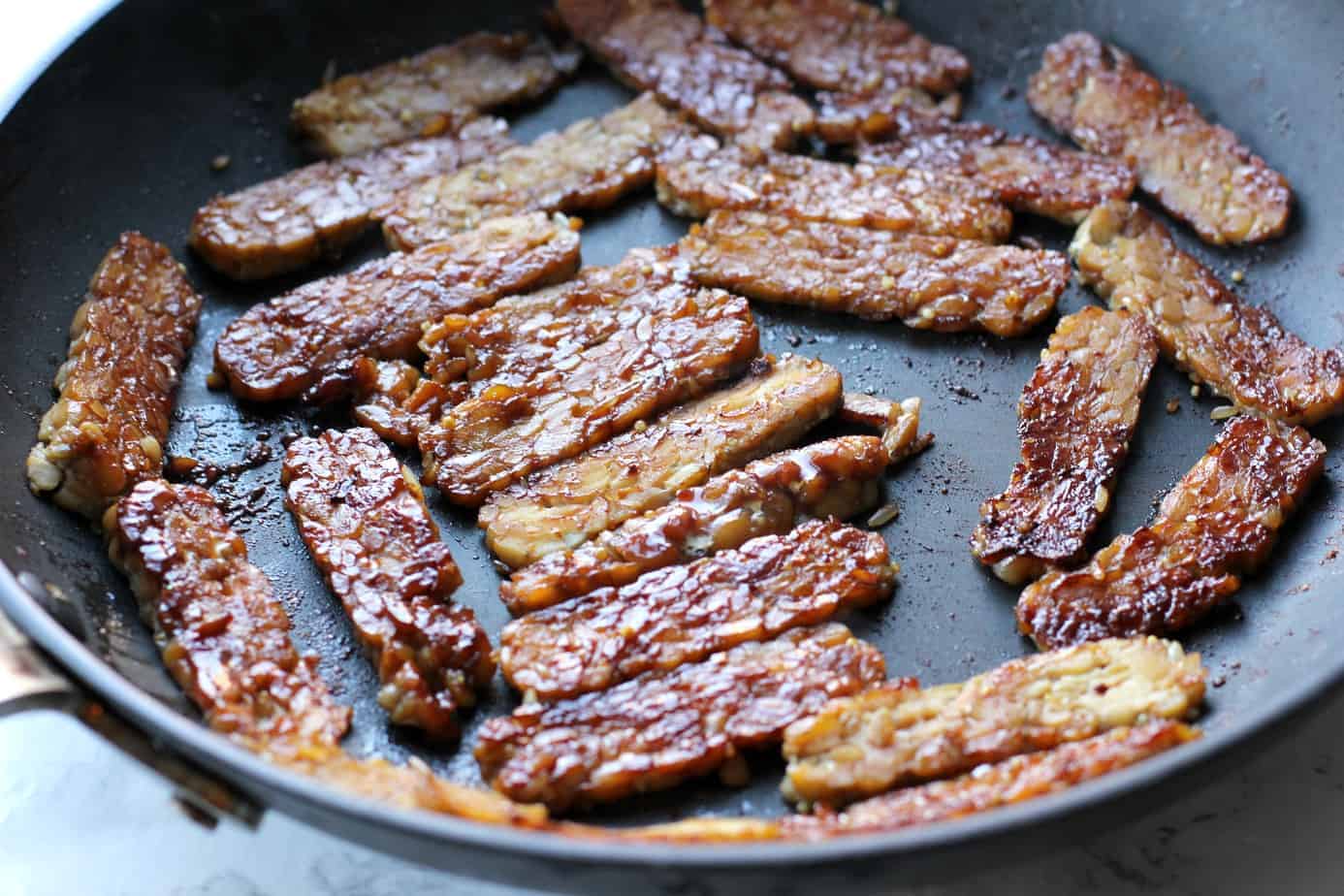 If you're looking for a basic way to prepare tempeh, my vegan tempeh "bacon" recipe is my favorite!
Where to Buy Tempeh
You can usually find it in the natural food section of the grocery store, near the tofu. My personal favorite brand is Lightlife Three Grain Tempeh because I think it has the best texture. You can also find it at Trader Joe's!
How to Prepare Tempeh
I usually follow this recipe to prepare tempeh which is similar to the recipe for these tacos. Tempeh is best when marinated before cooking, but if you forget to marinate in advance it's ok! Either way, these tacos will be delicious.
Tempeh Taco Ingrdients
Tempeh– Obviously, you need tempeh to make these tacos! It's the main source of protein in this recipe.
Soy Sauce– This adds a salty, umami flavor to the tempeh.
Maple Syrup– This adds a little sweetness that balances it out the salt flavors.
Black Beans– They add protein and fiber to the recipe and I also love the texture of beans with the tempeh!
Avocado– I love the creamy flavor this gives to the tacos.
Corn or Flour Tortillas– I prefer flour but you can use either kind! Curious about the difference? Check out my post about flour vs. corn tortillas.
Substitution Ideas
If you want to keep this recipe gluten-free, make sure you're using gluten-free tempeh. Some variations are made with grains and some are only made with soy. You'll also want to use gluten-free tamari instead of soy sauce. Be sure to get corn tortillas!
Tempeh Taco Topping Ideas
You can easily switch up the toppings based on what you have available! Try it with pico de gallo and fresh cilantro. Or add a drizzle of hot sauce and a little shredded cabbage on top. Add a little sour cream and cheese or diced red onion for even more flavor!
Side Dishes to Serve with Tempeh Tacos
My favorite taco side dish is this Street Corn Salad! If you want a vegan option, try this black bean and corn salad instead. You could also serve it with these Mexican Black Beans or Rice Cooker Mexican Style Rice.
More Tasty Taco Recipes
Print
Vegan Tempeh Tacos
Author:
Prep Time: 30 mins
Cook Time: 10 mins
Total Time: 40 minutes
Yield: 6 tacos 1x
Category: Dinner
Method: Stovetop
Cuisine: Mexican
---
Description
These tempeh tacos are filled with smoky flavor and packed with tons of plant-based protein. Add your favorite toppings and try these for your next taco night!
---
1/4 cup soy sauce (or tamari or liquid aminos)
1 tablespoon maple syrup
8 oz tempeh
1 teaspoon olive oil
6 taco shells (flour or corn)
1/2 avocado, sliced
1/2 cup cooked black beans or Mexican Style Black Beans
Salsa, cabbage, cilantro, cheese, etc. (optional toppings)
---
Instructions
Combine the soy sauce and maple syrup in a shallow dish.
Slice the tempeh into 1/2″ slices and spread in a single layer into the sauce and let it marinate for at least 20 minutes. If you can marinate it overnight or for a few hours, that's even better.
In a large skillet, heat 1 tsp oil over medium heat for 1 minute.
Add the tempeh to the pan in a single layer.
Cook for 8 minutes or until it begins to brown, then flip over and continue cooking.
You want both sides to be a little bit charred.
While the tempeh cooks, dice the avocado and heat up the black beans.
Once the tempeh is done, assemble your tacos and add any toppings you like.
Serve immediately.
---
This made enough tacos for both of us, with just a little bit of tempeh left over. If you added in a side dish, you could feed three. The best part is that the tempeh really keeps you full! These might be my new favorite tacos.
What's your favorite taco topping?