Tempeh Bacon Recipe
Looking for a vegetarian recipe that can satisfy your bacon craving? Try this vegan tempeh bacon! It's crispy, smokey, and delicious!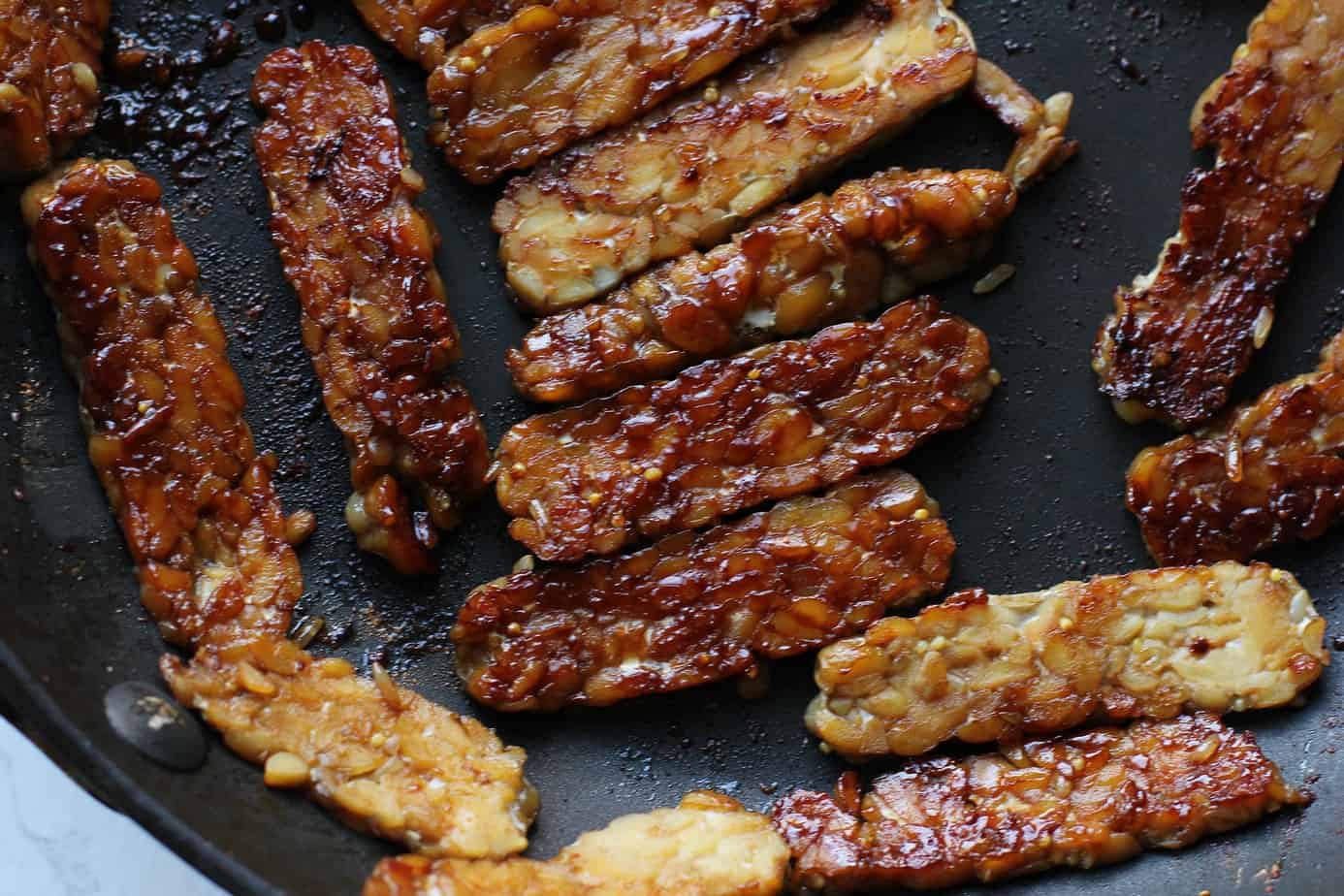 This vegan tempeh bacon is smoky, savory, and full of umami flavor. Tempeh is loaded with protein, and it's delicious in so many recipes! I use this basic recipe when using tempeh in a taco, piled onto a sandwich, or crumbled into a salad.
What is tempeh?
If you haven't tried tempeh before, it's a soy-based food made from fermented soybeans, similar to tofu. It's usually sold in the refrigerated part of the natural foods section, near the tofu. It doesn't have a strong taste on its own, but it's fabulous at absorbing flavors. With a little marinating, we can transform tempeh into a deliciously umami-packed protein.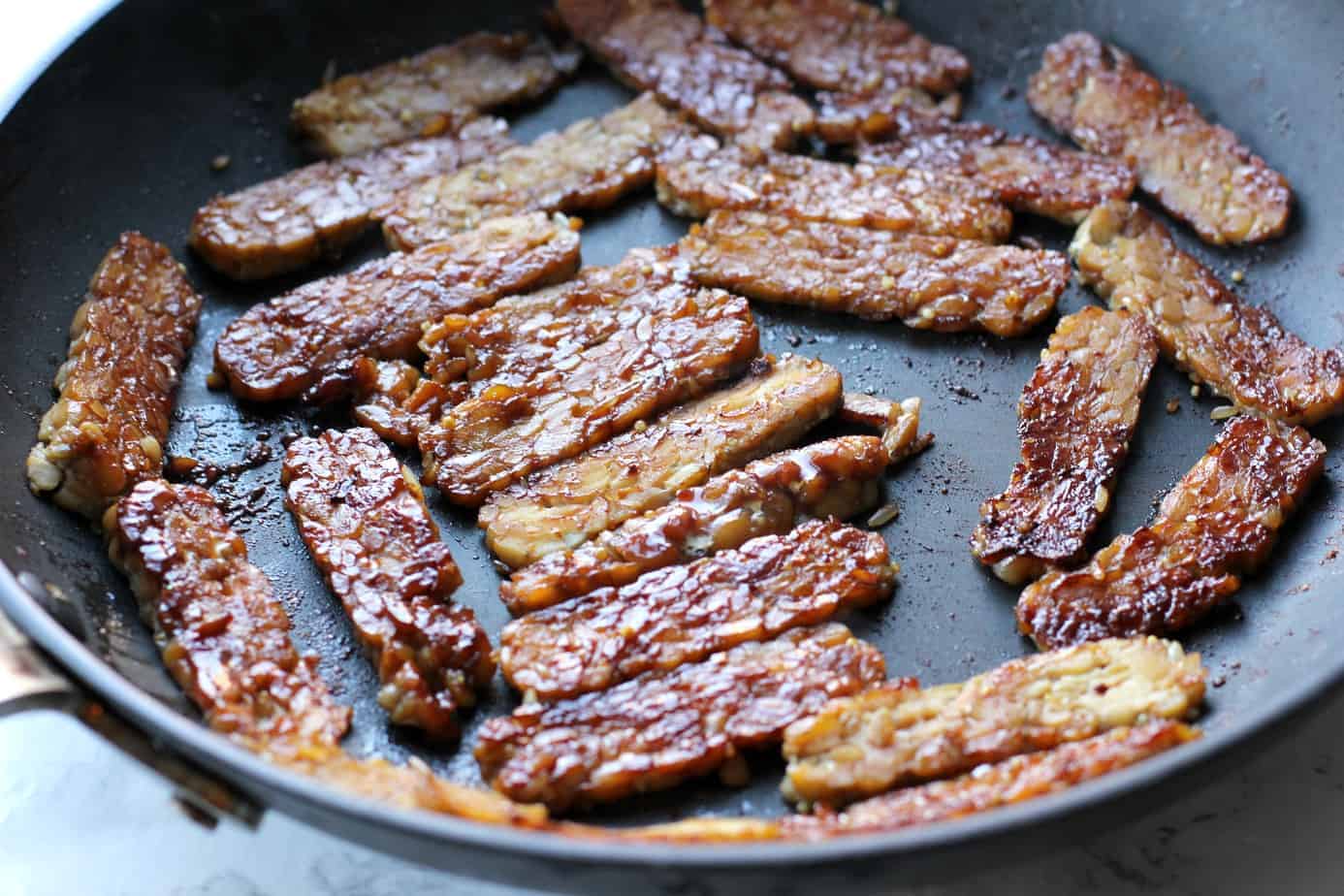 Does tempeh taste like tofu?
I think the texture of tempeh is much better than tofu, and it's easier to work with because there is no draining or pressing required. If you're looking for a good source of plant-based protein, but you're not a fan of tofu, give tempeh a chance. 3oz of tempeh contains 16g of protein and just 140 calories.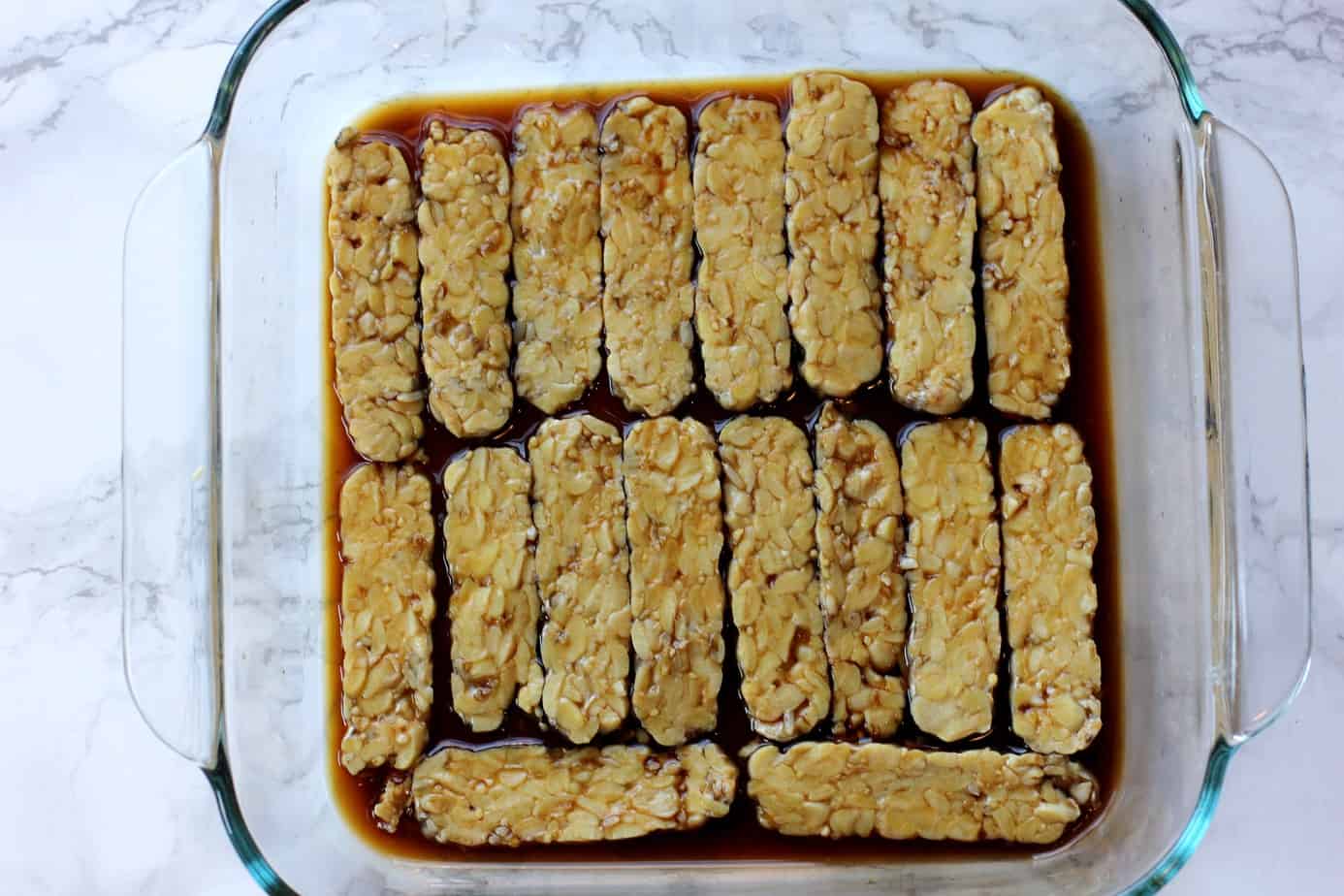 Ingredients for Making Tempeh Bacon
Tempeh- Tempeh is made from soybeans and it's typically sold in the refrigerated section of the grocery store near the tofu.
Soy sauce- I recommend low-sodium soy sauce or liquid aminos, so that you can control the saltiness of the tempeh.
Maple syrup- A hint of sweetness helps create that bacon flavor.
Worcestershire sauce– Be sure you get vegetarian Worcestershire sauce, as traditional versions contain anchovies. I like Annie's Worcestershire sauce.
Oil– You can use any neutral oil like avocado oil or olive oil.
Where to Buy Tempeh
You can usually find tempeh in the refrigerated area of the natural foods section of your grocery store, near the tofu. Lightlife is one of the most popular brands, and it's one of my favorites. But you can also find tempeh at Trader Joe's or smaller, local brands depending on your area.
Types of Tempeh
You may notice a few different types of tempeh. Regular tempeh is made from soybeans and a healthy kind of mold. (Since tempeh is a fermented food, technically, it's made with mold.) You can also find tempeh that might be mixed with grains or flax seeds.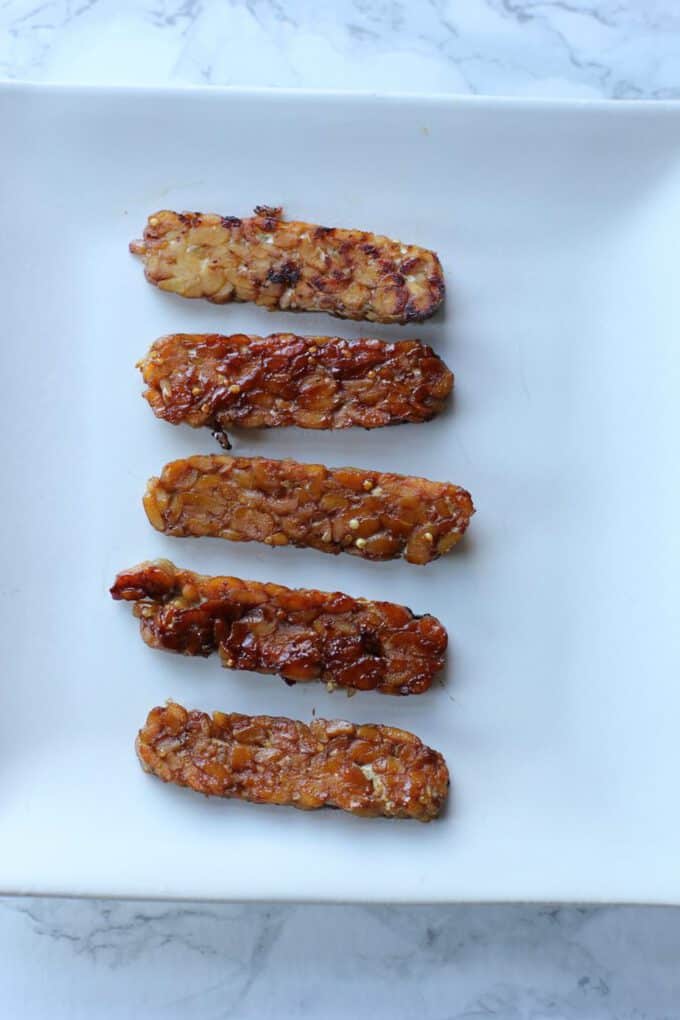 Is Tempeh Gluten-Free?
Plain tempeh is naturally gluten-free, but some brands may add grains. It's always a good idea to check the package and ingredients list for allergens or potential cross-contamination information.
How Do You Prepare Tempeh?
The trick to delicious tempeh? Marinate it! Tempeh absorbs flavors well, but it can take some time. Let it marinate overnight, if possible. If you don't have time to let it marinate, you can steam it first, to help open up the tempeh to absorb the flavors better.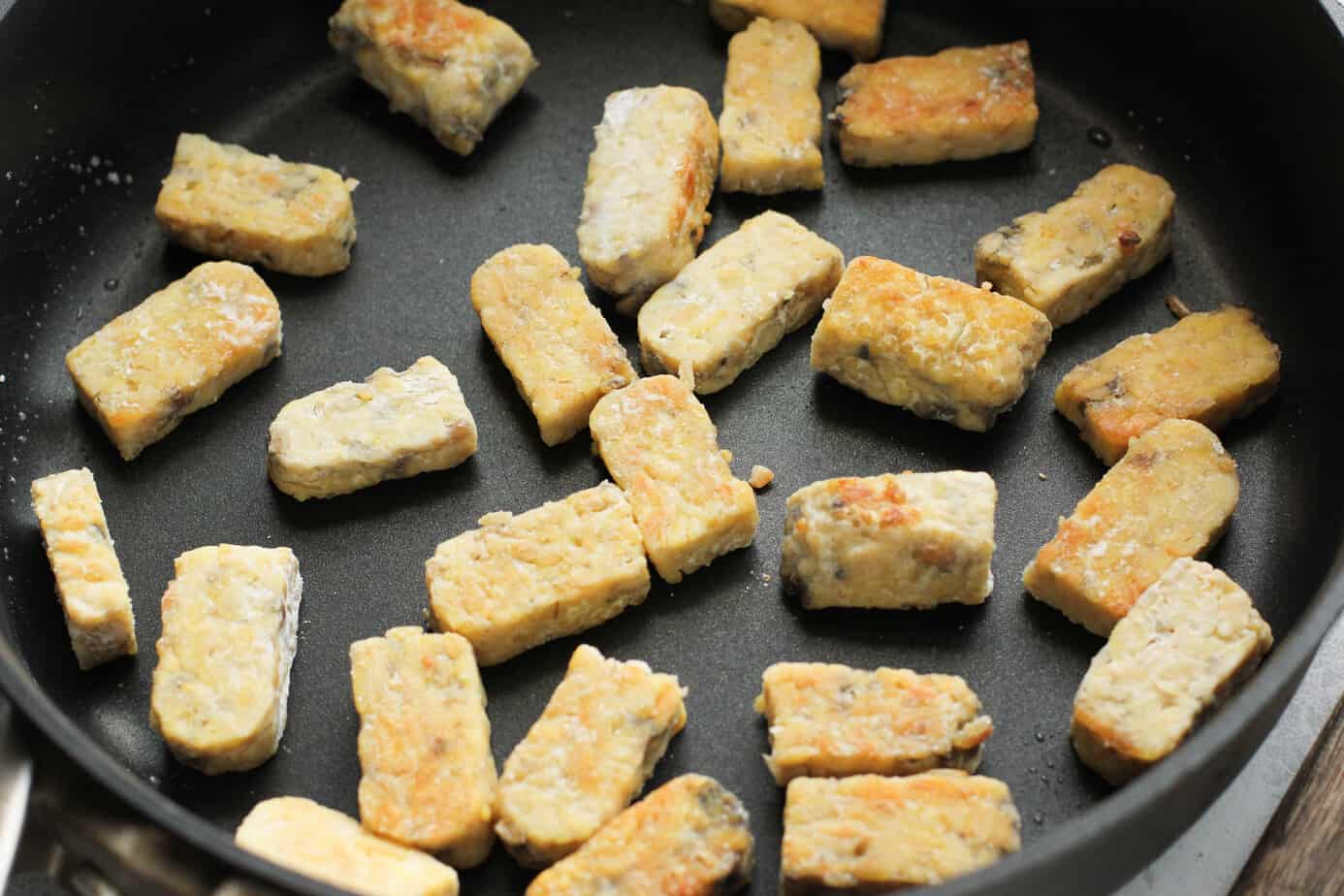 How to Make Tempeh Bacon Liquid Smoke
If you really want to add a smoky flavor to this tempeh, you can use liquid smoke. Liquid smoke might sound weird, but it's made from a concentration of smoke from wood. Chips or sawdust from hardwoods like Hickory are burned at a high heat, and particles of the smoke are collected in condensers. Some people don't like to use it, so I've tweaked the recipe so it's no longer needed. But when I first posted this recipe in 2015, I did include 1/2 teaspoon of liquid smoke. It's up to you!
What is Worcestershire Sauce?
Worcestershire sauce is a fermented seasoning with a unique and complex flavor. The sauce is usually made from vinegar, molasses, anchovies, tamarind, garlic, onions, and various spices. Traditional Worcestershire is not vegetarian, as it contains anchovies. So be sure to get a vegan-friendly version like Annie's Worcestershire sauce. This sauce has a tangy, savory taste with hints of sweetness and umami, which helps create a savory flavor for this vegan bacon.
More Ways to Use Tempeh
Try my tempeh lettuce wraps for a protein-packed meal or give this sweet and sour tempeh a try for a different twist! These recipes are a great way to add more plant-based protein to your routine.
Print
Vegan Tempeh Bacon
Author:
Prep Time: 5 minutes
Marinade Time: 15 minutes
Cook Time: 10 minutes
Total Time: 30 minutes
Yield: 14 pieces 1x
Category: Breakfast or Dinner
Method: Stovetop
Cuisine: American
Diet: Vegan
---
Description
Looking for a vegetarian recipe that can satisfy your bacon craving? Try this vegan tempeh bacon! It's savory and delicious!
---
1 8oz package tempeh
1/4 cup low-sodium soy sauce or liquid aminos
1 tablespoon maple syrup
1 teaspoon vegetarian Worcestershire sauce
1 teaspoon avocado oil (or another neutral cooking oil)
---
Instructions
Slice tempeh into thin strips. You want to slice them as thinly as possible.
In a shallow dish, whisk together the soy sauce, maple syrup, and Worcestershire sauce.
Place the tempeh (in a single layer, or double layer, if possible) and gently tilt the dish until all the tempeh has been covered with the marinade.
Marinade for at least 15 minutes or overnight.
Heat the oil in a pan over medium heat and spread the tempeh in a single layer.
Cook for 5-7 minutes over medium heat and let it brown before flipping to the other side.
Cook on the other side for another 3-5 minutes until brown on both sides.
Notes
This recipe works best if you can marinate the tempeh for at least an hour. Just place it in the fridge in an airtight container while it absorbs the sauce. But I frequently make this recipe without letting it marinate for more than a few minutes because I don't always plan ahead!
This post was originally published in January 2015. Updated June 2023.