Tempeh Taco Salad
This Tempeh Taco Salad is loaded with plant-based protein, and the cilantro lime dressing adds lots of bright, tangy, flavor. Switch up your salads with this easy twist on a classic.
I love taco salads. Crunch romaine, juicy tomatoes, lots of cilantro, and all of my favorite taco flavors come together in one tasty bowl. It's easy, filling, and delicious! While I love adding black beans and chickpeas for an easy protein source, I decided to create a version with tempeh!
What is Tempeh?
If you haven't tried tempeh before, it's made from fermented soybeans, similar to tofu. It's usually sold in the refrigerated part of the natural foods section, near the tofu. It doesn't have a strong taste on its own, but it's fabulous at absorbing flavors. With a little marinating, we can transform tempeh into a deliciously umami-packed protein. If you're curious to learn more about tempeh, check out my guide for how to make tempeh bacon. It's packed with information!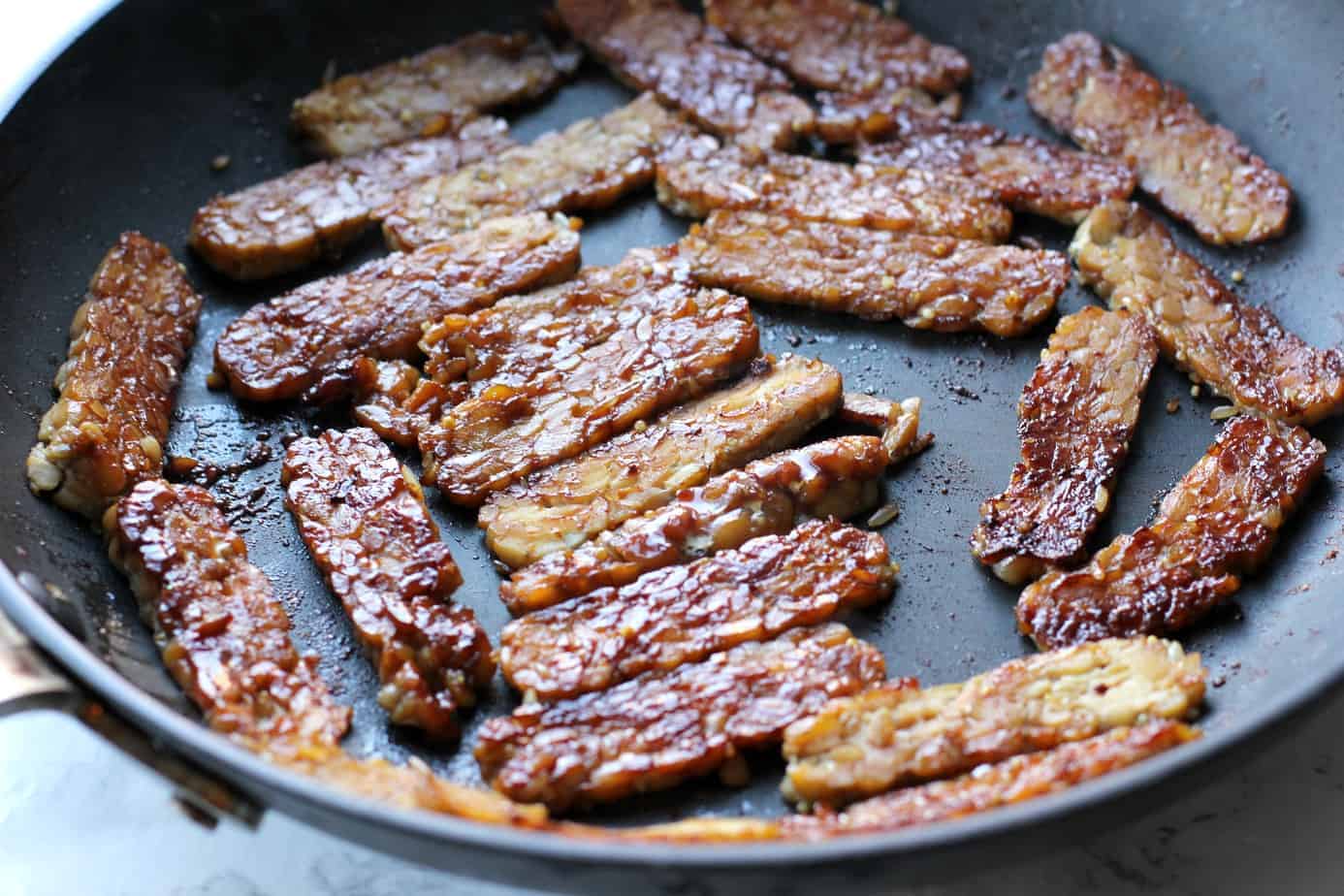 How to Make Tempeh Taco Salad
First, prepare the cilantro-lime dressing. This can be made up to 2 days in advance and stored in an airtight container in the refrigerator. Next, prepare the tempeh taco meat. You'll want to let this cool slightly before adding to the mixed greens, so it doesn't wilt the lettuce. Then, you can toss all your ingredients together and drizzle with dressing.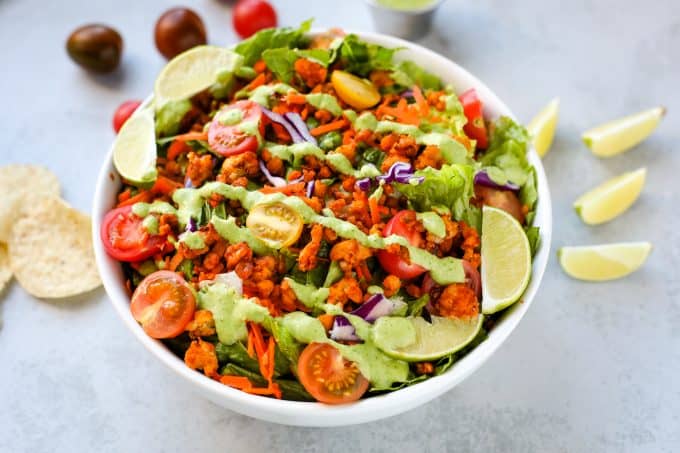 Substitution Ideas
If you don't want to use tempeh, you can substitute for canned black beans. Simply drain and rinse the beans, then add to the salad. There's no need to heat them up unless you prefer them warm!
You could also top this salad with roasted chickpeas. They're crispy and you can make them in the oven or air fryer.
For a quick seasoning hack, you can use this homemade taco sauce on the tempeh!
If you don't want to make your own salad dressing, you can use your favorite ranch dressing. If you want to keep this recipe vegan, be sure to use a vegan Ranch dressing.
Print
Tempeh Taco Salad
Author:
Prep Time: 15 minutes
Cook Time: 5 minutes
Total Time: 20 minutes
Yield: 3 large salads 1x
Category: Salad
Method: Tossed
Cuisine: Salad
---
Description
This Tempeh Taco Salad is loaded with plant-based protein and the cilantro lime dressing adds lots of bright, tangy, flavor. Switch up your salads with this easy twist on a classic.
---
Cilantro Lime Dressing
½ cup cashews (soaked for 4 hours- see note for quick soak method)
½ bundle of cilantro, stems trimmed (about 1/2 cup leaves, roughly chopped)
2 tablespoons olive oil
3–4 tablespoons water
1 tablespoon lime juice
½ teaspoon garlic powder
Salt to taste (about 1/4 teaspoon)
Tempeh Taco "Meat"
2 teaspoons olive oil
1 package of tempeh, crumbled
2 tablespoons tomato paste
1 teaspoon cumin
1 teaspoon garlic powder
½ teaspoon onion powder
1 tablespoon soy sauce
Salad Ingredients
8 cups chopped romaine
1/4 cup shredded carrots
1 cup cherry tomatoes, halved
---
Instructions
To make the dressing:
In a blender or food processor, combine the cashews, cilantro, olive oil, water, lime juice, and garlic powder.
Blend until smooth, scraping down the sides with a rubber spatula as needed.
You may need to add 2 additional tablespoons of water, to ensure a smooth consistency.
Add salt to taste.
To make the tempeh taco meat:
In a large non-stick skillet, heat the olive oil over medium heat.
Add the crumbled tempeh and continue to cook over medium heat for 2 minutes.
Add the tomato paste and stir until the tempeh is evenly coated with the paste.
Add the cumin, garlic, onion, and soy sauce and continue to cook for 3 minutes until the tempeh is browned.
To make the salad:
Combine the lettuce, carrots, and tomatoes in a large bowl.
Top with tempeh "meat" and drizzle with dressing. Toss to combine.
---
Notes
No time to soak your cashews? Place the cashews in a large bowl. Cover with 2 cups of boiling water and cover the dish with a plate. Let sit for 30 minutes until cashews have softened. You'll need a strong blender or food processor to achieve a smooth dressing with this shorter-soak method.
Keywords: tempeh taco salad
Craving more salad ideas? Try this sweet and smoky chipotle vinaigrette dressing! If you like spicy food, you'll love this one.
If you're looking for a unique side dish, try this Pinto Bean Soup! It's made with canned pinto beans and is surprisingly filling! It's loaded with flavor but it's completely vegan.
Or try one of these other tempeh recipes!
What's your favorite type of salad?