Homemade Taco Sauce
This homemade taco sauce is an easy way to add flavor to your favorite dishes, from tacos to quesadillas! It's made with a few basic pantry staples and it will take your taco night to the next level.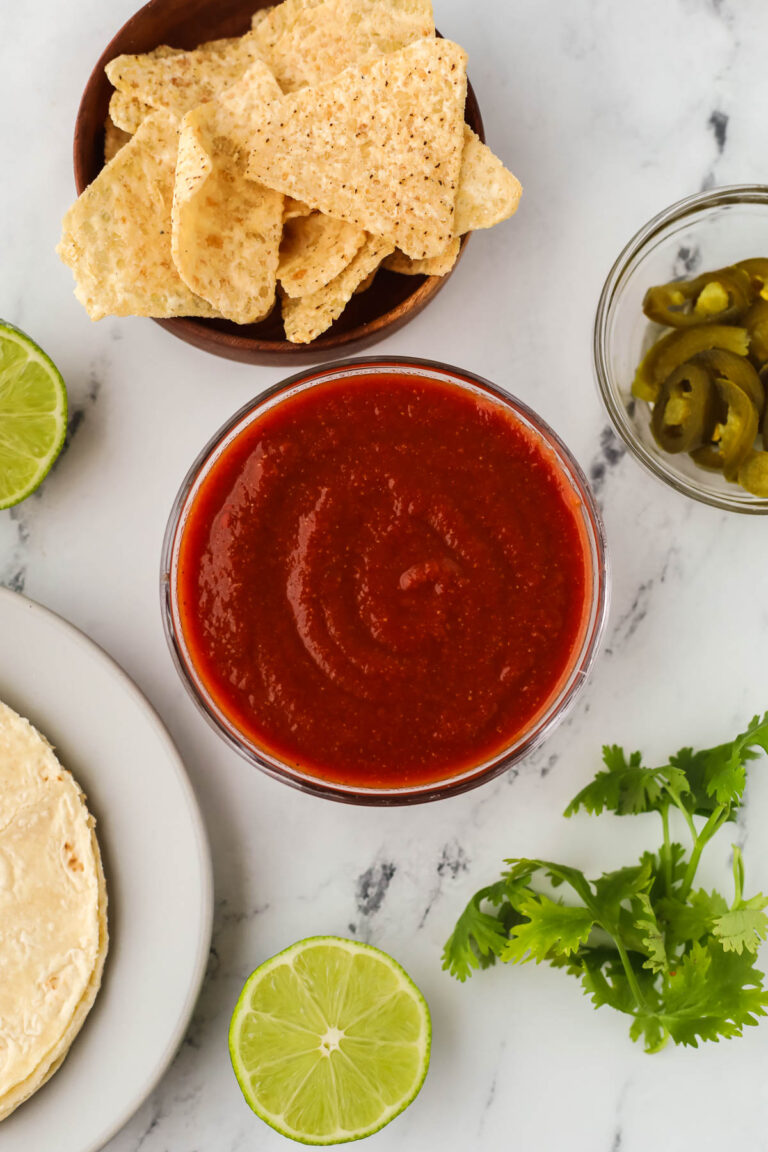 I love having a jar of taco sauce in my pantry because it's a quick and easy way to add flavor to taco fillings, quesadillas, soups, and wraps. But I don't always have it available, so I decided to try making my own. It turned out to be easier than I expected, and I like being able to control the flavors! This sauce is tangy, slightly spicy, and perfect for your favorite tacos!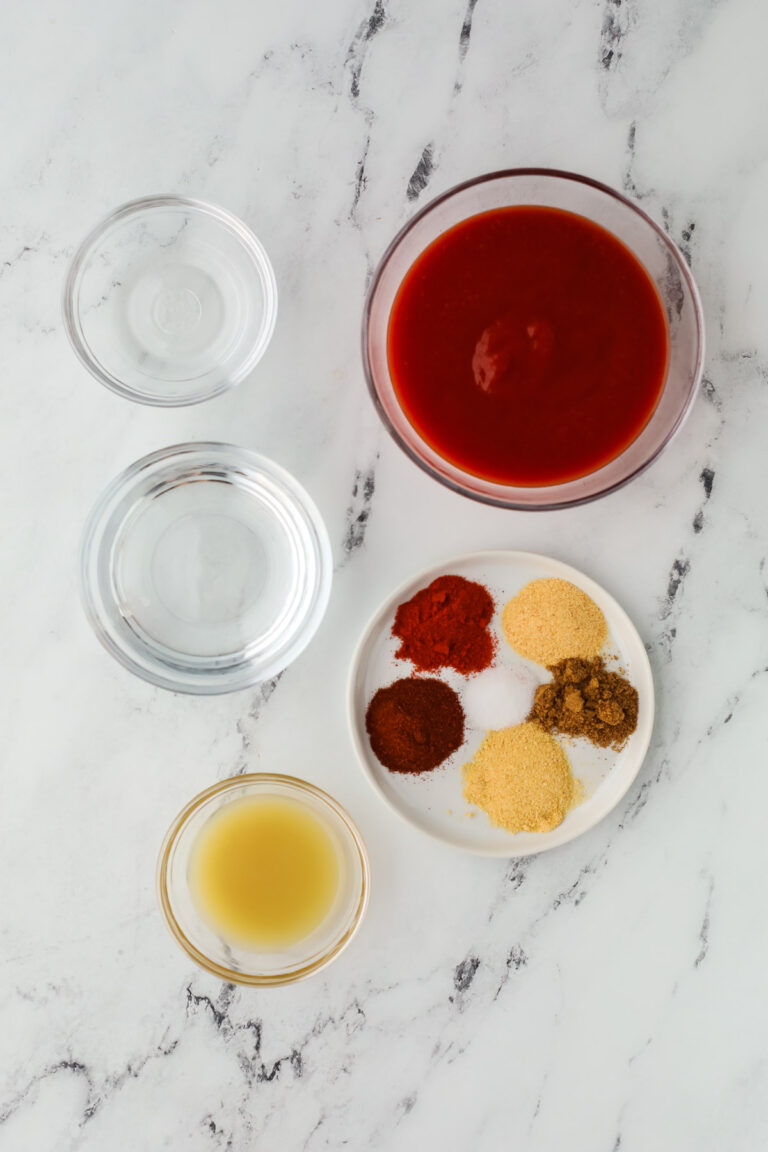 Ingredients & Substitutions
Tomato sauce: Tomato sauce is the base ingredient in taco sauce, providing a rich and tangy flavor. Be sure you're using plain tomato sauce. Do not use tomato paste or marinara sauce.
Lime juice: Lime juice adds a bright and citrusy flavor to the taco sauce. It can be substituted with lemon juice for a similar tangy taste.
White vinegar: A splash of vinegar adds acidity and tanginess to the sauce. It can be substituted with apple cider vinegar.
Cumin: Cumin adds an earthy and smoky flavor to the taco sauce.
Chili powder: Chili powder adds heat and depth of flavor to the sauce. It can be substituted with cayenne pepper or crushed red pepper flakes to achieve a similar spiciness.
Paprika: Paprika adds a mild, sweet flavor to the sauce. It can be substituted with smoked paprika or a combination of sweet paprika and a pinch of cayenne pepper.
Garlic powder: Garlic powder provides a classic, savory flavor. It can be substituted with freshly minced garlic for a stronger garlic flavor.
Onion powder: Onion powder adds a subtle savory flavor to the sauce. If you don't have onion powder, add an extra pinch of garlic powder.
How to Make Taco Sauce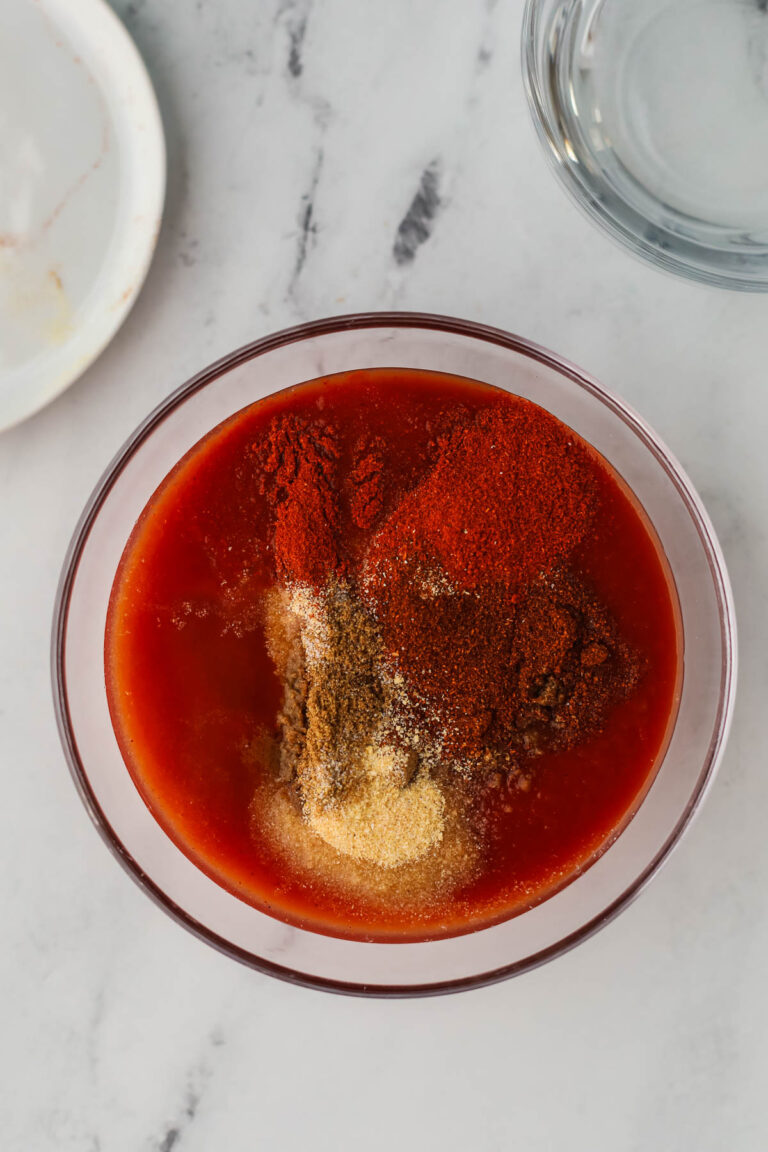 Variations
To make a spicy taco sauce, add a teaspoon of your favorite hot sauce and a 1/4 teaspoon of cayenne pepper.
Add one teaspoon of brine from jarred jalapeños for a different spicy flavor. It's a unique way to add a layer of heat to the sauce.
Frequently Asked Questions
What is taco sauce made of? Taco sauce typically combines tomato sauce, vinegar, and spices.
What can you use in place of taco sauce? If you're looking for other ways to add flavor, try my burrito sauce, quesadilla sauce, or cilantro sauce.
What's the difference between taco and salsa sauce? Salsa is typically made with fresh ingredients like tomatoes, onions, jalapeños, cilantro, and lime juice. It tends to have a chunkier texture and a more vibrant, refreshing flavor.
How to Store Taco Sauce
Keep leftover taco sauce in an airtight container in the fridge for up to 4 days. You can also store homemade taco sauce in the freezer for up to 3 months. Let it cool completely, then divide it into an ice cube tray and freeze. That way, when you need a little taco sauce, you can thaw as much as you need.
Ways to Use Taco Sauce
Try this sauce on your favorite tacos or add a drizzle on cooked rice or beans. You can also use this on eggs, as a dip for chips, or as a dipping sauce for your favorite quesadilla. This homemade taco sauce is an easy way to add amazing flavor to your next taco night!
Print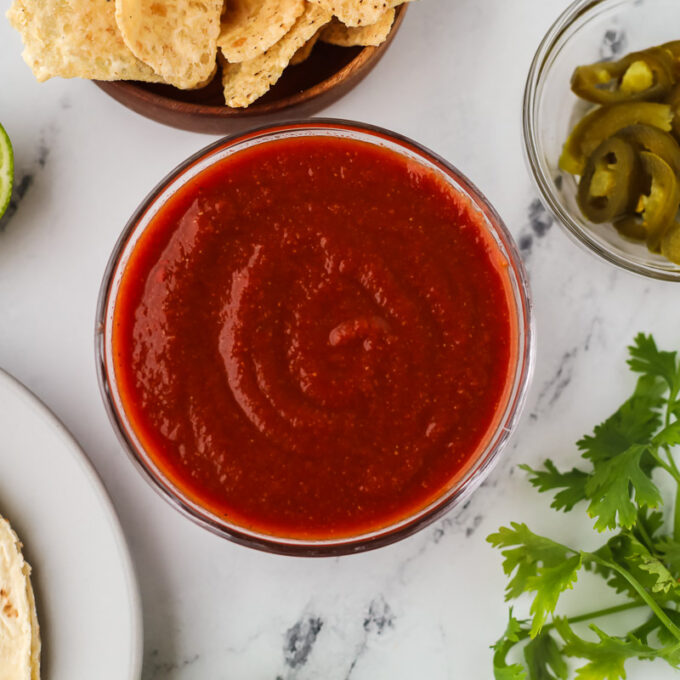 Homemade Taco Sauce
Author:
Prep Time: 5 minutes
Cook Time: 20 minutes
Total Time: 25 minutes
Yield: 1 cup 1x
Category: Sauce
Method: Stovetop
Cuisine: American
Diet: Vegan
---
1 cup tomato sauce
1/2 cup water
2 tablespoons lime juice
1 tablespoon white vinegar
1 teaspoon cumin powder
1 teaspoon chili powder
1 teaspoon paprika
1 teaspoon garlic powder
1 teaspoon onion powder
1/2 teaspoon salt
---
Instructions
In a medium-sized saucepan or pot, add the tomato sauce, water, lime juice, white vinegar, cumin, chili powder, paprika, garlic powder, onion powder, and salt. Whisk until combined.
Heat over medium-high heat until the mixture starts to bubble. Reduce heat to medium-low and gently simmer for 15-20 minutes or until the sauce has thickened.
Adjust seasonings to taste. You may want to add a little more salt, a dash of hot sauce, or an additional squeeze of lime juice.
Allow to cool, then transfer to an airtight container and store in the fridge.
---
Keywords: homemade taco sauce