Easy Refried Black Beans
These refried black beans can be made in just a few minutes by using canned beans! They're a great vegan-friendly side dish for your next taco night.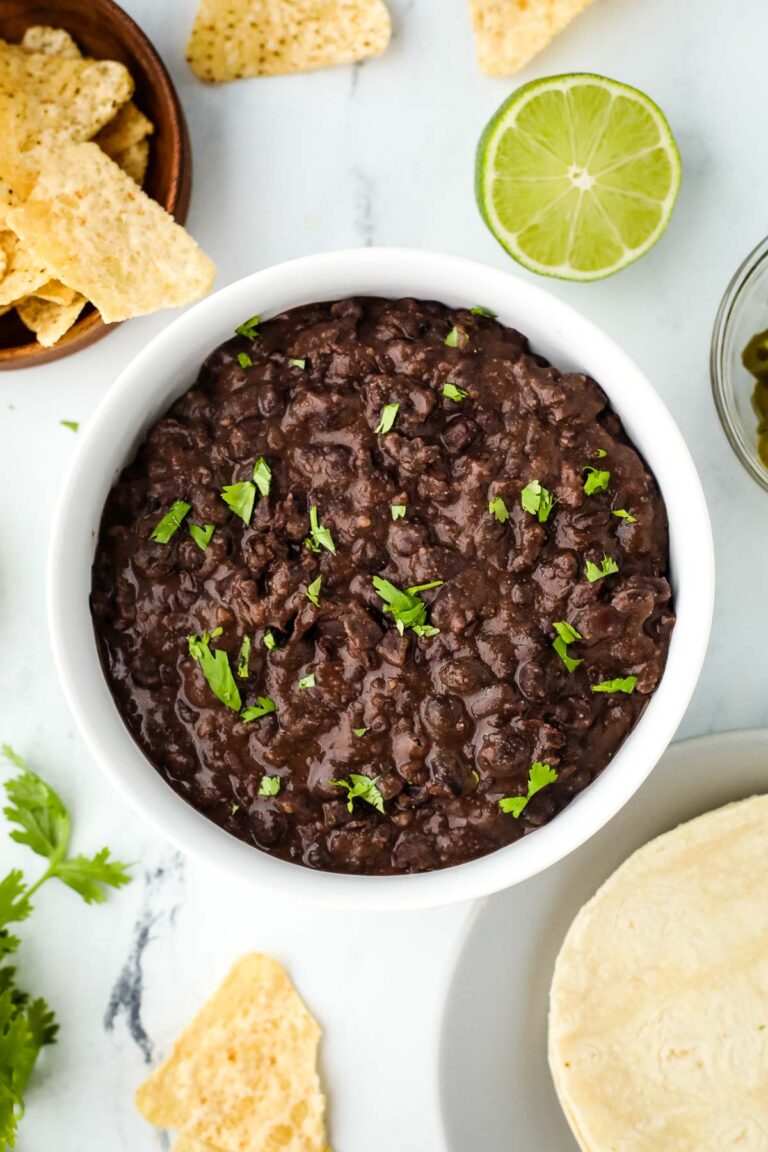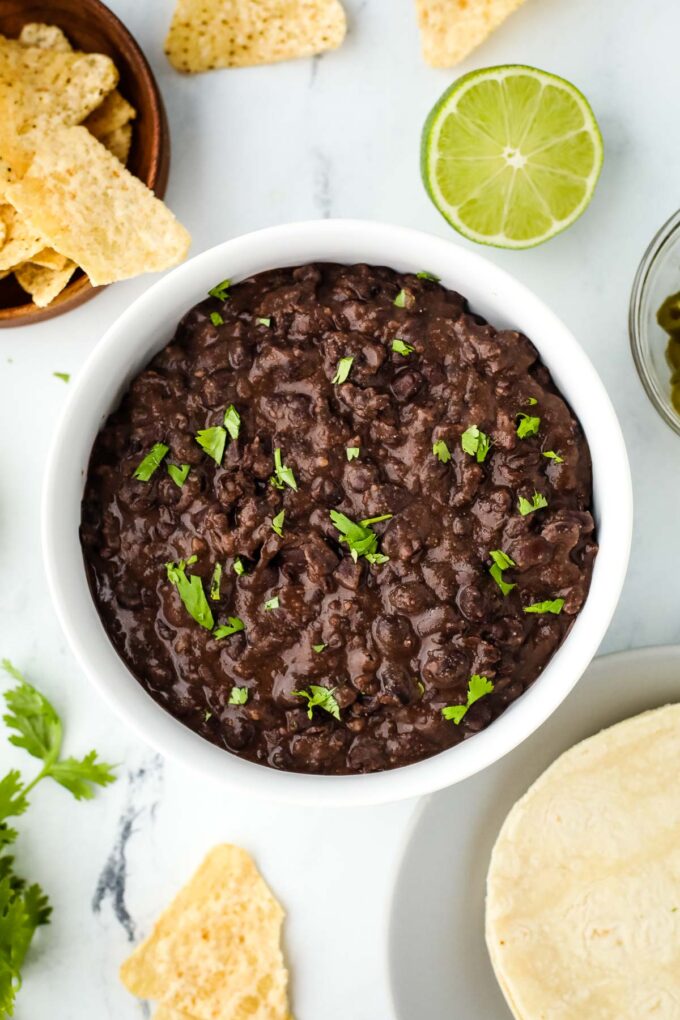 I love a side of refried beans with tacos or fajitas as they're an easy way to add more protein and fiber to my dinner. While I often keep a few cans of refried beans in my pantry, I wanted to try making homemade refried black beans to see if I could create a better flavor. Refried beans are often made with pinto beans, but I wanted to use black beans since that's what I typically have in my pantry.
I used canned black beans for this recipe to make it easy, but you're welcome to use dried beans if you prefer. I recommend making my slow cooker black beans if you want to make them from scratch!
Are Refried Beans Vegetarian?
Traditional refried beans are made with lard, which is animal fat. Since this is not a traditional recipe, I'm using olive oil for the fat in these beans. If you're buying canned refried beans, check the label. Look for "vegetarian" or "fat-free" refried beans on the label. But once you try these homemade refried black beans, you might not want to buy the canned version again!
Ingredients & Substitutions
Black beans- I used canned black beans. I recommend using no salt or low-sodium black beans to control the final dish's saltiness and sodium.
Olive oil- This helps bloom the spices for the best flavor.
Cumin– This adds a warm, earthy flavor to the beans.
Garlic powder- I love the taste of garlic and garlic powder is a quick and easy way to add savory flavor to these beans.
Onion powder- Similar to garlic, I love the taste of onions and adding onion powder infuses the beans with flavor, but doesn't require chopping and cooking an onion.
Chili powder- Just a dash of chili powder adds a bit of heat, but I wouldn't consider these beans spicy. If you want to add a spicy flavor, add a pinch of cayenne pepper.
Lime juice- A splash of lime juice enhances the overall flavor of the beans.
Cilantro- This is optional, but a little fresh cilantro adds a nice flavor and a pop of color.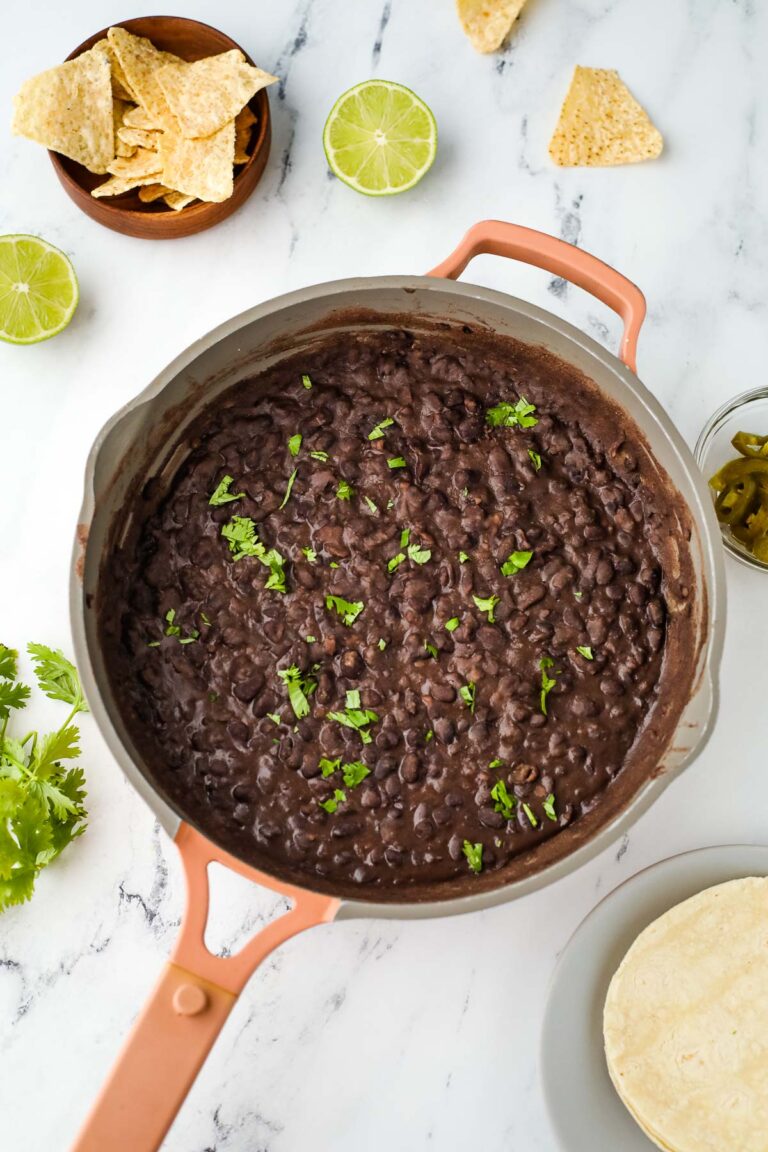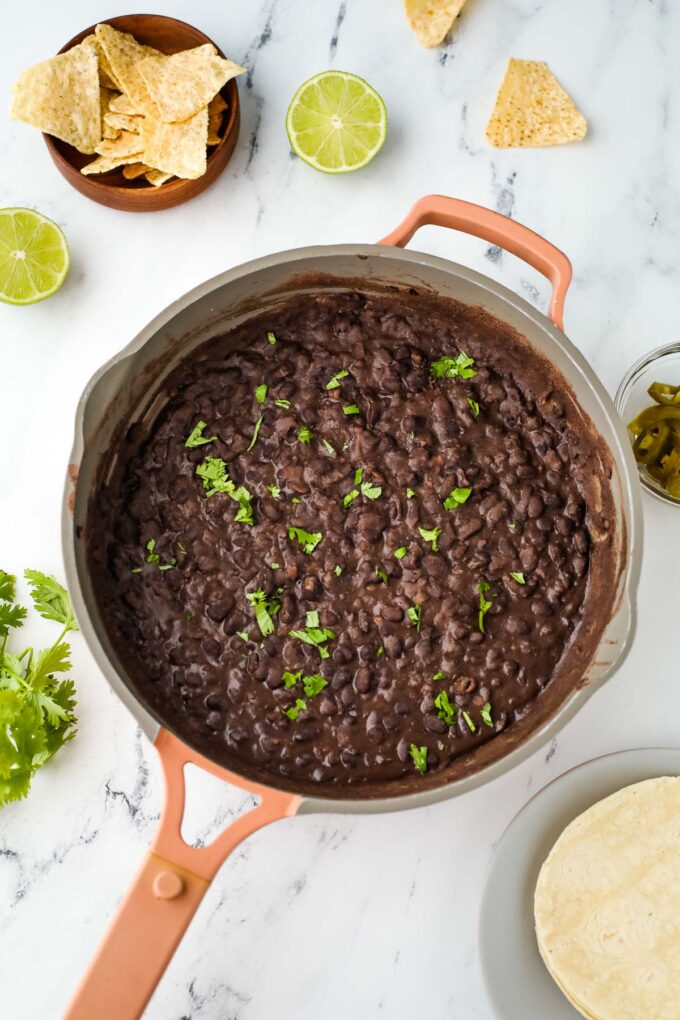 Variations
You can mash the beans as much as you like. I kept mine pretty chunky, but if you want a smooth texture, you can use a potato masher to mash them as much as you like.
I topped mine with a sprinkle of fresh cilantro, but queso fresco is another excellent topping for refried beans.
How to Make Refried Black Beans
Frequently Asked Questions
Are black beans good refried? Yes! While pinto beans are more commonly used for refried beans, black beans are delicious in this recipe!
Are refried beans just black beans? Refried beans are beans "fried" in a bit of oil and seasonings, then mashed.
How can I make refried beans taste like Mexican restaurant beans? If you want to turn these into restaurant-style refried black beans, I'd add two extra tablespoons of oil. It creates a rich flavor.
Are black bean refried beans healthy? This recipe is healthy! I used a minimal amount of oil, and the canned beans are a good source of protein and fiber.
Can I make these beans spicy? Absolutely! Add 1/2 teaspoon cayenne pepper and a dash of hot sauce to the cooked black beans.
Are refried beans gluten-free? It might depend on the brand but these homemade refried beans are gluten-free.
Are refried beans vegan? Traditional refried beans contain lard which is not vegan. But these beans are vegan-friendly since we're using olive oil as the cooking oil.
What to Serve with Black Refried Beans
These cooked beans have so much flavor and are delicious as a side dish for my vegan broccoli tacos, sheet pan quesadillas, or buffalo chickpea tacos. You could pair these with your favorite tacos or enjoy them as a side dish with a taco salad. I'd also recommend adding a side of my Rice Cooker Mexican Rice to round out the meal.
How to Store Leftovers
Store leftover beans in an airtight container in the fridge for up to 4 days. To reheat, microwave on 50% power, stirring occasionally, until heated through. Or transfer the beans back to the skillet and reheat over medium-low heat, stirring frequently, until heated. You may need to add a splash of water to thin the beans since they thicken as they cool.
Print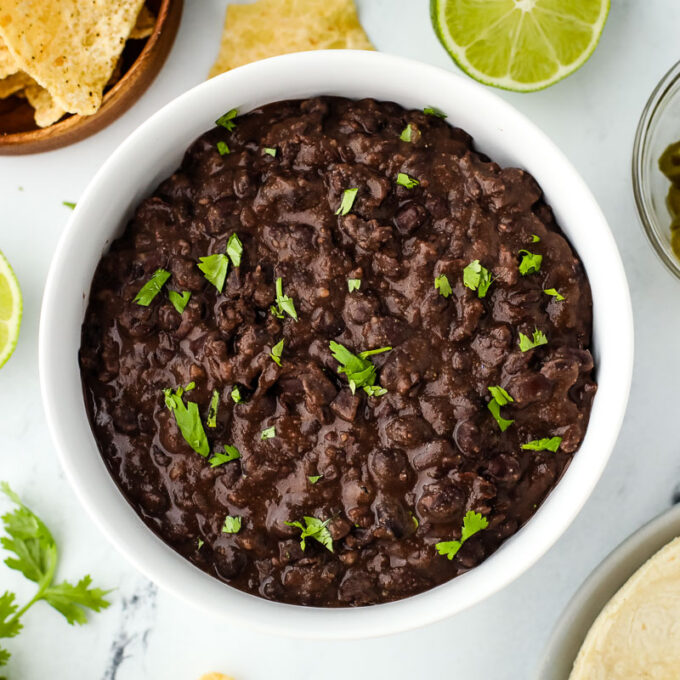 Easy Refried Black Beans
Author:
Prep Time: 2 minutes
Cook Time: 8 minutes
Total Time: 10 minutes
Yield: 1 1/2 cups 1x
Category: Side Dish
Method: Stovetop
Cuisine: Mexican Inspired
Diet: Vegan
---
Description
These refried black beans can be made in just a few minutes by using canned beans! They're a great vegan-friendly side dish for your next taco night.
---
2 15oz cans black beans
3 tablespoons olive oil
1 teaspoon cumin
1 teaspoon garlic powder
1 teaspoon onion powder
1/4 teaspoon chili powder
1 teaspoon fresh lime juice
Salt, to taste
Fresh cilantro (optional)
---
Instructions
Use a colander to drain the black beans over a bowl in order to reserve the liquid.
In a large skillet heat the olive oil over medium heat for 30 seconds.
Add the cumin, garlic powder, onion powder, and chili powder and heat over medium heat for one minute.
Add the black beans and cook over medium heat stirring frequently, about 3 minutes.
Add 2 tablespoons of the reserved bean liquid and use the back of a fork to mash the beans gently. Continue to cook until beans are heated through.
Add additional bean liquid until you reach the desired consistency.
Stir in lime juice, season with salt, and sprinkle with fresh cilantro.
---
Keywords: refried black beans