Mexican Brown Rice
This Mexican Brown Rice, also called Red Rice, is made with brown rice for a nutritious side dish that is filled with flavor. Pair it with tacos or serve it with your favorite protein for a tasty meal!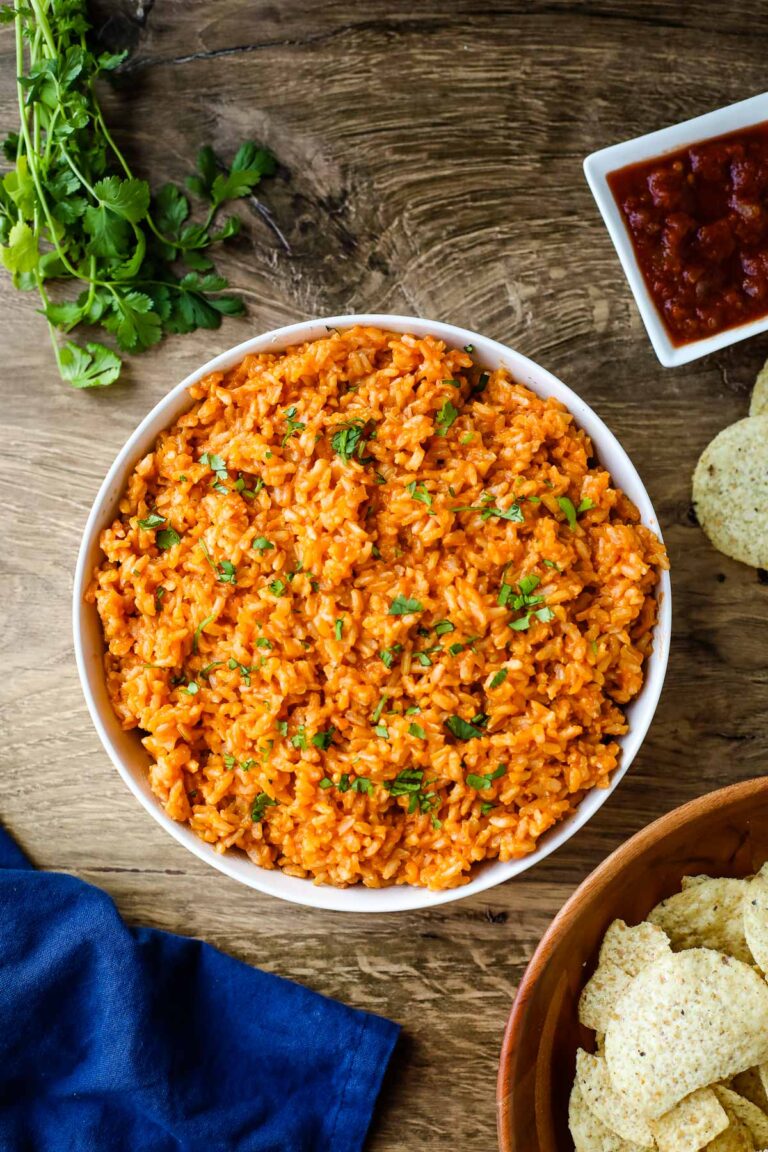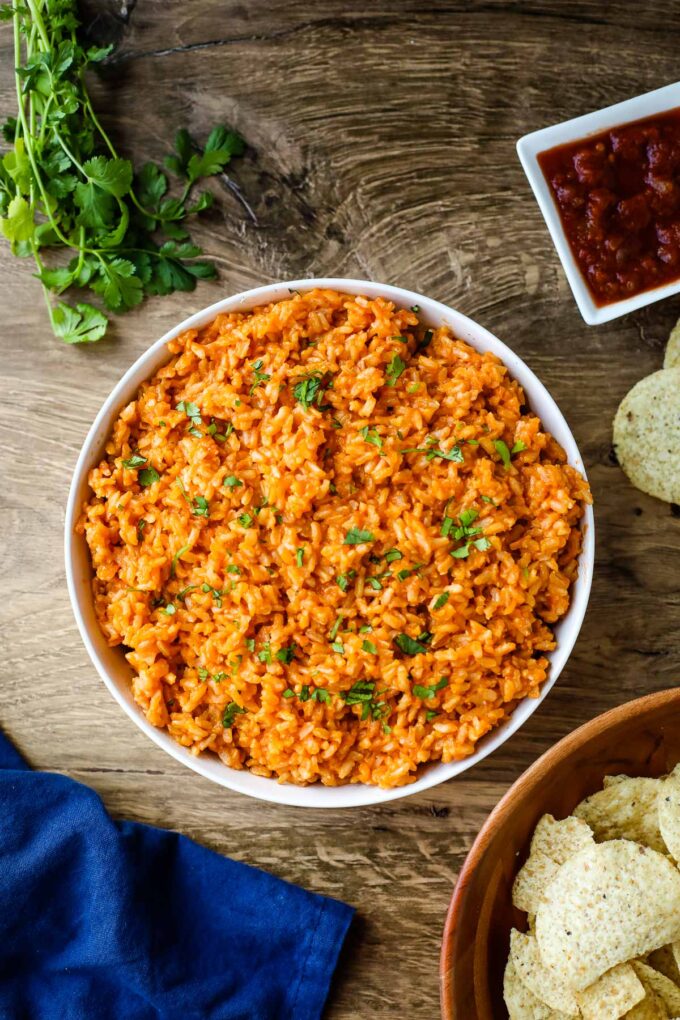 I love this flavorful brown rice and it makes a perfect side dish for your favorite tacos. While it's not an authentic Mexican rice recipe, this version is an easy and tasty way to flavor brown rice. Many authentic Mexican rice recipes use Caldo de Tomate, which is a powdered seasoning that contains tomato and chicken. Since I'm a vegetarian, I decided to use tomato sauce and a vegetarian-friendly "chicken-style" broth instead. It added a wonderful flavor to this rice and worked beautifully!
This rice can be used as the base for burrito bowls, served with tacos, or enjoyed with beans for a delicious, hearty meal. I love that this recipe is very budget friendly and it reheats well so it's a great option for making it at the start of the week and enjoying it reheated for lunch or dinner. It has a lot of flavor but it's still a great, healthy recipe.
The Differences between Mexican Rice and Spanish Rice
This recipe isn't authentic Mexican rice or Spanish rice because, as I mentioned, I wanted to keep this recipe vegetarian. I think it's a pretty good replacement for Mexican rice, but you may be wondering, is this the same as Spanish rice? Not exactly. Spanish rice tends to be more yellow in color thanks to the addition of saffron. While they're both delicious, they're not the same. You can read more about the differences here.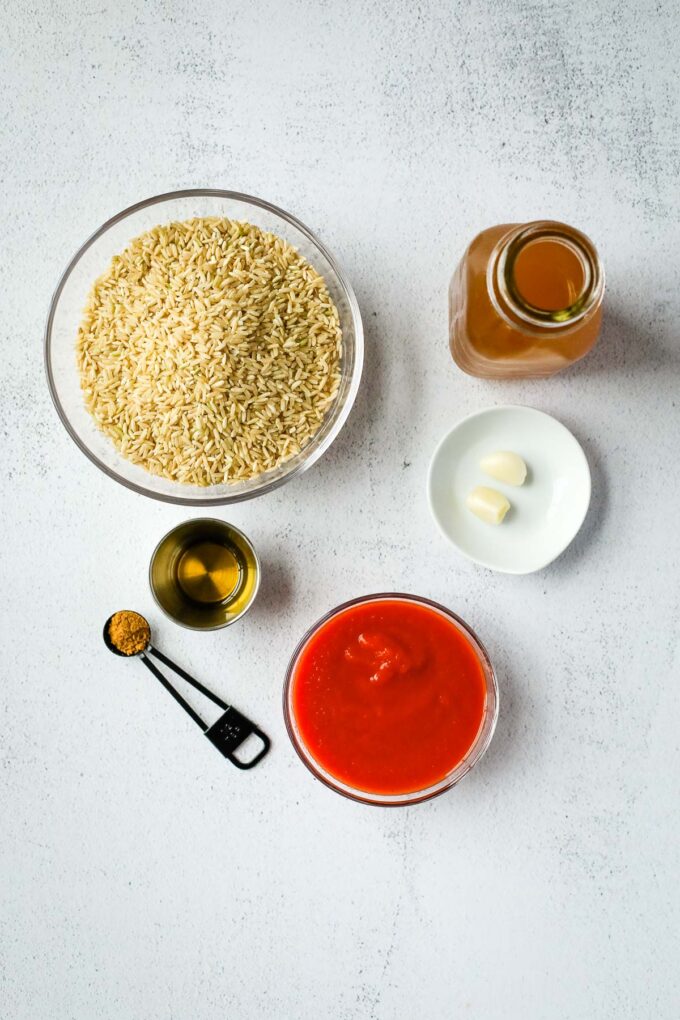 Ingredients & Substitutions
Long grain brown rice– I used brown rice in this recipe but you could also make it with white rice. If using white rice or short-grain rice, you will need to adjust the cooking time.
Olive oil– You'll need a little olive oil to toast the rice which enhances the flavor. You can substitute with vegetable oil or canola oil.
Garlic– I love using fresh garlic but you can substitute with garlic powder or minced garlic, if necessary.
Tomato sauce– I recommend using a tomato sauce with no added salt.
Broth– I used a "chicken-style" vegetable broth. You can use any kind of broth you like but I recommend a low-sodium version. If your broth is extra salty, use 2 cups of water and 2 cups of broth.
Cumin– I love a little pinch of cumin to add a warm, earthy spice to the dish.
Brown Rice vs. White Rice
Curious about the difference between brown rice and white rice? Brown rice takes longer to cook and has a slightly nutty flavor. This is because brown rice includes the bran, germ, and endosperm, whereas white rice has had the bran and germ layers removed. Brown rice is considered more nutritious although both brown rice and white rice have health benefits. You can read more about those details here. I enjoy both, it just depends on what I'm in the mood for!
What is Red Rice?
This dish is sometimes referred to as red rice because of the red color the rice takes on from the tomatoes. But it's worth noting that red rice is actually a separate type of rice. If you're looking for red rice, you can buy it on Amazon. But this recipe calls for brown rice. Red rice cooks differently and should not be substituted in this recipe.
How to Make Mexican Brown Rice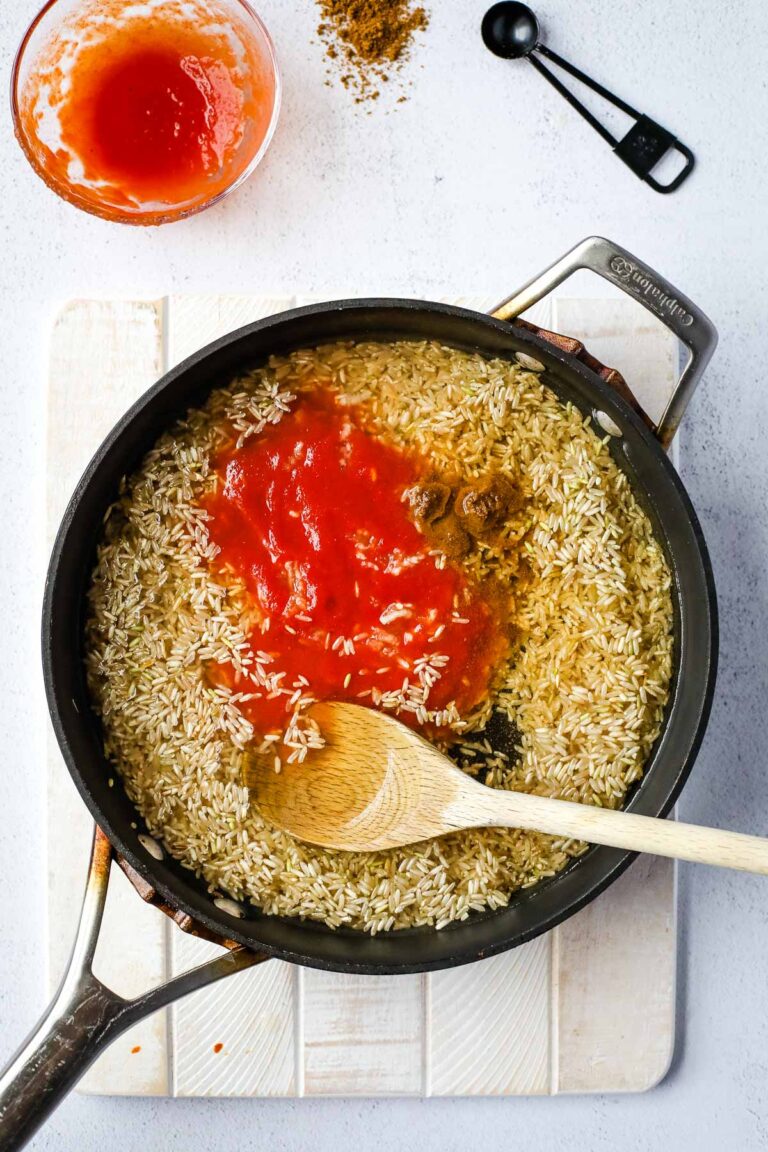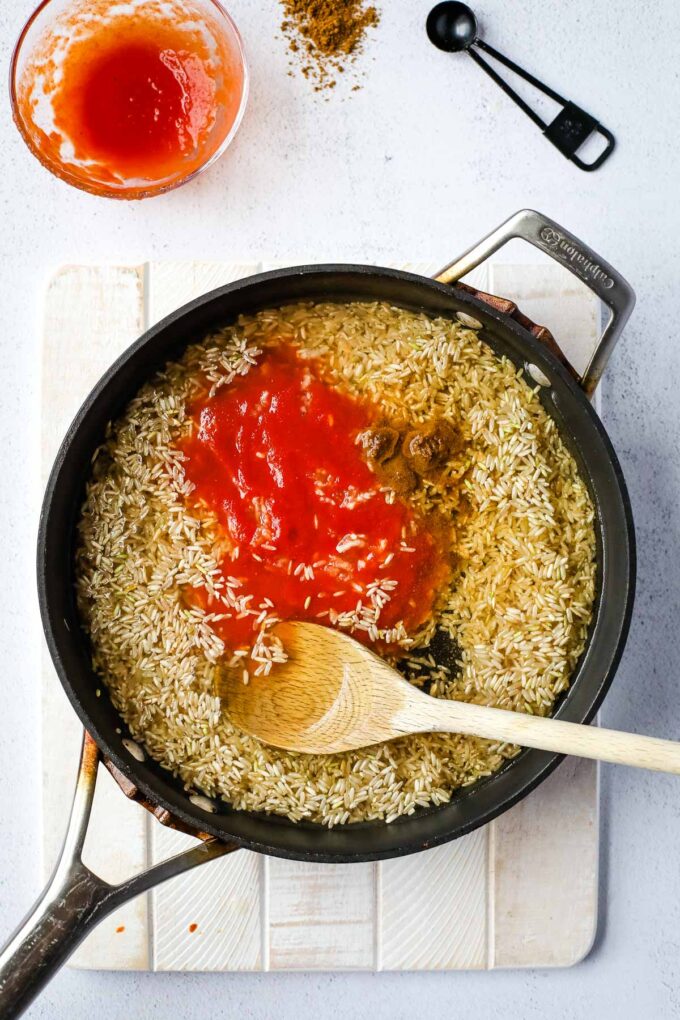 Frequently Asked Questions
Can I make this in a rice cooker? For directions on preparing this in a rice cooker, check out my Rice Cooker Mexican Rice recipe.
How can I lower the sodium– Be sure to use low-sodium broth and make sure the tomato sauce doesn't have added salt. You can also use half broth and half water to lower it even more.
How should I store leftovers? Store leftover rice in an airtight container in the fridge for up to 5 days. To reheat, microwave on 50% power for 1-minute intervals, stirring between each interval.
What should I serve with this rice? You could pair it with my Slow Cooker Black Beans and any vegetables you like! Or use it as a side dish for these Oven Baked Tacos.
Is this an authentic recipe? Not really. If you want an authentic recipe, check out this YouTube video! Keep in mind that the recipe is not vegetarian.
How to Store Leftovers
Store any leftover rice in an airtight container in the fridge for up to 4 days. You can reheat the rice in the microwave or on the stovetop. I do not recommend freezing this recipe.
More Side Dish Ideas
Cilantro Lime Rice– Looking for a hands-off recipe that is a great side dish? Try my cilantro lime rice that can be made in a rice cooker!
Street Corn Salad– This esquites recipe is perfect for a party! I serve it as a side dish but it also makes a great dip with chips.
Mexican Black Beans– There's no better paring than rice and beans! Try these flavorful beans served with this rice dish and you'll have a hearty, budget friendly meal.
Print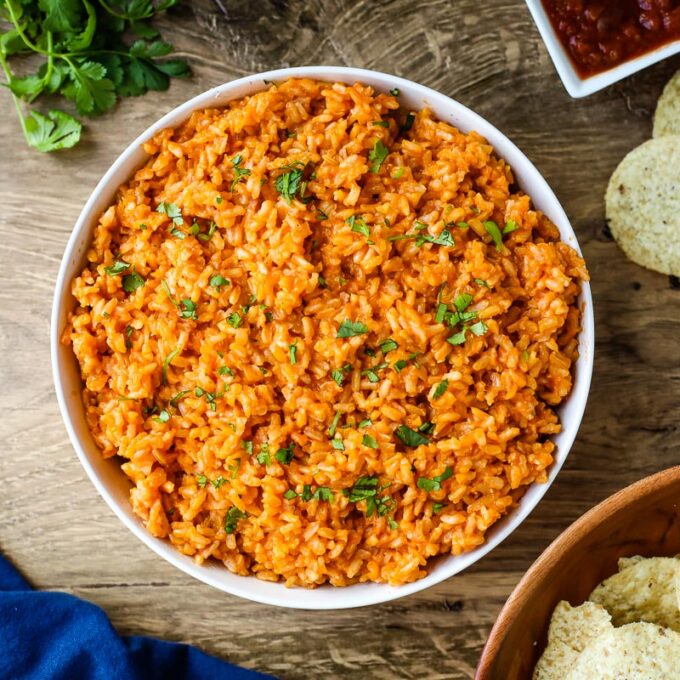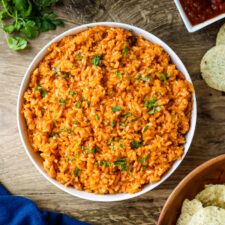 Mexican Brown Rice
Author:
Prep Time: 5 minutes
Cook Time: 45 minutes
Total Time: 50 minutes
Yield: 6 cups 1x
Category: Side Dish
Method: Stovetop
Cuisine: Spanish Inspired
Diet: Vegan
---
Description
This Mexican Brown Rice, also called Spanish Rice or Red Rice, is made with brown rice for a nutritious side dish that is filled with flavor. Pair it with tacos or serve it with your favorite protein for a tasty meal!
---
1 tablespoon olive oil
2 cups brown rice
2 cloves garlic, minced
1 cup tomato sauce
4 cups vegetable broth
1/2 teaspoon ground cumin
---
Instructions
In a large skillet, add the olive oil and heat over medium heat for 30 seconds.
Add the brown rice and stir until the rice is evenly coated. Cook over medium heat stirring frequently for 3 minutes.
Add the garlic and continue to cook for 30 seconds.
Add the tomato sauce, vegetable broth, and cumin. Stir until combined.
Turn heat to high, cover with a lid, and bring to a boil.
Once boiling, reduce heat to low and simmer for 45 minutes or until the moisture has been absorbed and the rice is tender.
---
Keywords: spanish brown rice, mexican brown rice