I love Mexican food. Have I made that clear? I do. If you need proof, just look at these tempeh tacos, this Mexican street corn salad, or these 5 ingredient enchiladas. It's easy to find vegetarian options. And it's delicious.
Now let's answer the age old question…
Corn Tortillas vs. Flour Tortillas
I thought I'd do a little head to head comparison. Obviously, it ultimately comes down to which you like better. But if you've ever wondered about the differences, here they are!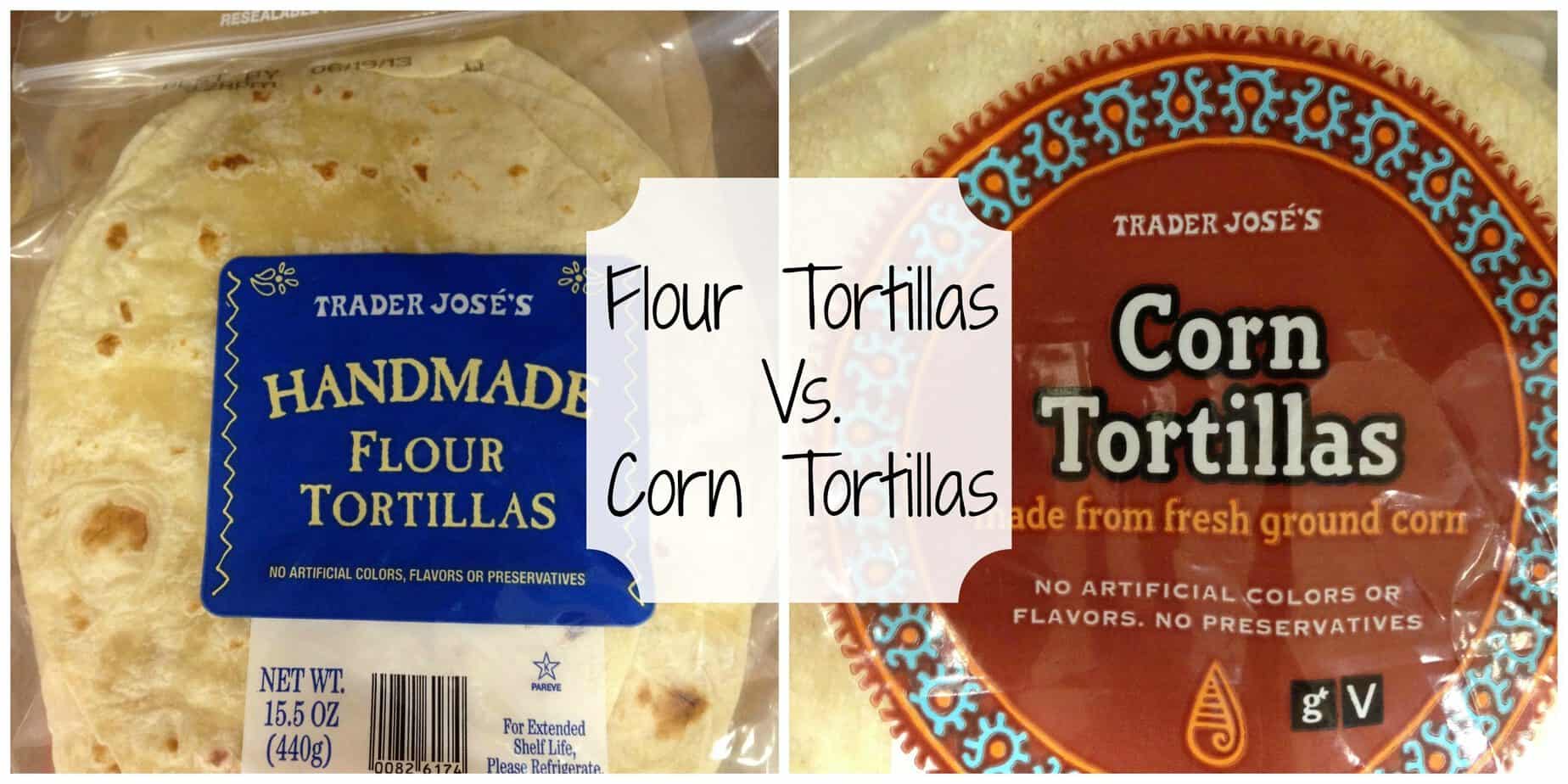 Calories & Fat
Corn Tortillas– Usually about 70 calories and 1 gram of fat. Keep in mind, sometimes these are a little smaller than flour tortillas. These typically don't have much fiber or protein in them.
Flour Tortillas– These can vary widely. A typical one has about 100-150 calories. (If you get the high fiber kind, it will be lower) and about 3.5 g of fat. If you do get whole wheat, it will back a little extra protein and fiber. The "white" kind don't have much to offer.
Ingredients in Corn Tortillas vs. Flour Tortillas
Corn– These usually have a much smaller ingredient list, so if that's important to you, these might be your best bet.
Flour– These typically contain a lot of ingredients, but not necessarily bad ones. Keep an eye on the ingredients and make sure they're not sneaking in things like high fructose corn syrup (you'd be surprised) or hydrogenated oils.
Allergens in Corn Tortillas vs. Flour Tortillas
Corn allergies are pretty rare, so this is usually the safe choice for people with allergies. If you're gluten intolerant, corn tortillas give you a great gluten free option.
Obviously, flour tortillas contain gluten.
Taste
This one is subjective, obviously. Corn tortillas tend to be a little flakier, where as flour tortillas are usually chewy. While this might not exactly be a taste thing, flour tends to work better for wraps and burritos, as the corn ones have a tendency to break apart if they're wrapped too tightly. Corn tortillas are perfect for tostadas, tacos, etc.
Price
Both are pretty cheap, although corn tends to always be cheap, and some of the high fiber flour tortillas can get a little pricey. Still, if you're going for flour tortillas, it's probably worth it to get whole wheat! (And again, double check the ingredients list!)
Do you like corn or flour tortillas?