Corn Tortillas vs. Flour Tortillas
One of the most common questions I hear on taco night is what's the difference between corn and flour tortillas? Are corn tortillas healthier? Are flour tortillas higher in calories? Is one better than the other? So let's break it down!
Corn Tortillas vs. Flour Tortillas
I thought I'd do a little head-to-head comparison between corn and flour tortillas. Obviously, it ultimately comes down to which you like better. But if you've ever wondered about the differences, here they are!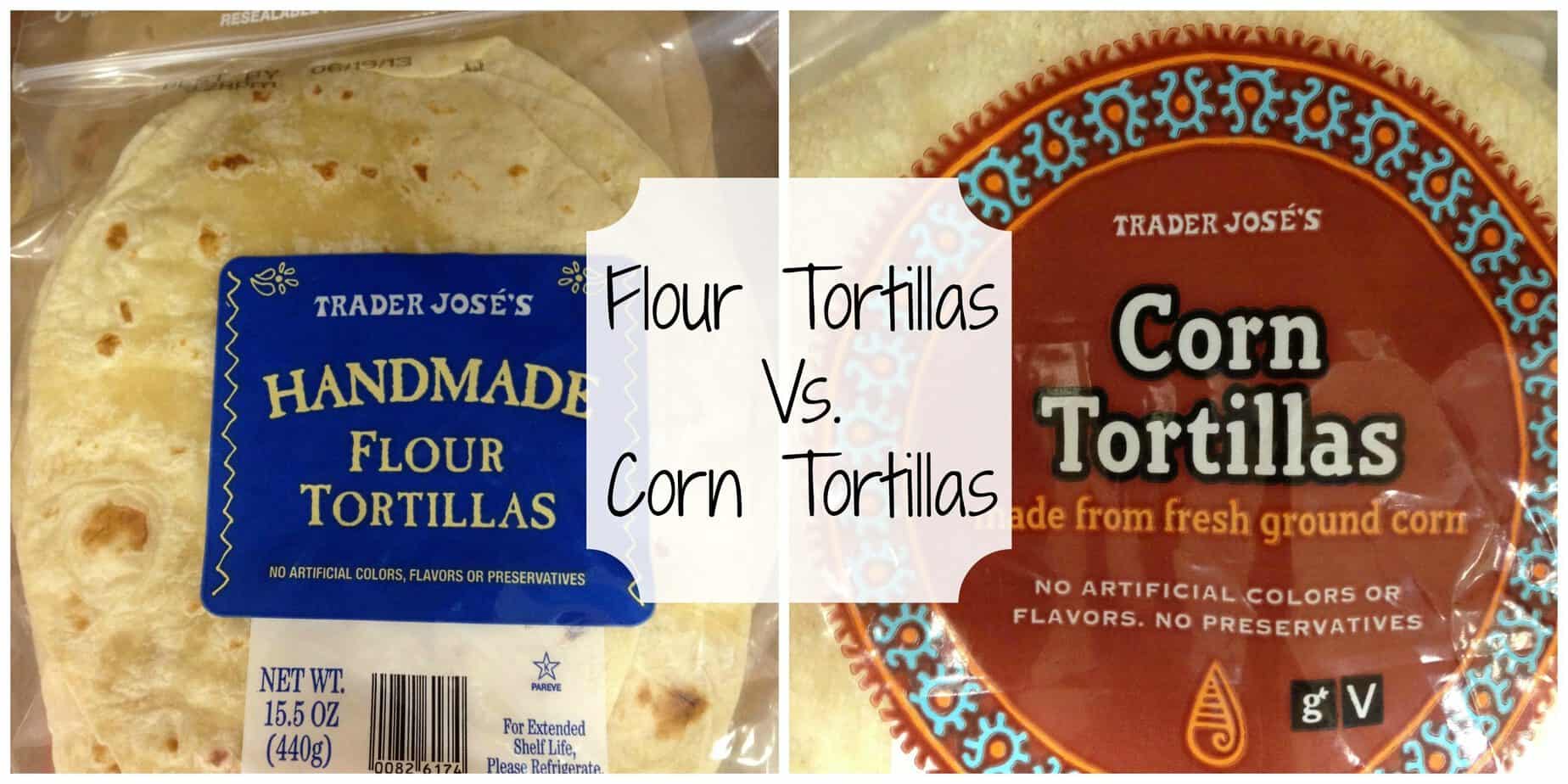 Calories & Fat
Corn Tortillas– If you're wondering about the calories in a corn tortilla, they usually have about 70 calories and 1 gram of fat. Keep in mind, sometimes these are a little smaller than flour tortillas. Corn tortillas typically don't have much fiber or protein in them.
Flour Tortillas– The nutritional information of flour tortillas can vary widely. A typical taco sized tortilla has about 100-150 calories. (If you get the high fiber kind, it will be lower) and about 3.5 g of fat. If you do get whole wheat, it will back a little extra protein and fiber. Be aware that smaller "street taco" sized tortillas will have fewer calories and burrito sized tortillas will have a lot more calories.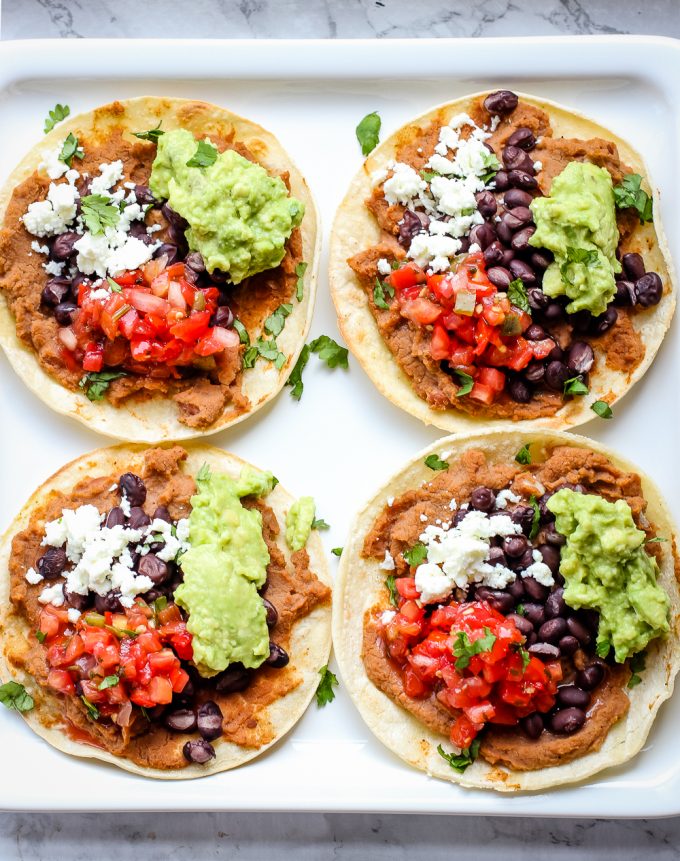 Ingredients in Corn Tortillas vs. Flour Tortillas
Corn– Corn tortillas usually have a much smaller ingredient list, so if that's important to you, these might be your best bet.
Flour– Flour tortillas typically contain a lot of ingredients, but not necessarily bad ones. Keep an eye on the ingredients and make sure they're not sneaking in things like high fructose corn syrup (you'd be surprised) or hydrogenated oils.
Allergens in Corn Tortillas vs. Flour Tortillas
Corn allergies are pretty rare, so this is usually the safe choice for people with allergies. If you're gluten intolerant, corn tortillas give you a great gluten-free option. Obviously, flour tortillas contain gluten, since they're made with flour.
Some traditional tortillas contain lard, which is animal fat, meaning they're not vegetarian. It's always a good idea to check the ingredients list to be sure!
Taste Differences
This one is subjective, obviously. Corn tortillas tend to be a little flakier, where as flour tortillas are usually chewy. While this might not exactly be a taste thing, flour tends to work better for wraps and burritos, as the corn ones have a tendency to break apart if they're wrapped too tightly. Corn tortillas are perfect for tostadas, smaller tacos, and enchiladas.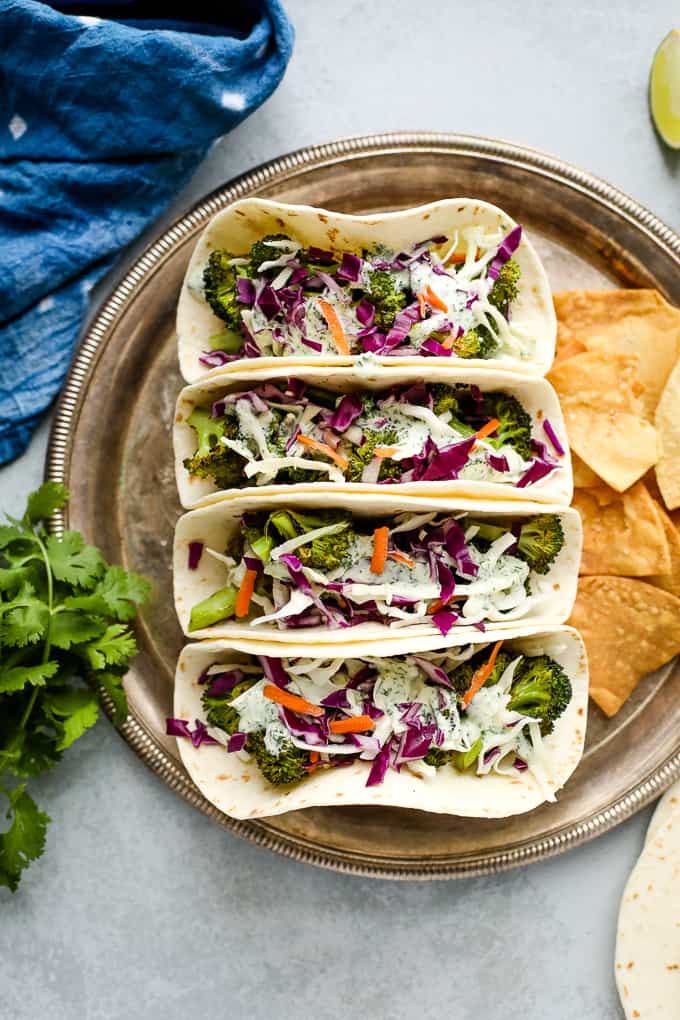 Price of Tortillas
Both are pretty cheap, although corn tends to always be cheap, and some of the high fiber flour tortillas can get a little pricey. Still, if you're going for flour tortillas, it's probably worth it to get whole wheat! (And again, double-check the ingredients list!)
When to Use Corn Tortillas
Corn tortillas are best for enchiladas, tortilla soups, and anytime you want to keep a recipe gluten-free. I also find they work best with tacos that aren't too wet. For example, a black bean taco might have a lot of moisture, which can make the corn tortilla fall apart. But fi you have crispy ingredients like chickpeas, you'll be fine with a corn tortilla.
When to Use Flour Tortillas
Flour tortillas are best when you need a sturdy base. They're great for anything from broccoli tacos to lentil tacos. They also typically come in a variety of sizes from street tacos to burritos, so it's great if you want a larger or smaller taco. But keep in mind they're not gluten-free!
Flour and Corn Tortillas
If you can't decide between flour tortillas or corn tortillas, look for a flour and corn blend! They combine the tastes and textures of both into one tortilla. The flavor is more similar to a corn tortilla but the tend to be more flexible and sturdy, so they can stand up to any type of taco filling!
Where to Buy the Best Tortillas
If you want a really good tortilla, check your area for a local Latin market. You'll have the best chance of being able to buy fresh, homemade tortillas. Keep in mind that many of these may use lard, so if you're vegetarian be sure to ask about the ingredients. If you can't find a local Latin market, you can still get good tortillas at most larger grocery stores. Just check the date on the package to be sure you're getting the freshest tortillas possible!
How to Store Tortillas
The best way to store corn or flour tortillas is in a plastic bag in the refrigerator. They'll typically stay fresh for 2-3 weeks, depending on the ingredients in the tortillas.