Vegan Broccoli Tacos
These delicious vegan tacos are filled with roasted broccoli, crunchy cabbage, and an addictive cilantro cream sauce. This is a tasty way to eat your vegetables on taco night!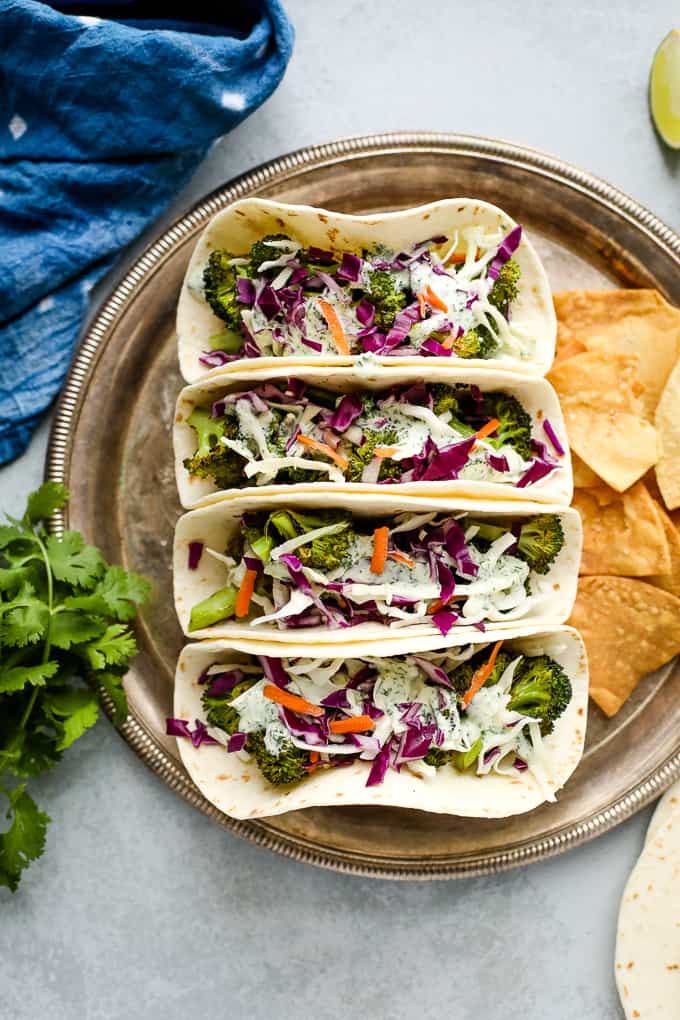 Broccoli? In a taco? Alex was skeptical. But since we've already stuffed tacos with cauliflower and Brussels sprouts, why not broccoli? Each shell is filled with crispy, roasted broccoli and crunchy cabbage. When you drizzle on the homemade cilantro sauce, it takes the flavor to the next level. Not a bad way to eat your veggies!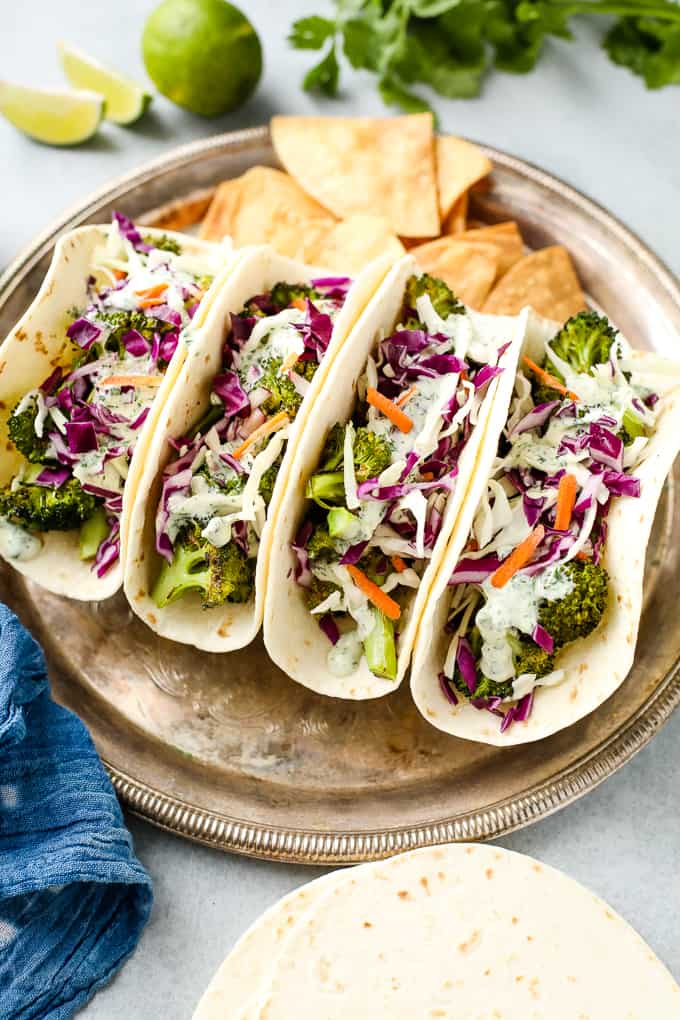 How to Make Cilantro Sauce
Chop off the bottom of the cilantro stems and discard. There's no need to remove the stems at the leafy part. Add the mayo, cilantro, lime juice, and water to a small blender or food processor. This works best in a smaller sized cup, but if you only have a large blender or food processor, you may want to make a double batch. If you don't have a blender, you can simply whisk together the mayo, lime juice, and water, then finely chop the cilantro and stir it together.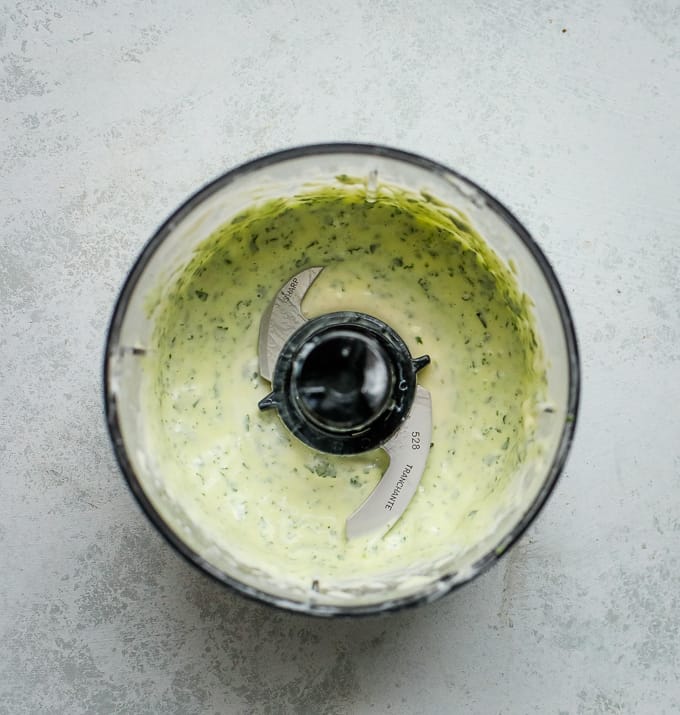 You can store this sauce in the fridge for up to 1 week, so you may want to make a double batch!
Substitution Ideas
To make this vegan, I used Vegenaise, but you can also use regular mayonnaise if you prefer.
If you want to keep these tacos gluten-free, use corn tortillas instead of flour tortillas.
Do not try to substitute dried cilantro. Fresh cilantro is a must!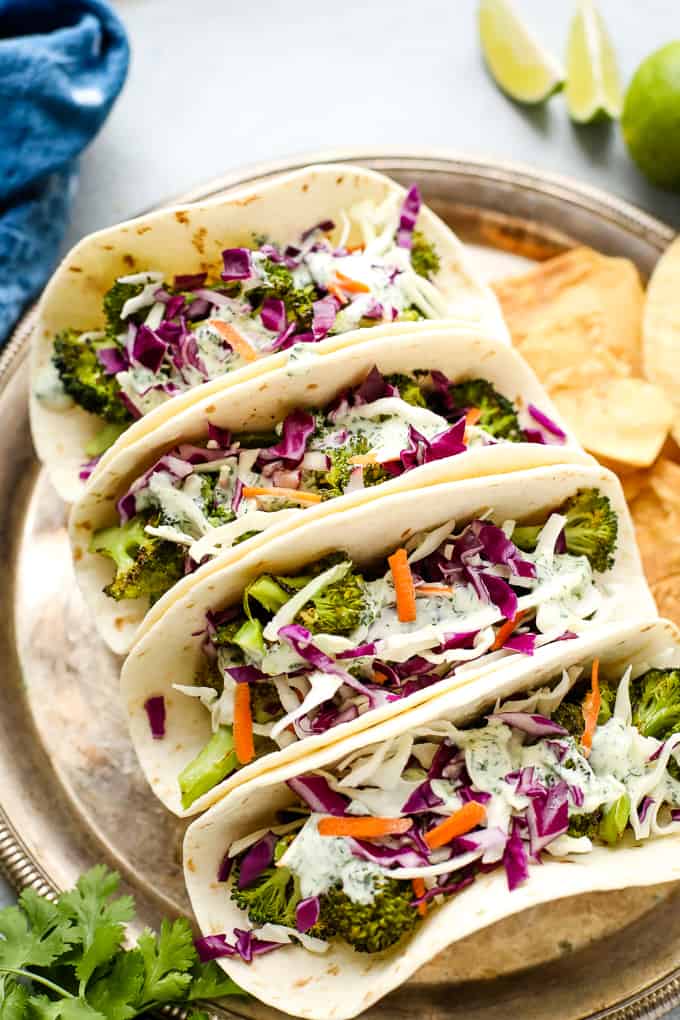 How to Warm Tortillas
To warm flour or corn tortillas, stack them on a microwave-safe plate and cover with a damp paper towel. Microwave for 30 seconds at a time until they're heated. Alternatively, you can wrap a stack of 4-6 tortillas in aluminum foil and bake at 350 degrees for 15-18 minutes until warmed.
Print
Vegan Broccoli Tacos
Author:
Prep Time: 10 minutes
Cook Time: 20 minutes
Total Time: 30 minutes
Yield: 6 tacos 1x
Category: Dinner
Method: Roasted
Cuisine: Mexican
---
3 heads broccoli, chopped into 1" pieces
1 tablespoon olive oil
¼ teaspoon onion powder
¼ teaspoon garlic powder
¼ teaspoon salt
¼ cup mayonnaise or Vegenaise
Juice from ½ lime
1 tablespoon water
¼ cup cilantro
6 small flour or corn tortillas
½ cup shredded cabbage
---
Instructions
Preheat oven to 400 degrees.
Spread the broccoli on a baking sheet and drizzle with olive oil.
Sprinkle with onion powder, garlic powder, and salt. Stir to evenly coat.
Bake for 15 minutes, then flip and continue to bake for 5 minutes until the broccoli is lightly browned.
While the broccoli is baking, add the mayonnaise, lime juice, water, and cilantro into a small food processor or blender.
Blend until smooth.
Fill each taco with broccoli, top with shredded cabbage, and drizzle with cilantro dressing.
---
Keywords: vegan broccoli tacos
What can I serve with broccoli tacos?
Need an easy side dish to pair with your tacos? Try one of these recipes!
Looking for more tasty taco ideas? Here are a few of my favorites:
Brussels Sprout Tacos
Buffalo Chickpea Tacos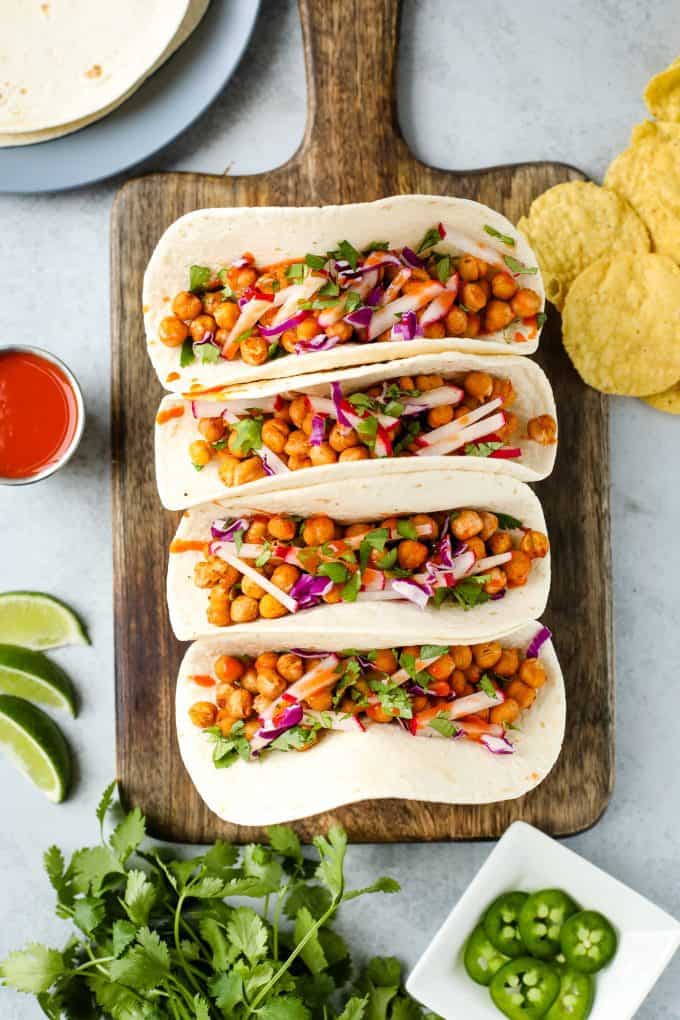 What's your favorite type of taco?