Vegetarian Burrito
This tasty vegetarian burrito is loaded with cilantro lime rice, seasoned black beans, roasted corn, and drizzled with a deliciously spicy burrito sauce for a complete meal packed with flavor!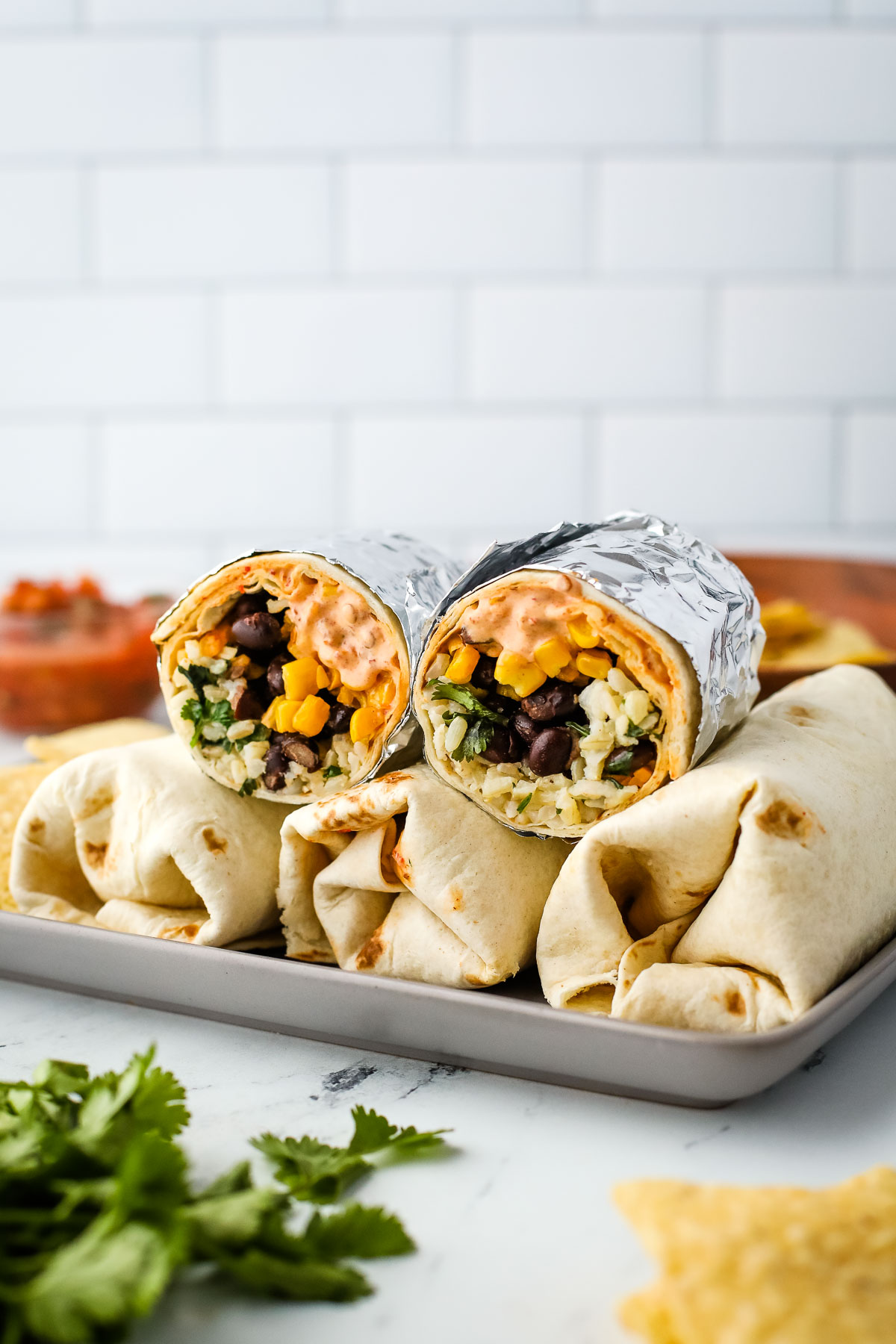 I played around with a few different versions of this recipe, trying my Mexican rice instead of cilantro rice, sautéing the beans with diced onion and garlic, and testing out my cilantro sauce rather than this burrito sauce. But ultimately, this version was my favorite combination of tasty flavors and minimal dishes. I didn't want to fill my kitchen with dirty pots and pans, so I tried to make this recipe as quick and simple as possible. That's why I used shortcuts like microwaving the black beans instead of sautéing them.
The ingredients list may look a bit long, but this is also a great recipe for using leftovers. If you have extra rice in the fridge or made a batch of my slow cooker black beans, you can use up bits and pieces of leftovers. You can also customize this one for everyone in your family, so if some people want it spicy or others want to add a little leftover protein from the fridge, go for it! The options are endless.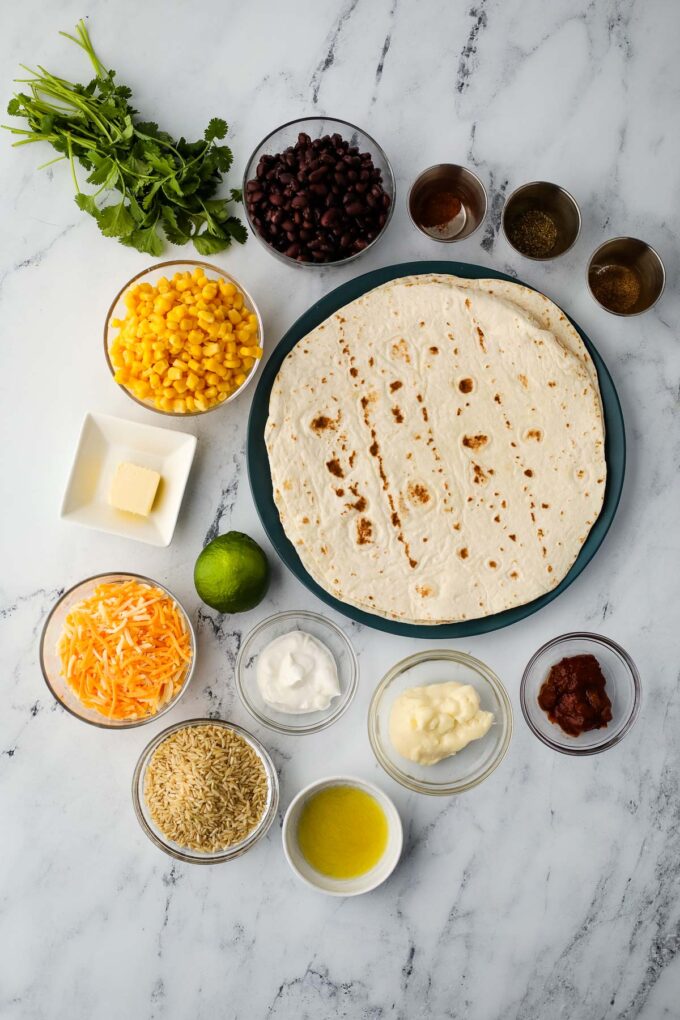 Ingredients and Substitutions
Rice– You can use white or brown rice, whatever you prefer. I've tried it with both! Brown rice has more of a chewy, nutty flavor, but as long as you toss the rice with butter, cilantro, lime, and salt, it won't matter which type you use!
Corn– You can use frozen or canned corn. White or yellow corn is fine. I liked the flavor of roasted corn, but if you're short on time you can use it straight from the can.
Black beans– I used canned black beans, but you can also use my slow cooker black beans for even more flavor! You can also substitute with pinto beans, if you prefer.
Mayonnaise– I used regular mayonnaise in the burrito sauce, but you can swap it for vegan mayo if you prefer.
Sour cream- You can use sour cream or plain Greek yogurt.
Chipotle peppers in adobo sauce– These peppers are typically sold in a can near the Mexican products at the grocery store. You can also buy just the adobo sauce in a jar, if desired. It's a bit harder to find but it eliminates the need for the food processor or blender, as you can just whisk it into the mayonnaise.
Tortillas- I used regular flour tortillas, but you can use whole wheat tortillas or gluten-free tortillas if you prefer. You'll need large tortillas to be able to wrap the burritos.
Cheese– I used a blend of Mexican shredded cheeses, but you can substitute with cheddar cheese if you prefer. If you want to make this recipe vegan, use your favorite vegan cheese.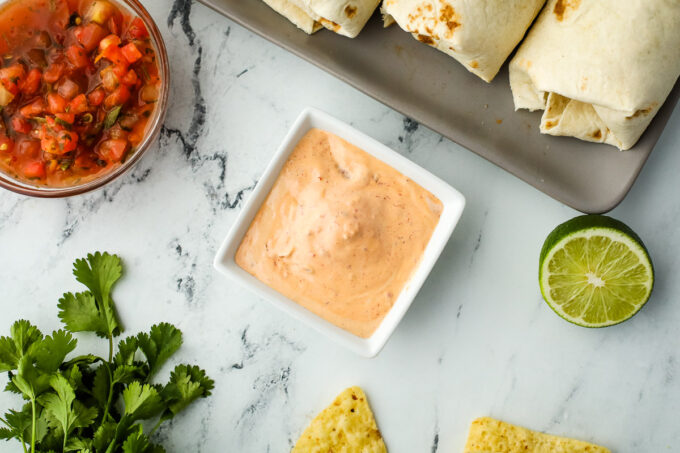 The Best Burrito Sauce
I tested this burrito with my cilantro sauce, and it was delicious, but in the end, I liked this chipotle burrito sauce even better! I was able to still get plenty of cilantro flavor in with the rice, and this spicy, smoky sauce really takes things to the next level. You can read my whole post about the sauce if you want more details and substitution ideas, but this sauce only takes a few minutes to make and it's packed with flavor!
How to Make Cilantro Lime Rice
I love the flavor of cilantro lime rice! Normally, I make my rice cooker cilantro lime rice for a recipe like this, but you can make it with any leftover rice! Simply toss warm, cooked rice with butter, lime juice, fresh cilantro, and salt.
Additional Vegetarian Burrito Toppings and Variations
You can customize these burritos however you like with additional fillings and toppings. You can add sautéed bell peppers and onions or sautéed mushrooms. For more protein and fiber, add refried beans. For a lower-carb option, use cauliflower rice in place of regular rice. Feel free to add in salsa or pico de gallo for even more flavor. Sliced avocado or guacamole also makes a great addition! I like to add hot sauce, cilantro, and avocado on the outside of my burrito and then eat it with a knife and fork, but you can do it however you like!
How to Make Veggie Burritos
How to Freeze and Reheat Burritos
Once you've filled and wrapped the burritos, wrap them tightly in aluminum foil and place them inside a freezer bag. Try to press out as much air as possible. Then freeze for up to one month. To reheat the frozen burritos, remove the aluminum foil and place one burrito in the microwave and defrost for 5-6 minutes. Flip the burrito over and continue to defrost for 5-6 minutes. Transfer the burrito to a lightly oiled skillet and toast for 2-3 minutes on each side until crispy. This will give you the best flavor and texture.
What to Serve with Burritos
My favorite side dish to serve with burritos or tacos is my Street Corn Salad. It's cheesy and delicious, making it a perfect side dish. You can also serve it as a dip with tortilla chips. For an easier dip, try my 5 minute corn salsa. Or you can pair these burritos with a simple salad like my warm kale salad!
Frequently Asked Questions
Can I make this recipe vegan? Yes! You'll need to use vegan mayo, vegan sour cream, and vegan cheese. Another option is to skip the cheese and burrito sauce and substitute with salsa and guacamole. This will help add creaminess and flavor without any dairy.
Can I make this recipe gluten-free? Yes! Substitute with flour tortilla with your favorite gluten-free tortilla or enjoy this recipe as a burrito bowl without a tortilla. If I have this as a burrito bowl, I like to pair it with tortilla chips.
How can I help my burrito stay together? Before rolling the burritos, microwave the tortillas with a damp paper towel for about 30 seconds. This will make it more pliable. Wrap the burrito tightly and keep it together with a toothpick or wrap it in foil to make it easier to hold. You can even wrap the whole burrito in foil then cut it in half and peel back the foil as you eat.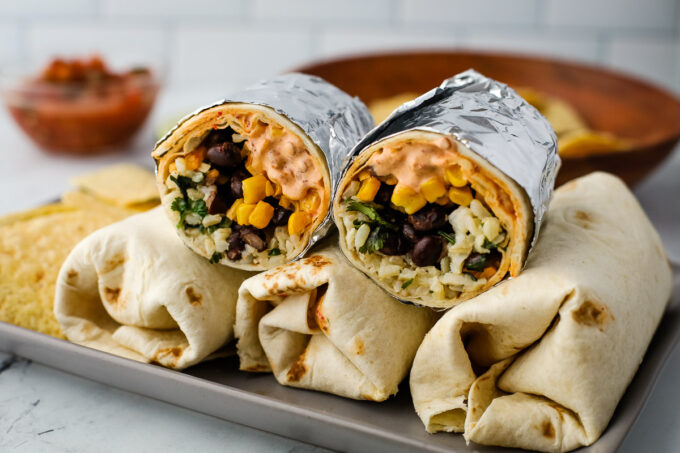 Print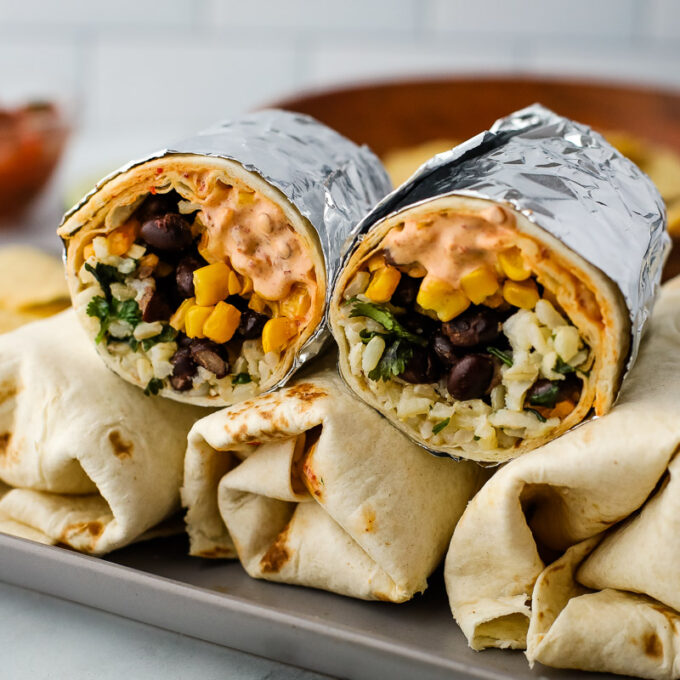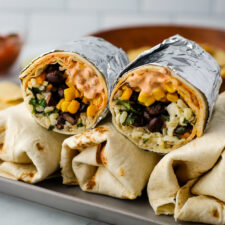 Vegetarian Burrito
Author:
Prep Time: 30 minutes
Cook Time: 15 minutes
Total Time: 45 minutes
Yield: 4 large burritos 1x
Category: Dinner
Method: Oven
Cuisine: Mexican Inspired
Diet: Vegetarian
---
Description
This tasty vegetarian burrito is loaded with cilantro lime rice, seasoned black beans, roasted corn, and a deliciously spicy burrito sauce for a complete meal that is packed with flavor!
---
1 cup white or brown rice
1 tablespoon butter
1 lime, halved
1/2 cup cilantro
1 tablespoon olive oil
1 14oz can corn, drained
1 15oz can black beans, drained and rinsed
1/2 teaspoon oregano
1/4 teaspoon chili powder
1/2 teaspoon cumin
1/4 cup mayonnaise
2 tablespoons sour cream or Greek yogurt
2 tablespoons chipotle peppers in adobo sauce
4 large burrito tortillas
1 cup shredded cheddar cheese
Optional toppings: avocado, additional cilantro, hot sauce, etc.
---
Instructions
Prepare the rice: Cook the rice according to package directions, then mix the cooked rice with 1 tablespoon butter, juice from half the lime, and 1/4 cup chopped cilantro.
Prepare the corn: Preheat the oven to 450 degrees. Roast the corn for 5-6 minutes until it begins to brown.
Prepare the beans: Combine the black beans, cumin, chili powder, and oregano in a microwave-safe bowl. Microwave for 1-2 minutes until heated. (Alternatively, you can sautè the beans in a skillet for 4-5 minutes.)
Prepare the sauce: Blend the mayonnaise, sour cream, chipotle peppers in adobo sauce, and juice from the remaining half a lime until blended.
Assemble the burritos: Warm the tortillas in the microwave with a damp paper towel.
Divide the rice, corn, and beans between the four tortillas.

Top each mixture with ¼ cup shredded cheese. Drizzle with 2 tablespoons of the burrito sauce. Roll the tortilla tightly. For a crispy burrito, heat in a lightly oiled skillet over medium high heat for 1-2 minutes per side or until golden brown.
---
Notes
Note: You may have a little leftover filling. I had enough for one additional burrito, but I enjoyed it as a burrito bowl!
More Delicious Recipe Ideas