4 Ingredient Guacamole
This easy 4 ingredient guacamole recipe is the perfect dip to serve with your favorite tortilla chips! You only need a few basic pantry staples to transform your avocados into crave-worthy guacamole!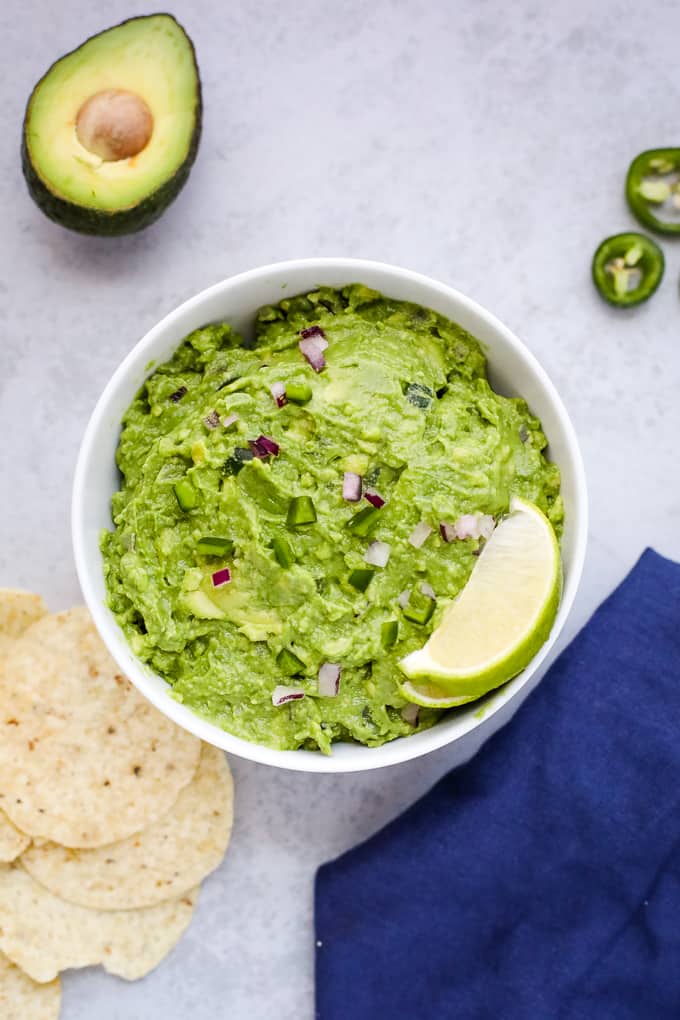 I love how simple this recipe is but our whole family loves it! This is my brother's "signature" recipe, and he makes it for family gatherings regularly. It's only a few ingredients but as long as you have ripe avocados, the flavor really shines!
Guacamole Ingredients
You only need a few basic ingredients for this 4 ingredient guacamole recipe!
Avocados- The key to good guacamole is having avocadoes that are ripe. They should be soft, but not mushy.
Jalapeno- If you like a little spice, jalapenos are the way to go. They add nice heat to your dip. I recommend tasting the jalapeno before adding it to the guacamole. Some are spicier than others.
Red onion- A little redd onion brings a fresh bite to this dip. Some people can find the taste of raw onions to be too harsh, so you can skip these if you don't like onions.
Lime juice- The acid and citrus flavor really tie everything together nicely. In a pinch, you can use a little lemon juice as a substitute.
Substitution Ideas
If you don't like your guacamole spicy, you can skip the jalapeno or remove the seeds for a more mild flavor. If you like it spicy, include the seeds and the pith of the pepper.
If you don't have red onion, you can substitute it with white onion.
For more color, feel free to add a few chopped tomatoes!
If your pantry is looking a little bare and all you have are avocados, try this guacamole seasoning. It's simple to add to your avocados to turn them into a tasty dip.
Health Benefits of Avocados
While avocados are high in fat and calories, they're actually a great food to add to your plate! Avocados are high in monounsaturated fats, aka, the "good" fats, which have been shown to help lower bad cholesterol levels and reduce the risk of heart disease. They're also high in fiber, which can help you feel full and satisfied after eating. Avocados contain a substance called phytosterols, which may help to increase the absorption of certain nutrients from other foods.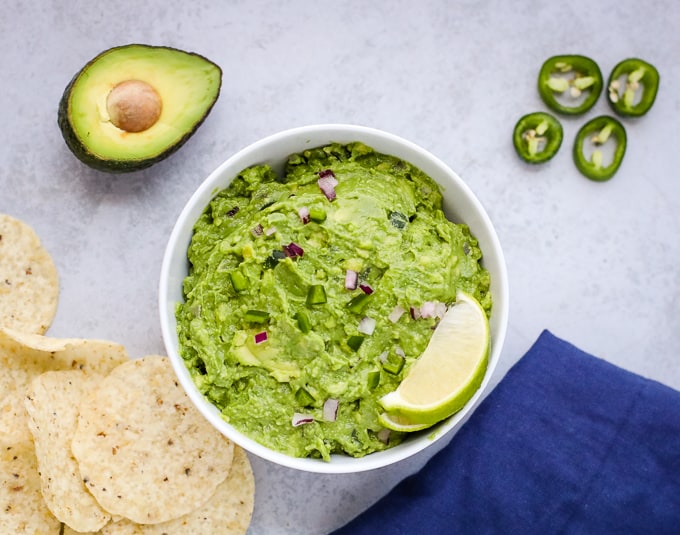 How to Store Leftover Guacamole
This guacamole is best served right away, but if you have leftovers, here's how to store them! Place the leftovers in a small, shallow bowl. Press plastic wrap directly on top of the leftover guacamole and up over the sides of the bowl. Try to remove as much air as possible between the plastic wrap and the guacamole. This will help prevent the guacamole from browning. You can also add an extra squeeze of lime juice to help preserve the color.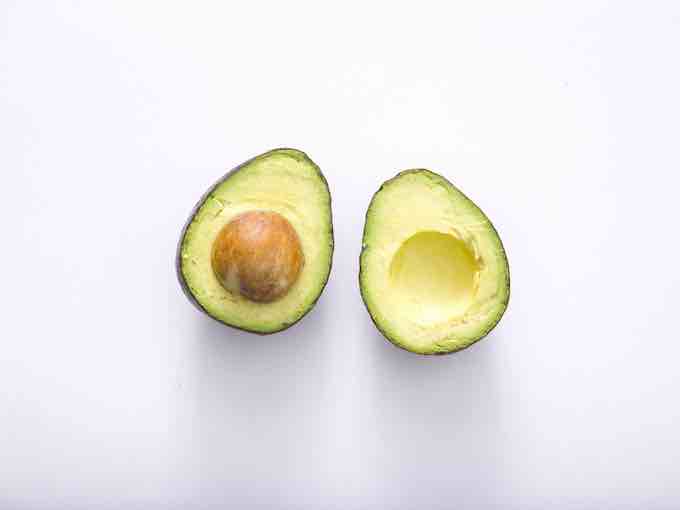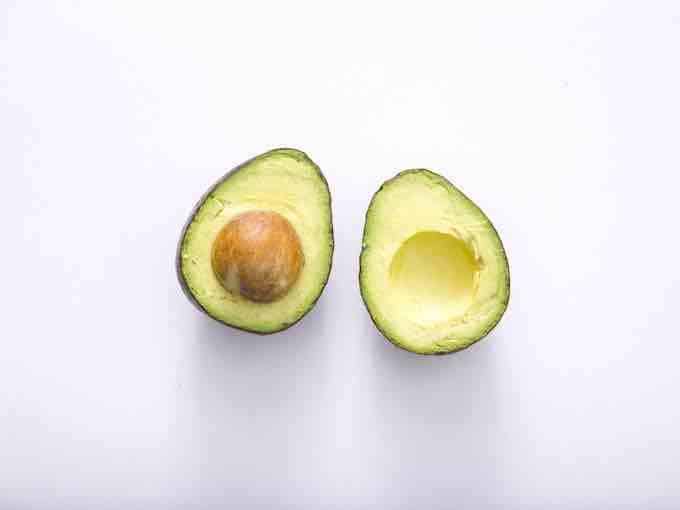 How to Get Perfectly Ripe Avocados
I like to pick out avocados before they're close to being ripe. Most of the time, if they're already ripe in the store, they'll be bruised from people squeezing them. Gently squeeze the avocado without applying too much pressure. A ripe avocado will give slightly when you press it, but it shouldn't be mushy or hard.
Check for blemishes and avoid buying avocados with large brown spots or bruises, as these may indicate that the fruit is overripe or damaged. The stem should be firm and not easily removed. If it comes off easily, the avocado may be overripe.
To ripen them faster, I keep them in a bowl with bananas! The ethylene gas released from the bananas will help soften the avocados quickly.
Once the avocados are soft, I put them in the fridge. This will keep them at their peak of ripeness for a bit longer!
Ways to Use Guacamole
This guacamole is a great dip for chips but there are plenty of other ways you can enjoy it! Try it as a topping to these vegetarian tostadas or use it to tame the spice of these buffalo chickpea tacos. You can also enjoy it on top of this slow cooker enchilada casserole or use it to make avocado toast! It makes a great sandwich spread or you can even use it as a topping for your favorite taco salad! Trust me, there are plenty of ways to enjoy this tasty spread!
Print
4 Ingredient Guacamole
Author:
Prep Time: 10 minutes
Cook Time: 0 minutes
Total Time: 10 minutes
Yield: 1 1/2 cups guacamole
Category: Side Dish
Method: No Cook
Cuisine: Mexican
---
Description
This easy 4 ingredient guacamole recipe is the perfect dip to serve with your favorite tortilla chips! You only need a few basic pantry staples to transform your avocados into crave-worthy guacamole!
---
  4 large, ripe avocados
  1/4 cup diced red onion
  1 jalapeno, seeded and diced
  Juice from 1 lime
  Salt to taste
---
Instructions
Slice the avocados in half and discard the pit. Use a large spoon, scoop out the avocado flesh into a bowl.
Mash the avocados with a fork and mix in the red onion, jalapeno, lime juice, and salt.
Serve immediately.
---
Keywords: 4 ingredient guacamole
Looking for other dip recipes? Try this Mexican Street Corn Salad!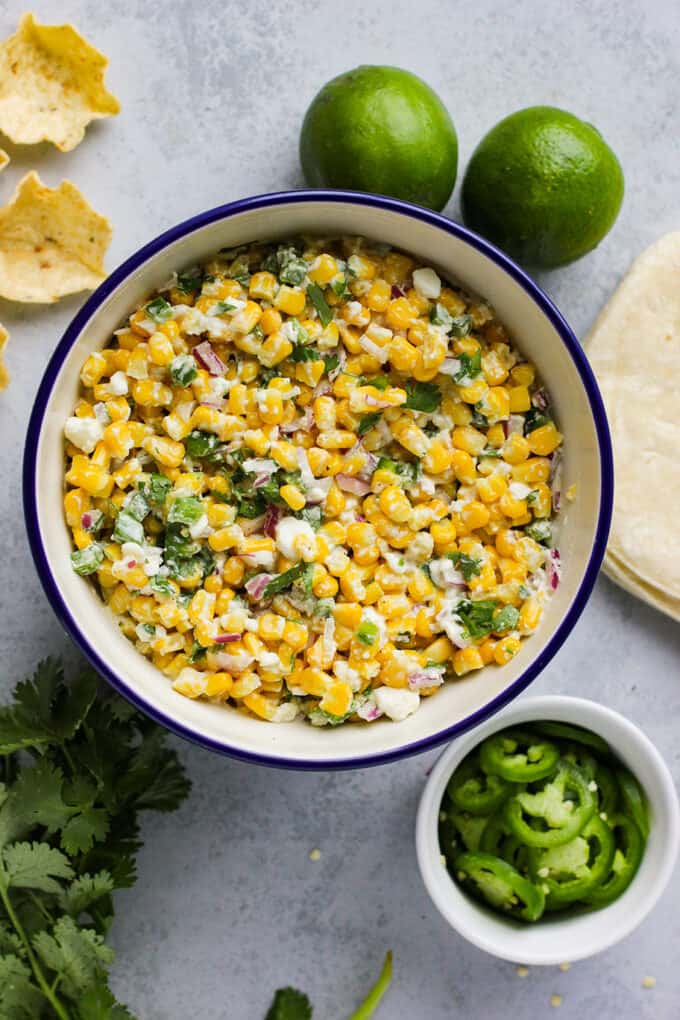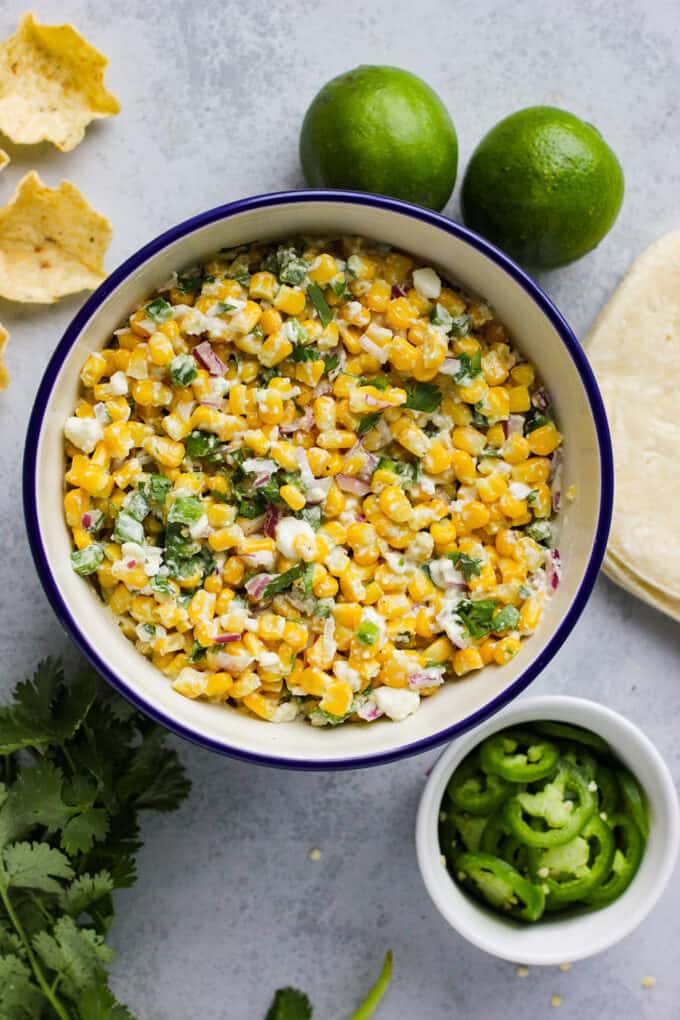 Do you like your guacamole spicy?