Slow Cooker Black Beans
These slow cooker black beans are an easy way to transform dried beans into a delicious, simple side dish. With just a few herbs and spices, these tender beans become a crave-worthy addition to your meal!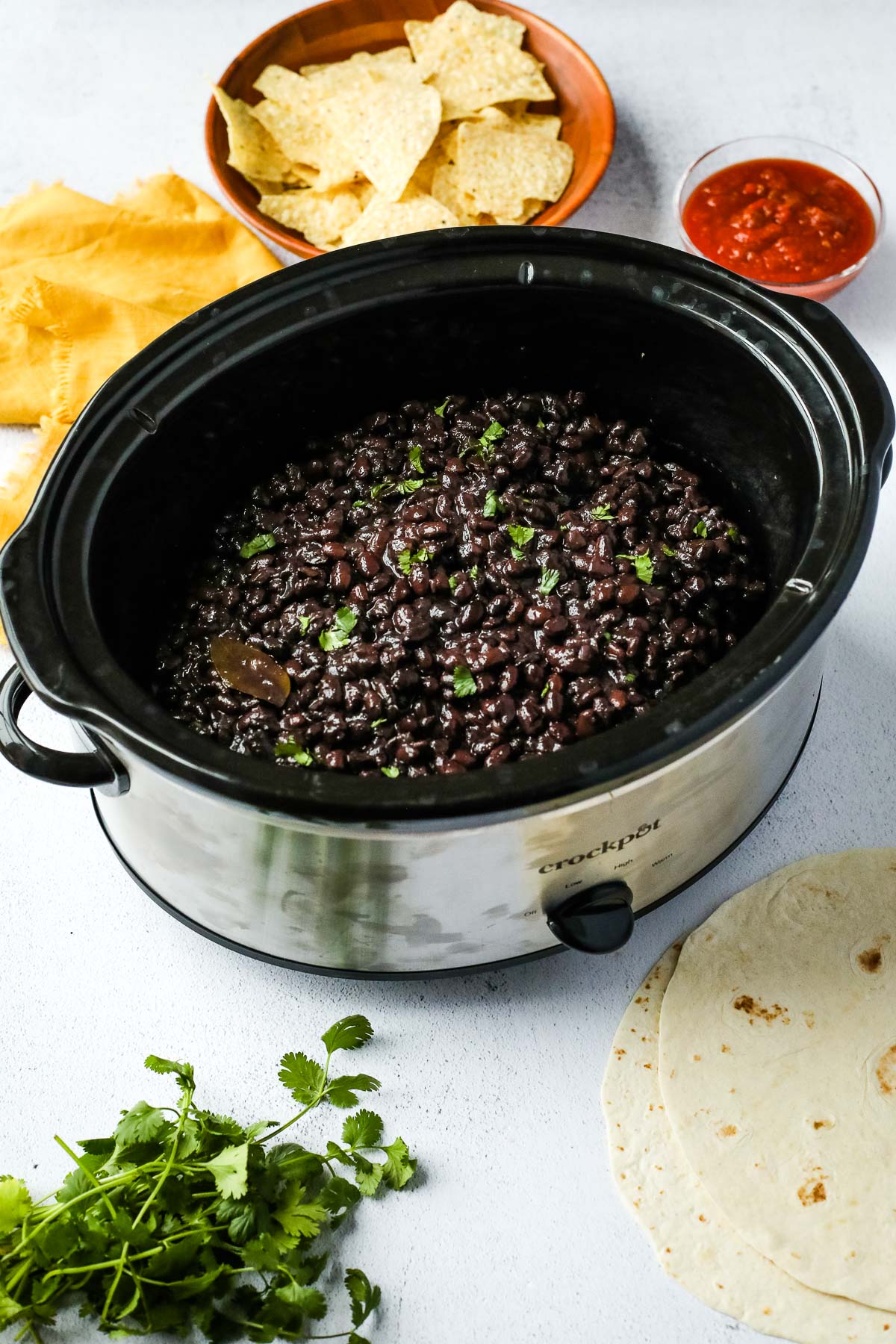 Let me be honest. For a long time, I didn't think dried beans were worth the hassle. Most recipes called for soaking the beans overnight and I rarely plan that far ahead. I like to make what I'm craving and if I have a craving for black bean tacos, I want to make them today. But these slow cooker black beans taught me that dried beans are worth the effort and I don't have to plan a day in advance.
These beans take about 4 hours, but that means you can start them in the morning and have tacos at lunch, or start them in the afternoon and still have your beans ready for dinner! I was shocked at the incredibly creamy texture of these beans and I might think twice before opening a can of black beans.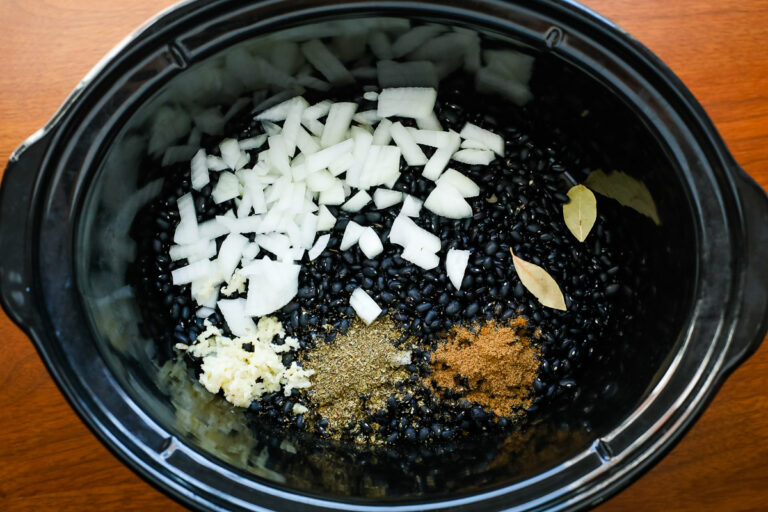 How to Season Black Beans
The key to delicious black beans is to add lots of seasonings so these tender beans are packed with flavor. Here are my favorite seasonings with substitution suggestions:
Onion– I recommend using a finely diced yellow or white onion. You could use a shallot for a more mild flavor.
Garlic– I love garlic so this was a must for me. You can substitute with garlic powder, if necessary.
Vegetable broth– I used a vegetarian chicken-style broth, but you can use any kind of vegetable broth you like. I recommend using a low-sodium broth so you can control the saltiness.
Bay leaves– Bay leaves add a unique layer of flavor, enhancing all of the other herbs and improving the overall dish! If you don't have any, you can leave them out.
Oregano– Slightly sweet with a mild spice, it adds a nice layer of flavor to the beans.
Cumin– Ground cumin adds a warm, earthy spice to the dish.
Lime juice– The acid brightens the dish and I love the hint of citrus this adds to the beans.
Ways to Use Slow Cooker Black Beans
These black beans make a delicious side dish for your favorite tacos, but you can also use them in recipes that call for black beans. If a recipe calls for a 15-ounce can of black beans, you can usually substitute 1 1/2 cups of cooked black beans. These would make a great addition to this vegetarian taco soup, black bean soup, vegetarian enchiladas, or black bean dip.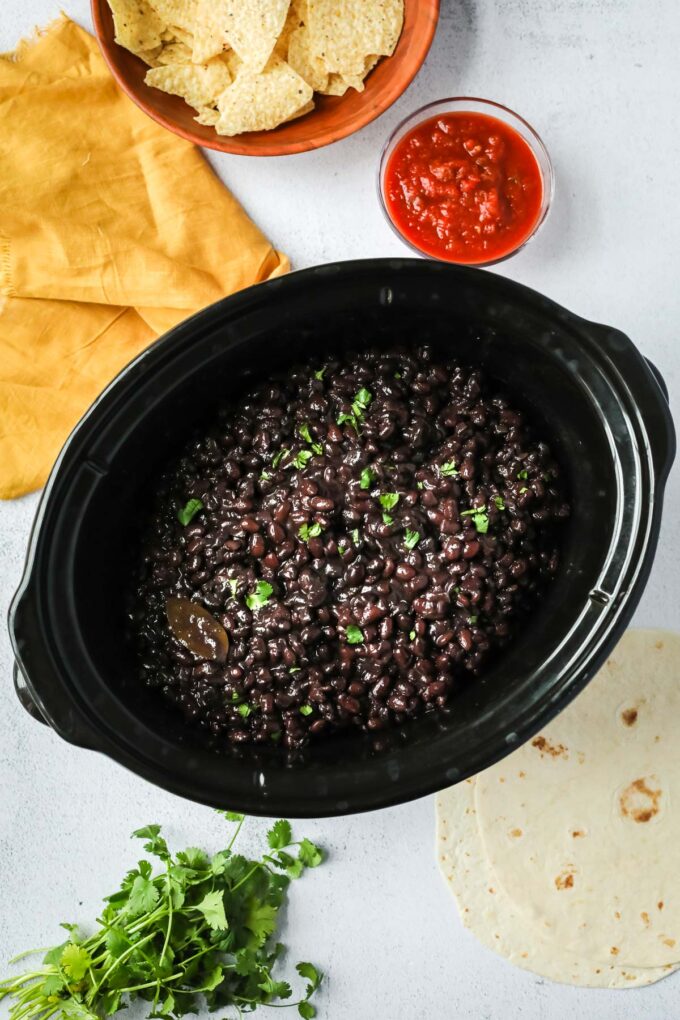 Frequently Asked Questions
Do I really have to rinse my beans? Yes! Dried beans haven't been washed so for safety reasons, it's important to rinse them. You should also check for small stones that could be in the beans.
Do I need to soak the beans first? Nope! For this recipe you can rinse them and add them right to the slow cooker.
What type of slow cooker should I use? I used this large 8-quart oval-style Crockpot brand slow cooker. But nearly any size or shape should work. If it's smaller than 6 quarts, you may want to halve the recipe to ensure you can fit all the beans in.
Do I have to use dried beans? For this recipe, yes. If you want to make seasoned beans without a slow cooker, try my Mexican Black Beans recipe which uses canned beans.
Can I use other seasoning? Absolutely! If you want to make these spicy, add some chili powder and hot sauce. If you don't have bay leaves, you can skip them.
How long do leftovers last? They should last about 5 days in the fridge, stored in an airtight container.
What to Serve with Black Beans
I love pairing these black beans with my cilantro lime rice or my Mexican-style rice. Both of those recipes can be made in the rice cooker so it's another great hands-off recipe! These beans can also be served with your favorite salad or paired with tortilla chips.
Print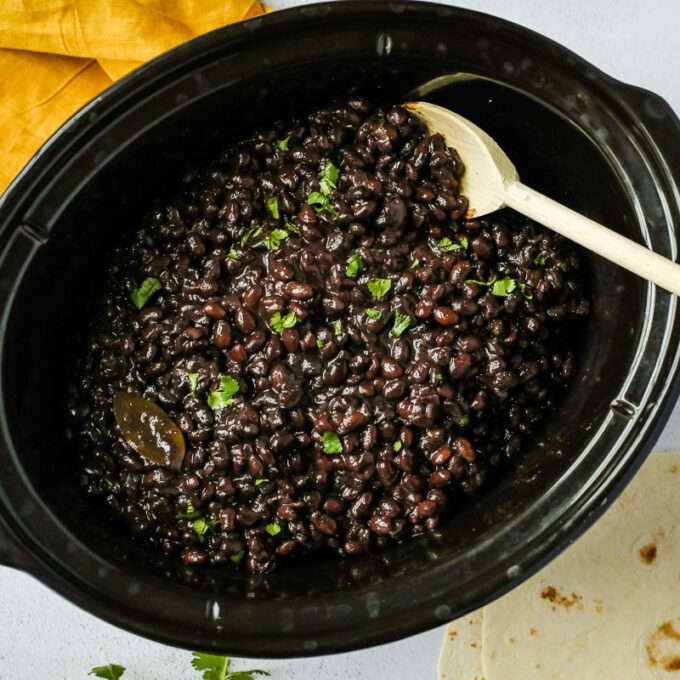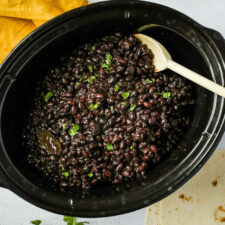 Slow Cooker Black Beans
Author:
Prep Time: 5 minutes
Cook Time: 4 hours
Total Time: 4 hours 5 minutes
Yield: 8 cups 1x
Category: Side Dish
Method: Slow Cooker
Cuisine: Mexican Inspired
Diet: Vegan
---
Description
These slow cooker black beans are an easy way to transform dried beans into a delicious, simple side dish. With just a few herbs and spices, these tender beans become a crave-worthy addition to your meal!
---
1 lb dried black beans, rinsed
1 small yellow onion, diced
6 cloves garlic, minced
4 cups vegetable broth
2 cups water
1 teaspoon ground cumin
2 teaspoons dried oregano
2 bay leaves
2 teaspoons lime juice
Salt to taste
---
Instructions
In a large slow cooker, add the black beans, onion, garlic, broth, water, cumin, oregano, and bay leaves. Stir to combine.
Cook on high for 3 1/2-4 hours until the beans are tender.
Discard the bay leaves and add lime juice and salt to taste.
---
Keywords: slow cooker black beans