Tempeh Lettuce Wraps
These tempeh lettuce wraps are a delicious high-protein vegan meal that is packed with flavor! Add your favorite veggies and enjoy these tasty wraps!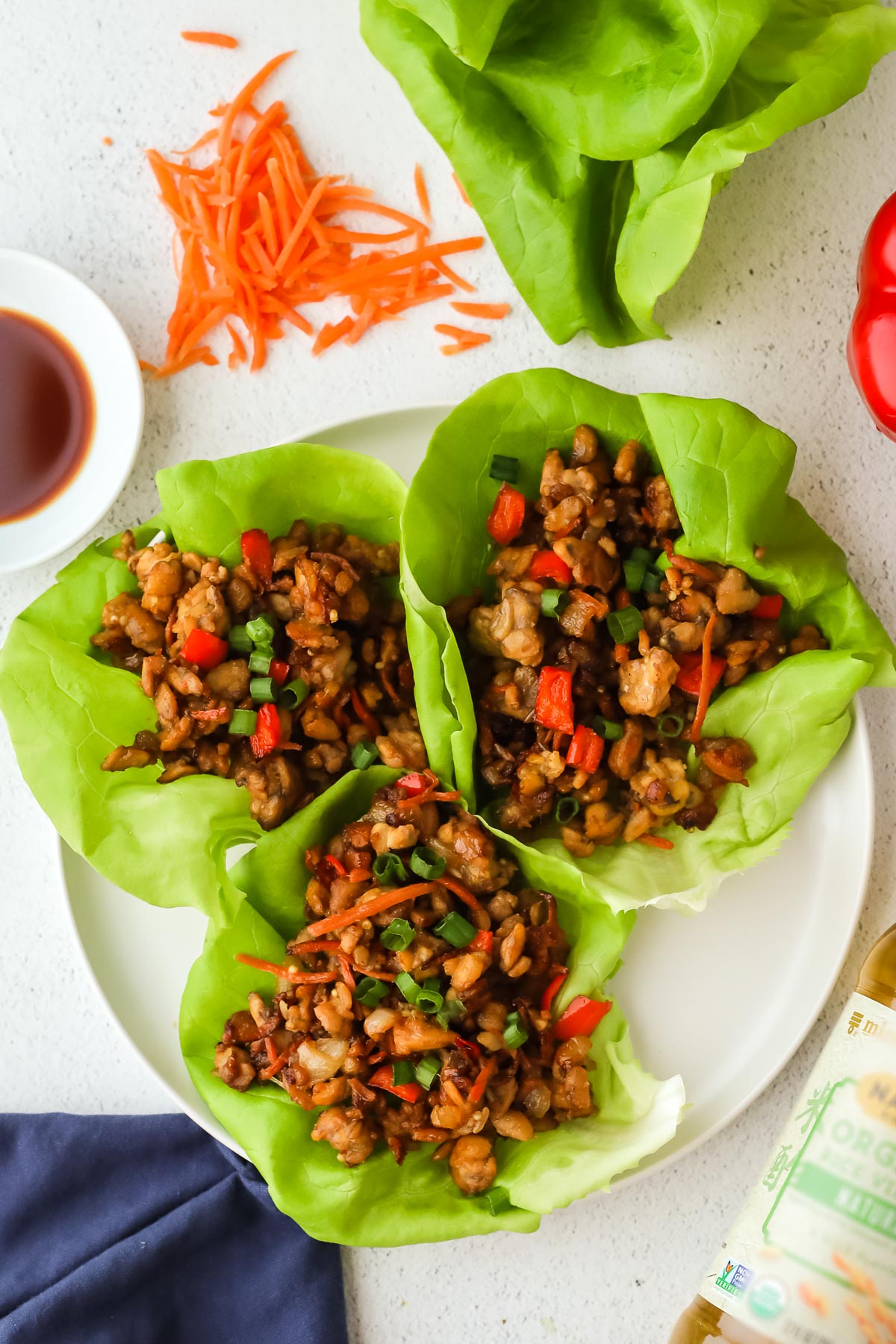 Tempeh is one of my favorite sources of protein. It's made from soybeans so it's similar to tofu in terms of nutritional value, but I think it's much easier to work with. You can crumble it, toss it in sauce, and add it to a stir-fry. One serving of these tempeh wraps has 27g of protein and just 350 calories. If you're looking for a high-protein meal, this is a great one!
What is tempeh?
Tempeh is made from fermented soybeans, similar to tofu. It's typically sold in the refrigerated part of the natural foods section, near the tofu. It has a relatively mild taste on its own, but it's great at absorbing flavors. With a little sauce, we can transform tempeh into a tasty, umami-packed protein.
Is tempeh healthy?
Yes! Tempeh is a great source of plant-based protein. It's also an excellent source of fiber, so it will help keep you full! Some tempeh is gluten-free but some do contain gluten, so check the package if you have an allergy. I typically buy the Trader Joe's brand which does not contain gluten.
The Best Lettuce for Lettuce Wraps
I like using butter lettuce which is a nice size and shape for lettuce wraps. Plus the lettuce is tender and easy to eat. But these also work well with romaine leaves or iceberg lettuce. You could even use collard greens to create a wrap.
Substitution Ideas
Feel free to get creative with the vegetables! I used onion, bell pepper, and carrots because that's what I had in my fridge. But you could use broccoli, cabbage, water chestnuts, or any other stir-fry vegetables you enjoy! You can also add more vegetables if you want to bulk these up even more.
How to Make Tempeh Lettuce Wraps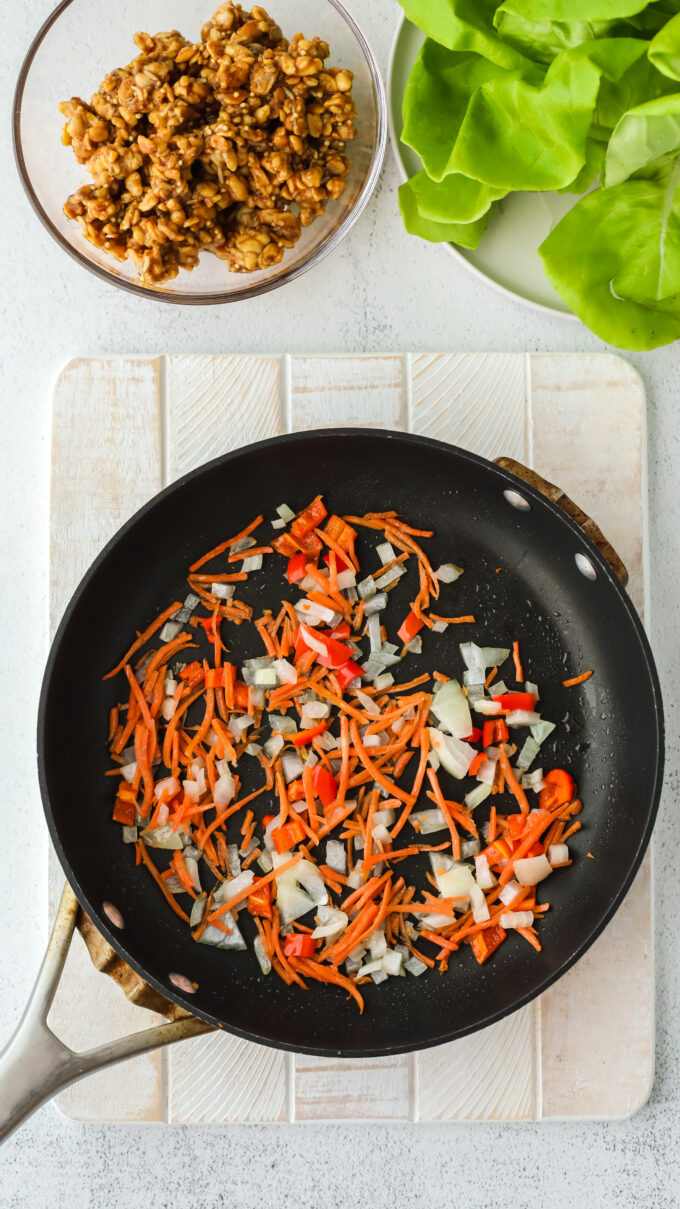 What to Serve with Tempeh Lettuce Wraps
These would be perfect served with egg rolls, spring rolls, or potstickers. You could also serve them with this crunchy rainbow slaw that thas a tasty peanut dressing! Or pair it with a side of this air fryer broccoli. It's one of my favorite easy side dishes!
Looking to spice things up? Add a drizzle of my homemade chili crisp oil on top!
More Tempeh Recipes
Print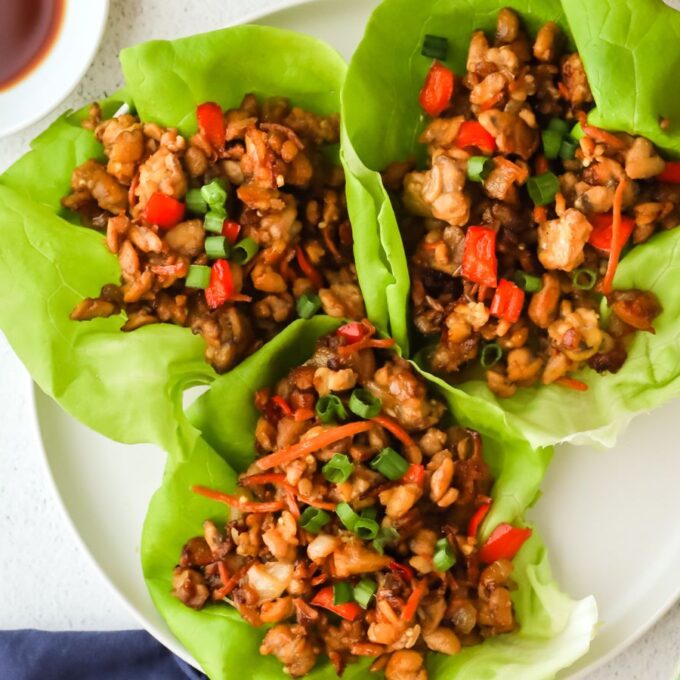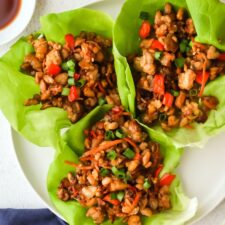 Tempeh Lettuce Wraps
Author:
Prep Time: 10 minutes
Cook Time: 10 minutes
Total Time: 20 minutes
Yield: Serves 2
Category: Dinner
Method: Stovetop
Cuisine: American
Diet: Vegan
---
Description
These tempeh lettuce wraps are a delicious high-protein vegan meal that is packed with flavor! Add your favorite veggies and enjoy these tasty wraps!
---
2 tablespoons rice vinegar
3 tablespoons soy sauce
1 teaspoon garlic powder
1 tablespoon freshly grated ginger
1 tablespoon hoisin sauce
8oz package tempeh, crumbled
1 tablespoon avocado oil or vegetable oil
1/2 cup diced onion
1/2 cup diced bell pepper
1/2 cup shredded carrots
6 large butter lettuce leaves
2 green onions, diced
---
Instructions
In a large bowl, combine the rice vinegar, soy sauce, garlic powder, grated ginger, and hoisin sauce. Add the crumbled tempeh and stir until the tempeh is evenly coated.
Add the oil to a large skillet and add the chopped vegetables. Cook over medium-high heat for 3 minutes until the vegetables begin to soften.
Add the tempeh and continue to cook for 7-9 minutes.
Let the mixture cool slightly to avoid wilting the lettuce, then divide the mixture among 5-6 lettuce cups. Top with green onions and serve.
---
Keywords: tempeh lettuce wraps