Veggie Burrito Bowl
This veggie burrito bowl recipe is filled with rice, beans, and greens, and drizzled with a delicious cilantro sauce. This recipe was inspired by the El Jefe bowl from Roots.
There's a fast-casual restaurant here in Richmond (and in a few other cities) called Roots, which makes loaded grain bowls. I love their El Jefe bowl and after ordering it a handful of times, I realized I could probably recreate it at home. I was so pleased with how this turned out, my husband even claimed it was better than the restaurant version! I think it's the cilantro sauce that really takes it up a notch. This recipe is simple, healthy, and delicious!
I truly wasn't sure what to call this recipe. A grain bowl? A rice bowl? Something southwestern? What about the pita chips? Ultimately I settled on calling it a veggie burrito bowl since it has a lot of my favorite burrito ingredients, but I think you'll find this rice bowl to be quite unique!
Ingredients & Substitutions
Rice– I used brown rice because that's what they use at the restaurant and I really like the slightly nutty flavor it adds to the bowl. But feel free to use any type of rice you prefer. You could even use quinoa.
Black beans– I used canned black beans that I drained and rinsed. I think this recipe would also be good with pinto beans.
Corn– I used canned corn, but this also works with frozen corn. Roasting it brings out sweetness and flavor, so don't skip that step!
Greens– Roots uses kale so I recommend that, but I've also had this with mustard greens and that's good too!
Avocado– The avocado adds healthy fat and a rich creaminess to the bowl, so don't skip it!
Pita chips– These add an unexpected salty crunchy that really adds to the texture. If you don't have pita chips, you can use tortilla chips or even croutons.
Red onion– A little diced red onion lends a little bite to this recipe. If you don't like the flavor of raw onions, try soaking them in water for a few minutes. It helps tame the flavor.
Cilantro sauce– This is the key to adding a rich flavor to the recipe! All you need is mayonnaise, lime juice, and cilantro. You can use vegan mayo if you want to keep this recipe vegan. If you want a spicy sauce, try my burrito sauce instead!
Cheese– If you'd like, you can add a little crumbled feta on top. That's what Roots uses and it adds a nice salty flavor. But you can skip it if you want to keep this vegan.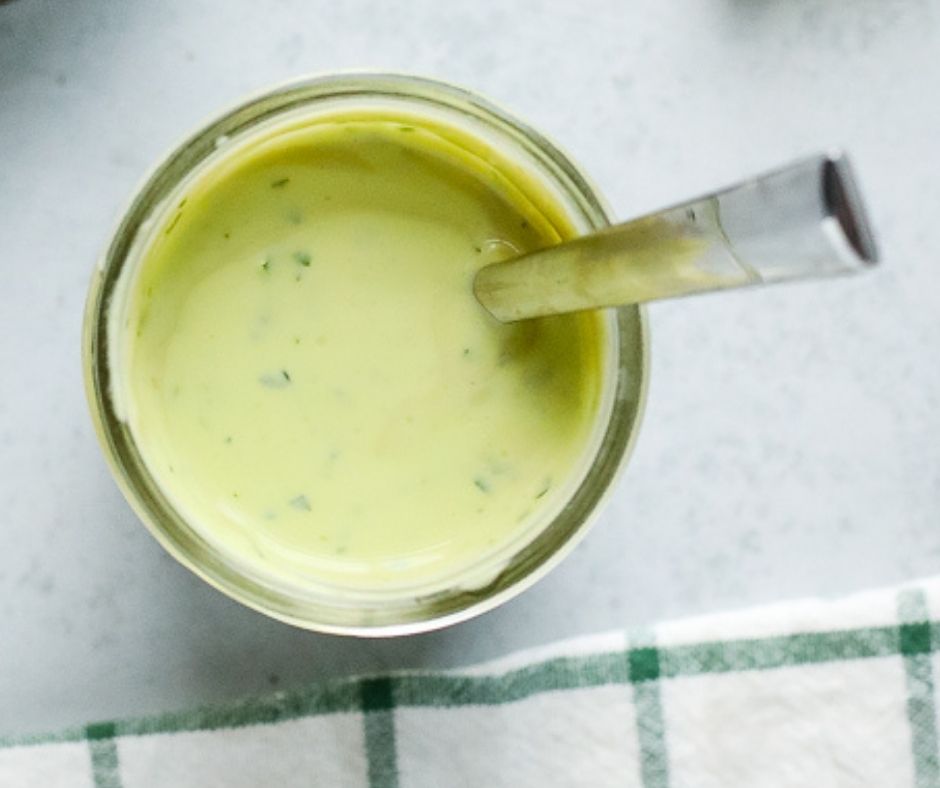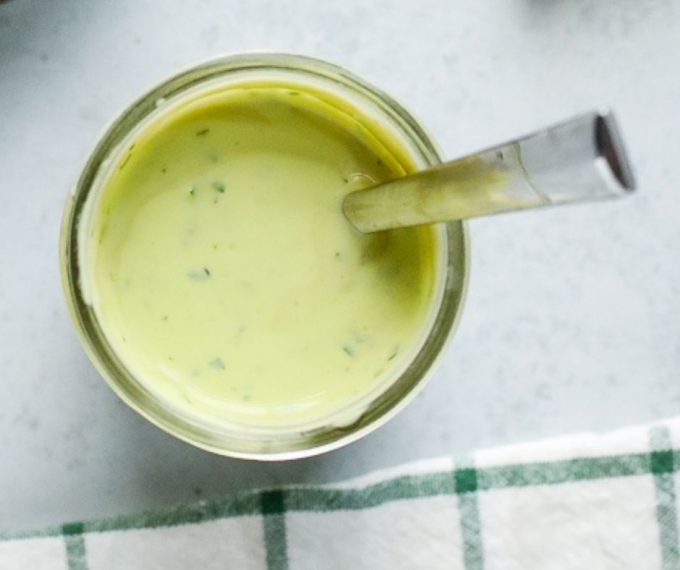 How to Make Cilantro Sauce
This cilantro sauce is easy to make and it adds a delicious flavor on top of this bowl.
You'll need:
1/4 cup mayonnaise or Vegenaise
Juice from 1/2 lime
1 tablespoon water
1/2 cup loosely packed cilantro leaves
To make it:
Add the mayonnaise, lime juice, water, and cilantro into a small food processor or blender.
Blend until smooth. Add salt to taste.
Store in an air tight container in the fridge for up to 4 days.
How to Make
Shortcuts & Meal Prep Tips
I typically prepare a big batch of rice so I have it ready to go for recipes like this one. If you don't have rice prepared, I recommend using Success Rice boil-in-bag rice which can easily be made in the microwave or on the stovetop.
You can prepare the cilantro sauce in advance. It will last up to 4 days in the fridge.
To roast the corn even faster, try it in an air fryer. It will get golden brown in just a few minutes.
Print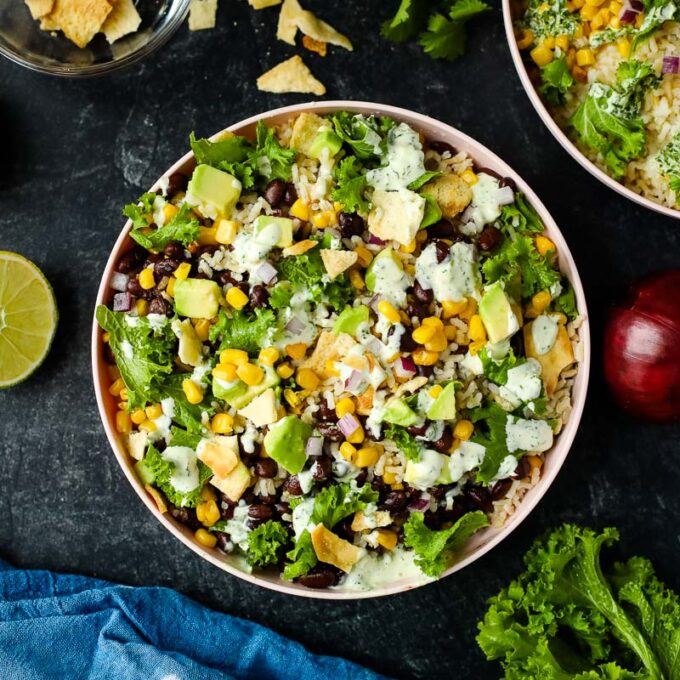 Veggie Burrito Bowl (Roots Copycat)
Author:
Prep Time: 10 minutes
Cook Time: 10 minutes
Total Time: 20 minutes
Yield: 2 large bowls 1x
Category: Dinner
Method: Oven
Cuisine: American
Diet: Vegan
---
Description
This veggie rice bowl recipe is filled with rice, beans, and greens, and drizzled with a delicious cilantro sauce. This recipe was inspired by the El Jefe bowl from Roots.
---
1 cup cooked brown rice
2 cups chopped kale, stems removed
1 15oz can black beans, drained and rinsed
1 15oz can corn, drained
1 avocado, peeled and chopped
1/4 cup pita chips
1/4 cup mayonnaise
1/2 cup cilantro leaves
Juice from 1/2 lime
1/4 teaspoon salt
---
Instructions
Preheat the oven to 450 degrees.
Spread the corn on a baking sheet and roast for 5-6 minutes until it begins to brown.
In a small food processor, add the mayonnaise, cilantro, lime juice, and salt. Blend until combined.
Add the rice and beans to a microwave-safe bowl. Microwave on high for 1-2 minutes until heated.
Divide the rice and bean mixture into two bowls. Top with kale, roasted corn, avocado, pita chips, and cilantro sauce.
---
Keywords: roots copycat bowl, roots copycat recipe, roots bowl, el jefe
More Grain Bowl Recipes