Easy Blender Salsa
This simple salsa recipe is made in a blender with canned tomatoes for a quick and delicious salsa that is ready in just a few minutes!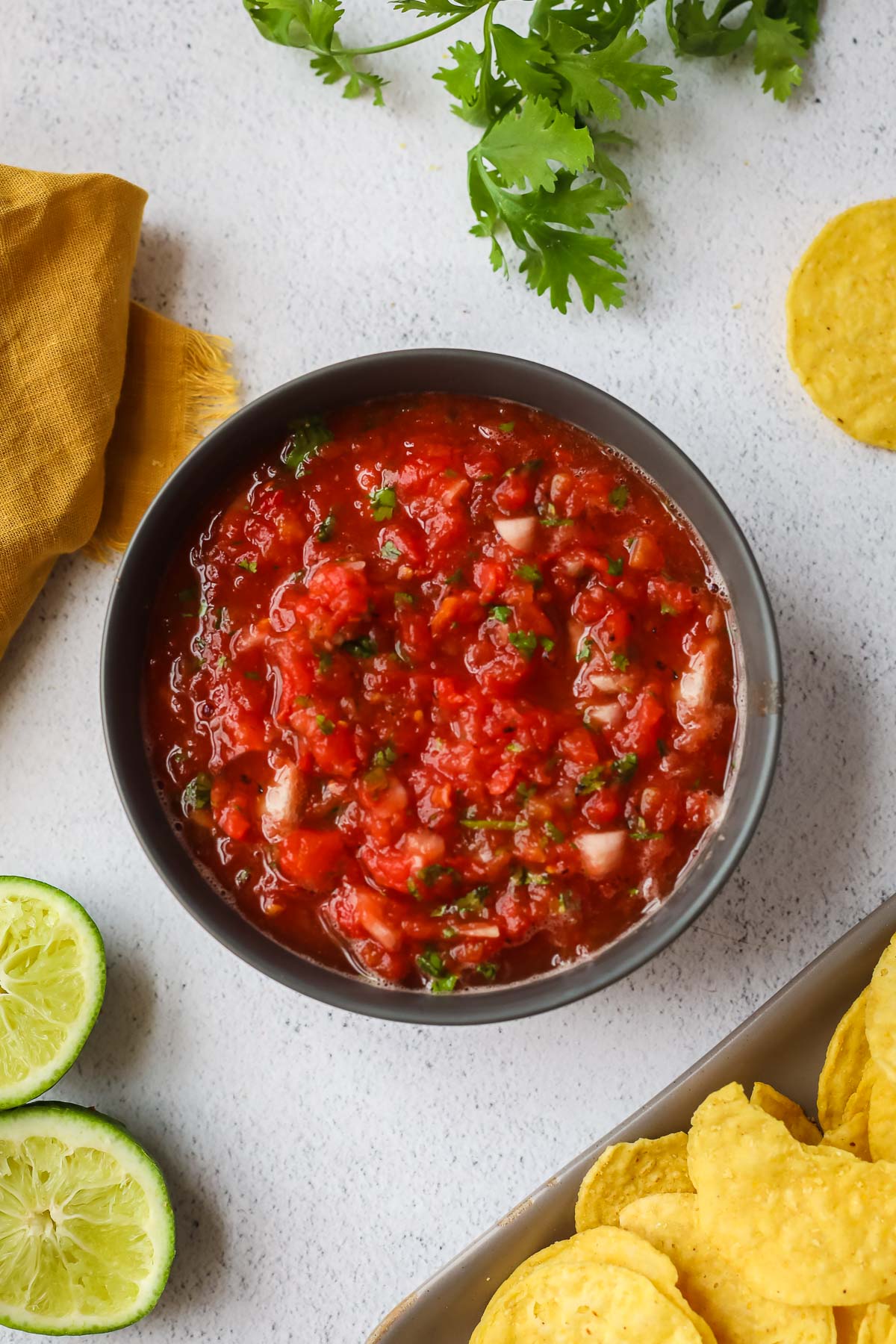 If you love the chunky restaurant-style salsa that is served at your favorite Tex Mex spot, you're going to love this salsa! I have to admit, I was actually surprised how easy it was to make a really delicious salsa using canned tomatoes. This is the perfect recipe when you need a quick and easy dip to pair with chips or tacos! It's similar to a pico de gallo recipe, but this salsa can be made with canned tomatoes instead of fresh tomatoes.
Ingredients & Substitutions
Diced tomatoes: This is the main base of the chunky salsa, providing a juicy and chunky texture. I like using fire-roasted tomatoes for even more flavor. You can also make this homemade salsa recipe with fresh tomatoes. I recommend about 1 1/2 cups of chopped tomatoes.
Onion: This adds a slightly sharp flavor to the salsa. If you don't have white onion, you can substitute it with red onion or shallots for a similar taste. I think this is what really makes it tastes like a restaurant style salsa.
Cilantro: Fresh cilantro adds a refreshing and herbal note to the salsa. If you don't like the taste of cilantro, you can skip it. I don't recommend substituting dried cilantro which doesn't have a lot of flavor.
Lime juice: Fresh lime juice adds a tangy and citrusy element to the salsa and helps balance the overall taste. If you don't have lime, you can substitute it with lemon juice for a similar flavor. If you want even more lime flavor, use the lime zest too!
Garlic powder: This adds a subtle garlic flavor to the salsa without needing fresh garlic. You can substitute the garlic powder with 1-2 minced garlic cloves if you prefer fresh garlic.
How to Make Blender Salsa
How to Use Fresh Salsa
This is a great dip for your favorite tortilla chips, but you can use it in other ways too! Mix it into a taco salad, use it as a taco topping, or add it to your next vegetarian burrito! You can also scoop up this salsa with bell pepper strips if you want to use veggies instead of chips!
More Sauce Recipes
If you like homemade salsa recipes, try my 5 minute corn salsa recipe too! And if you're looking for more ways to add flavor to your favorite Mexican dishes, try my taco sauce, burrito sauce, quesadilla sauce, or taco seasoning!
Frequently Asked Questions
Do you cook salsa after blending? Nope, there's no need to cook this homemade blender salsa after it's blended. So it truly only takes a few minutes to make!
Can I make it spicy? Yes! For a spicy salsa, add one chopped jalapeño pepper to the blender or you can add some canned green chiles to the mix.
Can I make it chunkier? Yes! For a chunkier salsa, drain the tomatoes before blending. I recommend reserving the juice in case you want to add a little bit back in.
Can I use a food processor instead of a blender for salsa? Yes! You can use a food processor or even an immersion blender. Just pulse the food processor a few times until you reach the desired consistency. You can make it chunky or smooth, depending on how long you blend it.
Print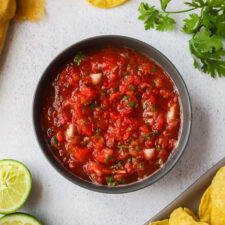 Easy Blender Salsa
Author:
Prep Time: 5 minutes
Cook Time: 0 minutes
Total Time: 5 minutes
Yield: 1 1/2 cups 1x
Category: Side Dish
Method: Blended
Cuisine: Tex Mex
Diet: Vegan
---
Description
This simple salsa recipe is made in the blender with canned tomatoes for a quick and delicious salsa that is ready in just a few minutes!
---
1 14oz can diced tomatoes
1/4 white onion, chopped
1/4 cup cilantro
Juice of one lime
1/4 teaspoon garlic powder
Salt generously to taste
---
Instructions
Add all the ingredients to a blender or food processor.
Pulse 8-10 times (blending for just a few seconds at a time) until the salsa is the desired consistency. You can blend it longer for a smooth salsa.
Add additional salt to taste, if desired.
---