Whole Wheat Tortillas
Making delicious whole wheat tortillas at home is surprisingly easy! This recipe is perfect for taco night, or you can use these tortillas to make a simple vegetarian wrap.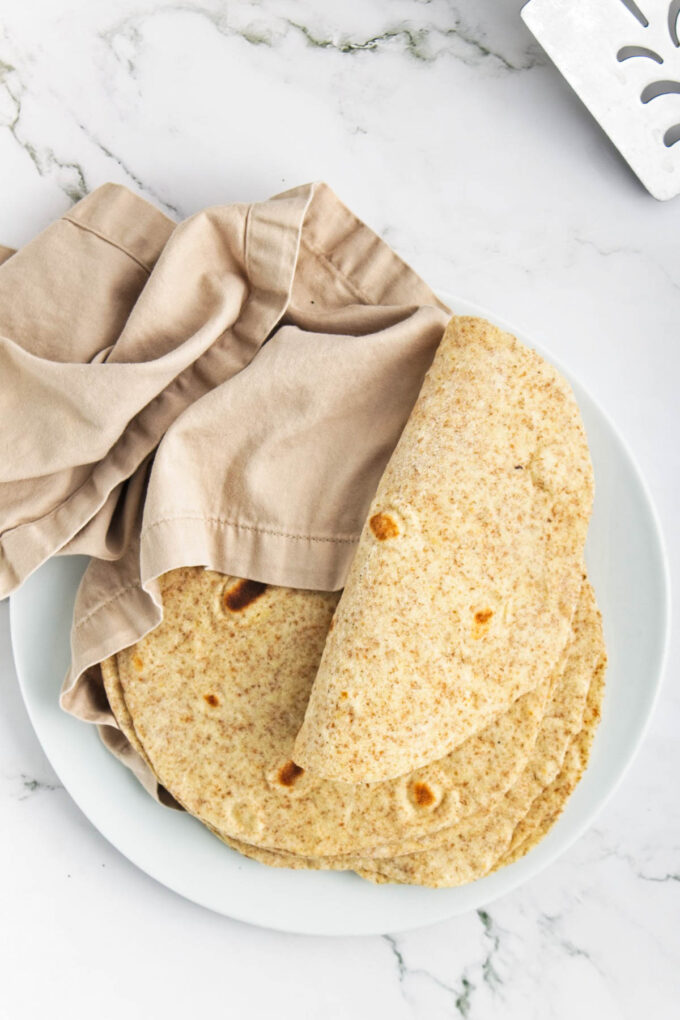 I've been surprised at how easy it is to make homemade flatbread, bread without yeast, or no knead bread, so I figured the next thing I should try is tortillas! Luckily, it's just as easy to make delicious homemade tortillas. There's nothing better than a fresh, warm tortilla, and it can take your tacos to the next level. Plus, these tortillas are whole wheat so they have more protein and fiber than a lot of store-bought tortillas.
Many tortillas are made with lard, meaning they're not vegetarian. Obviously, I'm keeping these tortillas completely plant-based, so they're good for you, and they're perfect for vegetarians and vegans.
How to Make Whole Wheat Tortillas
Ways to Use Tortillas
Try these tortillas with my broccoli tacos or use them as a wrap for this curried chickpea salad. You could also enjoy these as a side dish to my white bean chili or smear it with guacamole for a simple snack.
Frequently Asked Questions
Are whole wheat tortillas healthy? Whole wheat tortillas have protein and fiber, which can be a healthy addition to your meal, but they're not low in calories. Since these tortillas are homemade, they don't contain any preservatives or additives. But always check the nutritional information after the recipe to decide if these are a good fit for your diet. If you want a low carb option, try these egg white wraps!
Which is better for you, whole wheat or corn tortillas? I have a whole blog post on the difference between flour and corn tortillas if you want to learn more.
How do you make tortillas fast? These tortillas only take a few minutes to make. Since tortillas are made without yeast, there's no need for a rise time.
Is it better to use butter or oil for tortillas? For this recipe, I prefer using oil. It's also an easy way to keep these tortillas vegan.
What are the ingredients of a tortilla? These tortillas are made with all-purpose flour, whole wheat flour, baking powder, salt, oil, and water.
How do you make homemade tortillas without a press? You can roll the tortillas out with a rolling pin to your desired thickness.
What is the main ingredient of tortillas? For this recipe, we're using a combination of all-purpose flour and whole wheat flour, but tortillas can be made from wheat or corn.
Why are my homemade flour tortillas tough? If your homemade tortillas are tough, you may be overmixing the dough. Another way to make your tortillas softer is to use white whole-wheat flour instead of regular whole wheat flour.
Which is healthier, whole wheat bread or whole wheat tortilla? It depends. Some whole wheat bread can have more fiber and protein. Some are lower in calories, whereas some are very calorie dense. Always check the nutritional information to decide what's best for you.
Print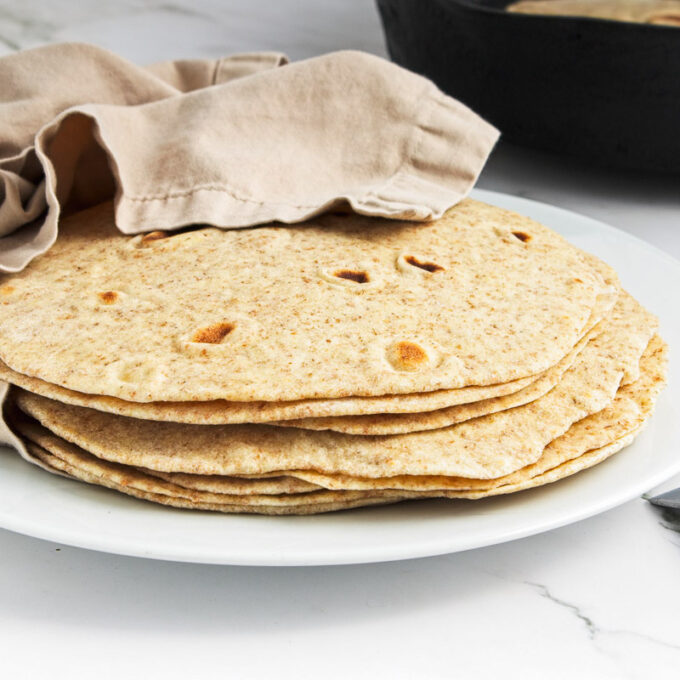 Whole Wheat Tortillas
Author:
Prep Time: 15 minutes
Rest Time: 20
Cook Time: 15 minutes
Total Time: 50 minutes
Yield: 12 tortillas 1x
Category: Side Dish
Method: Stovetop
Cuisine: American
Diet: Vegan
---
Description
Making delicious whole wheat tortillas at home is surprisingly easy! This recipe is perfect for taco night, or you can use these tortillas to make a simple vegetarian wrap.
---
1 3/4 cup all-purpose flour
1 1/2 cup whole wheat flour
1 1/2 teaspoons baking powder
1 teaspoon salt
2 tablespoons avocado oil or vegetable oil
1 cup warm water
---
Instructions
In a large bowl, combine the flour, baking powder, and salt. Stir until combined.
Add the oil and stir until the oil is in small clumps throughout the mixture.
Add the warm water to the flour mixture. Stir until a shaggy mass forms. If there is still a significant amount of dry flour in the bowl that isn't incorporated, add one tablespoon of water.
Once everything holds together, turn out onto a clean work surface and knead 5-7 times until smooth and soft.
Cover with plastic wrap or a damp dish cloth and allow to rest for 20-30 minutes for the gluten to relax.
Cut the dough into 12 even pieces. Roll each piece into a ball between your hands.
On a very lightly floured surface, roll the ball out as thin as possible, aiming for about 8" in diameter. They will shrink back a bit after they rest. Repeat with the remaining dough. Use as little flour as possible and cover the dough when you are not working with it, so it doesn't dry out.
Once all the tortillas are ready, heat a cast iron pan or skillet over medium heat. Wait for the pan to get nice and hot (1-2 minutes) before proceeding.
Cook the tortillas one at a time. Cook the first side for 30-40 seconds until bubbles are beginning to form. If it takes too long for bubbles to form the tortilla is drying out as it cooks and will not be flexible when cool.
Flip and cook on the other side for 25-35 seconds until golden brown spots form where the bubbles are. Remove from the pan and cover with a kitchen towel. Any bubbles that have formed will collapse as the tortillas cool.
---
Keywords: whole wheat tortillas
How to Store Leftover Tortillas
Wrap the tortillas in foil or plastic wrap and store in the refrigerator for up to 3 days or store in the freezer for up to 3 months. When you are ready to use the stored homemade whole wheat tortillas, reheat them in a dry skillet or microwave until warm and soft. This will help to restore their texture.
More Simple Bread Recipes