Sheet Pan Quesadillas
These sheet pan quesadillas are an easy way to feed a crowd! Add your favorite fillings, and you'll have this tasty dinner on the table in no time!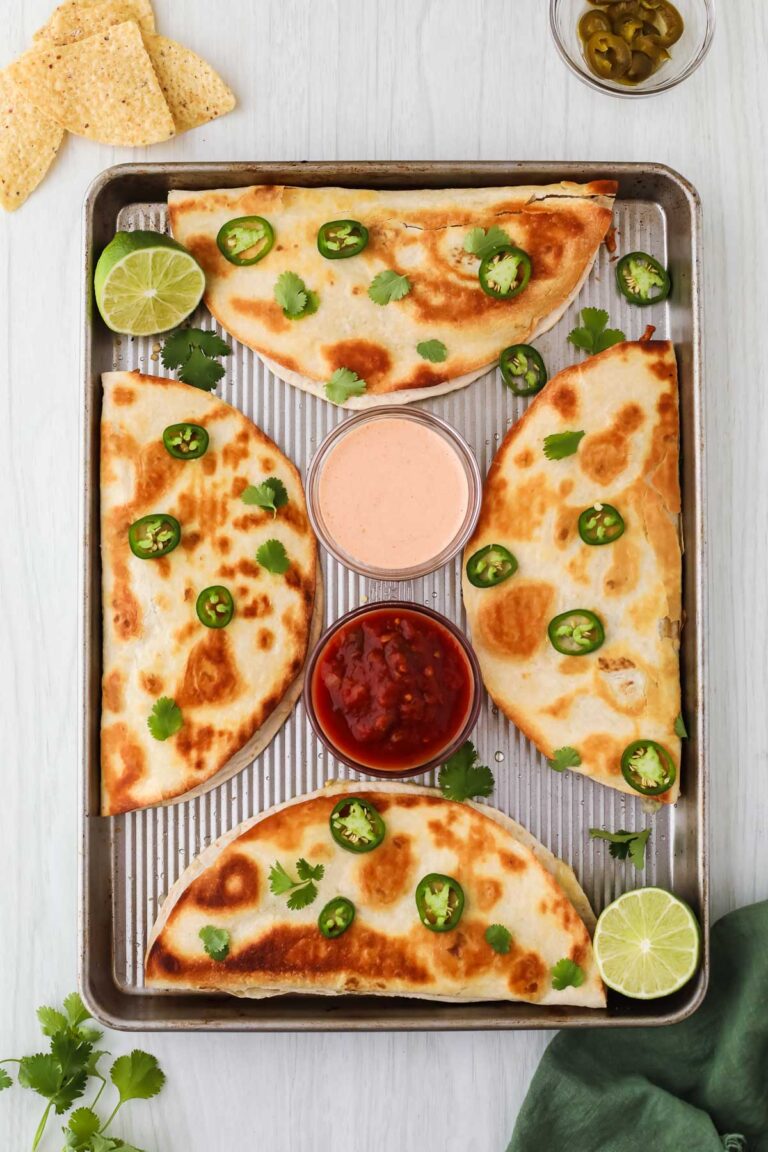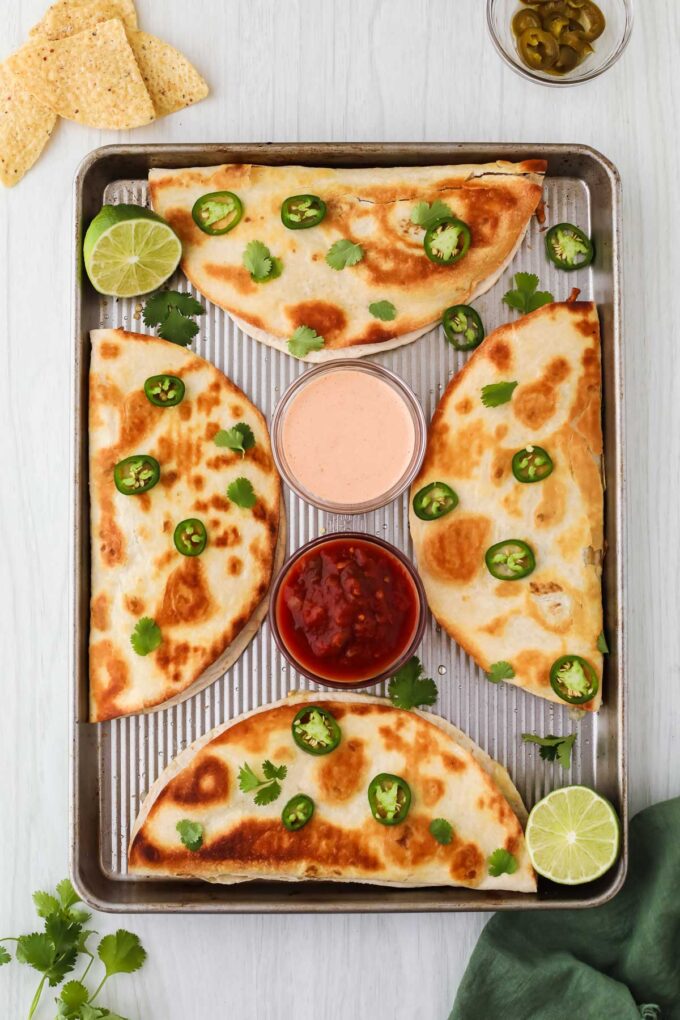 These sheet pan quesadillas are a quick and easy dinner option, perfect for feeding a group. The quesadillas are baked in the oven until the cheese is melted and the edges are nice and crispy. The result is a delicious and satisfying meal packed with protein from the beans and cheese. Serve these quesadillas with your favorite salsa, guacamole, burrito sauce, or quesadilla sauce for an added flavor boost. These sheet pan quesadillas are a crowd-pleaser that will become a weekly staple in your meal rotation.
Ingredients and Substitutions
Oil– You'll need a little oil to brush on the pan to make the tortillas crispy. I used avocado oil, but olive oil works too.
Tortillas- You'll need large flour burrito-size tortillas for this recipe.
Cheese– I recommend Monterey Jack combined with a bit of mozzarella. This gives you a gooey, cheesy, flavorful filling.
Beans– I used canned black beans to add fiber and protein to these quesadillas, but I have additional filling ideas below!
Taco seasoning– I used oregano, garlic powder, paprika, and salt to season the beans. But you can use any taco seasoning you like.
The Best Cheese for Quesadillas
Monterey Jack cheese is often considered to be the best cheese for quesadillas because of its mild, slightly sweet flavor and its smooth, creamy texture. When melted, Monterey Jack cheese becomes deliciously melty, creating the perfect quesadilla texture. Additionally, Monterey Jack cheese is easy to shred and does not clump, which creates a perfectly gooey texture.
How to Make Sheet Pan Quesadillas
Quesadilla Filling Ideas
I kept these simple with beans and cheese but feel free to add additional ingredients!
Vegetables – Grilled or sautéed vegetables like bell peppers, onions, mushrooms, and corn make for a delicious and healthy quesadilla filling.
salsa – A spoonful of salsa adds a tangy and spicy flavor to the quesadilla.
Avocado – Mashed avocado or sliced avocado adds a creamy texture and a rich flavor to the quesadilla.
Refried beans – Refried beans also make a delicious quesadilla filling, and it's an easy way to add more protein and fiber. Just be sure to buy fat-free or vegetarian refried beans as traditional refried beans are made with lard.
Print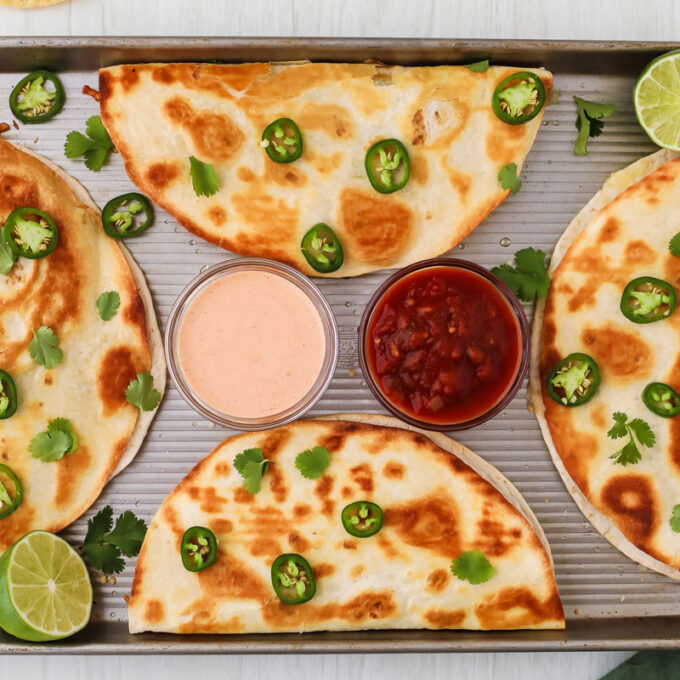 Sheet Pan Quesadillas
Author:
Prep Time: 5 minutes
Cook Time: 10 minutes
Total Time: 15 minutes
Yield: Serves 4
Category: Dinner
Method: Oven
Cuisine: American
Diet: Vegetarian
---
Description
These sheet pan quesadillas are an easy way to feed a crowd! Add your favorite fillings, and you'll have this tasty dinner on the table in no time!
---
1 tablespoon avocado oil or vegetable oil
4 large burrito-sized tortillas
8oz Monterey Jack cheese, shredded (about 2 cups)
2oz mozzarella cheese, shredded (about 1/2 cup)
1 15oz can black beans, drained and rinsed
1 teaspoon taco seasoning (optional)
Garnishes: fresh cilantro, avocado, salsa, quesadilla sauce, etc.
---
Instructions
Adjust the oven rack to the middle position. Preheat the oven to 450 degrees.
Brush a rimmed baking sheet with oil.
Place the folded tortillas on the baking sheet and bake for 5-7 minutes.
In a bowl, combine the mozzarella cheese, Monterey Jack cheese, black beans, and taco seasoning in a bowl.
Remove the baking sheet from the oven and using kitchen tongs, flip the tortillas over.
Open the tortillas and fill each one with the cheese and bean mixture, about one cup per tortilla. Leave a 1-inch border around the edges.
Close the tortillas and use a spatula to press firmly.
Continue to bake for 4-6 minutes or until the tortillas are crispy.
Let cool for 5 minutes, then slice the quesadillas into wedges and serve.
---
Keywords: sheet pan quesadillas
More Sheet Pan Recipe Ideas