The Best Smoothie Bowl Toppings
Looking for ways to switch up your smoothie bowl? Here's a list of the BEST smoothie bowl toppings! Add these ingredients to your next breakfast to take things to the next level!
The Best Smoothie Bowl Toppings
Chia Seeds
Tropical Protein Smoothie Bowl
Chia seeds are packed with healthy fats and fiber! One tablespoon sprinkled on top of your smoothie bowl will give you a boost of 5g of fiber. They're even a good source of potassium and calcium. If you're keeping chia seeds on hand, make sure you store them in the fridge so they'll keep longer!
Sliced Almonds
I love adding some crunch to my smoothie bowls so almond slices are perfect for this. They're an extra dose of protein, fiber, and healthy fats! Plus, they're easy to keep around since they last for a long time. I keep a bag of sliced almonds sealed in the pantry, then I just sprinkle a handful onto my smoothie bowls! If you get them from the bulk bin, you can usually save a few bucks.
Cacao Nibs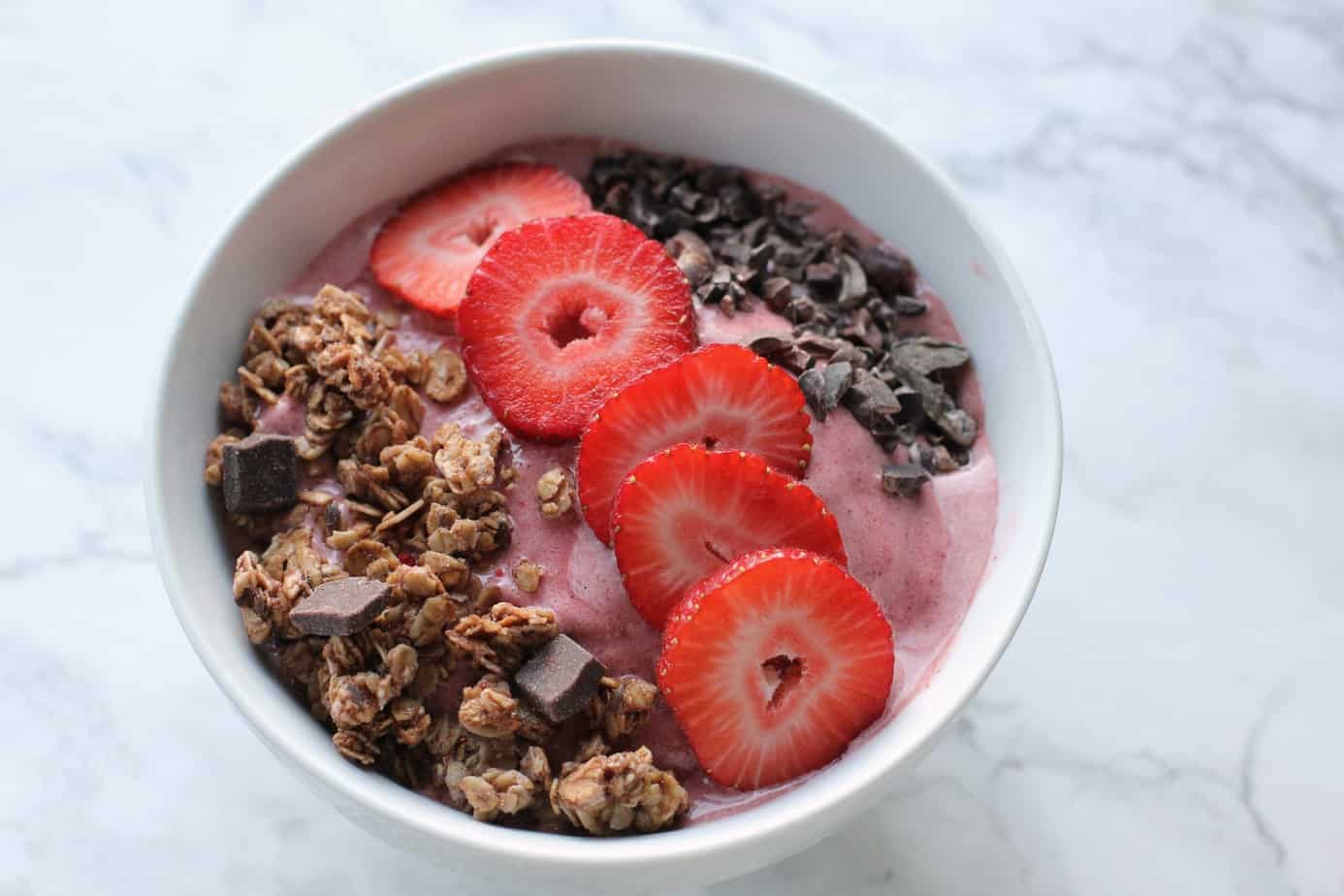 Chocolate Covered Strawberry Smoothie Bowl
If you're craving something chocolate but you don't want to add extra sugar to your smoothie bowl, these raw cacao nibs are perfect. They're super crunchy and they're basically super dark chocolate. I love them in bowls with strawberries for a sort of chocolate covered strawberry kind of taste!
Hemp Hearts
I've started sprinkling some hemp hearts (hemp hearts are shelled hemp seeds) onto my smoothies because they add a nice texture with a little extra protein. One little tablespoon has over 3g of protein! It doesn't have a lot of flavor so if you're hesitant to mix too many flavors in there, hemp hearts are pretty neutral.
Peanut Butter
Peanut Butter Protein Smoothie Bowl
Peanut butter is probably my original favorite smoothie bowl topping. I used to just swirl a spoonful of peanut butter into my banana smoothies and call it a day. My combinations might be a little more creative these days, but I still enjoy that peanut butter and banana combination!
Fresh Peaches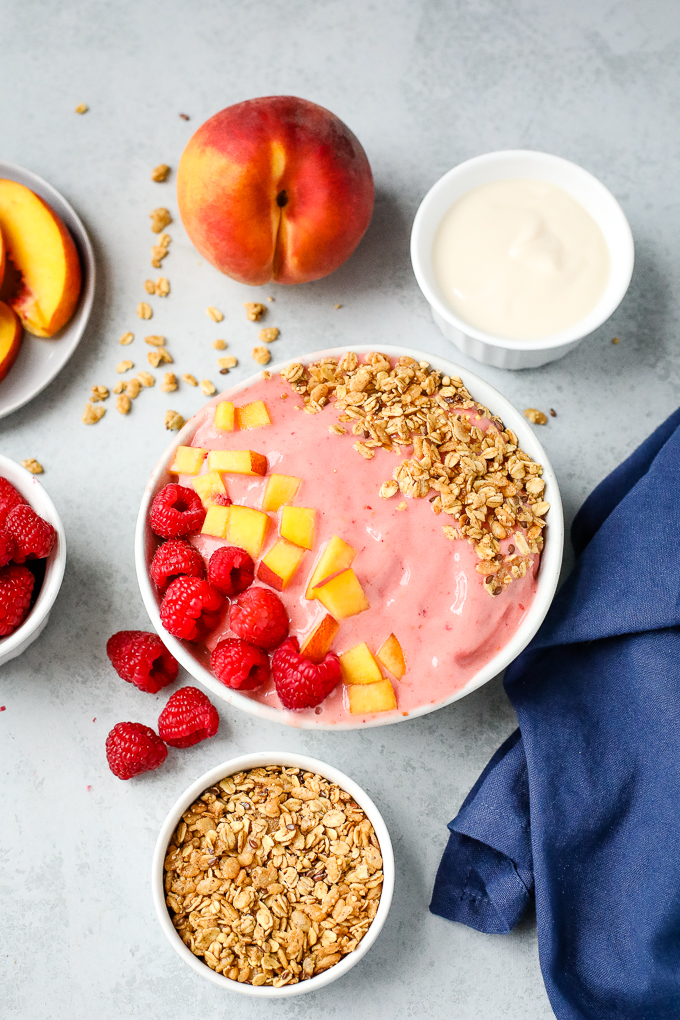 When peaches are in season, I love chopping up a peach and adding it on top of my smoothie bowl! Of course, I also love adding peaches to the blended smoothie as well. This peach raspberry smoothie is the perfect mix of sweet and tart!
Shredded Coconut
I love adding shredded coconut on top of my smoothie bowl. If you want to keep the sugar in check, look for unsweetened coconut. If you want a little hint of sweetness on top, you can use sweetened. Either way, it's a great way to add a little tropical flavor to your smoothie bowl!
Crunchy Granola
Granola is one of my favorite smoothie bowl toppings because it adds a nice crunch! If you're looking for lower carb granola, try my walnut granola which is nut-based instead of grain-based! Or you can make this easy oil-free granola if you want something lower in fat!
If you're looking for a few ways to up your smoothie game, don't miss my post on how to create a super thick smoothie! This contains all my best tips for creating a super spoonable smoothie bowl! Can't seem to get your blender working? Here's my complete guide to getting the best results from your blender.
If you're looking to switch up what's in your smoothie, here are 5 ingredients you should add to your next smoothie!
What's your favorite smoothie topping or add-in?