Tone it Up Meals Week 1
It's been a while since I've shared a full day of eating, but since the latest Tone It Up challenge kicked off this week, it seemed like the perfect time to jump back in! If you're not familiar with Tone It Up, I've blogged about it quite a few times, and this post highlights when I really dove in to Tone It Up. Basically, it's an online fitness community with lots of free workout videos, recipe ideas, and a really great community of women! It's just the motivation I need to get back into the swing of things!
The program comes with a meal plan that has specific recipes for each day, but I typically just try to follow the main principle of eating lean, clean, and green. I'll make the recipes here and there but I usually just go with what I have available! So here's what my meals looked like on Sunday!
I started with a smoothie bowl. This was frozen mango, frozen pineapple, almond milk, 1/2 scoop of protein powder, and lots and lots of toppings! If you're looking for some smoothie bowl topping ideas, check out this post from Monday!
Normally, I'd have a snack in the morning but I had a packed day and didn't have time. I went on a quick walk with my friend Carin when we found a small window where it wasn't raining! It was nice to get a few steps in early in the day. As soon as I got home, I changed into yoga clothes and then Alex and I went to a 75 minute Rocket Vinyasa class at The Yoga Dojo.

I've only been here a couple of times but I really like their classes. The instructors are so nice and really knowledgeable. Most of the yoga classes I've taken has been more beginner level, but this one definitely pushed us. I was excited that we got to do quite a few handstands!
Once we got home, Alex and I were both pretty hungry. I threw together a couple of salads, made a pizza for Alex, and heated up some split pea soup for myself. I'm normally not a big pureed soup fan but I love split peas. This soup was the vegan split pea soup from Trader Joe's but if you want to make your own, this recipe is my go-to!
I was planning to have an afternoon snack but I ended up just eating the rest of the soup that was in the fridge. Sometimes you just gotta go with what's easy!
Alex and I headed to church and we were planning to stay later for a Sunday School class with the elementary school kids, but it ended up getting canceled so we headed home to throw some dinner together.
I made a variation of this quinoa bake recipe, although Alex and I weren't a fan of the corn salsa that I had gotten from Trader Joe's. It was weirdly sweet which threw the flavor off a little bit. I'll stick to the regular recipe from now on!
After dinner, we went for a quick walk, even though it was raining a bit. I had to hit my 10,000 steps! Then I went to the grocery store and once I came back home, we shared some popcorn while watching a little TV. All in all, it was a pretty clean day of meals!
I'm excited for the next 8 weeks of the Tone It Up challenge! Here's the recap of my first experience with Tone It Up when my friend Kate and I did the 7 Day Slim Down together: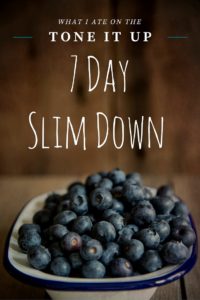 What's your favorite kind of exercise? Running? Yoga? Cycling?