Raspberry Peach Smoothie Bowl
This creamy smoothie bowl is made with tart raspberries and sweet peaches for a delicious breakfast! Add your favorite toppings to this super thick smoothie.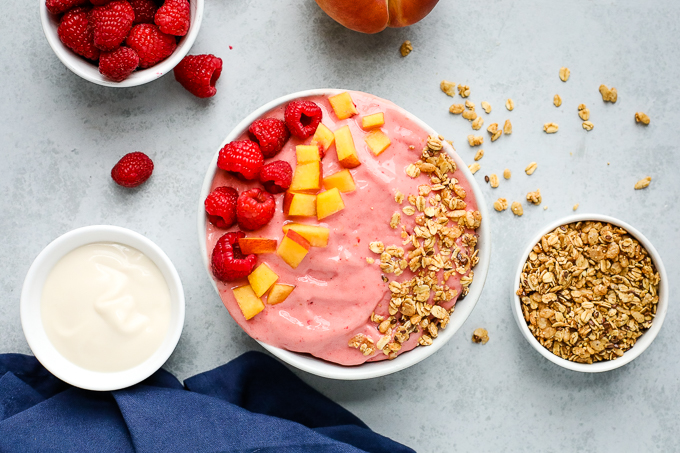 I love a thick smoothie bowl for breakfast and this peach raspberry smoothie bowl is perfect for adding tons of delicious toppings!
Smoothie Bowl Ingredients
Peaches– I recommend using frozen peach slices. You can use fresh peaches, but your smoothie won't be as thick. I like adding fresh diced peaches as a topping.
Raspberries– Again, I'd use frozen raspberries for the thickest smoothie. But you can also freeze your own fresh raspberries. I do like adding a few fresh raspberries for a topping!
Yogurt– I like using vanilla Greek yogurt for a sweet, creamy flavor. It's also an easy way to add protein.
Milk– I typically use almond milk because that's what I have on hand but any kind of milk is fine.
Sweetener– Sometimes I'll add a few drops of stevia or a drizzle of honey. Add sweetener to taste.
Granola– I love the crunch of granola on top. But I've also included other topping suggestions to give you inspiration!
Should I Use Fresh or Frozen Fruit for a Smoothie?
You can use either one for this smoothie. Frozen fruit will give you a thicker texture. I like fresh fruit for toppings. If you have fresh raspberries and peaches, you can freeze some overnight to make a thick smoothie and then save the remaining fruit for toppings. If you're freezing peaches, be sure to chop them into small pieces for easier blending.
How to Make a Peach Raspberry Smoothie Bowl
To make a super thick smoothie bowl, use frozen peaches and frozen raspberries. That will create the thickest texture.
If you don't have a powerful blender, you may need to add a little more almond milk to keep things moving.
I have a few different blenders and depending on the type of blender, some require a little more liquid. My bullet-style blender typically needs more milk to keep it moving. My Vitamix and my Kitchen Aid blenders are better at creating a super thick smoothie without extra liquid. Wondering why I have so many blenders? I've tested a lot so I could learn how to get the best results from any kind of blender.
Smoothie Bowl Toppings
For this bowl, I added chopped peaches, fresh raspberries, and a sprinkle of granola. I like the sweetness and the crunch! But here are additional topping ideas to try:
Sliced almonds
Coconut flakes
Chia seeds
Rolled oats
Hemp seeds
Strawberries
Blueberries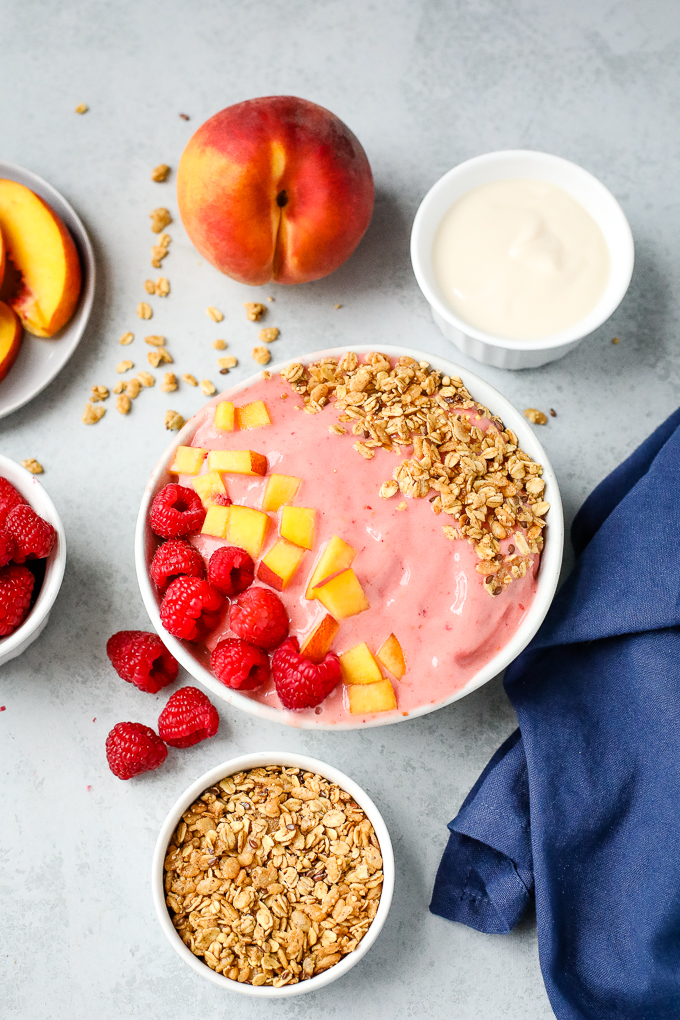 Granola Recipes
Looking for the perfect granola to sprinkle on your smoothie? Here are a few of my favorites:
Oil Free Granola– This granola is just a few simple ingrdients, no oil necessary!
Grain Free Granola– This grain free granola is made with coconuts, almonds, and walnuts instead of oats. It's super filling and filled with protein and healthy fats.
Chia Almond Granola– This granols is filled with clusters thanks to the chia seeds. It's delicious!
Substitution Ideas
If you want to make this vegan, try it with almond milk yogurt! I like Kite Hill or Almond Breeze. Both are super creamy!
You may want to add a bit of sweetener depending on the yogurt and almond milk you're using. Give it a taste and decide if it needs a drizzle of honey!
You can use any type of milk you have available. I typically use almond milk or soy milk.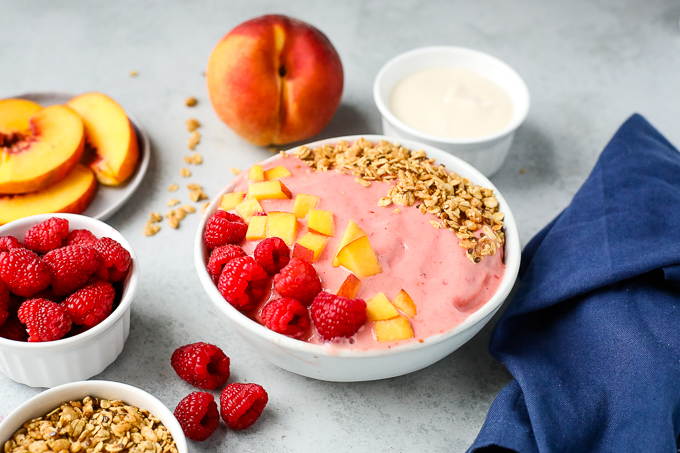 Print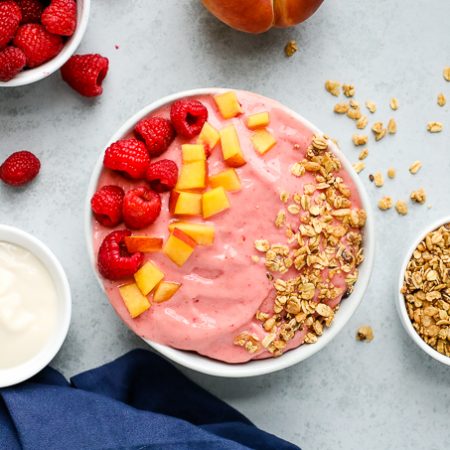 Raspberry Peach Smoothie Bowl
Author:
Prep Time: 5 minutes
Cook Time: 2 minutes
Total Time: 7 minutes
Yield: 1 bowl 1x
Category: Smoothie
Method: Blended
Cuisine: Smoothie
---
Description
This creamy smoothie bowl is made with tart raspberries and sweet peaches for a delicious breakfast! Add your favorite toppings to this super thick smoothie.
---
1/2 cup frozen peach slices
1/2 cup frozen raspberries
1/2 cup vanilla Greek yogurt or dairy free yogurt
1/4 cup almond milk
Sweetener to taste (optional)
1/4 cup fresh raspberries
1 tablespoon diced fresh peaches
1 tablespoon granola
---
Instructions
Add the peaches, raspberries, yogurt, almond milk and sweetner (if using) into a blender and blend until smooth.
Transfer to a bowl and top with fresh raspberries, peaches, and granola.
---
Keywords: peach raspberry smoothie bowl
Looking for more smoothie ideas? Here are a few of my favorites!
Cranberry Juice Smoothie– This sweet and tart smoothie is a fun twist, using frozen raspberries and cranberry juice! If you have leftover raspberries give this one a try!
Peach Cobbler Smoothie Bowl– This peachy smoothie bowl has similar flavors but with a super creamy texture thanks to the yogurt and oats.
Peach Mango Smoothie– If you need something to sip on the go, try this peach mango smoothie! It's made with cottage cheese so it's rich and creamy with lots of protein!