5 Salads Under 5 Minutes
No time to cook? These salad recipes can be made in just 5 minutes, so you can enjoy a delicious meal in no time. Keep these in your pocket (or Pinterest board) for those days when you just don't have time to fix something complicated!
Strawberry Kale Salad
This strawberry and kale salad comes together quickly but the combination is delicious! The simple dressing is easy to create and this is a great make-ahead salad since the kale won't get soggy in your lunchbox. The salty pine nuts take this to the next level, but there are plenty of other nuts you can substitute based on what you have available!
 Simple Chickpea Salad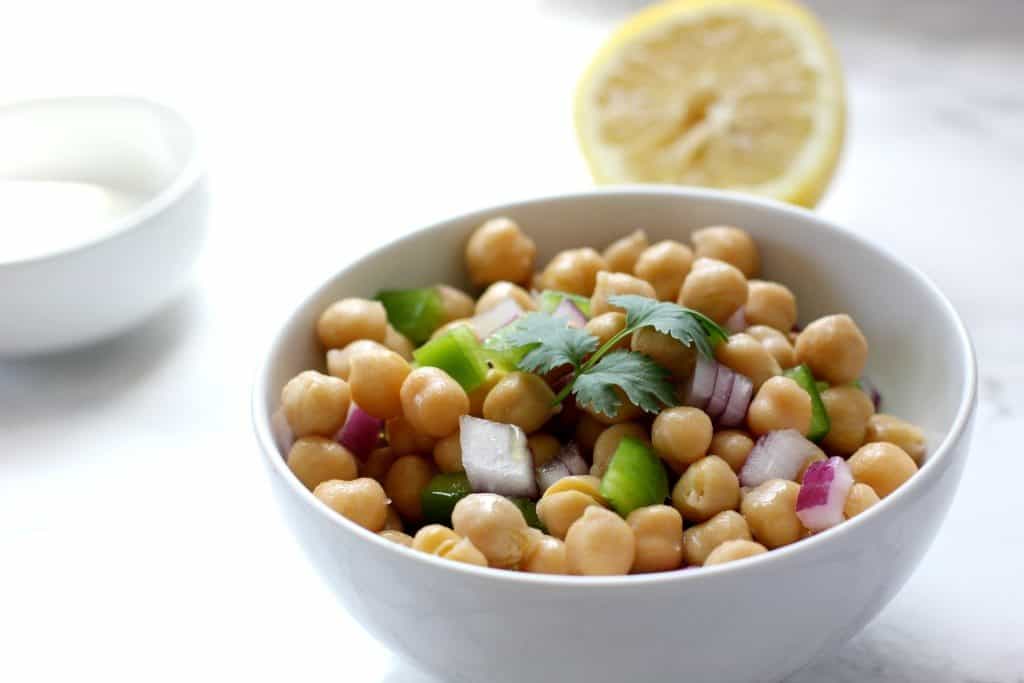 This simple chickpea salad is made with chickpeas, peppers & onions tossed in olive oil, lemon juice and salt. This recipe is easy but delicious and chickpeas are full of protein and fiber to keep you full! This is also a great make-ahead salad recipe because you don't have to worry about soggy greens!
Black Bean & Avocado Salad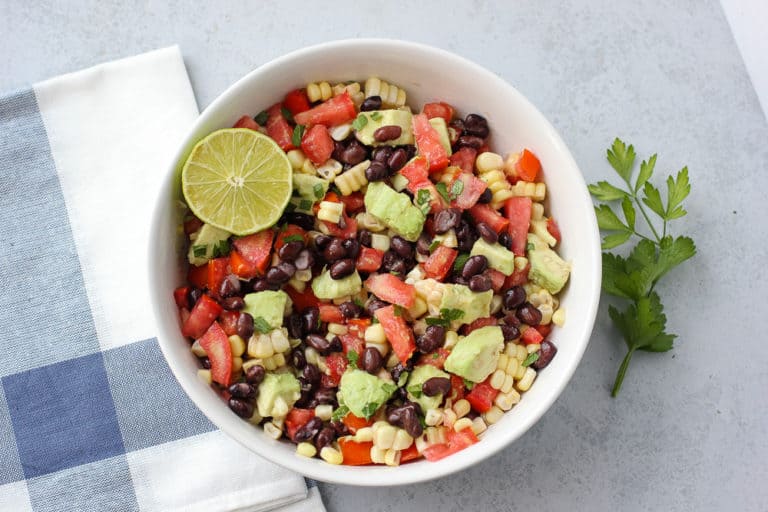 Creamy avocado, black beans, sweet corn, and juicy tomatoes create an addictive salad! Enjoy this black bean and avocado salad with a few tortilla chips or just eat it with a fork! The lime juice helps prevent the avocado from browning so you can pack this for lunch and enjoy it when you're ready!
Orange and Avocado Salad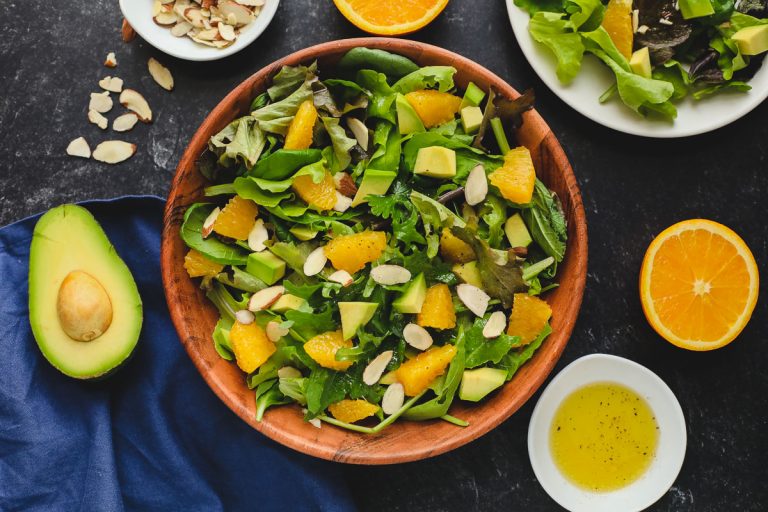 This simple avocado and orange salad comes together in a flash but it's one of my favorite salads! Creamy avocado, juicy oranges, and crunchy almonds make this salad a winner! The dressing is an easy vinaigrette made using the juice from the oranges!
Easy Greek Salad
This Greek Cucumber and Tomato Salad is a delicious salad that can be made in advance. Salty feta and fresh parsley add tons of flavor to this simple combination. This is a great one for a packed lunch! Enjoy it with a little pita and hummus and you've got lunch ready in 5 minutes.
Lacinato Kale Salad
Hearty kale and crunchy cabbage make up the base of this Lacinato Kale Salad. The salty Pecorino Romano cheese and Marcona almonds make this simple salad feel special! This is a lunchbox-friendly salad since the kale can be dressed without wilting.
Peach Feta Salad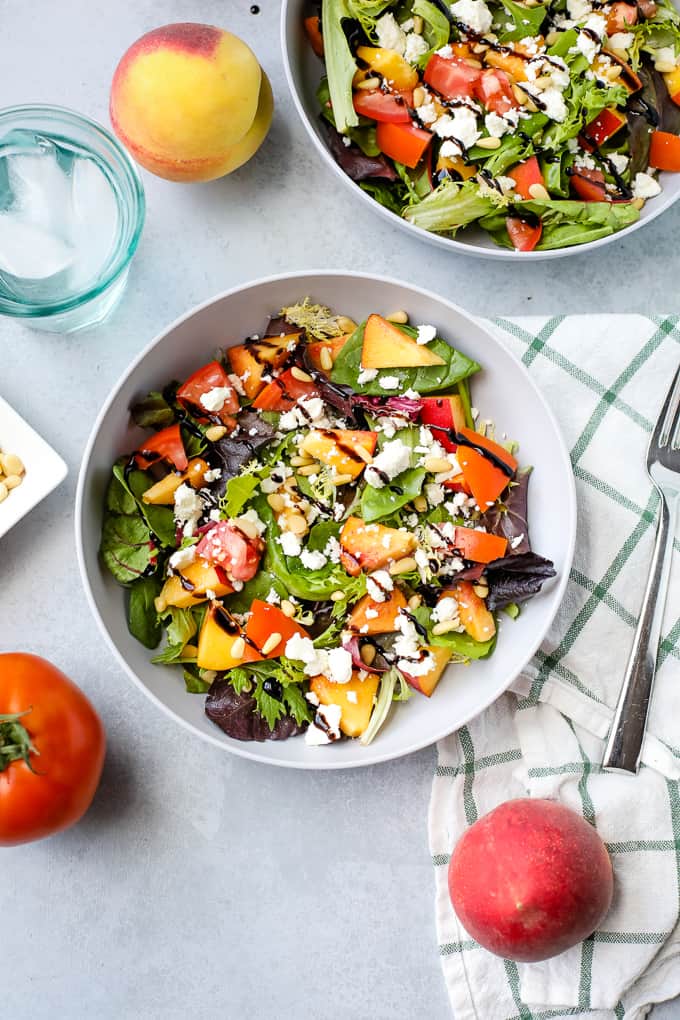 When it's peach season, you can find me eating this salad on repeat! This peach and feta salad is a 5 minute recipe that will make your tastebuds sing! Sweet balsamic glaze and salty pine nuts pair perfectly with the juicy peaches.
Apple Cashew Salad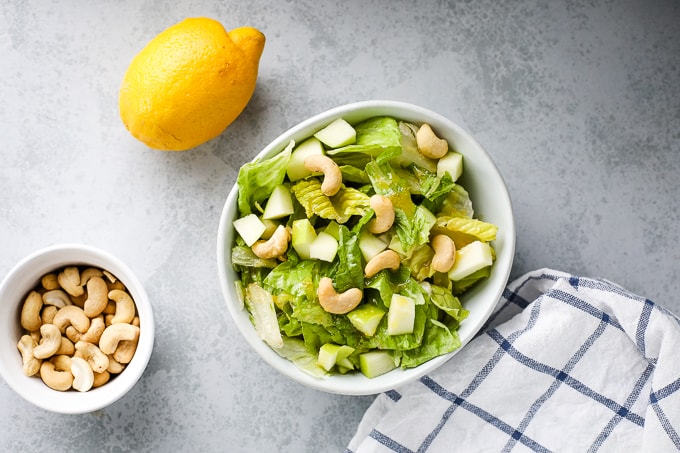 Salad recipes don't get much easier than this Apple Cashew Salad! This is a 5 minute salad superstar because it comes together in a flash with just a handful of ingredients. I love the salty roasted cashews with sweet pieces of crunchy apple.
Simple Protein Additions
Looking to turn these salads into something more substantial? Try adding one of these protein additions to your salad for a more filling meal:
All of these salads could be enjoyed on their own, or along with a sandwich, some pita & hummus, a cup of soup, or whatever you're craving! I love tossing these together, because it's such an easy way to eat my veggies!
What's your favorite salad combination?