Pinto Bean Burger
This post is sponsored by Farm Rich. All opinions are mine.
Skip the meat and give these pinto bean burgers a try! These tasty burgers are loaded with flavor and they're ready in just 20 minutes!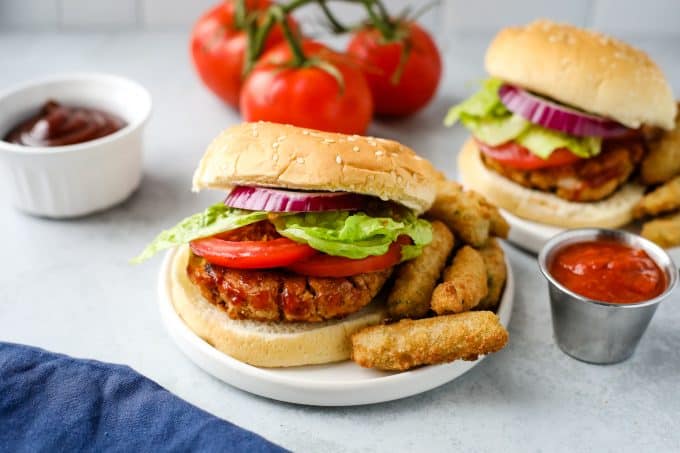 I've been a vegetarian for over a decade, so I've had my fair share of bean burgers! Many recipes are overly complicated just to end up with a bland texture. So after a lot of testing, I'm excited to share this pinto bean burger recipe! It's packed with flavor and it has a delicious texture. The secret? Crushed up tortilla chips! By using chips instead of oats or breadcrumbs, these burgers have a hearty texture!
What to Serve with Pinto Bean Burgers
Skip the standard french fries and grab a box of Farm Rich Breaded Zucchini Sticks (tender zucchini slices breaded in a savory coating)! These are part of the new Garden Inspirations™ by Farm Rich line of plant-based frozen foods. (They also make these delicious Meatless Meatballs and Breaded Cauliflower Bites) These Breaded Zucchini Sticks are easy to bake in the oven or air fryer and they're perfect with a burger! They're deliciously crispy and they even come with a side of tangy marinara sauce for dipping! An easy way to eat more vegetables as a snack, appetizer or side to any meal.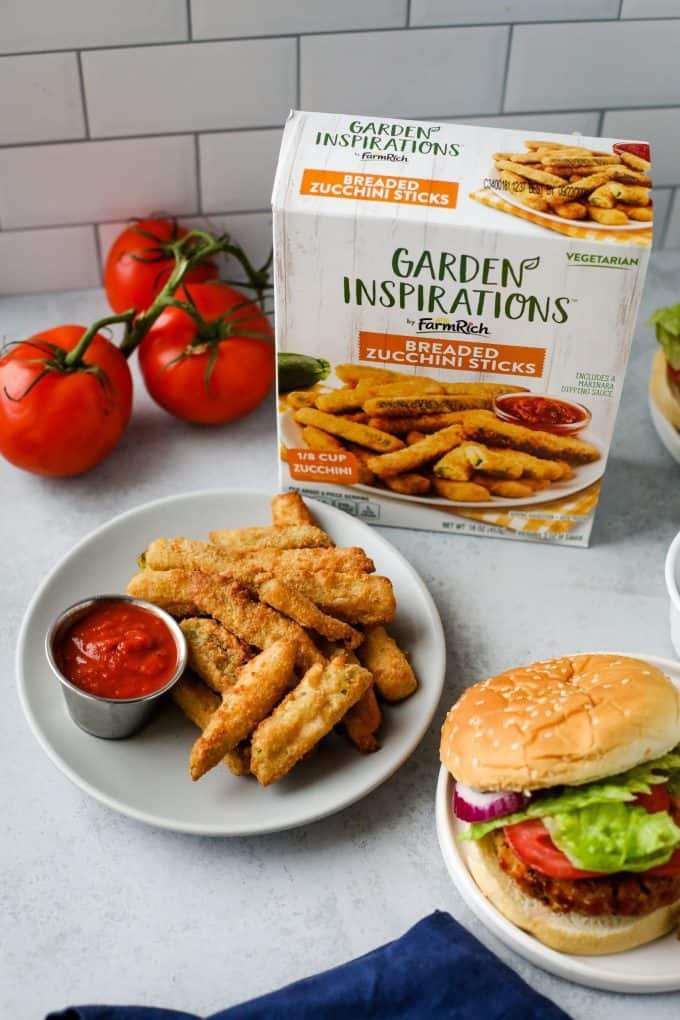 You can find Garden Inspirations by Farm Rich Zucchini Sticks at Kroger, in the frozen vegetable section of the freezer aisle. You can also order them online via Instacart!
How to Make Pinto Bean Burgers
Start by draining, rinsing, and drying the pinto beans. It's important to pat them dry, so you don't end up with too much moisture in the burgers. Line a large cutting board with paper towels, then spread out the beans and let them sit for a few minutes.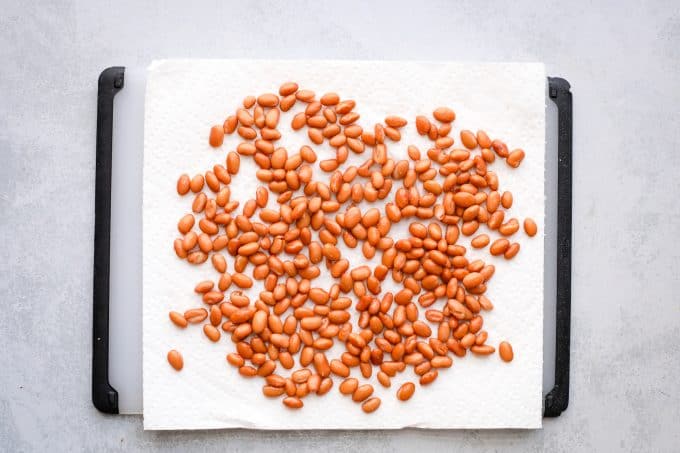 Add the beans, crushed tortilla chips, onion, and cilantro into the food processor.
Pulse until combined. Then add the rest of the ingredients and pulse until mixed. Use your hands to shape into patties. Cook in a skillet for 8-10 minutes until browned!
Pinto Bean Burger Topping Ideas
I like to have plenty of toppings available so my family can customize their burger just the way they like it! Familiar toppings are a great way to get picky eaters to try a new type of burger. Here are some of our favorite toppings:
Lettuce
Tomato
Red Onion
Barbecue Sauce
Hot Sauce
Avocado
Mayonnaise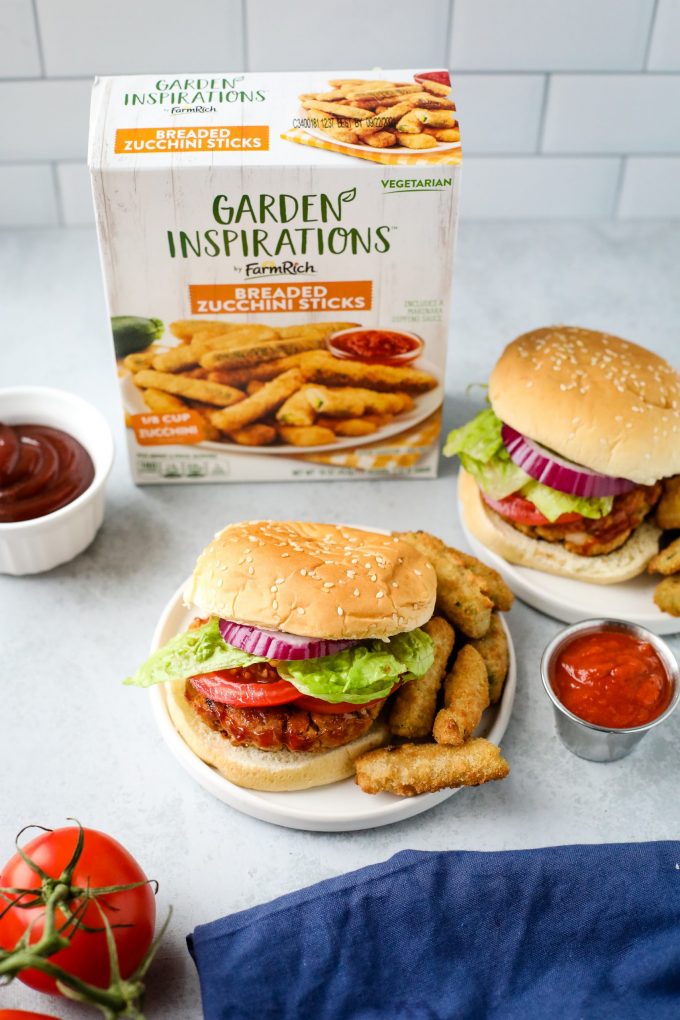 Print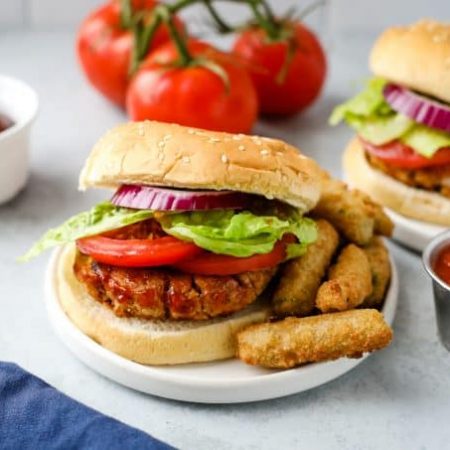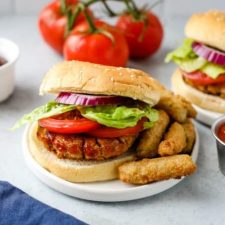 Pinto Bean Burger
Author:
Prep Time: 15 minutes
Cook Time: 10 minutes
Total Time: 25 minutes
Yield: 4 Burgers 1x
Category: Burgers
Method: Stovetop
Cuisine: Burgers
---
Description
Skip the meat and give these pinto bean burgers a try! These tasty burgers are loaded with flavor and they're ready in just 20 minutes!
---
1 15oz can pinto beans, drained and rinsed, patted dry
1/2 cup crushed tortilla chips (about 1oz)
3 tablespoons fresh cilantro, chopped
2 tablespoons chopped onions
2 tablespoons flour
1 teaspoon garlic powder
1 teaspoon cumin
¼ teaspoon salt
1 tablespoon avocado oil or olive oil
Toppings: Lettuce, tomato, red onion, BBQ Sauce or Hot Sauce (optional)
---
Instructions
Place two large paper towels on a cutting board and set aside.
Drain and rinse the pinto beans, then spread onto the paper towels and gently pat to dry.
Add the tortilla chips, pinto beans, onions, and cilantro to a food processor and pulse 3-4 times.
In a small bowl, whisk together the flour, garlic powder, cumin, and salt.
Add the flour mixture to the food processor and pulse 5-6 times until combined.
The mixture might look dry, but it will hold together when packed.
Shape the mixture into 4 large patties.
Heat the oil in a large nonstick skillet over medium heat.
Add the burgers and cook for 4-5 minutes on each side.
Brush with barbecue sauce or hot sauce, if desired.
Place on a bun and add all your favorite toppings + sides!
---
Keywords: pinto bean burgers
Give these burgers a try for your next Meatless Monday and don't forget to grab Farm Rich Breaded Zucchini Sticks for an easy side dish! You'll have dinner ready in no time.
What's your favorite burger topping?