Greek Cucumber & Tomato Salad
This Greek cucumber and tomato salad is a great way to turn a few basic vegetables into a delicious and easy side dish. I love making this recipe when I want a salad but I don't have any lettuce in the fridge!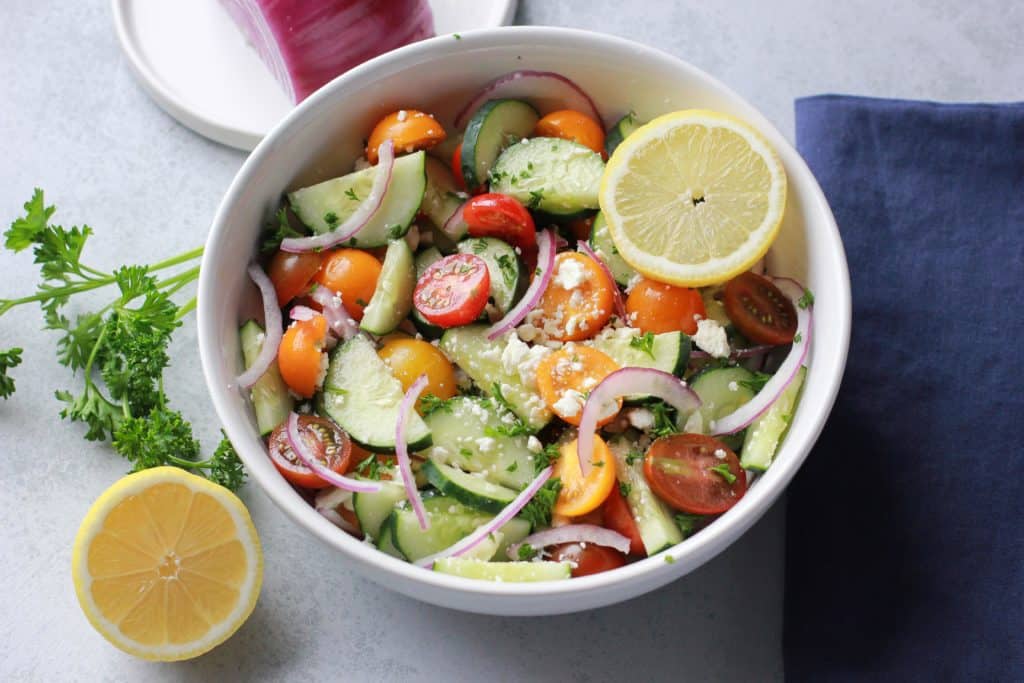 I'm a huge fan of Greek salads. I love salty feta and a drizzle of olive oil. There's nothing better than sweet summer tomatoes and crunchy cucumbers. While most salads are made on a bed of lettuce, this one skips the leafy greens and gets right to the good stuff.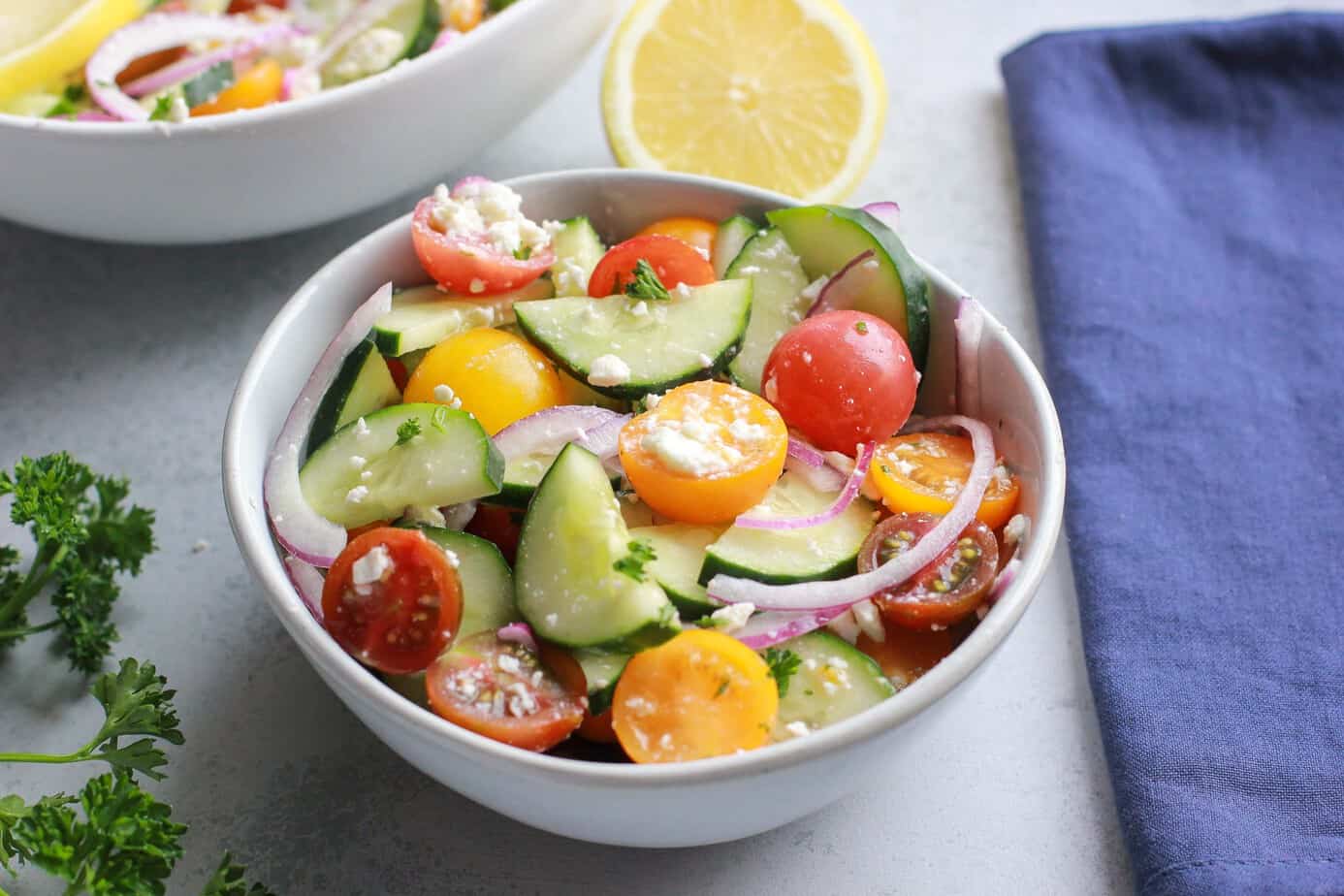 It's great when you have a few leftover veggies in on hand and you want to transform them into an "official" side dish. I also love this recipe for barbecues or cookouts because you don't have to worry about wilted lettuce. Since this recipe does have cheese, you don't want it to sit in the sun, but feta cheese can be at room temperature for about 6 hours and still be safe to eat.
Substitution Options
Feel free to use a regular cucumber or an English cucumber. English cucumbers have fewer seeds and thinner skin than common cucumbers but they tend to be a bit more expensive.
For the tomatoes, I like various colors of cherry or grape tomatoes but you can also use larger tomatoes and just chop them into smaller pieces.
While the feta cheese is where a lot of the flavor comes from in this dish, if you wanted a vegan option I'd recommend adding a little more olive oil, double the parsley, add three tablespoons of pine nuts, and a hefty pinch of salt.
If you find the taste of raw onions to be too sharp, feel free to leave them out or use pickled red onions instead.
Print
Greek Cucumber & Tomato Salad
Author:
Prep Time: 10 mins
Cook Time: 0 Minutes
Total Time: 10 mins
Yield: 6 1x
Category: Salad
Method: No Cook
Cuisine: Greek
---
2 large cucumbers, sliced lengthwise, then into half moons
1 pint cherry tomatoes
1/4 small red onion, thinly sliced
3 oz feta cheese, crumbled
3 tbsp olive oil
1/4 teaspoon dried oregano
Dash of Salt & Pepper
---
Instructions
Combine the cucumber, tomato, and red onion in a large bowl.
Sprinkle with feta and drizzle with olive oil. Top with oregano, salt, and pepper.
Mix gently until completely combined. Add additional salt to taste.
Keep refrigerated until ready to serve.
---
Keywords: Greek tomato and cucumber salad
This is definitely the kind of salad that you can prepare with dinner and then take the leftovers for lunch. I packed a container to take with me the next day and it was just as delicious! Since there isn't any lettuce, you don't really have to worry about wilting.
Looking for ways to use up any leftover ingredients? Here are a few recipes to use them up!
What's your favorite salad ingredient?
This recipe was originally published in April 2015. Updated May 2019.