Peach Salad with Feta
This hearty salad is filled with sweet peaches and salty feta for a quick and delicious side dish. It's easy to make and perfect for a summer meal!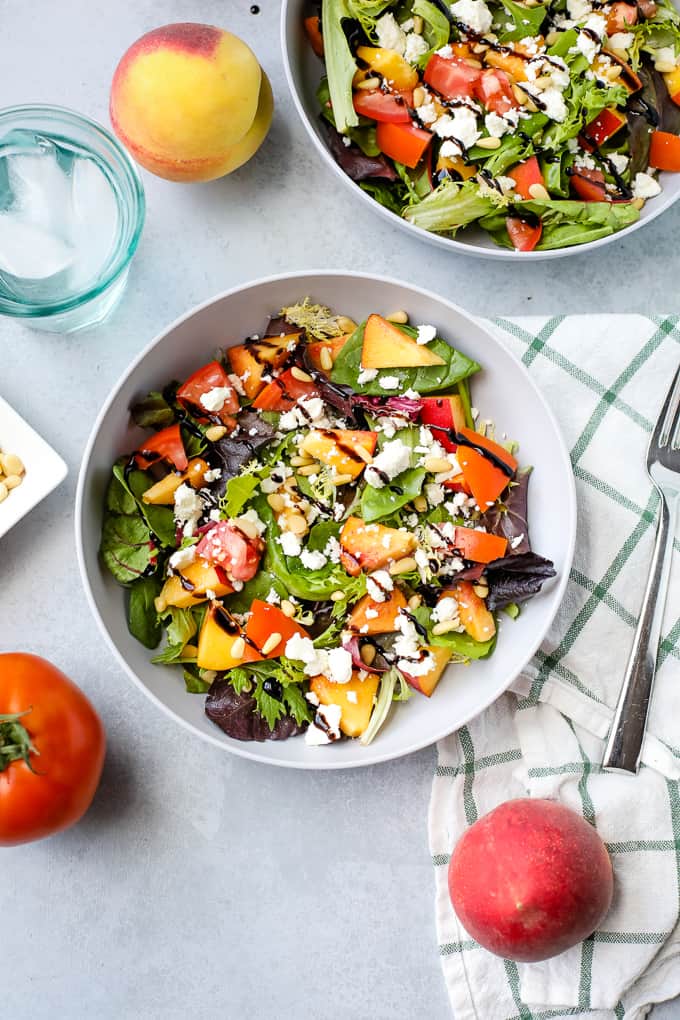 I've been on a peach kick lately. For breakfast, I find myself craving this peach cobbler smoothie bowl and I'm frequently eating this almond butter peach toast for a snack. Peach season doesn't last for long, so I have to enjoy it while I can! This peach salad with feta cheese is my latest obsession.
Types of Peaches
There are a few different types of peaches, and any of them will work for this recipe. If you prefer, you can even substitute nectarines.
The two main types of peaches are freestone and clingstone. Freestone, as you might be able to guess, means that the peach flesh isn't attached to the stone in the middle. Clingstone means the flesh is still "clinging" to the stone pit. Typically, grocery store peaches are freestone.
You'll also notice a visual difference in white peaches vs. yellow peaches. Although there isn't a huge difference in flavor, white peaches tend to be slightly sweeter. Yellow peaches tend to hold up better in baked goods. Donut peaches can be harder to find at the grocery store, but you may see these "flattened" peaches at farmer's markets. Their flavor is similar to traditional peaches. Lastly, nectarines are actually a variety of peach. If you don't like the fuzzy skin of peaches, these are a great option!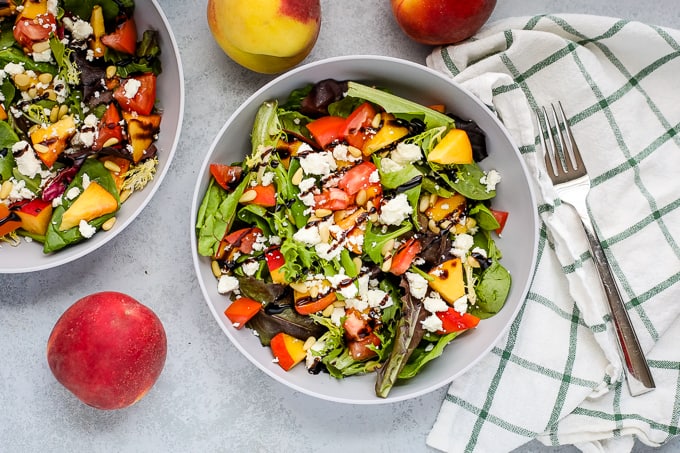 How to Pick Out Feta Cheese
Real Greek feta cheese is made from sheep's milk and that's what gives feta such a unique flavor. Be sure to check the label because a lot of feta in the United States is made from cow's milk.
Look for feta that is in a solid block and in a container of brine. This will give you a fresher flavor than the kind of cheese that is vacuum-sealed.
I do not recommend fat-free feta. You'll be missing out on all the delicious flavor and it won't have the same texture. For this recipe, you need the real deal!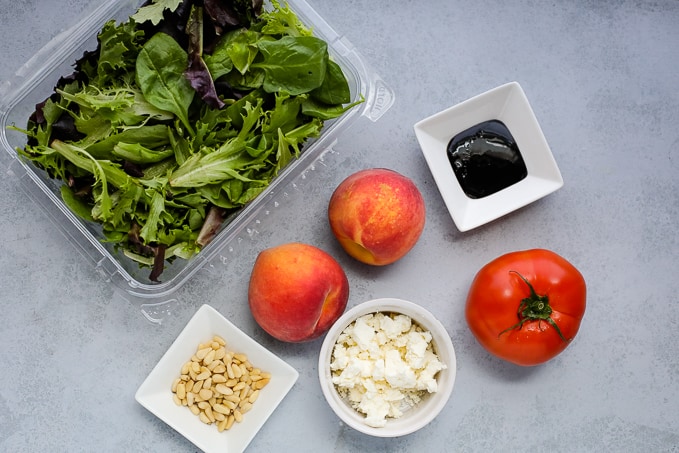 Substitution Ideas
You can substitute any type of mixed greens. I like arugula, spinach, or baby greens.
If you don't have pine nuts, feel free to swap for chopped walnuts, chopped pecans, or sliced almonds. I prefer nuts roasted and salted but you can use raw nuts if you like.
You can substitute mozzarella or goat cheese in place of the feta, but I'd recommend adding a pinch of salt to compensate for the saltiness that the feta provides.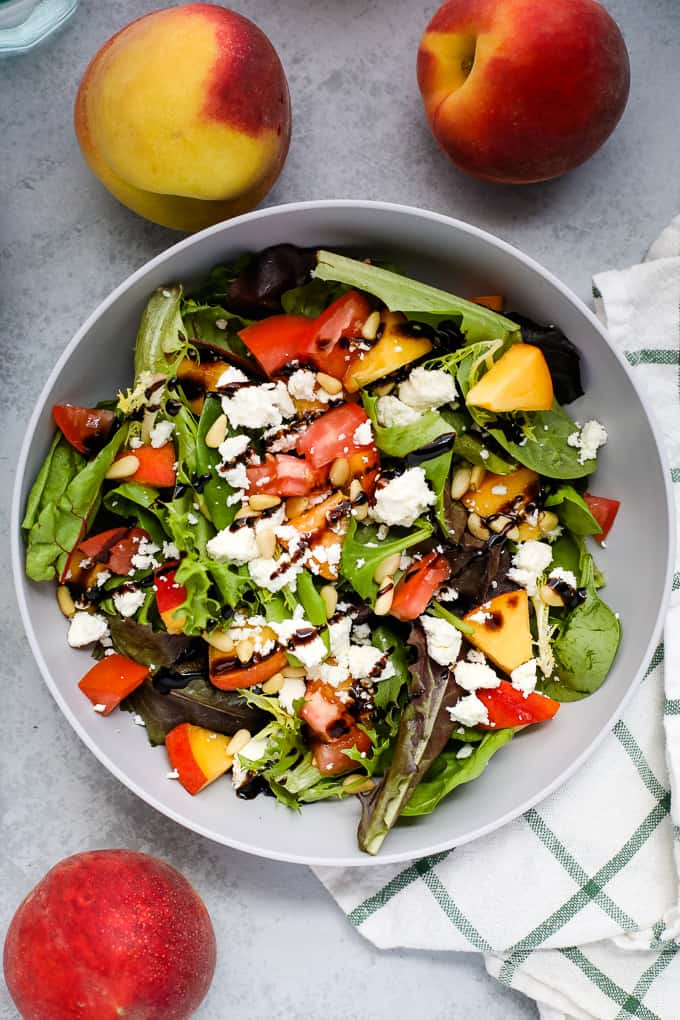 Print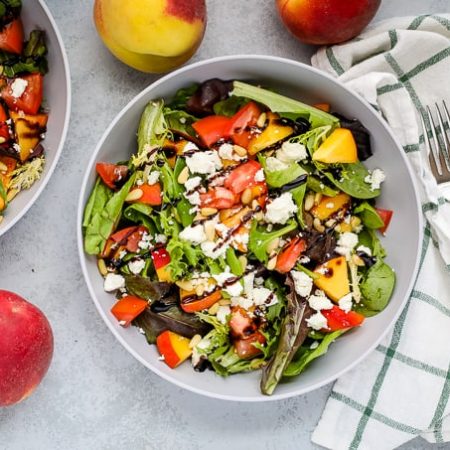 Peach Salad with Feta
Author:
Prep Time: 10 minutes
Cook Time: 0 minutes
Total Time: 10 minutes
Yield: Salad
Category: Salad
Method: No Cook
Cuisine: Salad
Diet: Vegetarian
---
Description
This hearty salad is filled with sweet peaches, salty feta, and crunchy pine nuts for a quick and delicious side dish. It's easy to make and perfect for a summer meal!
---
6 cups mixed greens
1 peach, chopped
1 small tomato, cored and chopped
1/4 cup crumbled feta cheese
2 tablespoons pine nuts
1 tablespoon olive oil
1 tablespoon balsamic glaze
Salt to taste
---
Instructions
Divide the mixed greens into two bowls.
Top each bowl with peaches, chopped tomato, feta cheese, and pine nuts.
Drizzle with olive oil and balsamic glaze.
Gently toss to combine, then sprinkle with salt to taste.
---
Keywords: peach feta salad
If you're looking for other delicious summer salads, here are a few of my favorites:
Cucumber Tomato Salad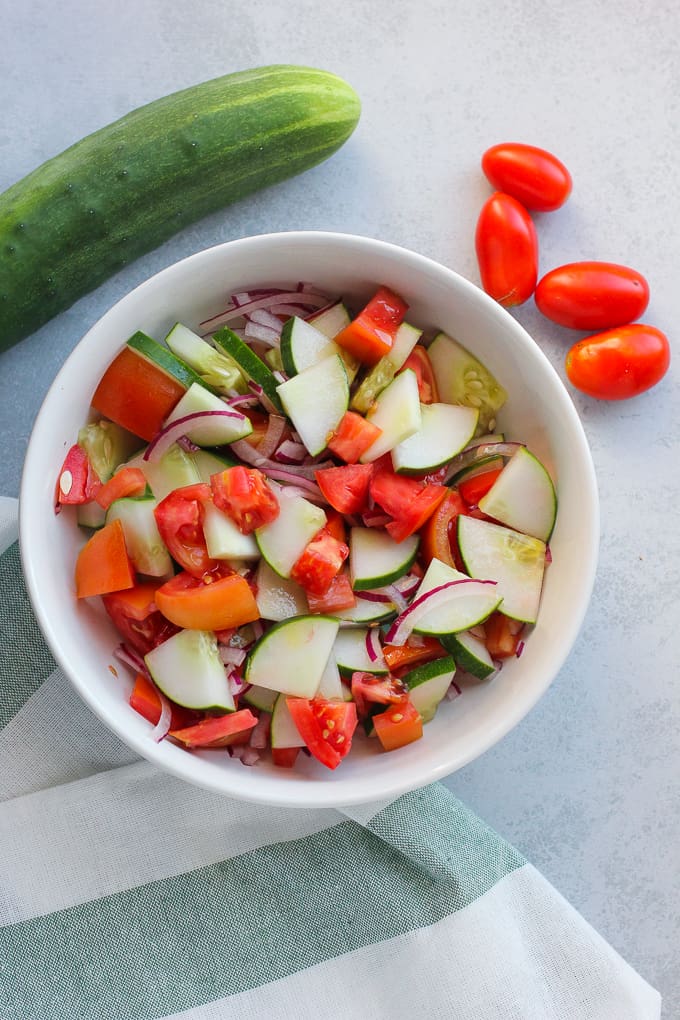 Watermelon and Avocado Salad
If you're looking for more ways to use peaches, try one of these recipes!