Strawberry Kale Salad
This White Balsamic and Strawberry Kale Salad is a light and delicious salad with a tangy homemade dressing. Sweet strawberries and salty pine nuts make this salad irresistible.
It wasn't until recently that I noticed there are two types of balsamic dressing. I usually have dark balsamic in my pantry and it tends to be a bit more common. But white balsamic is a great ingredient to add to your pantry!
What is White Balsamic Vinegar?
What balsamic vinegar blends white grape must with white wine vinegar and it's cooked at a low temperature. It can be aged in oak or steel barrels. The resulting vinegar is light in color and it's a bit less sweet than darker balsamic vinegar. It also tends to have a more mild, clean aftertaste.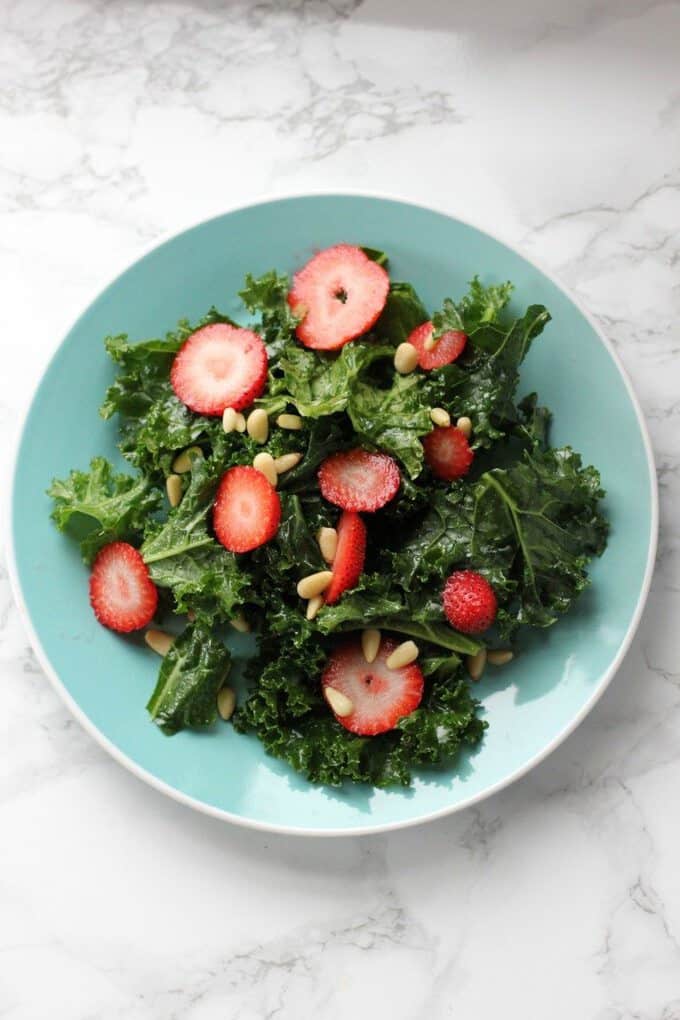 This salad has such an amazing flavor and the dressing is a healthier option than a lot of bottled salad dressings. Plus, it's hard to beat fresh strawberries! If you don't have any pine nuts, you could swap in almonds or walnuts. Pine nuts are pricey but they're so delicious!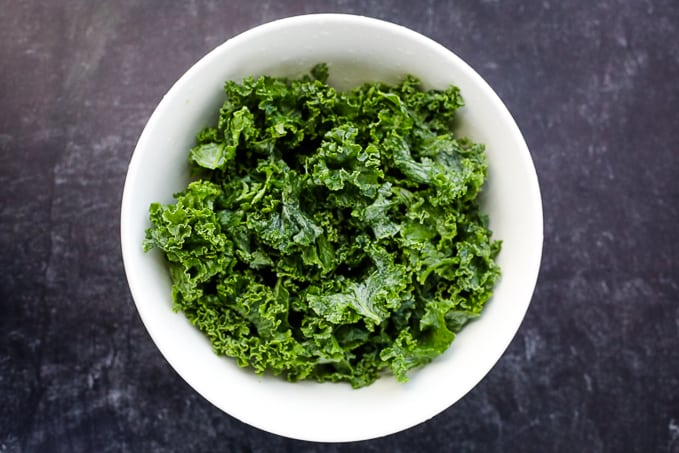 Tips for the Best Kale Salad
Kale is a tough green and it needs massaging to make it tender. After you've washed your kale, you want to literally massage it with your hands. I typically massage the dressing right in.
Use the right dressing. Kale is a very bitter green and it needs something to help soften it a bit. An acidic dressing will help break down the fiber in the kale which will make it easier to chew. That's why I love the white balsamic vinegar in this recipe!
Remove the kale stems. The stems are extremely bitter and very hard to chew. Do yourself a favor and de-stem the kale. You can either fold the leaves in half and slice the stem off or you can just tear the leaves right off the stem.
Different Types of Kale
There are a few different varieties of kale. Any type will work in this recipe, but I used curly kale.
Curly kale tends to be the most common type of kale you'll find at the grocery store. It has a tough stem and curly leaves. Be sure to discard the stems.
Lacinato kale, sometimes called dinosaur kale, has large flat leaves. I like this type of kale if I'm making a shredded salad. Be sure to remove the stems.
Baby kale is a more tender type of kale, with a stem that can be eaten. It has much smaller leaves and a softer texture.
What to Serve with Kale Salad
If you wanted to serve this recipe as a main dish, just add your favorite protein! You could top it with roasted chickpeas, white beans, or tempeh. If you want to serve this as a side dish, try pairing it with a tasty main dish like this Pasta Alla Norma recipe or this easy Parmesan Orzo Pasta!
Can this recipe be prepared in advance?
Yes! The great thing about kale is that it doesn't get soggy like more tender greens. In fact, this recipe is better if prepared an hour or two in advance! The dressing will help soften the kale and make it more tender. If you're meal prepping for the week, I recommend waiting until the day you're ready to enjoy the salad before adding the dressing.
Frequently Asked Questions
What if I don't have strawberries? I love the sweetness of the strawberries but if you don't have any available, try using mandarin oranges, raspberries, or even dried cherries! A little hint of sweetness is all you need.
Can I add protein to this recipe? Absolutely! Feel free to top it with your favorite protein, whether that's grilled chicken, tempeh, or halloumi!
Print
Strawberry Kale Salad
Author:
Prep Time: 10 mins
Cook Time: 0 minutes
Total Time: 10 mins
Yield: 2 servings 1x
Category: Salad
Method: No cook
Cuisine: Salad
---
Description
This Strawberry Kale Salad is a light and delicious salad with a tangy homemade dressing. Sweet strawberries and salty pine nuts make this salad irresistible.
---
1 tablespoon white balsamic vinegar
1 tablespoon olive oil
2 teaspoon agave (or honey)
1/4 teaspoon sea salt
6 large curly kale leaves
1/2 cup strawberries
2 tablespoons pine nuts
---
Instructions
Whisk together the balsamic vinegar, olive oil, agave, and salt. Set aside.
Wash and try the kale leaves, then tear into small pieces, removing the stems.
In a large bowl, massage the kale leaves with the dressing.
Once the kale has softened a little, slice the strawberries and add them on top.
Sprinkle with pine nuts and serve.
---
Keywords: White balsamic and strawberry kale salad
Looking for more kale salad recipes? Try one of these other salad ideas!
What's your favorite kale salad topping?