Roasted Cauliflower Tacos
Roasted cauliflower is a healthy way to satisfy your taco craving! With plenty of spices, this roasted cauliflower makes a delicious taco filling!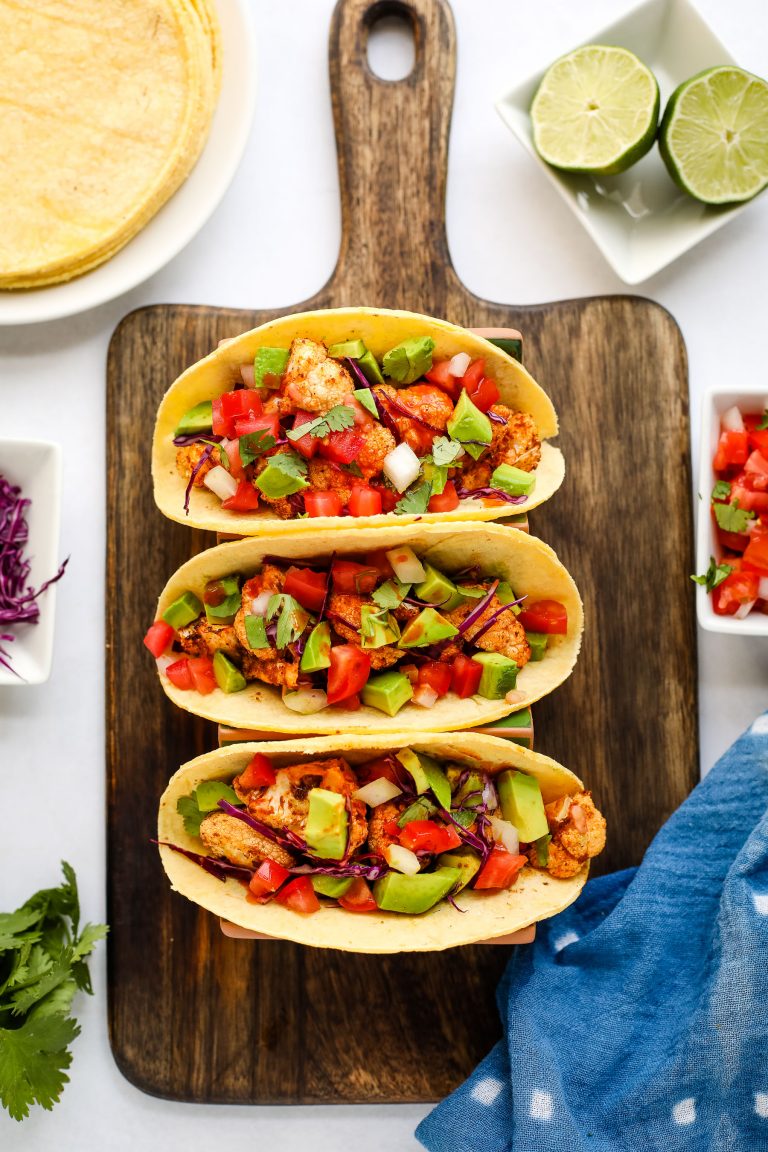 I'm convinced that just about any vegetable can be turned into a delicious taco. These broccoli tacos are one of my all-time favorites and these spicy brussels sprout tacos are a fan favorite. So obviously I had to give roasted cauliflower tacos a try! I already loved them with buffalo sauce but I wanted to make a version that could be toned down if you don't like things extra spicy. These roasted cauliflower tacos turned out beautifully!
How to Make Cauliflower Tacos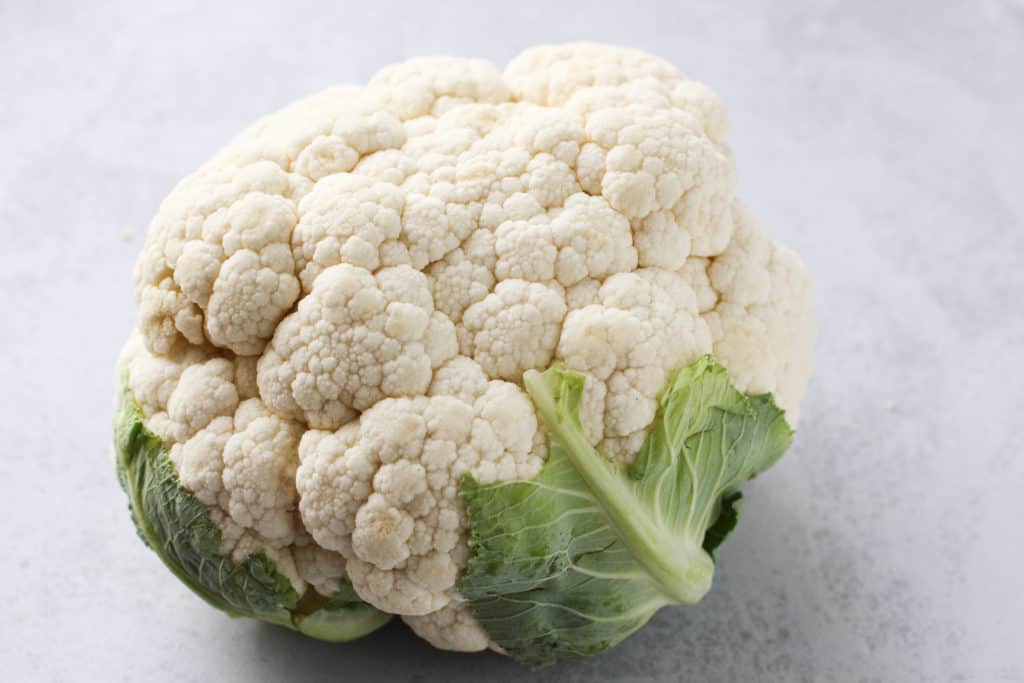 Remove the outer leaves and chop the cauliflower into 1″ pieces.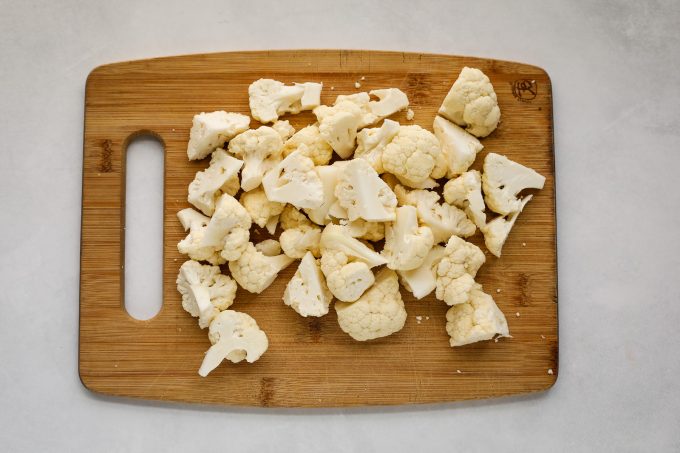 Toss the florets with the olive oil and spices and stir until evenly coated.
Spread on a baking sheet in a single layer and bake until browned.
Fill each taco shell with roasted cauliflower then top with your favorite toppings!
Cauliflower doesn't have much flavor on its own, but once it's roasted with the right blend of spices, it's delicious! If you wanted a lower-carb version of this recipe, you could use romaine lettuce leaves in place of taco shells!
Taco Topping Ideas
For the tacos in the photo, I used pico de gallo, purple cabbage, avocado, and cilantro! Here are a few other topping ideas:
Sour cream (vegan or regular)
Queso fresco
Salsa verde
Tabasco sauce
Thinly sliced radishes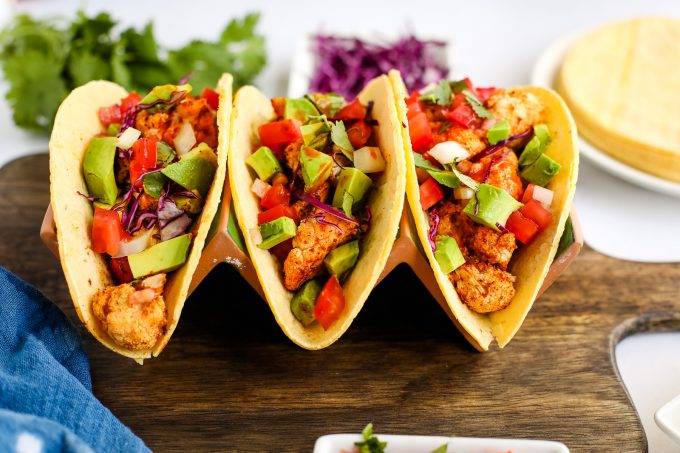 Substitution Ideas
If you don't like things spicy, skip the chili powder, as it does add a lot of heat. You could always add hot sauce to the tacos for anyone who wants a little kick, but leaving out the chili powder would make these kid-friendly.
I used corn tortillas to keep this recipe gluten-free, but you can substitute flour tortillas or even romaine lettuce leaves! Lettuce leaves are a great way to make this recipe low-carb.
The toppings can be mixed and matched, so don't worry if you don't have everything listed! Swap out the items suggested above for more topping ideas.
Print
Roasted Cauliflower Tacos
Author:
Prep Time: 10 mins
Cook Time: 20 mins
Total Time: 30 mins
Yield: 2 servings 1x
Category: Vegan
Method: Baked
Cuisine: Mexican
---
Description
Roasted cauliflower is a healthy way to satisfy your taco craving! With plenty of spices, this roasted cauliflower makes a delicious taco filling!
---
1 large head of cauliflower, chopped into 1" pieces
2 tablespoons olive oil
1/2 teaspoon cumin
1/2 teaspoon garlic powder
1/2 teaspoon chili powder
Pinch of salt
6 corn or flour tortillas
1 avocado, pitted, peeled, and chopped
1/4 cup shredded purple cabbage
Hot sauce (optional)
---
Instructions
Preheat the oven to 400 degrees.
In a large bowl, combine the oil and spices.
Add the cauliflower pieces and toss until coated.
Spray a large cookie sheet with non-stick spray and spread the cauliflower out across the sheet in a single layer.
Bake for 20-25 minutes, stirring occasionally.
To assemble the tacos, put salsa on the bottom of the corn tortillas. Top with avocado and cabbage. Add the cauliflower as soon as you remove it from the oven.
---
Keywords: roasted cauliflower tacos
It was a fun twist on our usual black bean tacos. You could certainly add other toppings to this (like cheese and sour cream) if that's more your style, but I liked these as-is. If you're curious about using corn or flour tortillas then you might like this post which compares corn tortillas vs. flour tortillas.
What to Serve with Cauliflower Tacos
Looking for more ways to make cauliflower? Here are a few of my favorite recipes!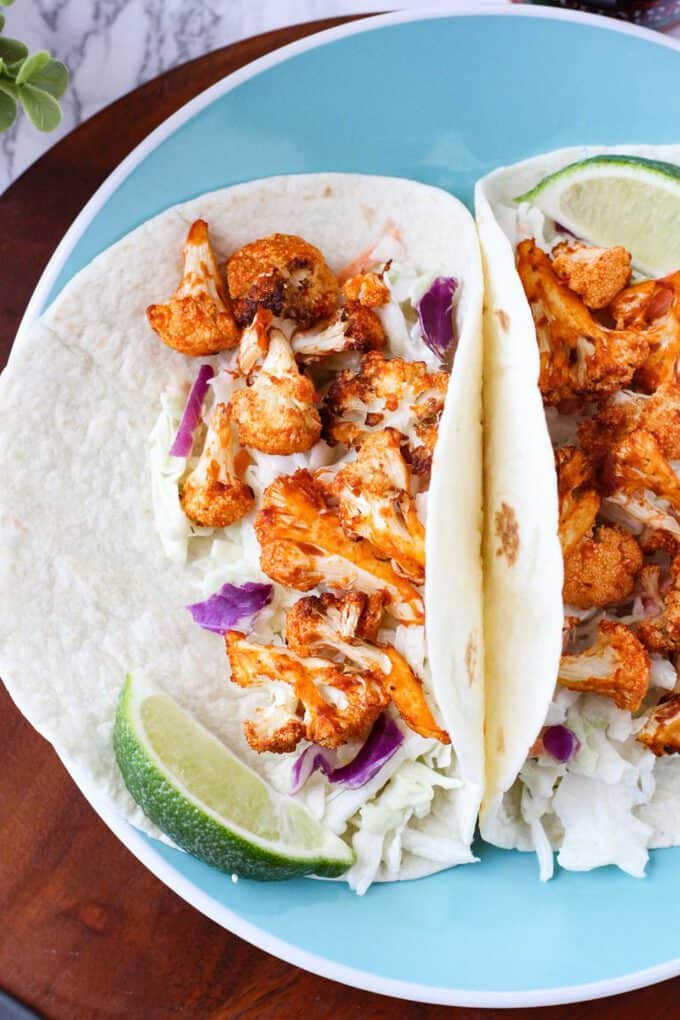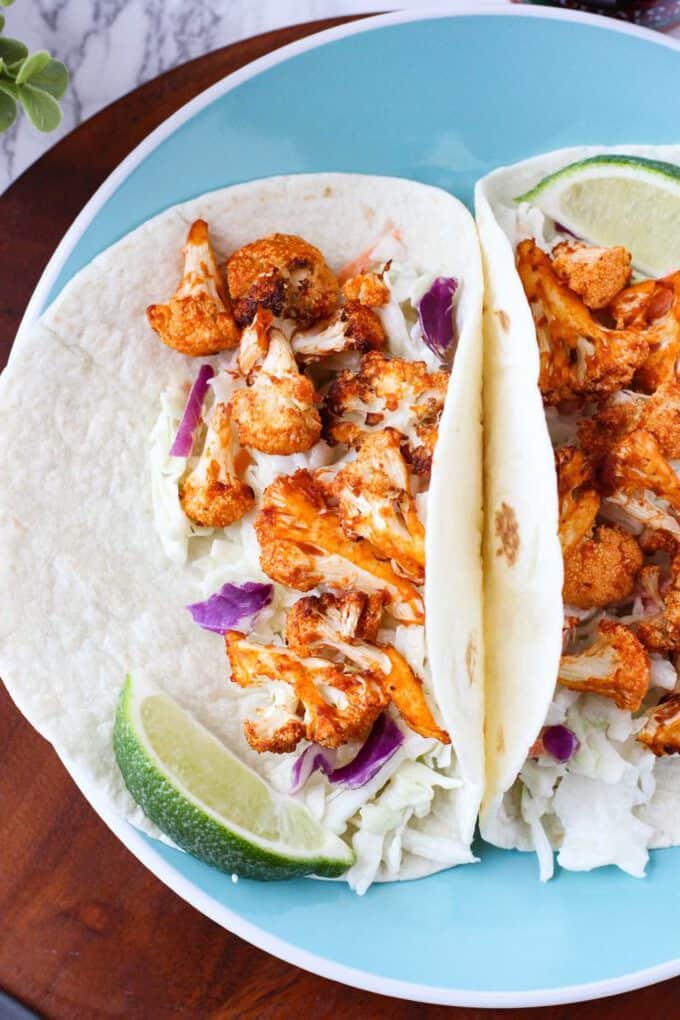 Whole Roasted Cauliflower with Whipped Feta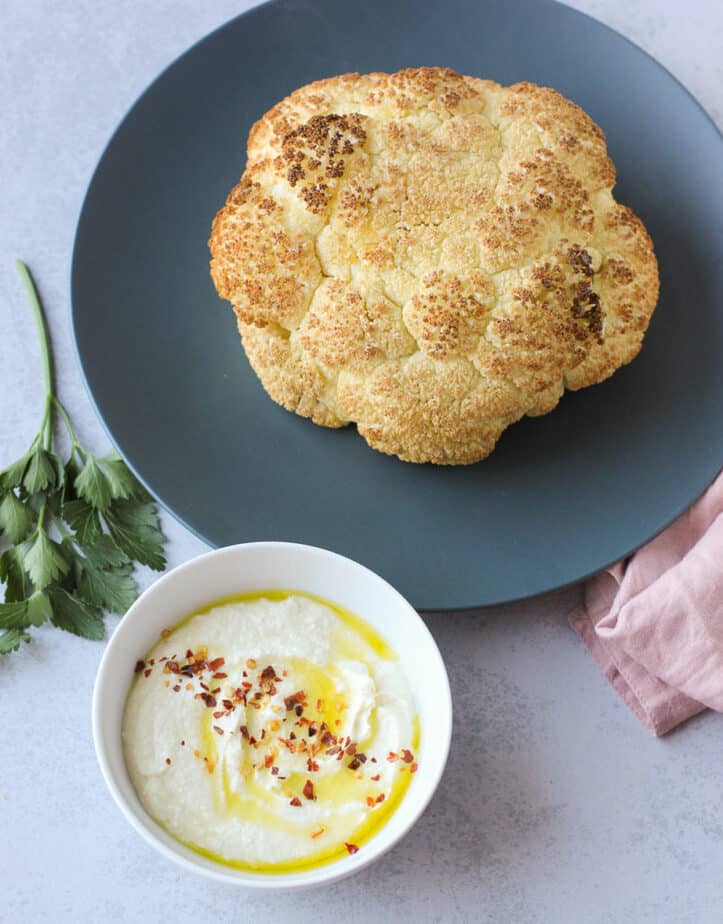 What's your favorite taco topping?