Pinto Bean Soup
This pinto bean soup is deliciously thick and creamy! With just a few simple pantry staples, you can enjoy a bowl of this homemade soup in no time!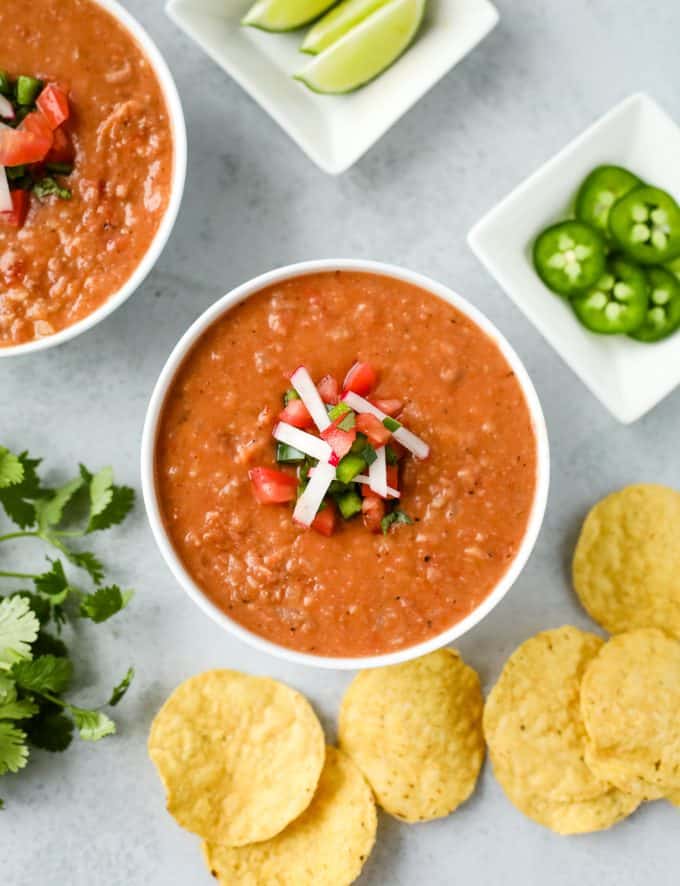 I was brainstorming new recipes when I spotted a can of pinto beans in my pantry. I don't use pinto beans very often and it occurred to me that I probably haven't been using them to their full potential! I love black bean soup, so I decided to try a pinto bean soup recipe for a little variation. I'm happy to report that it absolutely worked and this soup is delicious!
Plus, just like my black bean soup recipe, it's SO easy to make. There's no need to soak dried beans for this soup. Canned beans work perfectly!
Are Pinto Beans Healthy?
Absolutely! Pinto beans are a great source of protein and fiber. In fact, 1 cup of this vegan pinto bean soup provides nearly 10g of protein! It also has 10g of fiber which means you'll feel full and satisfied! If you're concerned about sodium, look for low sodium beans or no-salt-added beans.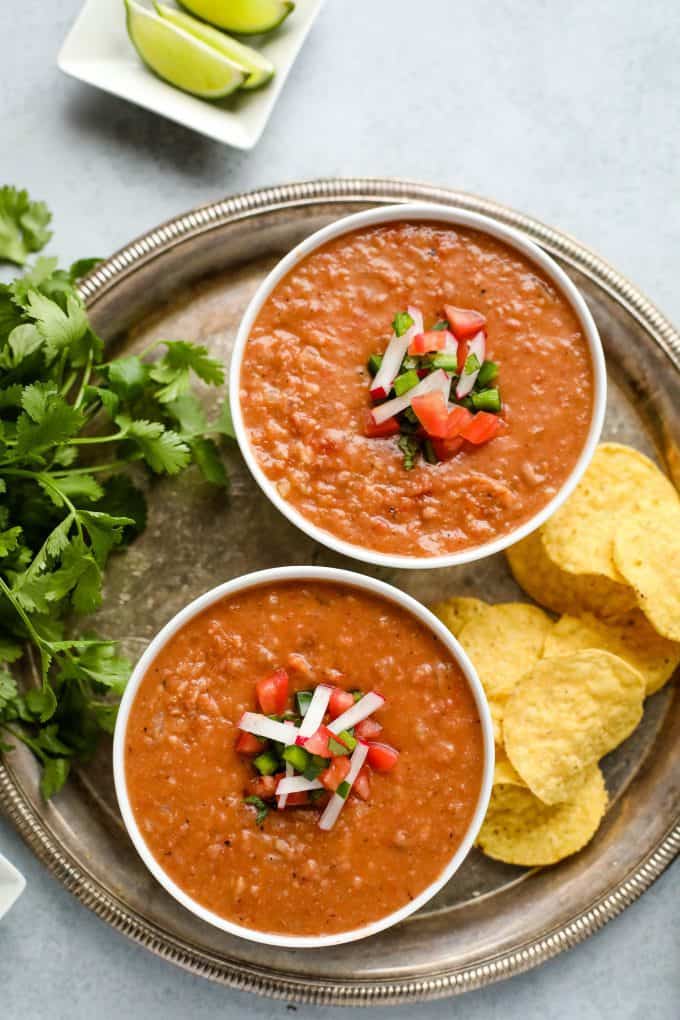 Tips for Making Pinto Bean Soup
Start with quality pinto beans. Look for a can that is 100% pinto beans without added colors, preservatives or added salt.
For the vegetable broth, I like using Edward & Son's "Not-chicken" broth. It has a great balance of flavors without being overpowering.
If you don't have fire-roasted tomatoes, you can substitute with regular diced tomatoes but it won't have quite as much flavor. Pick up fire-roasted tomatoes if you can!
Can I Make Soup with Dried Pinto Beans?
Yes! You can certainly make this recipe with dried beans, but you'll need to soak them overnight and cook them according to the package directions. This is a bit more time consuming but it's a great, budget-friendly way to make a lot of soup!
How to Safely Blend Hot Soup
I like to use an immersion blender because it's a little less messy and I think it's easier to achieve the perfect consistency. I like my soup a little chunky, so an immersion blender lets me combine all the ingredients without making it perfectly smooth.
If you don't have an immersion blender, you can still blend this soup in a blender. I recommend working in two batches and letting the soup cool slightly before transferring—just so you don't burn yourself! Remember to allow steam to escape from the blender so the soup doesn't explode!
Do NOT try to blend the hot soup in a bullet style blender like a Nutribullet or Magic Bullet. The steam must escape or you risk an explosion!
Need a little more help? Check out this post for how to get the best results from your blender.
Pinto Bean Soup Toppings
This soup is a great base and I recommend loading it up with toppings! Here are a few of my favorites:
Diced jalapeño
Cotija or feta cheese
Diced tomatoes
Chopped cilantro
Crushed tortilla chips
You can also add a dash of hot sauce if you like things spicy!!
How to Store Leftover Soup
If you have leftovers, you can store them in the refrigerator for up to 5 days or the freezer for up to 1 month. To reheat, simply warm in the microwave, stirring frequently. You can also reheat it on the stovetop. Transfer to a small saucepan and reheat over low heat, stirring frequently.
Print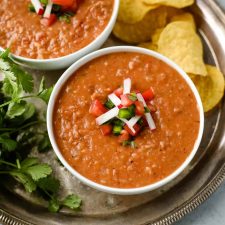 Pinto Bean Soup
Author:
Prep Time: 10 minutes
Cook Time: 25 minutes
Total Time: 35 minutes
Yield: 6 cups 1x
Category: Dinner
Method: Soup
Cuisine: Mexican
---
Description
This pinto bean soup is deliciously thick and creamy! With just a few simple pantry staples, you can enjoy a bowl of this homemade soup in no time!
---
2 teaspoons olive oil
1 large yellow onion, diced
2 cloves garlic, minced
1 teaspoon cumin
2 cups vegetable broth
1 15oz can fire roasted tomatoes
2 15oz cans pinto beans, rinsed and drained
1 teaspoon salt (or to taste)
2 tablespoons lime juice
Toppings: diced jalapeño, diced tomatoes, chopped cilantro or crushed tortilla chips.
---
Instructions
In a large saucepan, heat the olive oil over medium heat for 1 minute.
Add the onion and stir to coat. Continue to cook over medium heat for 5 minutes, stirring occasionally.
Add the garlic and cumin and continue to cook for 1 minute.
Add the vegetable broth, tomatoes, and pinto beans and bring to a boil.
Reduce to a simmer and continue to cook for 15 minutes.
Using an immersion blender, blend the soup until you've reached your desired consistency. I like to leave it a little bit chunky. Alternatively, if you don't have an immersion blender you can transfer 3 cups of soup to a blender and blend until smooth. Be careful when transferring hot liquid and be sure to allow steam to escape from the blender.
Add salt and lime juice, then divide into bowls.
Top with jalapeño, tortilla chips, tomatoes, or other desired toppings.
---
Keywords: pinto bean soup
Serving Suggestions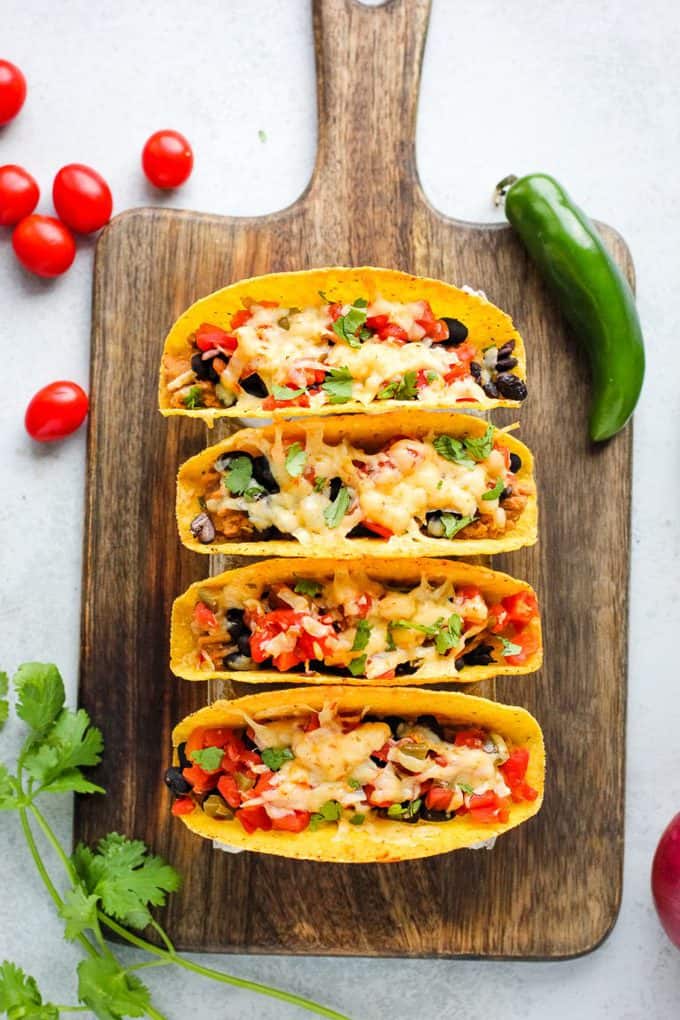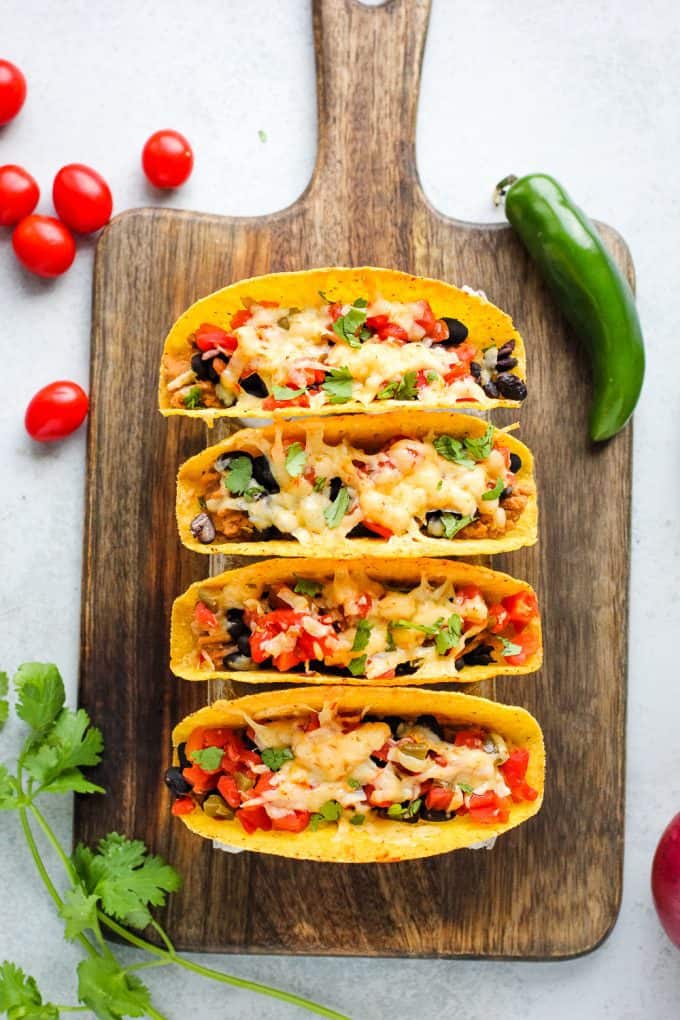 Try this pinto bean soup as a side dish with these easy oven-baked tacos!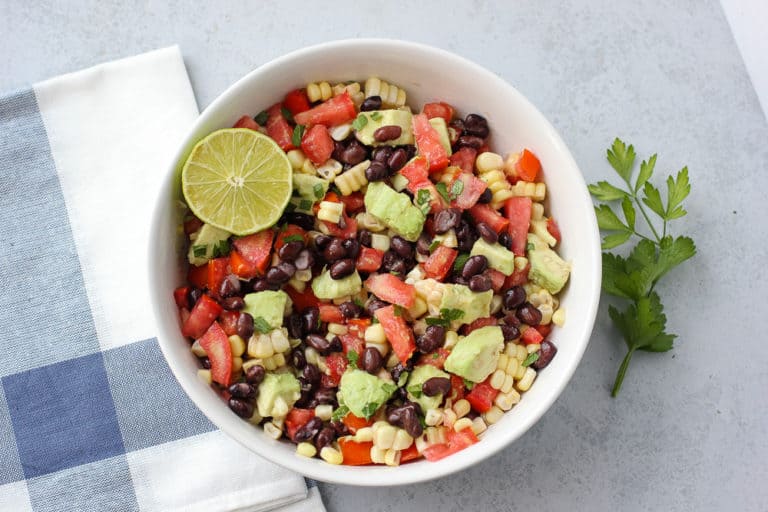 Or try pairing this soup with this black bean and corn salad!
Looking for more soup recipes? Here are a few of my favorites:
What's your favorite way to use pinto beans?