5 Ingredient Black Bean Enchiladas
These 5 ingredient black bean enchiladas only take a few minutes to assemble, so they're a perfect vegetarian weeknight recipe!
The other day, I was craving Mexican food, and I decided to whip up some enchiladas. When I got out the things I needed, I realized how easy these were going to be! 5 ingredients, that's it! This recipe made 10 enchiladas, plenty for Alex and I to eat for lunch plus a few to have for leftovers. Don't you love having leftovers? We both agreed these were delicious on their own, but I feel like they'd be even better served with this Mexican street corn salad. Or maybe I just love having an excuse to make that salad? Let's just say, it's one of my most popular recipes for a reason!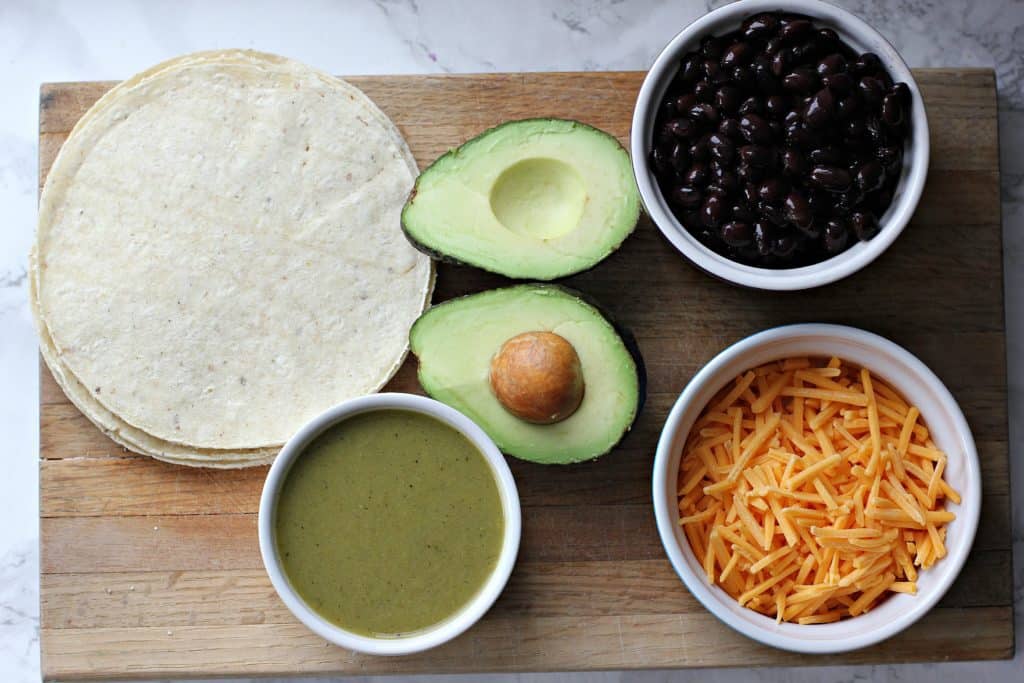 The Best Tortillas for Enchiladas
Enchiladas are traditionally made with corn tortillas. To make sure your tortillas don't crack, it can help to warm them up for just a few seconds in the microwave. I like to heat them up with a damp paper towel on top for just 10-15 seconds. When they're warm, they're a little more pliable. You can also use a corn and flour blend for a softer and more pliable tortilla. Curious about the difference between tortillas? Read this post to learn the differences between corn and flour tortillas.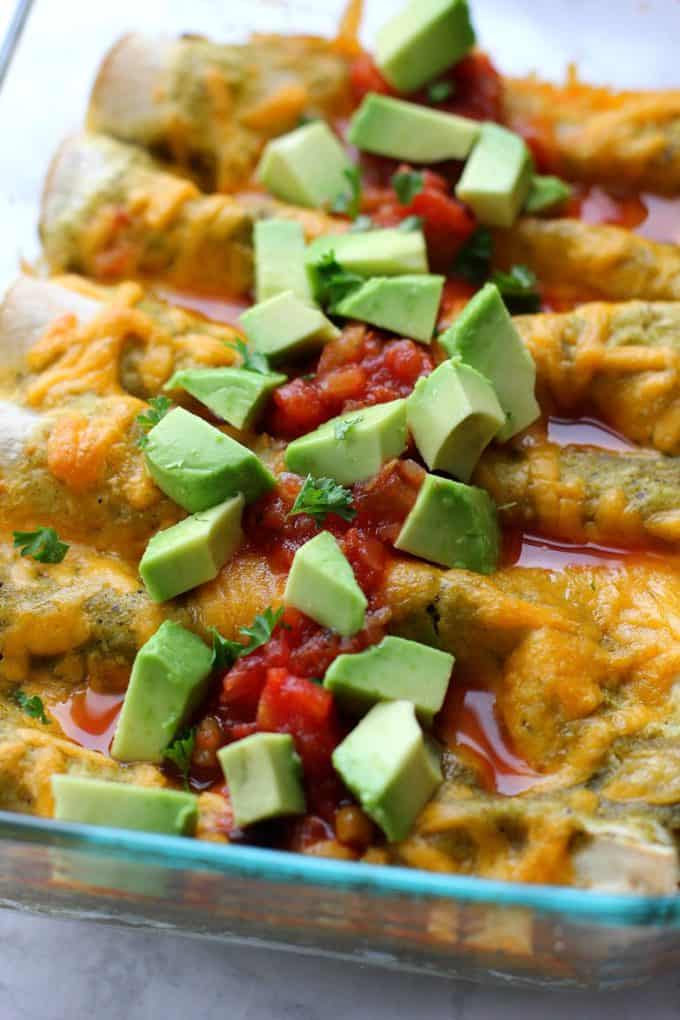 Here are a few tips for perfect enchiladas every single time!
It helps if the enchiladas are packed pretty tightly within the pan. Don't worry if they don't line up perfectly, but I find that sometimes it's easier to use two smaller baking dishes rather than one large tray.
When placing the stuffed tortillas in the pan, make sure to place them seam side down, so they stay rolled.
Don't stuff your tortillas too full, or they're crack, and the filling will spill out—error on the side of less filling. If you have some leftover, you can always stuff a few additional tortillas!
Best Enchilada Sauces
I like green enchilada sauce for this recipe. I usually buy the Herdez brand of salsa verde or Frontera's green enchilada sauce. Feel free to use whatever brand or type you like but be careful of the spice level because this requires quite a bit of sauce. I'd recommend mild or medium.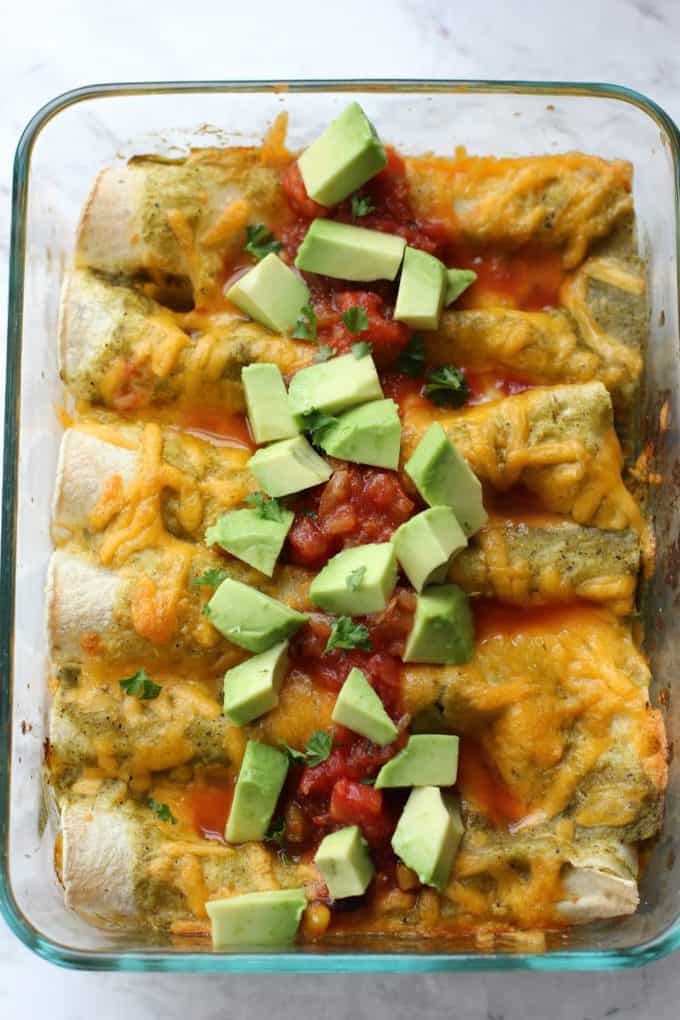 How to Store Leftover Enchiladas
If you have leftovers, store them in the fridge in an airtight container for up to 3 days. Wait to add avocado and salsa toppings for any enchiladas you plan to eat later.
How to Freeze Enchiladas
If you prefer to make these black bean enchiladas in advance, follow steps 2-5. Then wrap the enchiladas in plastic wrap and store in an airtight container in the freezer for up to one month. When ready to serve, top with salsa verde and cheese. Bake for 25-30 minutes until browned. Add toppings and serve!
Substitution Suggestions
If you want to keep these vegan, substitute shredded vegan cheese, or leave the cheese off and add additional avocado.
You can swap pinto beans or vegetarian refried beans in place of the black beans if you prefer.
You can also add corn if you want to add a hint of sweetness.
Print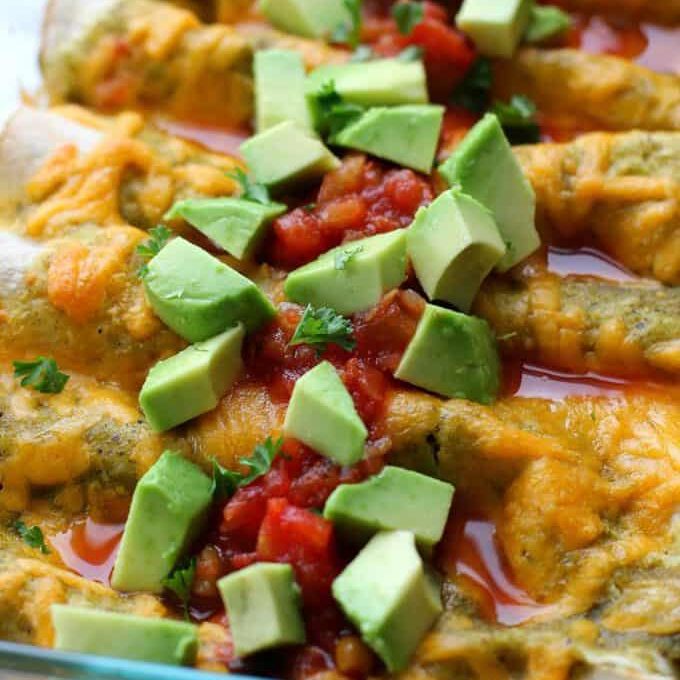 5 Ingredient Black Bean Enchiladas
Author:
Prep Time: 10 mins
Cook Time: 15 mins
Total Time: 25 minutes
Yield: 10 1x
Category: Dinner
Method: Baking
Cuisine: Mexican
---
Description
These black bean enchiladas require just a few ingredients and a few minutes of prep! You'll have a meatless dinner ready in no time.
---
10 corn tortillas
1 15oz can black beans
8 oz shredded cheddar cheese
1 avocado
1 cup salsa verde or green enchilada sauce
Salsa, sour cream, or cilantro (optional)
---
Instructions
Preheat the oven to 400.
Wrap the corn tortillas in plastic wrap and microwave them for 30 seconds. This will lightly steam them so you can roll them without them cracking.
Fill each tortilla with a few tablespoons of black beans and two tablespoons of cheese. Don't fill them too full or you won't be able to roll them up. You should end up using about 2/3 of the cheese as filling.
Roll them and place them in a baking dish, seam side down. It helps if you have a baking dish that is the width of the tortillas so they stay snug.
Keep lining them up until you reach the edge of the pan. I made one larger pan and one smaller pan since all of mine didn't fit in one pan.
Pour the salsa verde over the wrapped tortillas.
Sprinkle with remaining cheese.
Bake in the oven for 15 minutes or until the cheese has completely melted.
Top with avocado and serve immediately.
---
Keywords: black bean enchiladas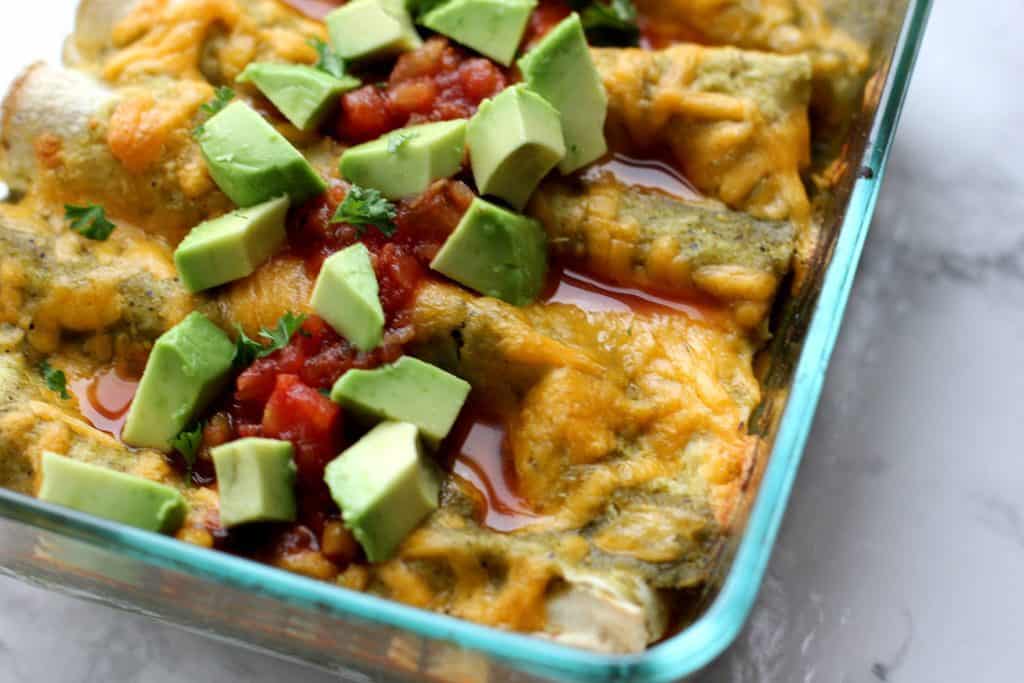 These black bean enchiladas are gluten free and vegetarian, but they don't skimp on flavor! Plus, they were quite filling thanks to all the beans! Don't you love quick and easy recipes? I'll definitely be making these again soon!
Side Dish Ideas
Round out your black bean enchiladas with one of these simple vegetarian side dishes!
Black Bean and Corn Salad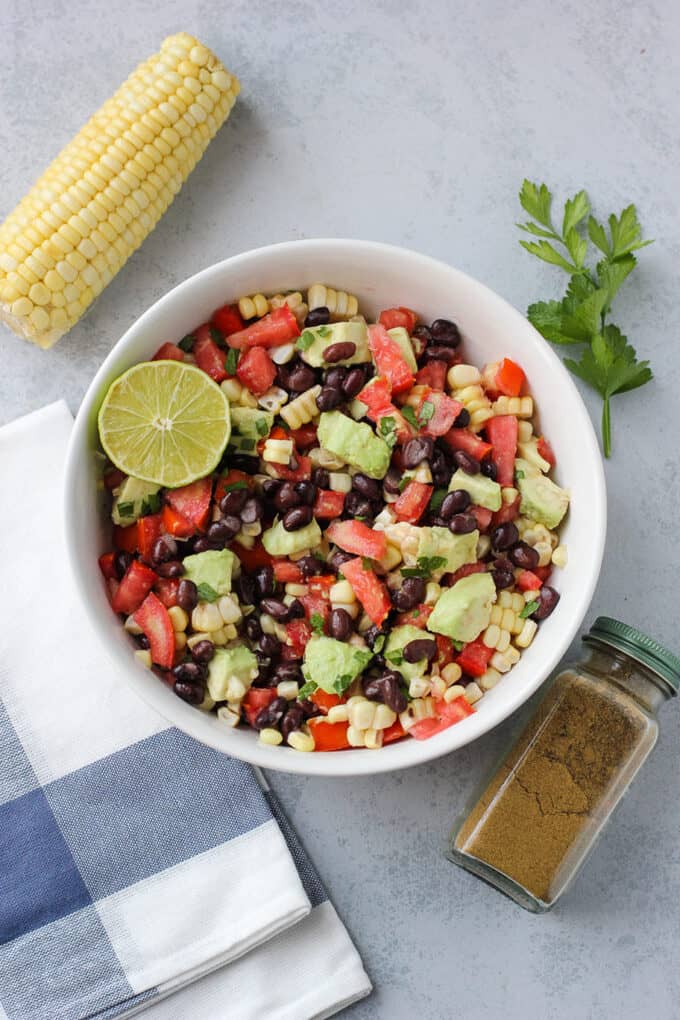 Mexican Street Corn Salad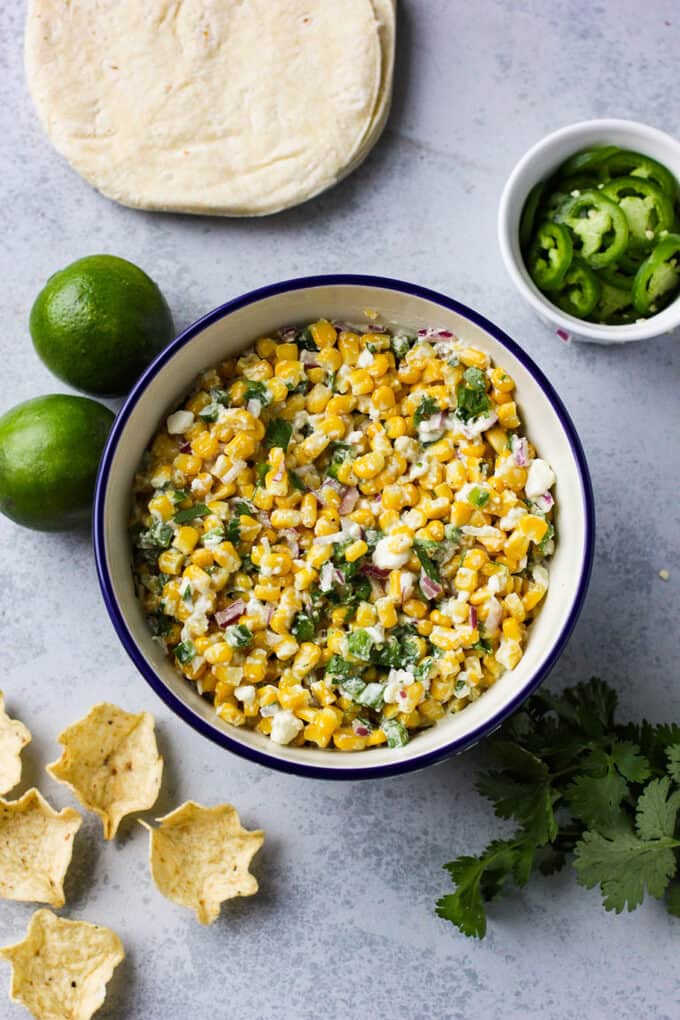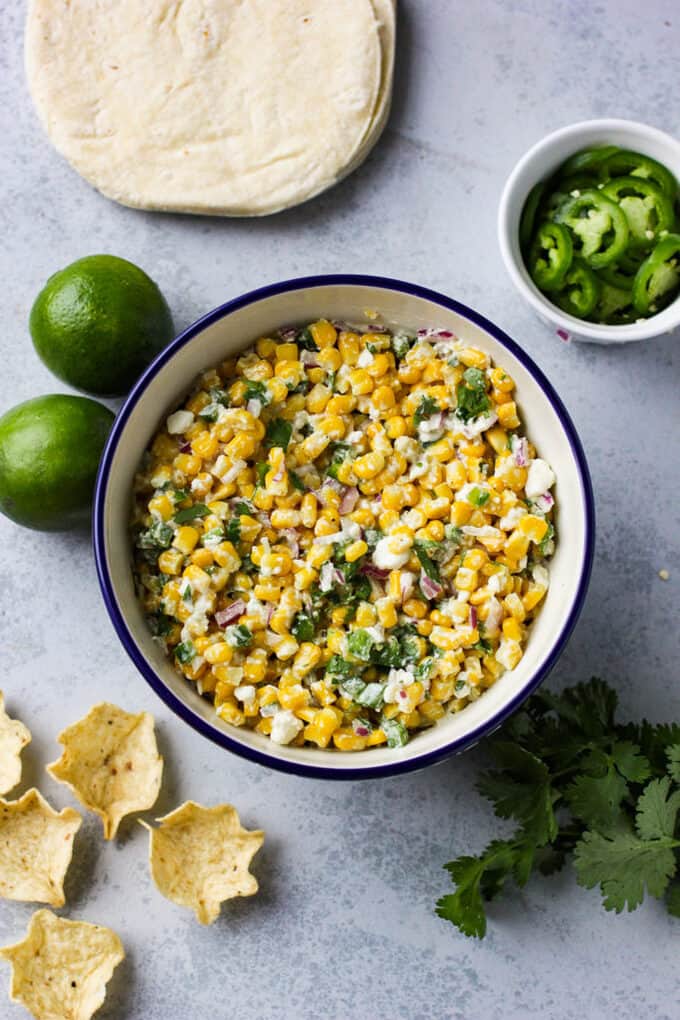 Easy Black Bean Dip
Looking for a vegan enchilada recipe? Try these vegan black bean enchiladas! You might not even miss the cheese!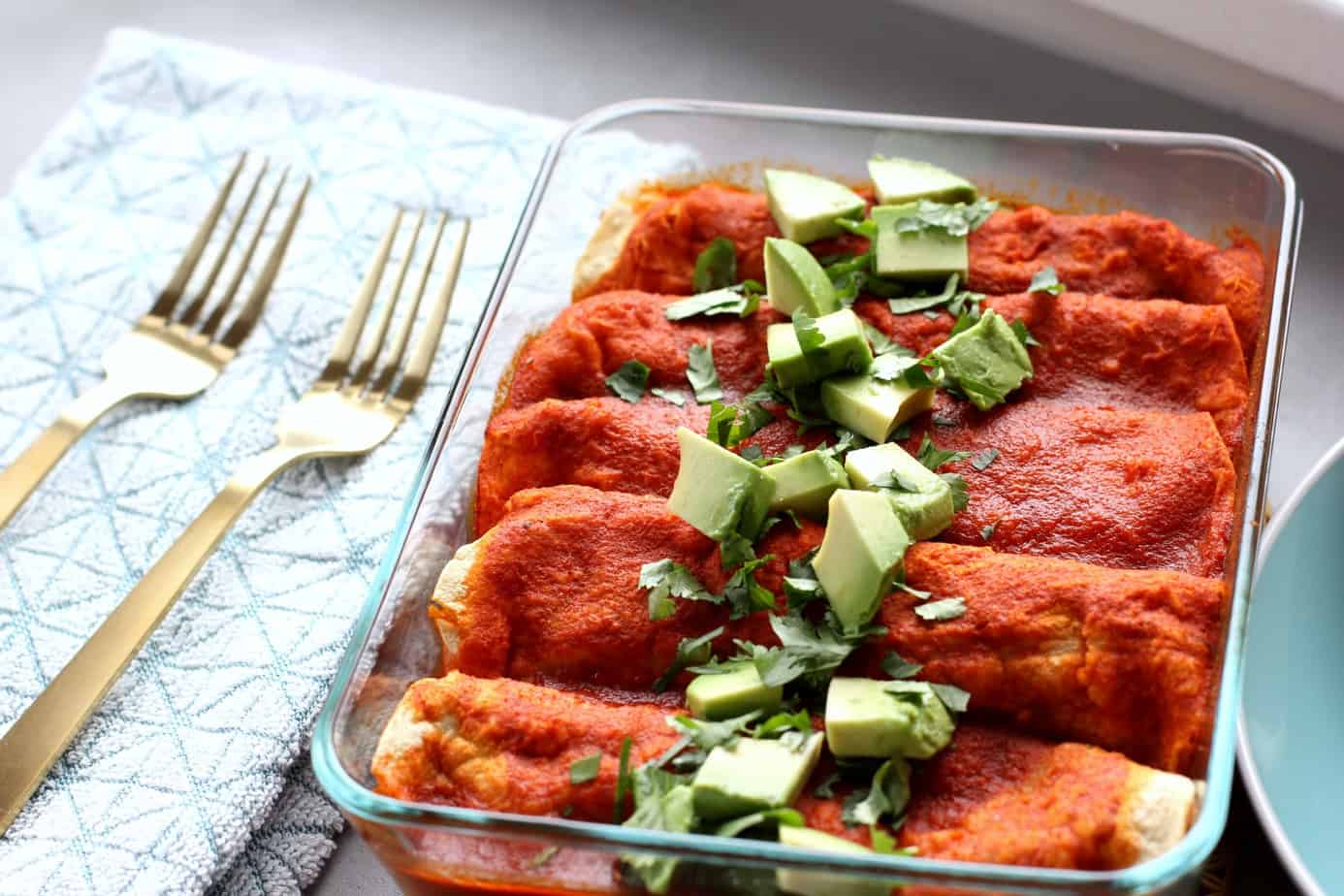 What's your favorite easy dinner recipe?