Sweet and Sour Tempeh
This sweet and sour tempeh is a healthy twist on your favorite takeout. The homemade sauce is just 5 ingredients, and this recipe is ready in less than 30 minutes.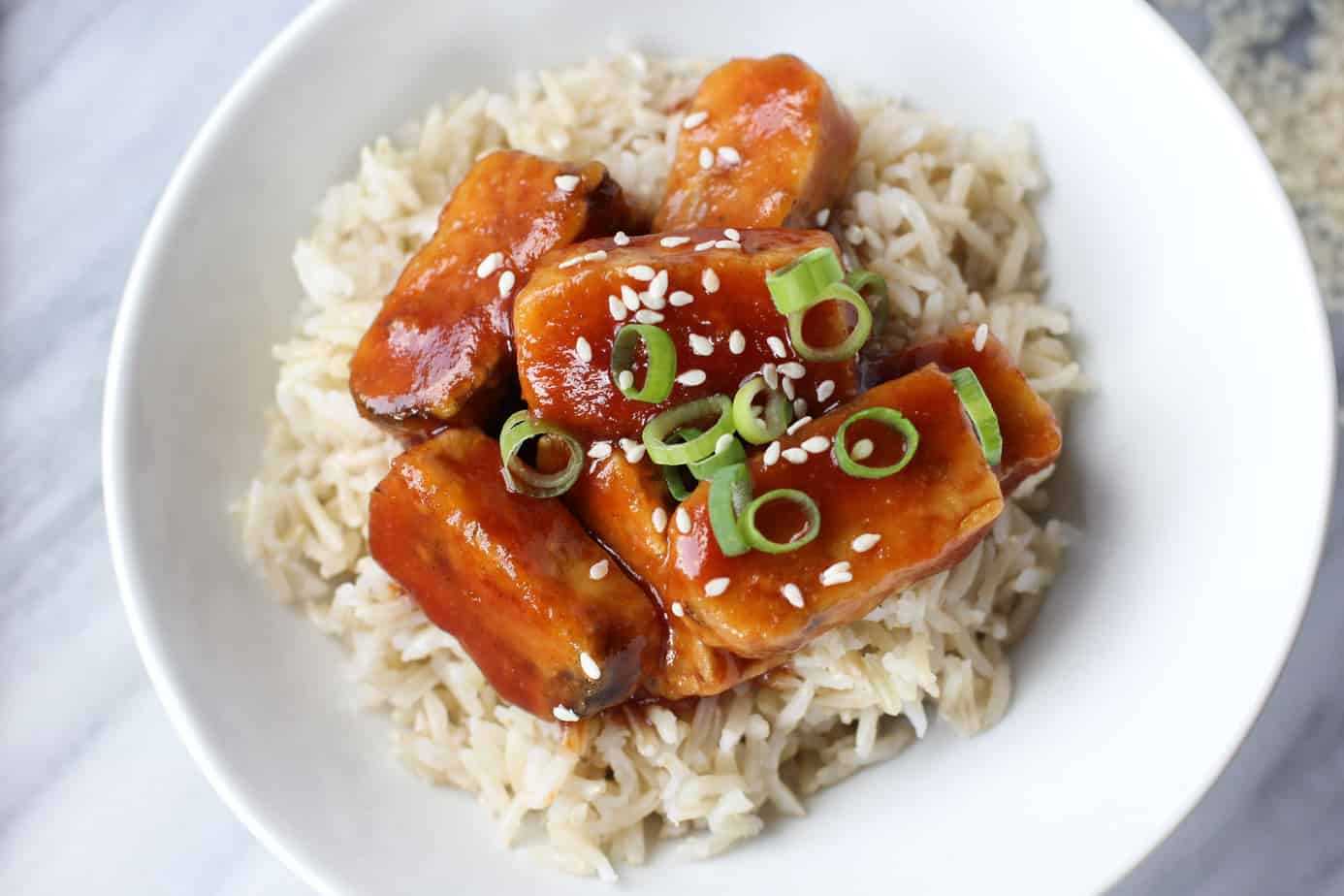 What is tempeh?
Before we jump into this recipe, let's talk about tempeh. It's like a cousin to tofu, made from fermented soybeans. I like it a lot more than tofu because you don't have to spend time draining or pressing it and I think the texture is better. Like tofu, tempeh is an excellent source of plant-based protein, and many kinds of tempeh are gluten-free. (Check the package though! Some are made with soy and grains.) 3oz of tempeh contains 16g of protein and just 140 calories.
Where can you buy tempeh?
You can usually find tempeh in the refrigerated section near the natural and organic foods. It's often sold near tofu. I like the Lightlife brand of tempeh, which is usually pretty easy to find at most major grocery stores.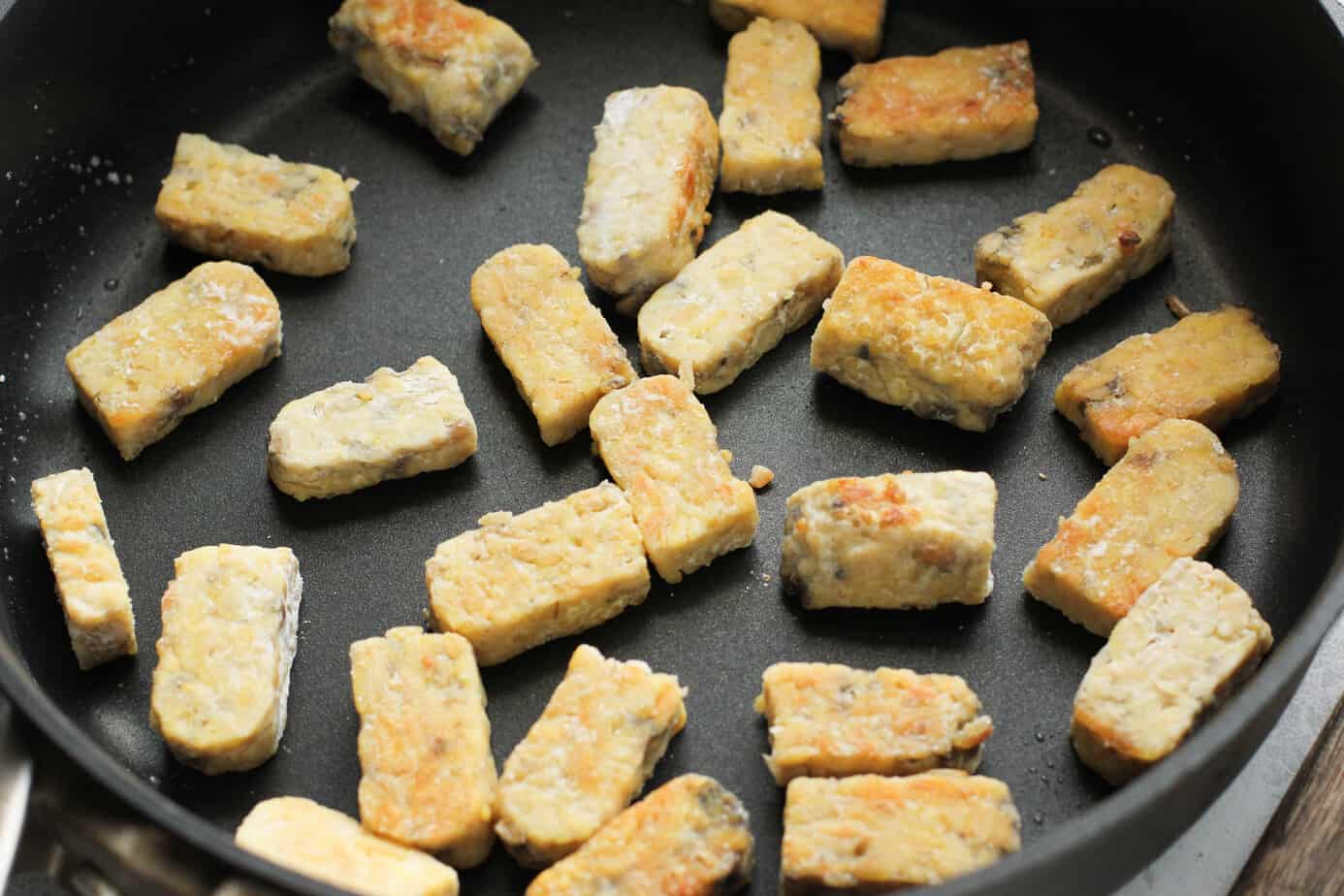 How do you prepare tempeh?
To prepare tempeh I usually marinate it then pan fry it, but we're going to do things a bit differently in this recipe! Since we're adding the sauce at the end, we'll simply pan fry the tempeh plain. This recipe is simple but delicious!
It's hard to believe that this flavorful sauce is just 5 ingredients, but it's true! When you're cooking the sauce to thicken it, it will smell very strongly of vinegar. Don't be afraid! It will have a strong smell while cooking, but it will taste much sweeter!
Serving Suggestions
I liked this sweet and sour tempeh over a little brown rice, but if you wanted a lower carb option, you could serve it with stir-fried veggies, cauliflower rice, or edamame.
The sauce will keep in the fridge for 4-5 days, so you could also make a double batch of the sauce and serve it over tofu or your favorite protein.
You could also serve this with vegetable fried rice, for even more flavor!
Substitution Options
If you don't have tempeh, you can make this with tofu or your favorite protein. Cook your protein of choice, then toss with the sauce!
Feel free to use coconut sugar instead of brown sugar, for a less processed sweetener.
You can use liquid aminos or tamari instead of soy sauce for a gluten-free option.
If you don't have green onions or sesame seeds, don't worry, they're mostly for garnish!
More Tempeh Recipes
Print
Sweet and Sour Tempeh
Author:
Prep Time: 5 minutes
Cook Time: 20 Minutes
Total Time: 25 minutes
Yield: Serves 2
Category: Dinner
Method: Stovetop
Cuisine: Asian
---
Description
This sweet and sour tempeh is a healthy twist on your favorite takeout. The homemade sauce is just 5 ingredients and this recipe is ready in less than 30 minutes.
---
1/4 cup brown sugar
1/4 cup ketchup
1/3 cup apple cider vinegar
2 tablespoon soy sauce (or gluten free tamari)
1 teaspoon garlic powder
1 (8oz) package tempeh
1 tablespoon avocado oil (or another high heat oil)
1 tablespoon chopped green onion
1 teaspoon white sesame seeds
4 cups cooked brown rice (optional for serving)
---
Instructions
Combine the brown sugar, ketchup, apple cider vinegar, soy sauce, and garlic powder in a saucepan over medium heat.
Bring to a simmer, then reduce the heat to low.
Cook for 10-15 minutes until the sauce is reduced by half. It should stick to the back of a spoon and be almost as thick as maple syrup.
While the sauce is simmering, cut the tempeh into 1" cubes.
Heat the avocado oil in a large skillet over medium heat.
Arrange the tempeh in a single layer in the pan.
Let cook for 5 minutes on one side until browned, then flip and continue to cook until browned on the other side.
Once the tempeh is browned and the sauce is thickened, toss the tempeh with the sauce until evenly coated.
Divide into 4 servings and sprinkle with green onion and sesame seeds.
Serve over rice, if desired.
---
Notes
Note: I like my sweet and sour sauce with a strong, tangy flavor from the vinegar. If you prefer a sweeter sauce, increase the brown sugar to 1/3 cup.
Keywords: Sweet and sour tempeh