How to Make Crispy Chickpeas in an Air Fryer
I love to make chickpeas in my air fryer because they're crispy and delicious with minimal oil! If you've been wondering how to make perfect chickpeas in the air fryer, I'll show you the process step by step!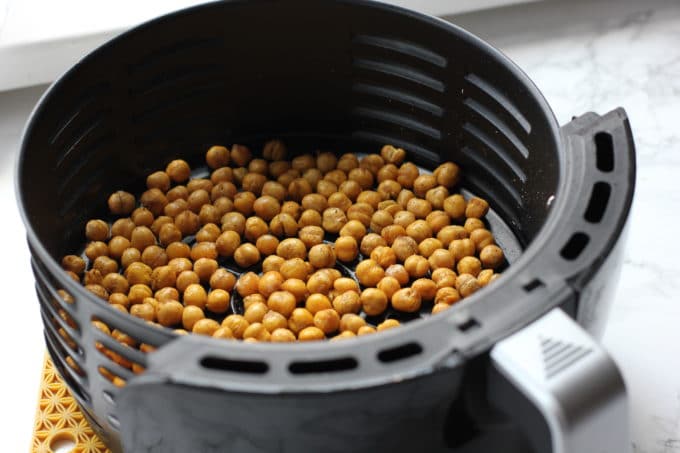 My husband questioned the need for an additional appliance but when I saw a good deal on an air fryer, I couldn't resist. I didn't totally understand what an air fryer was but the promise of crispy textures with minimal oil won me over. So let's start with the air fryer basics.
What is an air fryer?
An air fryer is basically a convection style oven. It circulates hot air around a metal basket which creates a crispy outer layer. Not to get all scientific here but there is something called the Maillard reaction, which is the chemical reaction that gives food a browned or crispy crust. An air fryer basically makes that reaction happen.
What this means for you is that you can get browned, crispy crusts without having to truly "fry" anything. An air fryer can mimic the texture with just a tiny bit of oil.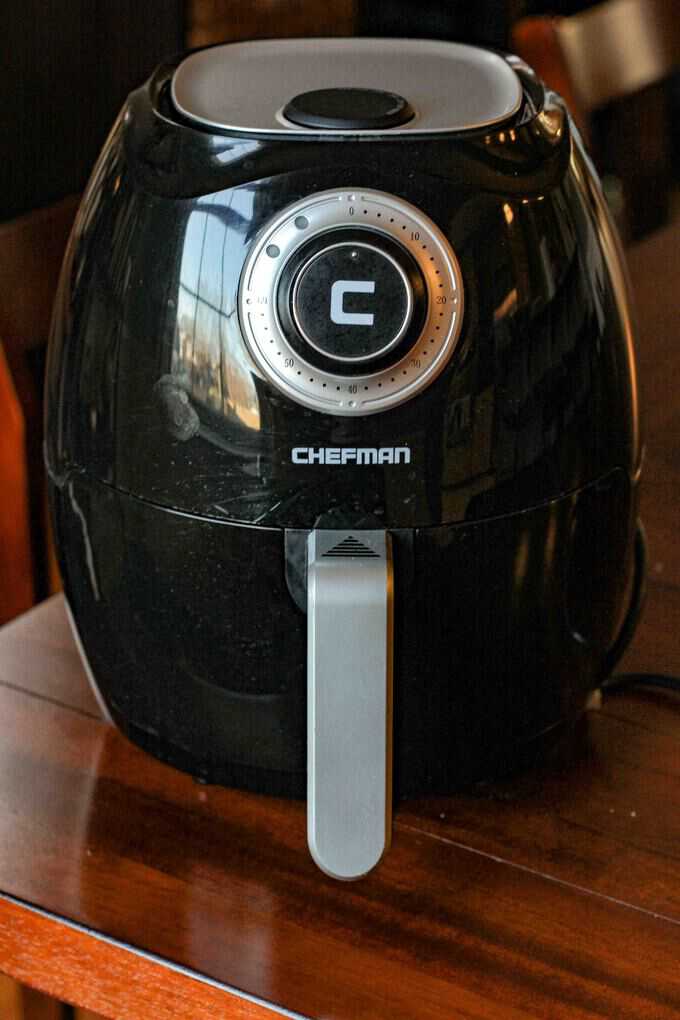 What should I look for in an air fryer?
The main thing to consider is size. When you're cooking in an air fryer, you don't want to crowd the pan or basket. Since I'm often just cooking for two people, I didn't need a huge basket. But if you wanted to make larger servings, you may want to get a larger oven. Some ovens contain multiple racks for larger servings. Mine is just a single basket but it's big enough for most of the things I cook. Affiliate links to my air fryer picks are below.
But if you're just getting started, a basic air fryer like mine costs around ~$50.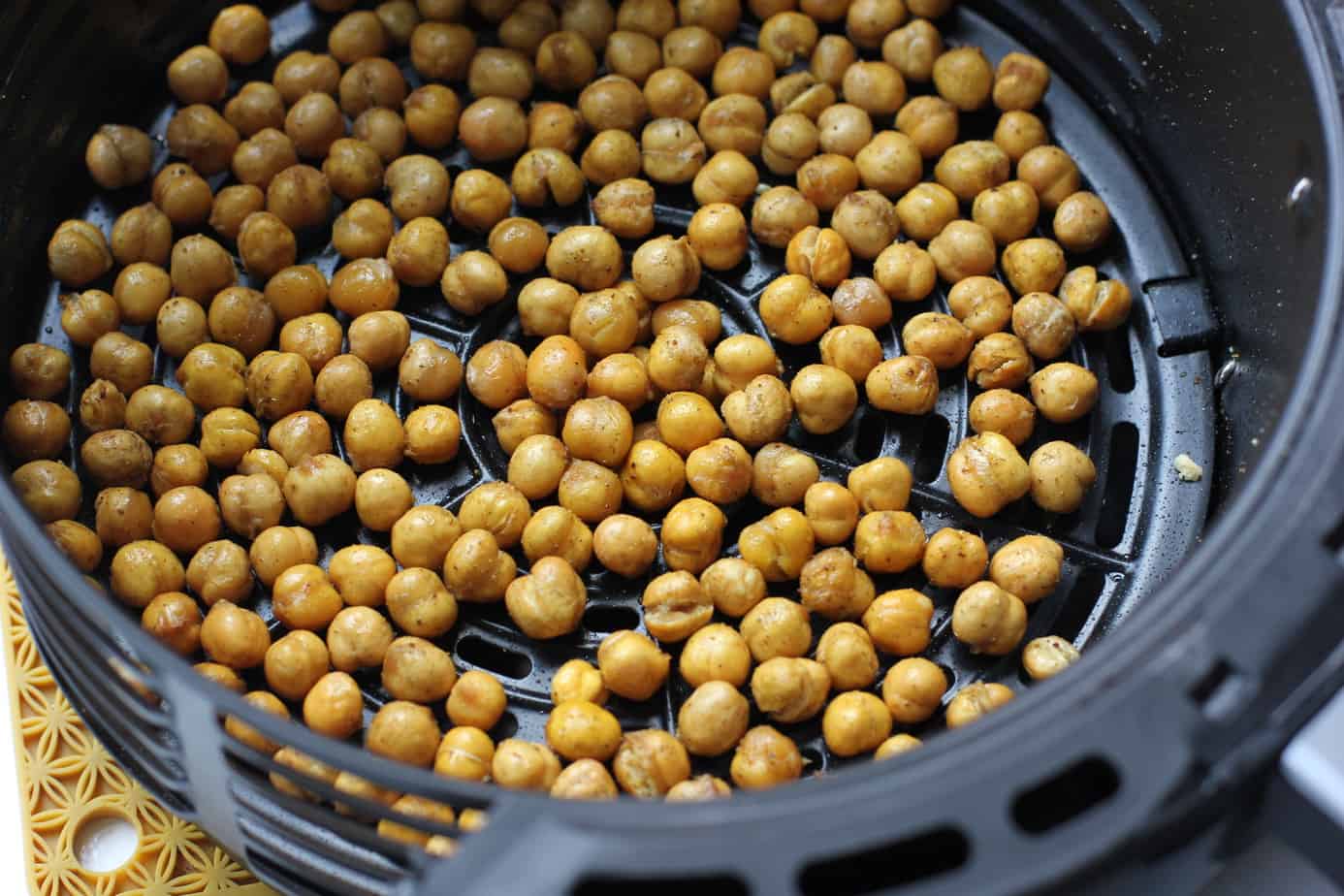 What can you make in an air fryer?
I use it for everything from chickpeas to frozen spring rolls. Alex and I both love Alexia's chipotle sweet potato fries and the air fryer gets them unbelievably crispy. But chickpeas are the thing I've made the most. It's just so easy!
I've found that our air fryer is also perfect for warming up takeout! We've been getting a lot of takeout over the past year and our air fryer is the perfect way to perk up soggy fries or reheat a slice of pizza. It's quick and effective without having to wait for the oven to heat up!

How to Air Fry Chickpeas
After you drain and rinse the chickpeas from the can, gently pat them dry with paper towels. We want to remove as much moisture as possible form the chickpeas, which will help make them crispy.
Place the chickpeas in a large bowl and gently toss with oil. If you want to use even less oil spread the chickpeas on a baking sheet and use an olive oil spray to lightly and evenly coat the chickpeas. Then sprinkle the chickpeas with seasonings.
Transfer the chickpeas to the air fryer basket, being sure not to crowd the fryer basket. If you have a small air fryer, you may want to air fry chickpeas in two batches.
Halfway through cooking, gently shake the basket or use a wooden spoon to carefully stir the chickpeas, which will ensure even air frying,
Once they're brown and crispy, transfer to a plate and let cool slightly, then enjoy!
The Best Oil for the Air Fryer
The best way to coat the chickpeas evenly is to use an olive oil spray. This allows you to evenly distribute the oil in a fine mist, so you don't end up soaking any of the chickpeas and turning them soggy.
Be sure to dry the chickpeas before adding the oil so the oil can coat the chickpeas evenly.
Consider an oil sprayer like this one that you can fill with your own oil. It's great for olive oil or avocado oil!
Spice Blend Ideas
Garlic, salt, and pepper is a good place to start
Chili powder, cumin, and black pepper give you a spicy flavor
Oregano, basil, and garlic powder create more of an Italian blend
You could also use this homemade taco seasoning recipe to give your chickpeas a taco flavor!
Air Fryer Troubleshooting
Be sure not to use too much oil, or the chickpeas will actually get soggy.
Do not overcrowd the fryer basket. If you have a small air fryer, you may need to cook the chickpeas in batches. They should be in a single layer.
Some air fryers will cook faster than others, so be sure to keep a close eye on your chickpeas to prevent burning! You also may notice that your air fryer has certain hot spots. Stirring the chickpeas frequently or shaking the fry basket will ensure even cooking.
Print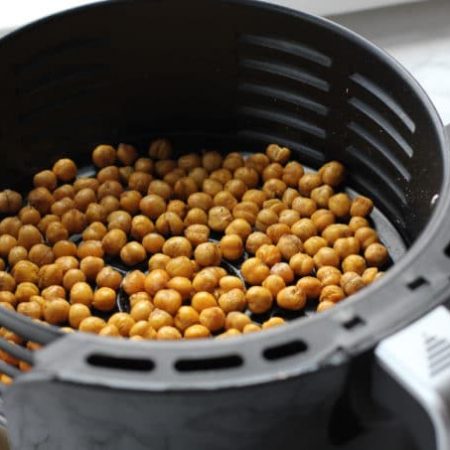 How to Make Crispy Chickpeas in an Air Fryer
Author:
Prep Time: 5 minutes
Cook Time: 20 minutes
Total Time: 25 minutes
Yield: 1 cup chickpeas 1x
Category: Dinner
Method: Air fryer
Cuisine: Dinner
---
Description
Learn how to make crispy chickpeas in an air fryer with minimal oil! Add your favorite seasonings then add these chickpeas on top of a salad, in a wrap, or served on their own!
---
1 15oz can chickpeas, rinsed and drained
2 teaspoons of oil (see note)
¼ teaspoon sea salt
Optional: paprika, garlic powder, onion powder, or za'tar seasoning
---
Instructions
Preheat the air fryer to 450 degrees. (See note)
Spread the chickpeas onto a paper towel and gently pat dry.
Place the chickpeas in a large bowl and toss with oil and seasoning.
Cook in the air fryer for 10 minutes, then remove the basket from the fryer and stir or shake to toss the chickpeas.
Continue cooking for 5-10 minutes until crispy
---
Notes
Feel free to use olive oil, avocado oil, or any neutral oil. If you want to use less oil you can use a spray olive oil to evenly coat the chickpeas before tossing with the seasoning.
Some air fryers don't have an indicator for when it's preheated. I usually give it about 10 minutes to heat up.
Keywords: Air fryer chickpeas
You can play around with whatever spices you have in your pantry. It's an easy way to change the flavor without having to create a whole new dinner idea! If you're watching your sodium intake, look for salt-free seasoning blends from brands like Mrs. Dash.
You can always add a little extra seasoning once they're finished cooking, but the spices will stick better before cooking. If I'm putting my chickpeas in a pita, I love using za'atar seasoning because it adds so much flavor! If I'm keeping things simple, I'll just use a little bit of garlic salt and then add a squeeze of lemon once it's done cooking. Chickpeas and red potatoes, roasted in the air fryer, make a deliciously simple meal. Just add some greens on the side!
Looking for more air fryer ideas? Try these air fryer buffalo cauliflower tacos!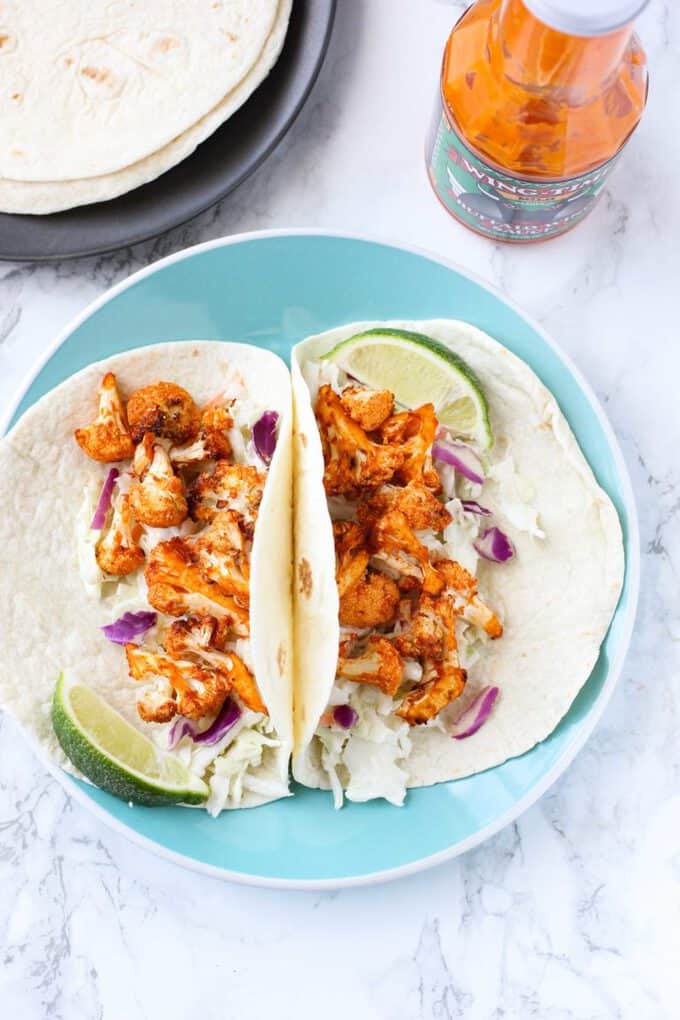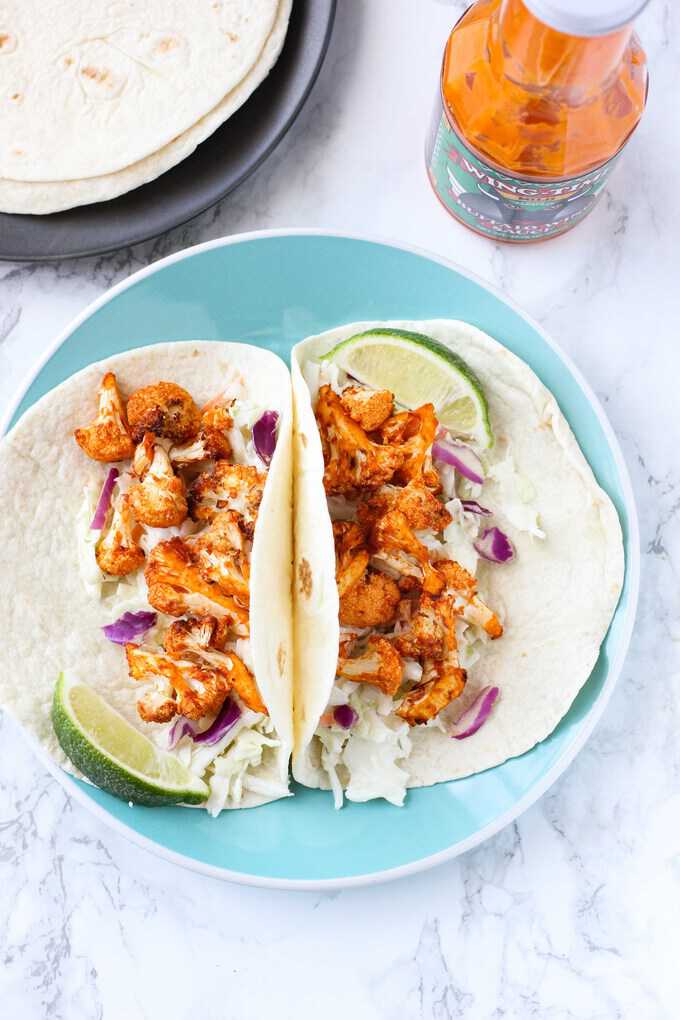 Curious for other ways to use chickpeas? Check out this post for tons of ideas!
What's your favorite thing to cook in an air fryer?