Sweet and Spicy Chipotle Vinaigrette
This sweet and spicy chipotle vinaigrette is the perfect way to perk up your salad! This recipe tastes just like the delicious dressing from Chopt!
When Alex and I need a quick and easy dinner, we often find ourselves at Chopt. I love their deliciously diced salad bowls, and Alex is a fan of their wraps. My favorite is the Santa Fe salad with the sweet and smoky chipotle dressing. I started thinking that if I could buy the dressing, it would be easy to make my favorite Chopt bowl at home. But since they don't sell their dressings in stores, there was only one thing to do: create a Chopt dressing copycat!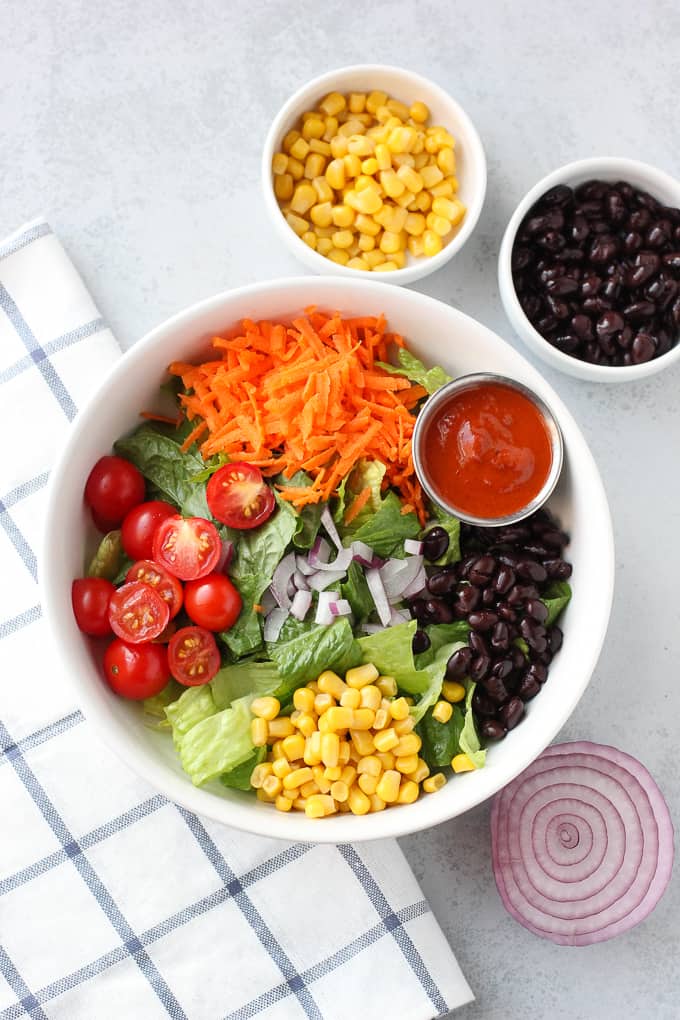 This sweet and spicy chipotle vinaigrette tastes just as delicious as the dressing from Chopt, although I'll warn you that it tends to be a bit spicier! If you love super spicy foods, then this dressing is for you! If you're not a fan of heat, then I would pass on this one. It will make your nose run!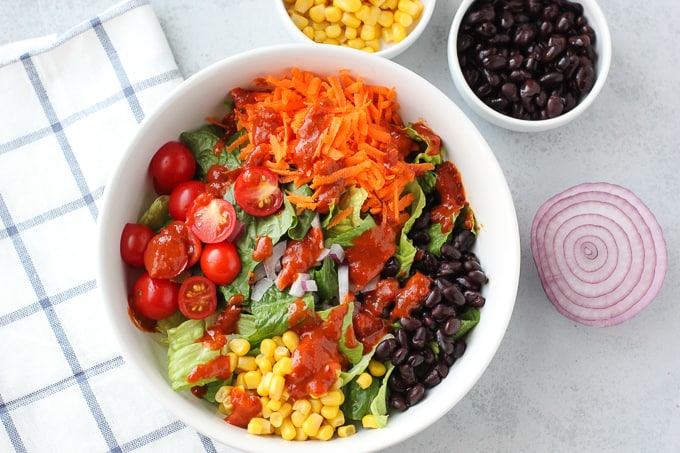 The other reason I love making this salad dressing at home is that I know exactly what goes in it. Believe it or not, a two-tablespoon serving of this salad dressing contains just 40 calories! It's thick and packed with flavor, but it only requires a tiny bit of oil. Since it's so spicy, you won't need more than two tablespoons, even for a sizeable main-dish-sized salad!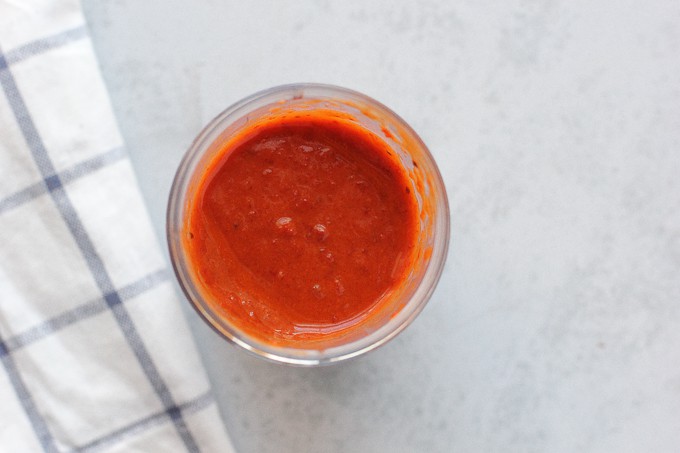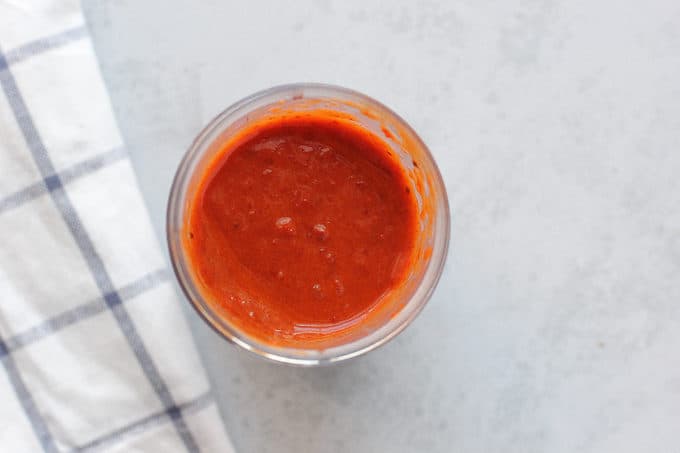 How to cut back on the spiciness
If you don't like things super spicy, try adding a couple of tablespoons of Greek yogurt to the dressing to balance out the heat.
You can also add additional oil, to tame this dressing, although I wouldn't add more than three tablespoons total.
For more sweetness, you can increase the agave to 3 teaspoons, which will also cut down on the spice.
Print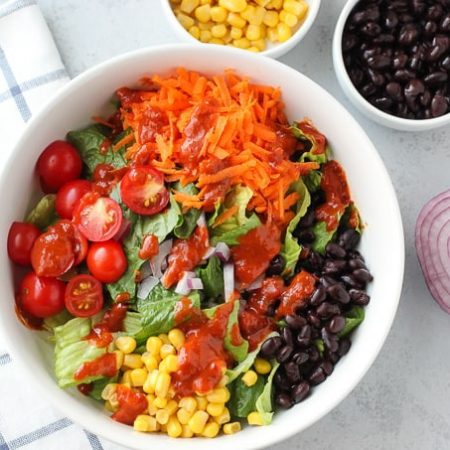 Sweet and Spicy Chipotle Vinaigrette
Author:
Prep Time: 10 minutes
Cook Time: 0 minutes
Total Time: 10 minutes
Yield: 1 1/2 cups of dressing 1x
Category: Salad
Method: Blended
Cuisine: Mexican
---
Description
This sweet and spicy chipotle vinaigrette is similar to my favorite dressing at Chopt! It's full of flavor but low in calories!
---
For the dressing
1 (7oz) can chipotle peppers in adobo sauce
1 tablespoon white vinegar
1 teaspoon dijon mustard
1 1/2 tablespoons agave
1 tablespoon avocado oil or olive oil
3 tablespoons water
3/4 cup plain Greek yogurt
1/4 teaspoon salt (or to taste)
For the salad
4 cups chopped romaine
1/2 cup cherry tomatoes
1/2 cup black beans
1/2 cup corn
2 tablespoons diced red onion
1/2 cup shredded carrots
---
Instructions
Blend all ingredients together until smooth.
Taste and add additional agave or salt, if needed.
Combine all salad ingredients in a large bowl and drizzle with 1/4 cup of dressing or to taste.
Serve immediately and store leftover dressing in an airtight container in the refridgerator.
---
Notes
This dressing is very spicy. If you like a more mild flavor, add an additional 1/4 cup Greek yogurt.
Keywords: Sweet and Spicy Chipotle Vinaigrette
I'm obsessed with this dressing! I whip it up in a mini food processor, but you can use any blend or food processor that you have. Store it in an airtight container in the fridge for 5-7 days.
Serving suggestions
This salad makes a delicious main dish, but if you want to add even more protein, you could add chickpeas or grilled chicken.
This sauce is also delicious on tacos! Try it as a hot sauce or marinade. If you like this sauce, be sure to try my burrito sauce, too!
You can also serve this salad as a side dish with these lentil tacos, for a healthy and filling dinner!
Do you like spicy salad dressings?