Quinoa: Recipes, Nutritional Information, and How to Prepare It
Curious about quinoa? Learn why this ingredient should be a staple in your pantry, tips for how to prepare it, and recipes to get you started cooking quinoa!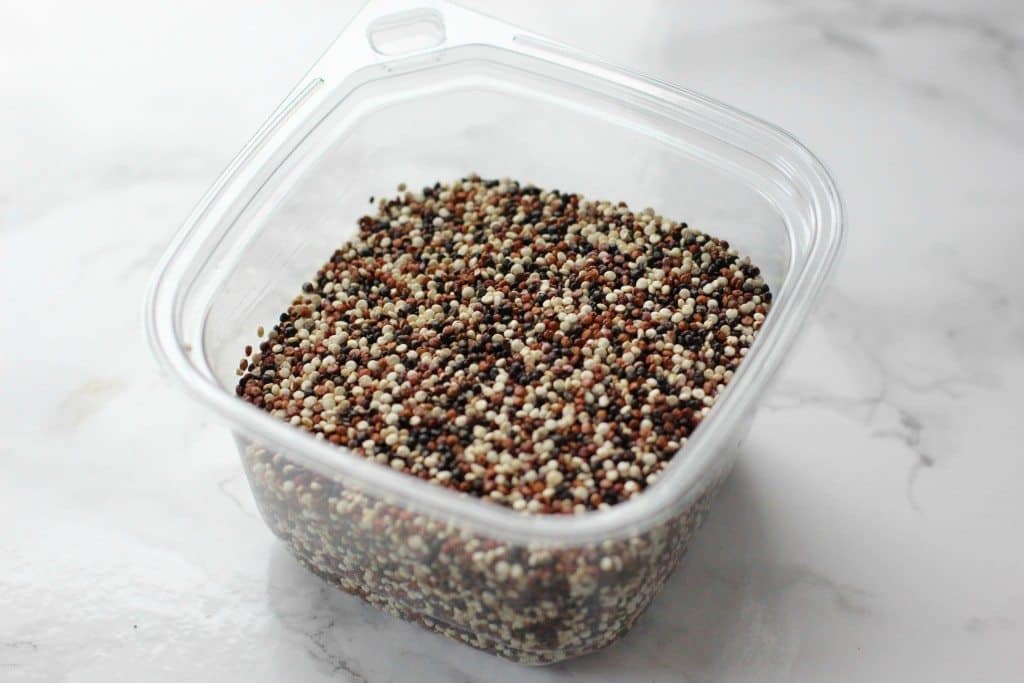 What is Quinoa?
Although it's often used as a grain, quinoa is technically a seed. This means it's naturally gluten-free! It comes in different varieties although they generally taste the same. You'll see them come in a beige color, red quinoa, and tri-color quinoa which is really just a blend of different varieties.
What does Quinoa Taste Like?
Quinoa doesn't have a strong flavor, so I think of it like rice or other grains. It's easy to add to a recipe because it has a fairly neutral taste. When cooked, the texture is fluffy, like tiny grains of rice. Quinoa can also be ground into a flour that can be used in baking. It has a slightly nutty taste. Try it in these quinoa flour cookies!
Where to Buy Quinoa
You'll typically find quinoa sold in bags in the natural section of the grocery store. Sometimes it'll be kept by the rice or gluten-free products. You can also find quinoa in the bulk bins which tends to be much cheaper! You can also find quinoa on Amazon and have it delivered right to your door!
How to Prepare Quinoa
There are so many different ways to prepare, but here are a few of my favorite basic methods. Don't forget to rinse your quinoa before cooking it!
How to Make Quinoa In a Rice Cooker– I love making quinoa in the rice cooker because I can set it and forget it! It cooks perfect quinoa every time.
How to Cook Quinoa on the Stovetop– Just like rice, you can prepare quinoa on the stovetop. Use a two to one ratio of water to quinoa. Simmer for about 15-20 minutes or until the water is absorbed. Then fluff with a fork!
How to Make Quinoa in an Instant Pot– Yep, you can make quinoa in an Instant Pot! This is a quick, fool-proof method for perfect quinoa!
Do I Need to Rinse Quinoa?
Most quinoa should be rinsed before cooking. Some bagged varieties will come pre-rinsed but if you're not sure, give it a rinse just to be safe. I place it in a fine-mesh strainer and then run it under cool water. Be sure it's a very fine mesh strainer so the quinoa doesn't fall through. This strainer on Amazon is a great one for quinoa!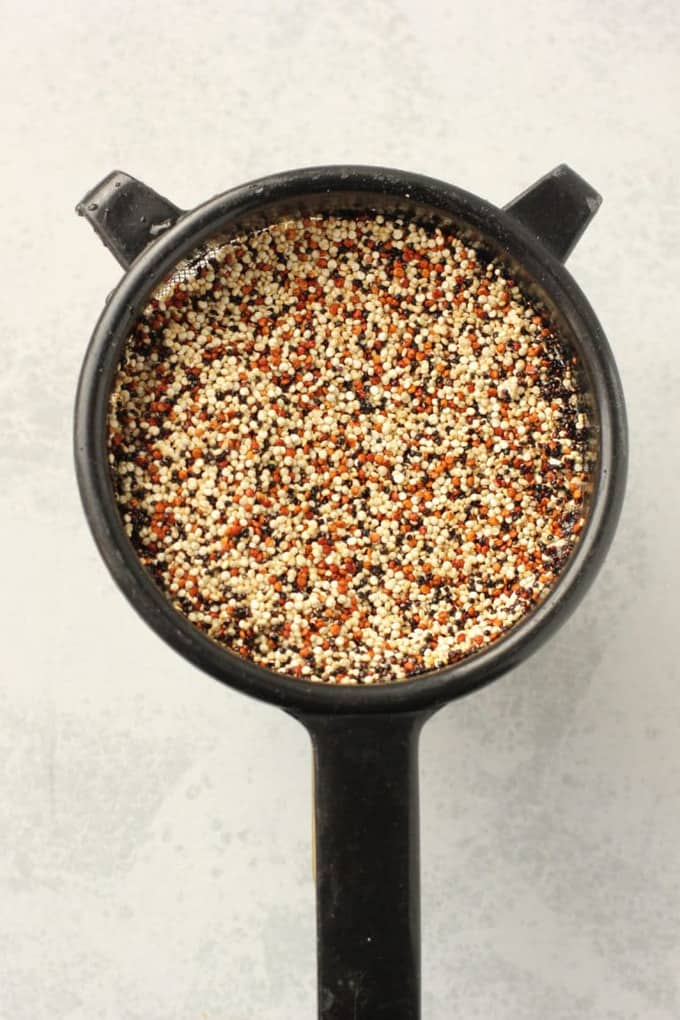 Quinoa Nutritional Information
Quinoa is a great source of plant-based protein and it also contains all the essential amino acids, meaning the amino acids that your body needs! A ½ cup of cooked quinoa has around 111 calories, 3g of fat, and 6g of protein.
Is Quinoa Better for You Than Rice?
Quinoa is a good source of iron, manganese, phosphorus, magnesium, and zinc. Compared with rice, it has about 3x more nutrients. They're fairly similar in terms of calories, but quinoa also has more protein and fiber. While both quinoa and rice can be part of a healthy diet, quinoa does have more nutritional benefits.
Quinoa Substitutions
Brown Rice– Can't find quinoa but still looking for a gluten-free option? Try brown rice! In most cases, it can be swapped out without much of a difference. I love it in this rice cooker Mexican rice!
Farro– Farro is another grain I love to use in soups and salads. It has a nice, chewy texture that doesn't get mushy when cooked in soups and it holds it's shape in salads, similar to quinoa.
What's the Best Way to Use Quinoa
Try using quinoa in place of rice for stir-fries or grain bowls. Add it to a salad or stir it into soups. It can be used in a wrap or a burrito bowl or cooked in a slow cooker to make chili. I have tons of recipes, so check out the list below for more ways to use quinoa!
Quinoa Recipe Ideas
Photo Credit: iheartvegetables.com
This Quinoa Taco Skillet combines all of your favorite taco flavors in one pan! Fluffy quinoa, hearty beans, and melty cheesy make this dish an irresistible weeknight meal.
Photo Credit: iheartvegetables.com
This easy quinoa pilaf is made with sweet dried apricots and salty pistachios for a side dish that is full of flavor. Serve this with pilaf your favorite protein or add it to a bed of mixed greens for a delicious and healthy salad.
Photo Credit: iheartvegetables.com
These fall harvest quinoa bowls are full of roasted sweet potatoes, crispy chickpeas, fluffy quinoa, and crunchy cabbage. Topped with a deliciously creamy dressing, these are a tasty vegan meal!
Photo Credit: iheartvegetables.com
These quinoa stuffed sweet potatoes are a delicious and filling meal and this recipe comes together quickly thanks to a few simple shortcuts!
Photo Credit: iheartvegetables.com
This slow cooker quinoa chili is loaded with beans, corn, and spices for an easy one-pot meal that only takes a few minutes to prepare! Simply add everything to your slow cooker and press start!
Photo Credit: iheartvegetables.com
This Chickpea and Quinoa Stew is loaded with spices and delicious flavors of paprika and chipotle peppers. It can be prepared in an Instant Pot or Crockpot for an easy weeknight meal!
Photo Credit: iheartvegetables.com
These quinoa and avocado bowls are filled with a rainbow of veggies and plenty of flavor! This is an easy, prep-friendly recipe that is perfect for a quick lunch or dinner!
Photo Credit: iheartvegetables.com
These quinoa flour cookies are just as delicious as your favorite chocolate chip cookie, but they're made with healthy ingredients! The quinoa adds a nutty flavor that makes these soft cookies completely irresistible!