Quinoa Taco Skillet
This Quinoa Taco Skillet combines all of your favorite taco flavors in one pan! The fluffy quinoa, hearty beans, and melty cheesy make this dish an irresistible weeknight meal.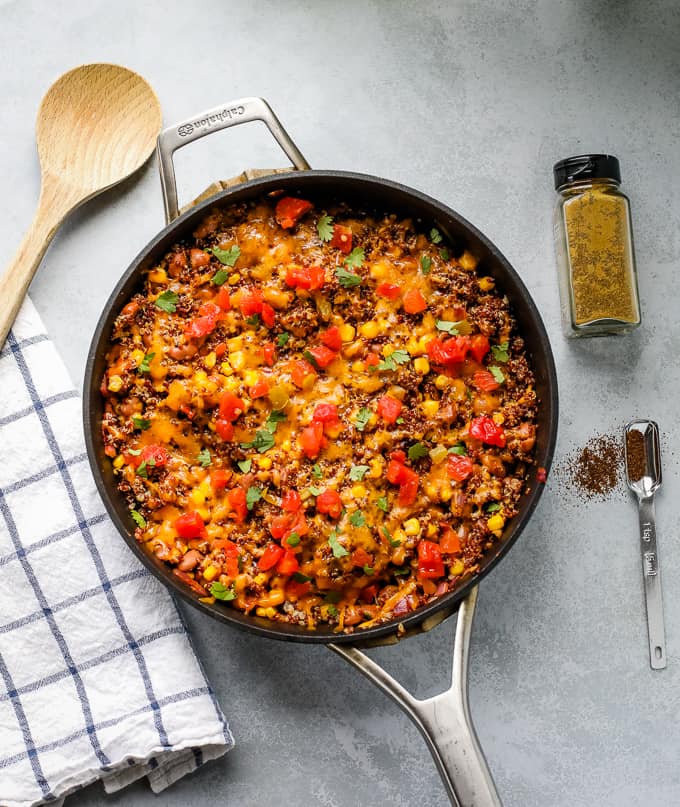 You know I'm a huge fan of easy meals, and this one is no exception! It's a great way to use the items you probably already have in your pantry. You can customize this as much as you like with toppings like avocado or jalapeno, but this dish has plenty of flavor on its own!
What is Quinoa?
Quinoa is technically a seed but it cooks like a grain. This means it's naturally gluten-free! It comes in different varieties, although they all taste pretty similar. You'll see quinoa in a beige color, red quinoa, and tri-color quinoa which is really just a blend of different varieties. Check out this post for everything you need to know about quinoa!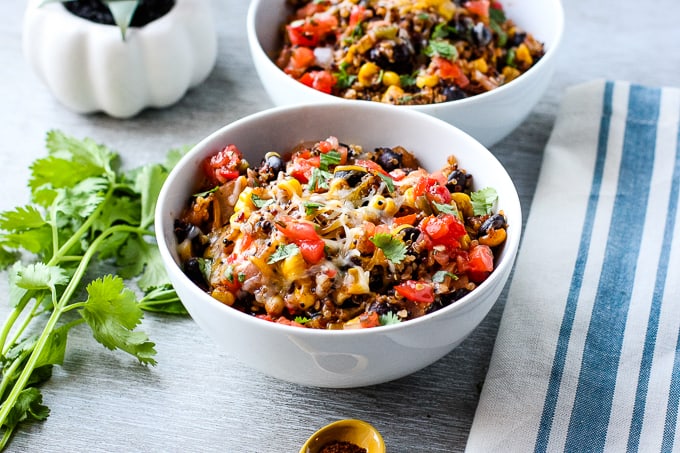 Substitution Ideas
You can use black beans or pinto beans. I've made it both ways, and it's delicious! For even more flavor, try using 2 cups of my Mexican Black Beans in this recipe!
Feel free to use red quinoa, white quinoa, or a tri-color blend. The color doesn't make a difference.
I like the flavor of red onion in this dish, but you can use yellow or white onions if you prefer.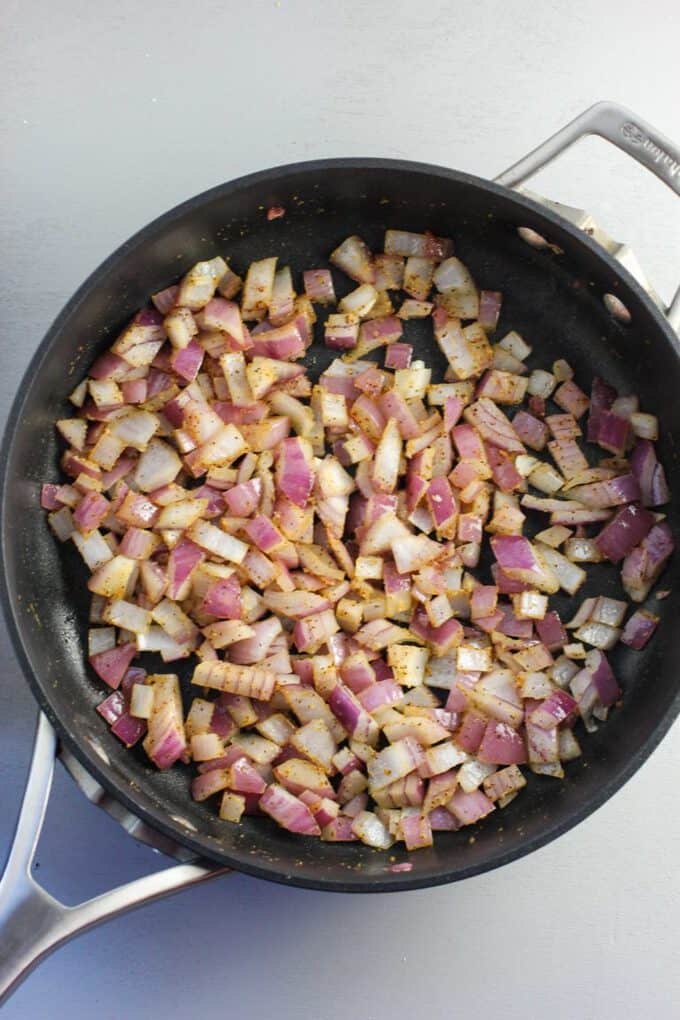 Tips for the Perfect Quinoa Taco Skillet
Cooking the quinoa in vegetable broth infuses it with flavor. I prefer a "not-chicken" style broth, which tastes like chicken broth but is completely vegetarian. You can also use low-sodium broth if desired.
You can add jarred salsa or fresh pico de gallo on top. You can also use canned, diced tomatoes with green chilis if you like things spicy.
I like to use a block of cheddar cheese and shred it just before I'm ready to use it. Pre-shredded cheddar doesn't melt quite as quickly, but you can use whatever you have on hand.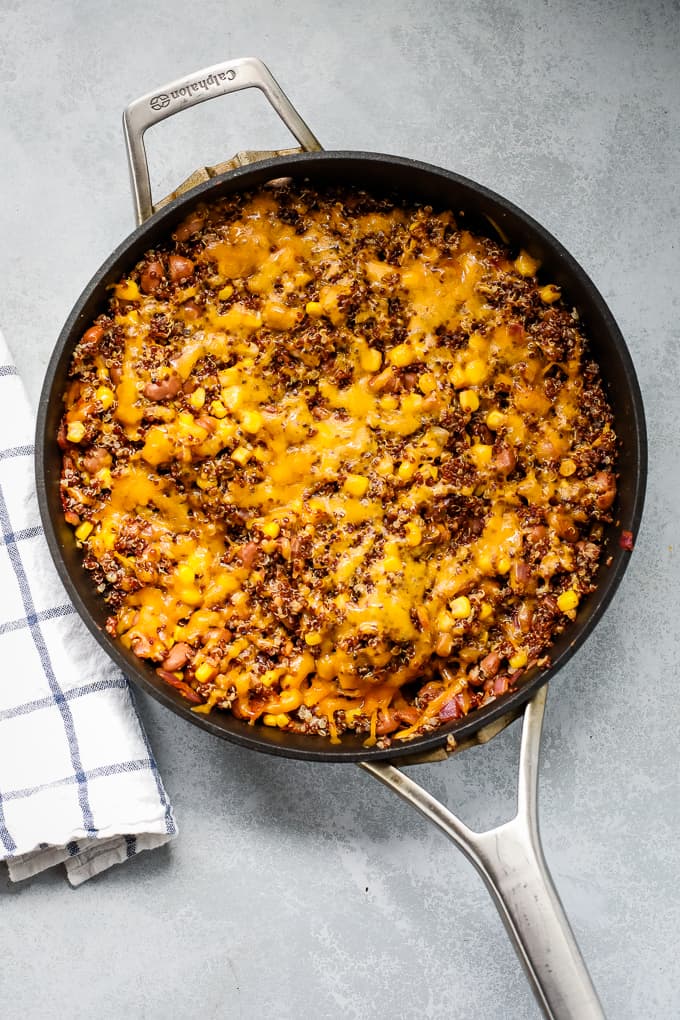 More Ways to Cook Quinoa
If you're looking for other ways to cook quinoa, so it's perfectly fluffy, try making quinoa in a rice cooker for perfectly fluffy quinoa every time! You can also make quinoa in an Instant Pot. If you like this recipe, but you want to make it in the oven, try my Mexican Quinoa Bake recipe! For a more hands-off version, try my Instant Pot Mexican Quinoa recipe.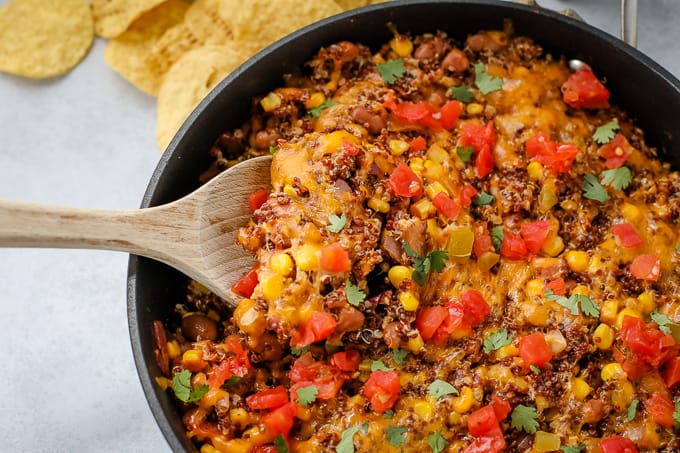 Topping Ideas
Feel free to get creative with the toppings! Fresh cilantro is delicious or you can kick it up a notch and add a drizzle of this creamy cilantro sauce. It's so good, you'll want to eat it with a spoon! Or add a few dashes of hot sauce to bring on the heat. Crushed tortilla chips are also a fun way to add texture and flavor! A dollop of sour cream or even fresh jalapenos can bring even more flavor to this tasty recipe.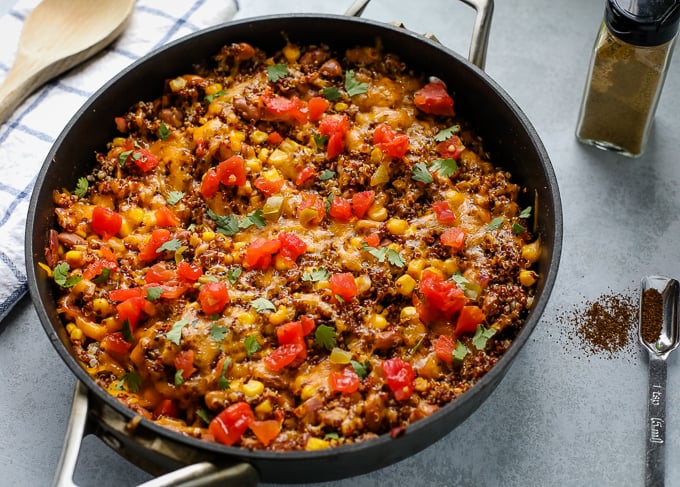 Print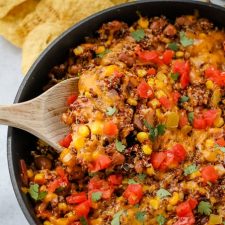 Quinoa Taco Skillet
Author:
Prep Time: 10 Minutes
Cook Time: 35 Minutes
Total Time: 45 minutes
Yield: 4 servings 1x
Category: Dinner
Method: Stovetop
Cuisine: Mexican
Diet: Vegetarian
---
Description
This quinoa taco skillet is loaded with beans, vegetables, and plenty of spices. It's a light and healthy dish, perfect for an easy weeknight meal!
---
1 teaspoon olive oil
1 medium red or yellow onion, diced
4 cloves garlic, minced
1/2 teaspoon ground cumin
1/4 teaspoon chili powder
2 tablespoons tomato paste
1 cup uncooked quinoa, rinsed
1 1/2 cups vegetable broth
1 cup tomato salsa
1 15oz can sweet corn, drained
1 15oz can black beans, rinsed and drained
1 cup shredded cheddar cheese
Cilantro, avocado, jalapeno (optional)
---
Instructions
In a large skillet, heat the olive oil over medium-low heat for 30 seconds.
Add the onion and sautè for 4-5 minutes until the onion begins to soften.
Add the garlic, cumin, and chili powder and continue to cook for 1 minute.
Add the tomato paste and stir to combine. Continue to cook for 2 minutes.
Add the quinoa, broth, salsa, black beans, and corn to the pan and bring to a boil.
Cover with a lid and bring to a boil. Reduce heat to medium-low and continue to simmer, about 15 minutes, or until the broth is absorbed and the quinoa is fluffy.
Top with cheese and cover with the lid for 2-3 minutes until the cheese melts.
Add any additional toppings you like and enjoy!
Keywords: Quinoa Taco Skillet
Side Dish Ideas