Easy Quinoa Pilaf
This post is sponsored by iHerb. As always, all opinions are my own.
This easy quinoa pilaf is made with sweet dried apricots and salty pistachios for a side dish that is full of flavor. Serve this with pilaf your favorite protein or add it to a bed of mixed greens for a delicious and healthy salad.
What is Quinoa?
Quinoa is technically a seed, although many people think of it as a grain. It's a complete protein which means it contains all the essential amino acids your body needs. It's a great pantry staple and I love how versatile it is! Check out this post for everything you need to know about quinoa! While pilaf is a dish that is typically made with rice, I decided to create a version with quinoa! This is not a traditional pilaf but I think you'll love it!
Where to Buy Quinoa
You can find quinoa at most grocery stores, near the rice. There is red quinoa, white quinoa, and tri-color quinoa. There isn't a big difference in taste, so feel free to buy any of them for this recipe. I love the way the red quinoa looks in this pilaf!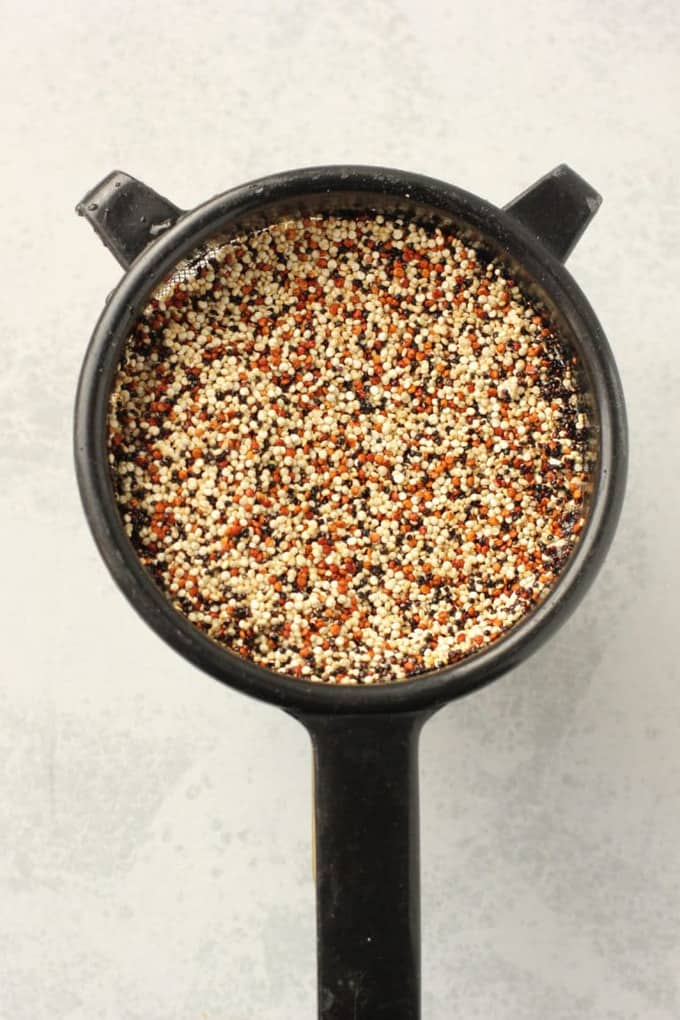 How to Prepare Quinoa
Quinoa needs to be rinsed before eating. If your quinoa doesn't indicate that it's pre-rinsed, you'll need to rinse it in a fine-mesh strainer. This helps remove a bitter coating on the quinoa that contains saponins. You will need to dry the quinoa in order to toast it, so I do recommend buying pre-rinsed quinoa if possible. You can make quinoa on the stovetop, as the package will typically suggest, but you can also make quinoa in an Instant Pot or you can cook quinoa in a rice cooker!
Tips for Perfect Quinoa Pilaf
Be sure to rinse your quinoa before cooking, unless you've purchased pre-washed quinoa.
Adding the apricots to the warm quinoa will gently hydrate the fruit, giving them a deliciously plump texture.
To save time, buy pre-shelled pistachios. You can also substitute sliced almonds or pine nuts.
How to Store Leftover Quinoa Pilaf
Store leftovers in an airtight container in the refrigerator for up to 3 days. This quinoa pilaf can be served cold or at room temperature. It's a great make-ahead meal because it can be prepared in advance and doesn't require any reheating.
Ideas for Serving Quinoa Pilaf
This pilaf makes a great side dish with your favorite protein. You can also serve it on top of a bed of mixed greens for an easy salad. You can also add chickpeas or your favorite protein to turn this into a hearty main dish, perfect for lunch!
Print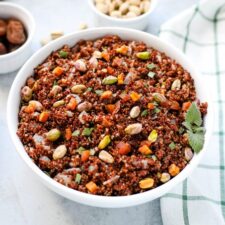 Easy Quinoa Pilaf
Author:
Prep Time: 15 minutes
Cook Time: 30 minutes
Total Time: 45 minutes
Yield: 4 cups 1x
Category: Side Dish
Method: Stovetop
Cuisine: Other
---
Description
This easy quinoa pilaf is made with sweet dried apricots and salty pistachios for a side dish that is full of flavor. Serve this with pilaf your favorite protein or add it to a bed of mixed greens for a delicious and healthy salad.
---
1 ½ cups quinoa
1 tablespoon olive oil
1 onion, diced
½ teaspoon cumin
½ teaspoon coriander
1 tablespoon lemon juice
¾ teaspoon salt
2 cups water
½ cup dried apricots, chopped
½ cup shelled pistachios
1 teaspoon chopped fresh mint
---
Instructions
If the quinoa is not pre-washed, rinse the quinoa in a fine-mesh strainer.
Spread onto a baking sheet lined with a dish towel, and let dry.
In a large non-stick skillet, toast the quinoa for 5-7 minutes, stirring occasionally so it doesn't burn.
Transfer the quinoa to a bowl.
In the same skillet, heat the olive oil over medium heat and add the diced onion, cumin, coriander, lemon juice, and salt.
Continue to cook over medium heat for 3 minutes, stirring occasionally.
Add the quinoa and water to the skillet and bring to a simmer.
Continue to simmer for 15-18 minutes until the quinoa is fluffy and the water is absorbed.
Remove from heat, add the apricots to the quinoa, and cover for 5 minutes.
Fluff with a fork and add pistachios.
Garnish with fresh mint.
---
Keywords: easy quinoa pilaf
As a food blogger, I find myself at the grocery store at least a few times a week. But lately, I've been enjoying the beauty of online groceries, especially for specialty items. iHerb is like your favorite natural grocery store, but online!
iHerb carries over 30,000 natural products and ships to over 150 countries. From coconut sugar to chia seeds, they have just about everything. Orders are shipped from climate-controlled distribution centers to ensure the quality of their products and they offer customer service in 10 languages, 24/7.
If you're in a smaller city or you don't live near a large grocery store, it can be hard to track down things like dried apricots or coconut oil but iHerb makes it easy with a big selection of grocery items. I've also been really impressed with their prices on things like premium olive oil and chia seeds. Nearly everything I used for this quinoa pilaf came straight to my doorstep from iHerb!
I also restocked some of my favorite pantry staples including California Olive Ranch Olive Oil, Barney Butter, and my favorite vegetable bouillon from Edward & Sons. iHerb carries tons of different brands and their prices are great! If you want to try iHerb, you can get a discount on your first order using this link!
And don't forget, you can order all of these ingredients from iHerb! New customers will get a 10% discount on their first iHerb order with no minimum purchase, by using this link. Stock up your pantry with your favorite healthy ingredients!