Vegan Grain Bowl
This post is sponsored by O Olive Oil & Vinegar. Thank you for supporting the brands I love!
This tasty vegan grain bowl is made with a base of farro and arugula, topped with avocado, grapefruit, and sliced almonds, and finished with a light vinaigrette using O Raspberry Champagne Vinegar and O California Meyer Lemon Olive Oil.
I love grain bowls because they're an easy, filling way to get a rainbow of healthy ingredients into my diet. They're versatile, and it's easy to swap in different ingredients based on what you have in your fridge or pantry. I wanted to make a grain bowl that would be hearty and filling but not too heavy. This one hit the mark!
Since grapefruits are in season during the winter, I thought they'd make a lovely addition to this bowl. But if you don't have grapefruit, you could substitute fresh oranges or even mandarin oranges. I love the tart citrus flavor combined with creamy avocado. The farro makes this bowl feel hearty and filling and the arugula adds a peppery flavor while adding lots of leafy greens! I added some almonds for crunch, but you could substitute with walnuts, pepitas, or sunflower seeds.
Of course the real secret to a tasty grain bowl is having a delicious dressing! For this dressing, I used O Olive Oil & Vinegar. I loved the tart, fruity flavor of the O Raspberry Champagne Vinegar combined with the rich, citrus flavor of the O California Meyer Lemon Olive Oil.
O olive oils are crushed just hours after being harvested from their family farm partners, making them fresh and full of beneficial antioxidants. You've probably tried infused olive oils, but these are different because the herbs and citrus ingredients are crushed with the olives. Trust me, you'll notice the difference in the flavor. Use their store finder to pick it up at a store near you, or shop online and have it delivered to your door!
If you want to try different types of oil, O Olive Oil & Vinegar has plenty of other varieties to choose from! Try this dish with a drizzle of the O California Blood Orange Olive Oil for a different flavor of citrus, or try it with O California Fresh Basil Olive Oil. You can also play around with the varieties of vinegar in this recipe. They have a wide range to choose from!
How to Cook Farro
There are actually a few types of farro, which will determine how long the farro needs to cook. I recommend using pearled farro because it cooks quickly and it's the easiest to find at most grocery stores.
Pearled Farro: This is the most common type of farro and it's the type that we'll use in this recipe. It's a bit less nutritious because the bran is removed, but it has the shortest cook time.
Semi-pearled farro: As the name suggests, this type of farro has had part of the bran removed. It takes a bit longer to cook than pearled farro and it has more of a nutty flavor.
Whole farro: This type of farro includes the whole wheat bran, which makes it the most nutritious but it also takes the longest to cook. This type of farro typically needs to be soaked overnight before cooking.
To cook the farro, bring a pot of water to a boil, add the farro, and then simmer until the farro is tender. Drain any excess water and then the farro is ready to be enjoyed.
How to Segment a Grapefruit
To segment a grapefruit, use a sharp paring knife to slice off the top and bottom of the grapefruit.
Carefully cut away the skin on the sides to remove all the white pith.
Slice in between the segments to remove the fleshy part of the fruit from the pith. This will remove most of the bitterness of the grapefruit.
How to Make a Grain Bowl
Print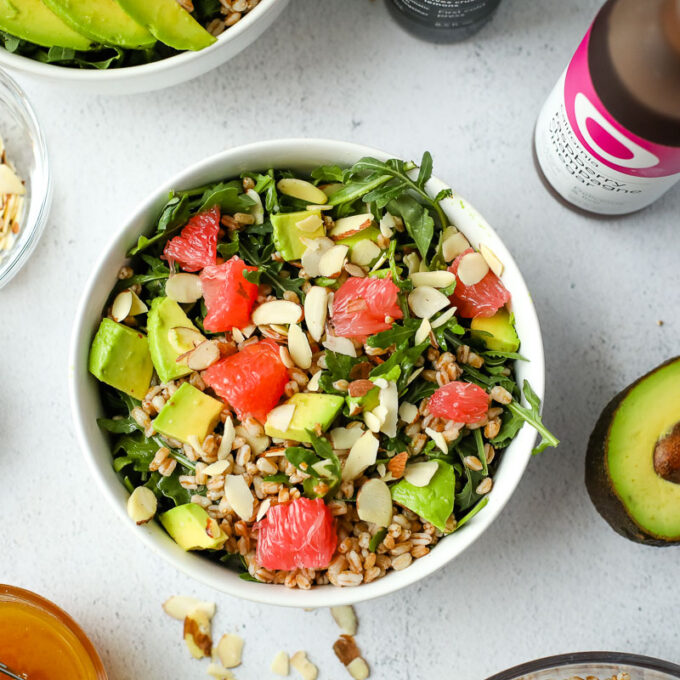 Winter Grain Bowl
Author:
Prep Time: 10 minutes
Cook Time: 20 minutes
Total Time: 30 minutes
Yield: 2 Servings 1x
Category: Dinner
Method: Stovetop
Cuisine: American
Diet: Vegan
---
---
For the Vinaigrette
For the Grain Bowl
1 cup farro, uncooked
2 cups water
4 cups arugula
1 avocado, sliced
1 grapefruit, segmented
1/4 cup sliced almonds
---
Instructions
In a small bowl or jar, whisk together the O California Meyer Lemon Olive Oil, O Raspberry Champagne Vinegar, grapefruit juice, honey, and salt. Set aside.
In a large pot, bring the water to a boil and add the farro. Cook the farro according to package directions.
Once the farro is cooked, drain any remaining water from the pot, then toss the farro with 1 tablespoon of O Olive Oil. This will help prevent the farro from clumping as it cools.
Place 2 cups of arugula at the bottom of each bowl.
Top with farro, avocado slices, grapefruit slices, and almonds.
Drizzle with 1-2 tablespoons of the vinaigrette.
---
Looking for more tasty ideas? These sheet pan roasted vegetables are tossed with O California Roasted Garlic Olive Oil and O Aged Sherry Vinegar, then sprinkled with herbs and spices to create a flavorful side dish that is incredibly delicious yet simple to make!