Butternut Squash Fries
These butternut squash fries are a delicious and healthy side dish! They're simple to make, and they're a kid-friendly way to enjoy your vegetables!
If you're looking for a healthy alternative to french fries, these butternut squash fries will be your new favorite! They taste like sweet potato fries and they're easy to bake in the oven!
How to Choose a Butternut Squash
When picking out butternut squash, look for one with even, beige skin. I look for ones that are symmetrical because it's easier to cut it into even pieces for fries. I also look for one with a more narrow base, which is also easier to cut into fry shapes.
How to Cut Butternut Squash
Use a vegetable peeler to carefully remove the thick, beige skin. Cut the round base, then cut the base in half. Use a spoon to scoop out the seeds, then slice into half-moon shapes. Slice the neck of the squash in half. If the neck is wide, cut into wedges before slicing. If the neck is on the small slide, cut in half then slice into wedges.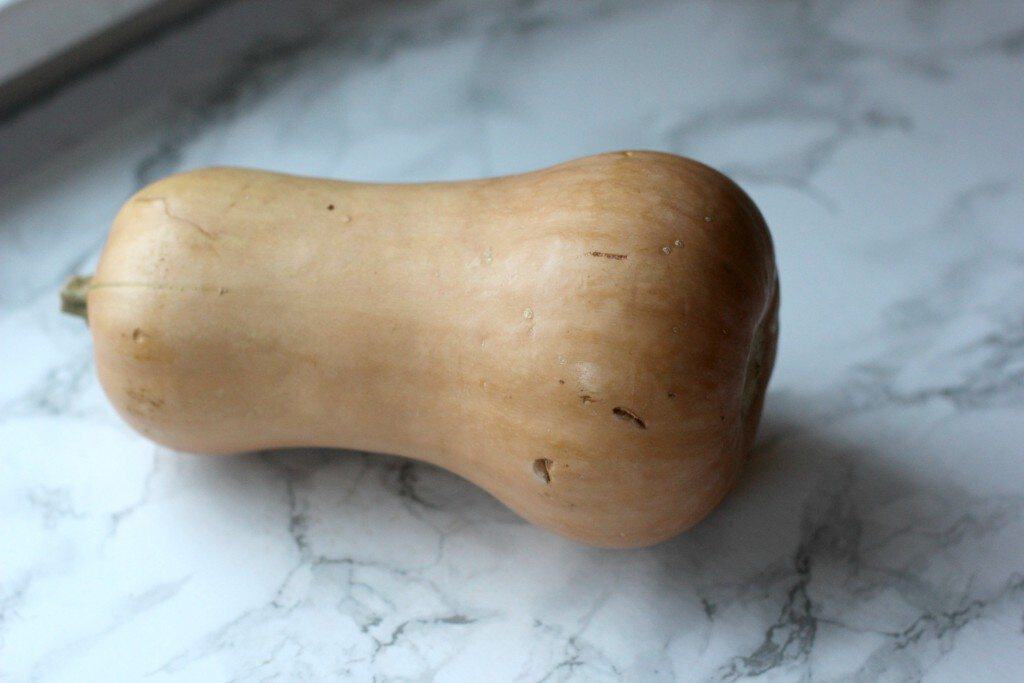 What's the Difference Between Butternut Squash and Sweet Potatoes?
The main difference between butternut squash and sweet potatoes? B-nut squash has about half the calories & carbs of sweet potatoes. While there is absolutely nothing wrong with sweet potato, butternut squash can be an excellent "high volume" food when you're craving a big serving or you're watching your calorie intake. Looking for more high volume snack recipes? Check out this post!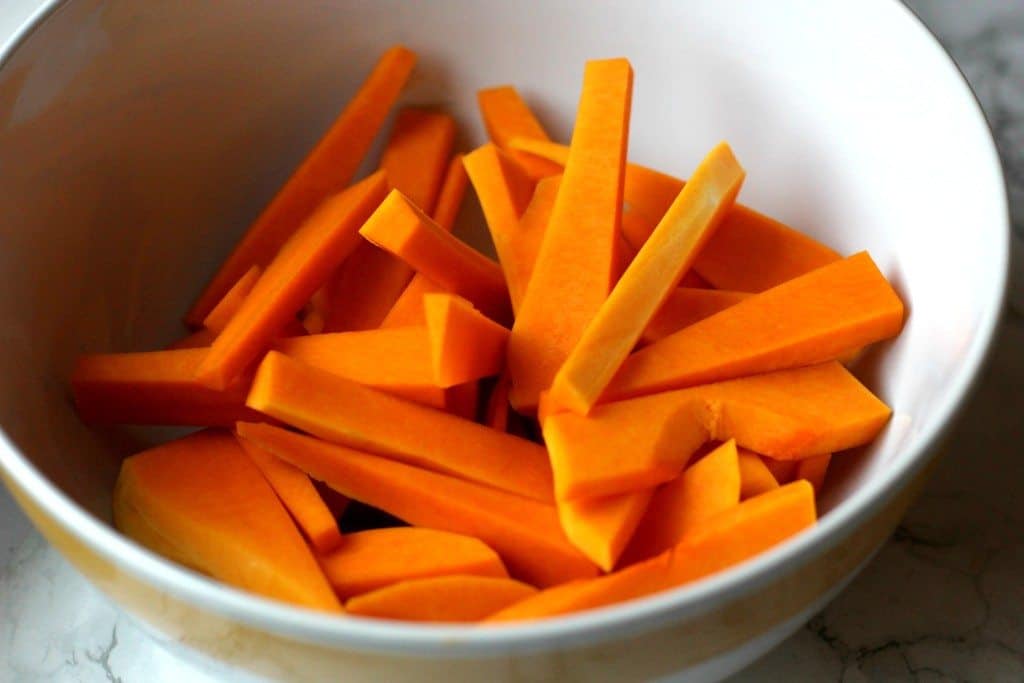 Recipe Tips
Try to cut your squash into even-sized pieces so it cooks at the same rate.
Don't forget to spray your baking sheet with non-stick spray or they'll get stuck to the pan!
These fries are best when they're fresh out of the oven! Don't try to keep leftovers as they'll get soggy.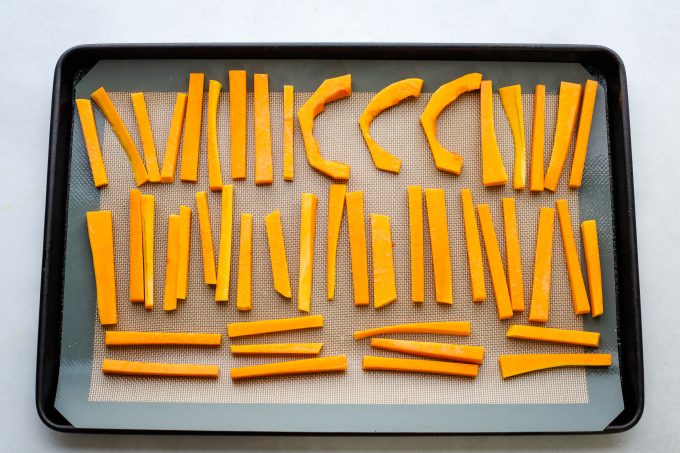 The Best Dipping Sauce
These are optional sauces, but here are a few of my favorites:
Ketchup
Marinara sauce
Garlic aoili
How to Make Butternut Squash Fries Crispy
The best way to make your butternut squash fries crispy is to cook them in an air fryer. It creates a crispy outer layer without overcooking the squash on the inside. It's harder to get squash crispy in a standard oven, so if you have an air fryer, now is the time to use it!
How to Make Butternut Squash Fries in an Air Fryer
You don't need much oil. Just cut the squash in the same way, then add them to the frying basket in a single layer. Be sure not to crowd the fryer. You may need to work in multiple batches.
Preheat the air fryer to 390 degrees. Cook the squash for 9-11 minutes, keeping a close eye to be sure they don't burn. Some air fryers cook faster than others, so check them frequently!
Substitution Ideas
I love the saltiness of the parmesan cheese, but feel free to skip it if you want to keep this recipe vegan!
For even more flavor, add a sprinkle of onion powder.
If you like things spicy, try adding a pinch of chili powder for a little heat!
More Squash Recipes
Print
Butternut Squash Fries
Author:
Prep Time: 10 mins
Cook Time: 20 mins
Total Time: 30 mins
Yield: 2 servings 1x
Category: Side Dish
Method: Baking
Cuisine: Snack
---
Description
Upgrade your fries by trying these roasted butternut squash fries! Healthier than sweet potato fries but just as delicious!
---
1 medium butternut squash
1 tablespoon olive oil
1/4 teaspoon garlic powder
1/4 teaspoon salt
Pinch of chopped fresh parsley for garnish (optional)
---
Instructions
Preheat the oven to 400 degrees.
Spray a large baking pan with non-stick spray or line with a silicone baking mat.
Peel the butternut squash and then slice it into thin planks.
Toss in olive oil, sprinkle with salt and garlic powder, and spread in a single layer on the baking sheet.
Bake for 10 minutes, then flip the fries.
Bake for another 8-10 minutes or until the fries begin to brown.
Once they've browned up, they'll start to get crispy and they'll be ready to take out of the oven!
Let cool for a few minutes before taking them off the pan.
Sprinkle with parsley before serving.
Keywords: Butternut Squash Fries
As soon as you make them… you'll wish you made a double batch. I promise. If you want to turn more of your veggies into fries, try these easy Green Bean Fries!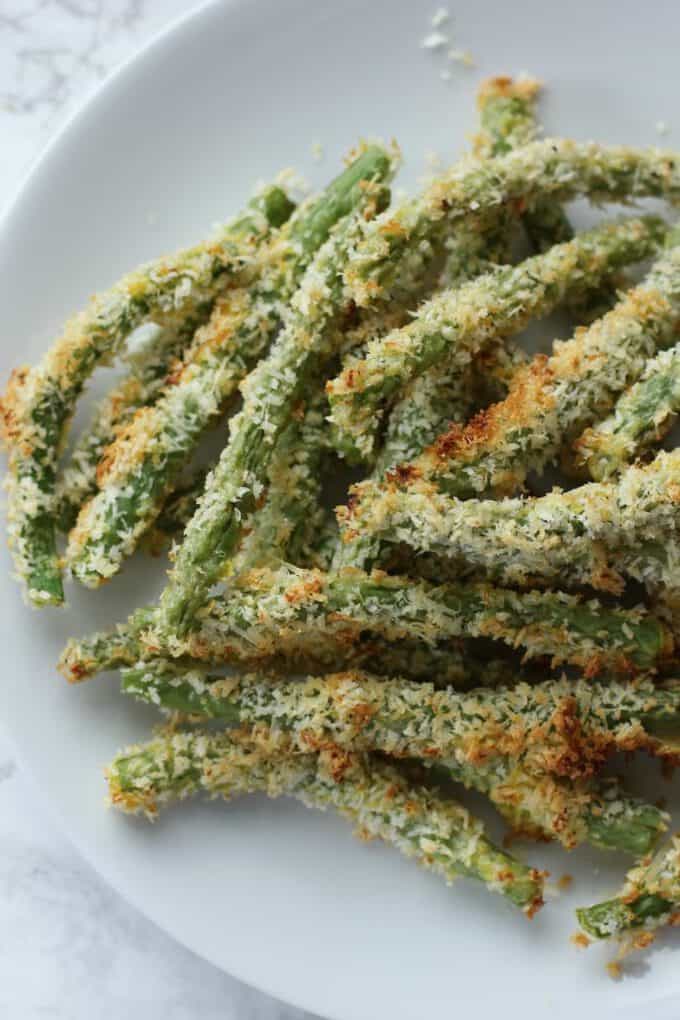 Looking for other ways to enjoy butternut squash? Try this wild rice and butternut squash salad!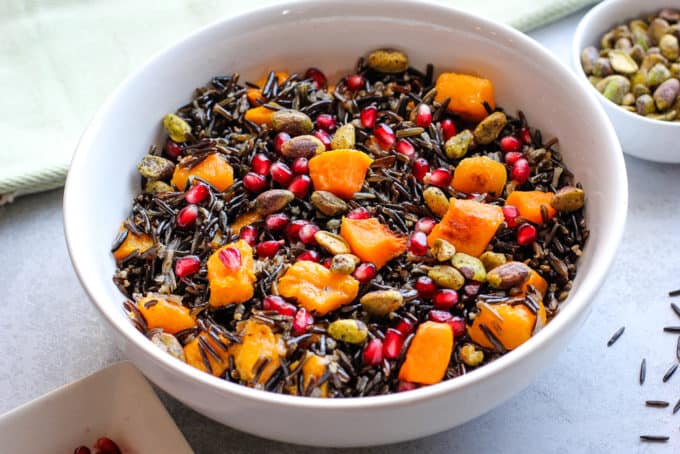 What's your favorite way to eat butternut squash?