7 Day Slim Down Meals
After wrapping up the latest Tone It Up Challenge, they kicked off a 7 Day Slim Down for this week. The slim down plan is actually how I got into Tone It Up in the first place, way back in January of 2013. I was a total newbie but it was a perfect kick start into a new year and since then, I've enjoyed following their challenges.
The slim down plan is basically just really clean eating for a week. I'm not following it exactly because I'm not ready to give up my Halo Top or my wine 😉 but it's a boost of motivation to eat a little more veggies and a little less sugar.
So here's what I ate on the Tone It Up 7 Day Slim Down yesterday!
Meal 1: Breakfast was Siggi's vanilla yogurt. I also added some blueberries and granola on top.
Meal 2: I munched on an apple between meetings. Fuji apples were on sale so I stocked up.
Meal 3: Lunch from the cafeteria was a salad piled high with veggies, drizzled with balsamic vinegar, and topped with a little bit of hummus and crackers.
Meal 4: A few pieces of Cabot Cheddar Cheese + some cantaloupe.
I worked out after work and I knew I'd be eating dinner a little later than normal, so I wanted a snack that would actually keep me full. I'm not sure why I was craving cheese but I just went with it. I don't normally eat a lot of cheese but when I do crave it, it's a nice snack that keeps me full. The cantaloupe ended up being pretty disappointing so I didn't each much of it.
Meal 5: I roasted butternut squash, chickpeas, and asparagus. This was so good. I love how crunchy chickpeas get when you roast them. Here's my recipe for spicy roasted chickpeas. I also just posted my 5 tips for perfectly roasted veggies so check those out if you're in the mood to roast!
After dinner, I met up with a few girls at Shagbark for a glass of wine. A glass of rose was the perfect way to end the day!
For more about the 7 Day Slim Down, here's another example day of meals!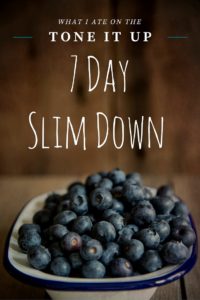 What have you been eating lately?
I'm linking up with Laura for What I Ate Wednesday!