Curry Dip Recipe
This creamy curry dip is a delicious dip for vegetables but you can also spread it on sandwiches or serve it with fries! This dip can pair with nearly anything!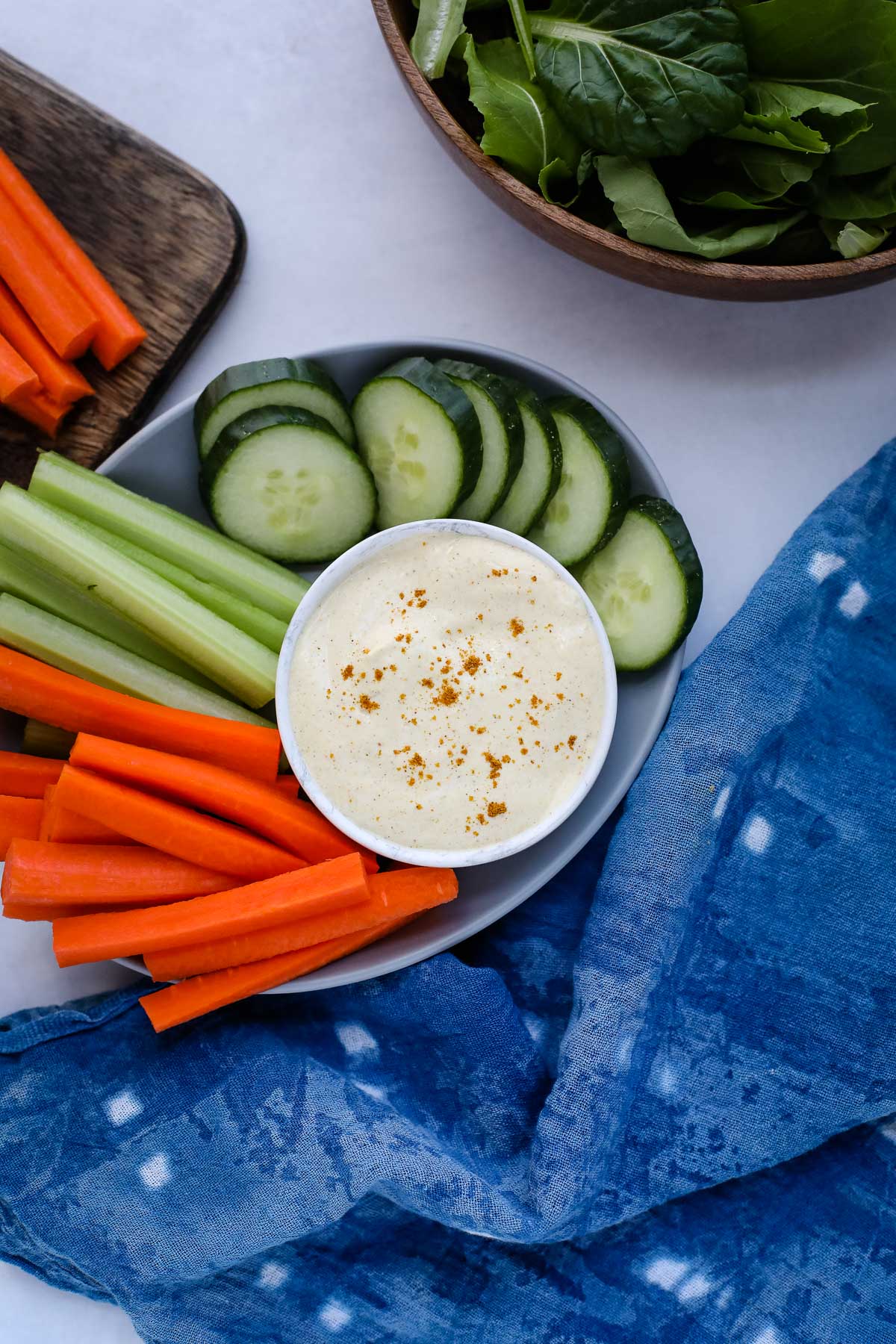 Why I Love This Recipe
This simple curry dip adds tons of flavor to a sandwich or wrap, and it makes an addicting dip for raw vegetables like cucumber and carrots. Blending the mayonnaise with Greek yogurt is a great lower-fat option for dips and condiments. You can make a batch of this dip and enjoy it in various ways!
How to Make Curry Dip
This recipe couldn't be simpler. Just mix all of the ingredients together and store it in the fridge. I recommend mixing the ingredients in a mason jar so you can just screw the lid on and keep in the fridge.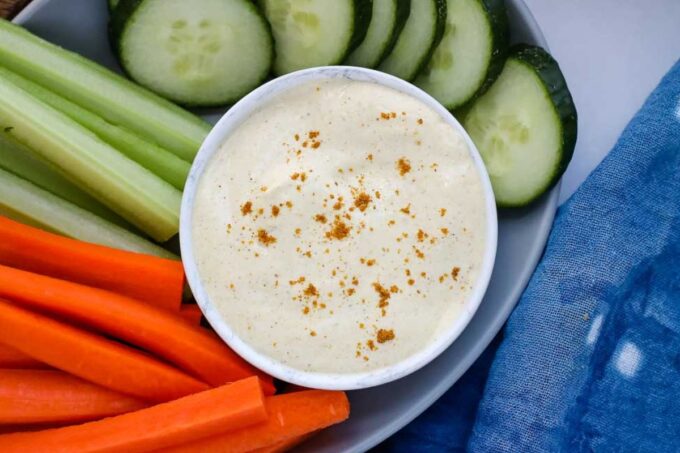 What to Serve with Curry Dip
This dip is delicious with raw vegetables like cucumbers, carrots, or cherry tomatoes. It's also delicious with crunchy, salty dippers like pita chips, potato chips or crackers. It makes a delicious dip for toasted baguette slices or you can drizzle it on top of your favorite roasted vegetables. Try it with roasted broccoli or butternut squash. You can also use this curry dip as a sandwich spread or add it to your favorite wrap.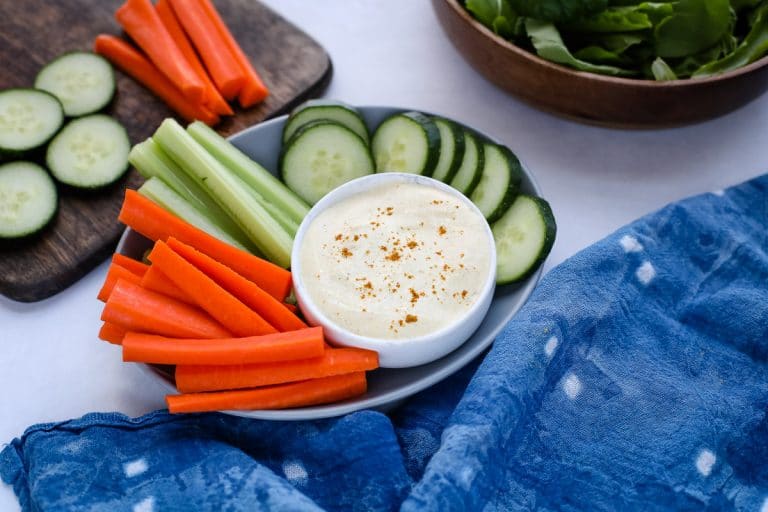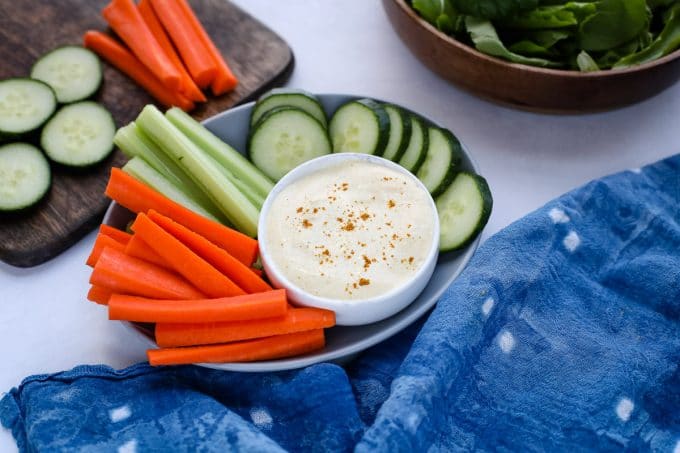 Substitution Ideas
If you don't have Greek yogurt, you can substitute sour cream instead. If you want to make this recipe vegan, you can use vegan sour cream and vegan mayonnaise. If you don't have apple cider vinegar, you can substitute it with white vinegar. Feel free to adjust the seasonings to taste.
Is This Dip Healthy?
This dip has a strong flavor which means a little bit goes a long way! It's low carb and keto friendly, but it's also vegetarian and gluten-free. I don't recommend eating the whole bowl in one sitting but adding a serving or two to your plate can definitely be part of a healthy meal. It's a great way to enjoy raw vegetables or add flavor to a wrap loaded with vegetables!
Frequently Asked Questions
What does curry powder taste like? Curry powder is a blend of spices that is often used in Indian and South Asian cooking. It can vary in flavor, but it generally has a warm and earthy taste with a hint of heat from chili peppers. It typically includes a mixture of turmeric, cumin, coriander, and ginger, as well as other spices such as fennel, mustard seed, and fenugreek. Some curry powders may also contain sweeter spices like cinnamon and cardamom, which can give it a slightly sweet and aromatic flavor. Overall, curry powder has a complex and flavorful taste that can add depth and warmth to a wide variety of dishes.
What's the best curry powder? Food and Wine compiled a list of the best curry powders, and many of them are available on Amazon! But I've had good luck with McCormick brand curry powder at the grocery store.
More Dips & Spreads
Spicy Ricotta Dip– This creamy dip is delicious with a toasted baguette.
Easy Cilantro Sauce– I put this cilantro sauce on tacos, salads, quesadillas, and raw veggies.
Cilantro Pesto– This pesto is delicious on pasta but it also makes a great dip for veggies.
Print
Curry Dip
Author:
Prep Time: 5 minutes
Cook Time: 0 minutes
Total Time: 5 minutes
Yield: 1 cup 1x
Category: Dip
Method: No Cook
Cuisine: American
Diet: Vegetarian
---
Description
This creamy curry dip is a delicious dip for vegetables but you can also spread it on sandwiches or serve it with fries! This dip can pair with nearly anything!
---
1/2 cup 2% fat plain Greek yogurt
1/2 cup mayonnaise
1 teaspoon onion powder
1 teaspoon curry powder
1/2 teaspoon garlic powder
1/2 teaspoon salt
1 teaspoon apple cider vinegar
---
Instructions
In a small bowl, whisk all the ingredients together until combined.
Store in an air tight container in the fridge for up to 3 days.
---