Easy Halloumi Tacos
These easy halloumi tacos are a tasty vegetarian main dish! With just a few simple ingredients, you'll have delicious tacos on the table in no time!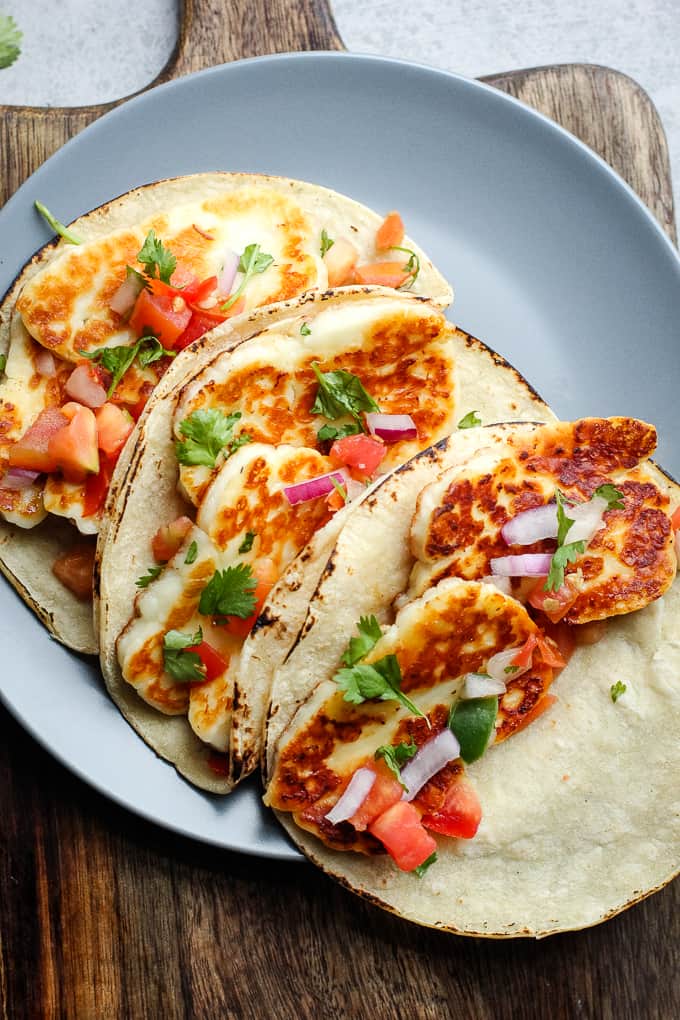 I've been on such a halloumi kick recently. It started with these halloumi sandwiches and then I started making this halloumi salad. Halloumi tacos seemed like the next logical step!
What is halloumi cheese?
Halloumi originated in Cyprus, a country in the Middle East. It is traditionally made with goat and sheep's milk, although a lot of the halloumi you'll find in the United States is made with cow's milk. Look for goat and sheep's milk if you can find it!
What does halloumi taste like?
It's very salty, like feta, but the texture is very firm and not crumbly. Like feta, Halloumi cheese doesn't really melt. This means we can get it crispy on the outside without melting the inside. It's delicious in a taco!
Where can you buy halloumi?
You'll often find it in the specialty cheese section of the grocery store, near feta and goat cheese. Although I can usually find it at major grocery stores like Kroger and Wegmans, I've also found it at smaller specialty grocery stores.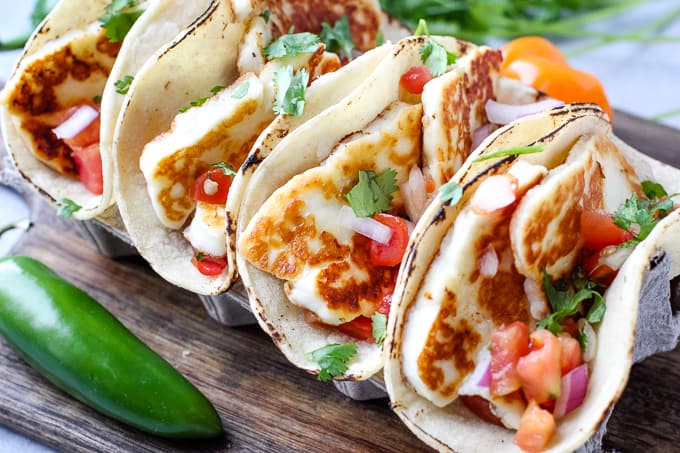 Although halloumi can be a little bit expensive (it's around $6-$8 for 8oz of halloumi) you don't need a lot of other ingredients for these tacos, so it can still be a budget-friendly meal!
Halloumi Taco Ingredients
Halloumi cheese– There's really no substitue for this unique, salty cheese. It's a must in this recipe!
Greek yogurt– A little Greek yogurt helps create a creamy sauce.
Adobo sauce– This adds a spicy, smoky flavor to the sauce which pairs well with the salty halloumi.
Lime juice- A little lime juice brings a bright, acidity to the sauce.
Tortillas– You can use corn or flour tortillas, but I like using flour.
Tomato– Chopped tomato adds a fresh, juicy topping to these tacos.
Onion– I like a little diced red onion. For a more mild flavor, try shallots.
Cilantro– Fresh cilantro adds a delicious, herbal note of flavor.
How to Make Adobo Yogurt Sauce
I love the flavor of this simple yogurt and adobo sauce. It brings out the salty flavor of the halloumi and definitely makes things spicy! To make the sauce, combine adobo sauce, yogurt, and lime juice and mix until combined. If you want a less spicy sauce, try this easy cilantro sauce! It has tons of flavor, but without the heat of adobo peppers.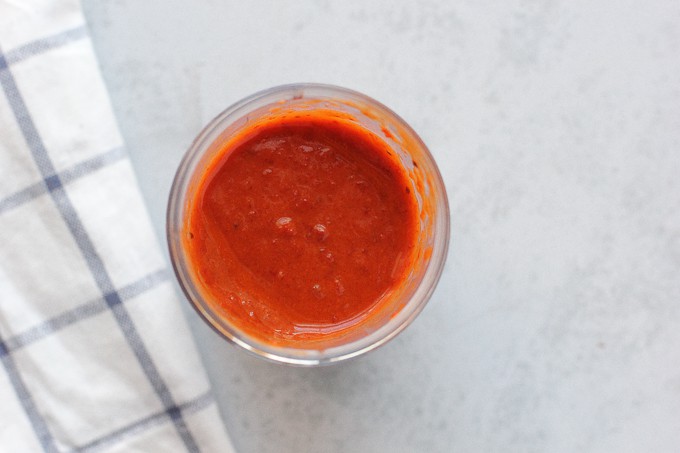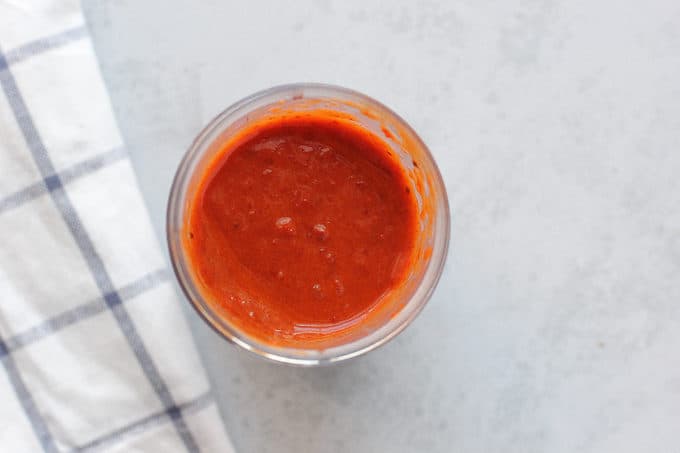 Substitution Ideas
I don't recommend trying to substitute the halloumi for any other cheese, as that is what makes these tacos unique! But I have tons of other taco recipes if you're looking for a vegan option. If you can't find adobo sauce, look for a can of chipotle peppers packed in adobo sauce. You can either blend it or finely chop the peppers, or just use the sauce they're packed in! The cans typically cost less than $1 and are sold near the salsa. You can use corn or flour tortillas, depending on your preference. Or you can make this a low-carb recipe by serving it in lettuce wraps. Romaine lettuce leaves are perfect for this!
I absolutely love these tacos! The halloumi has a heartiness that is a great replacement for meat. Even non-vegetarians will enjoy these tacos!
How to Store Leftovers
If you have leftover halloumi, store it in an airtight container in the fridge for up to 3 days. To reheat, pan-fry the halloumi until warm and crispy, or reheat the halloumi in the air fryer. Wait to assemble the tacos until you're ready to enjoy them. The sauce can be stored in the fridge for up to 5 days.
More Halloumi Recipes
Print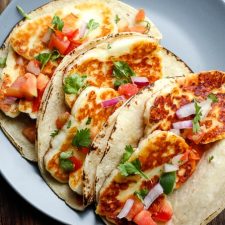 Easy Halloumi Tacos
Author:
Prep Time: 5 minutes
Cook Time: 10 minutes
Total Time: 15 minutes
Yield: 4 tacos 1x
Category: Dinner
Method: Stovetop
Cuisine: Tacos
---
Description
These easy halloumi tacos are a tasty vegetarian main dish! With just a few simple ingredients, you'll have delicious tacos on the table in no time!
---
8oz Halloumi cheese
2 tablespoons Greek yogurt
1 tablespoon adobo sauce
1 teaspoon fresh lime juice
4–5 corn or flour tortillas
1 large tomato, chopped
2 tablespoons diced onion (red or white)
Handful of cilantro
---
Instructions
Slice the block of halloumi into 8-10 thin slices.
In a large skillet over medium heat, cook the halloumi for 5 minutes until browned on one side.
Flip and continue to cook for 4-5 minutes until both sides are golden brown.
While the halloumi is cooking, combine the yogurt, adobo sauce, and lime juice.
Spread 1-2 teaspoons of sauce onto each tortilla.
Top with halloumi, tomato, onion, and cilantro.
---
Notes
To make this recipe easier, you can use prepared pico de gallo instead of the tomato and onion mixture.
Halloumi Taco Side Dish Ideas
Have you tried halloumi?