Air Fryer Halloumi
This crispy air fryer halloumi is made without any oil and it only takes a minute to prepare! It makes a great salad or sandwich topping and it's a unique cheese that will have you hooked!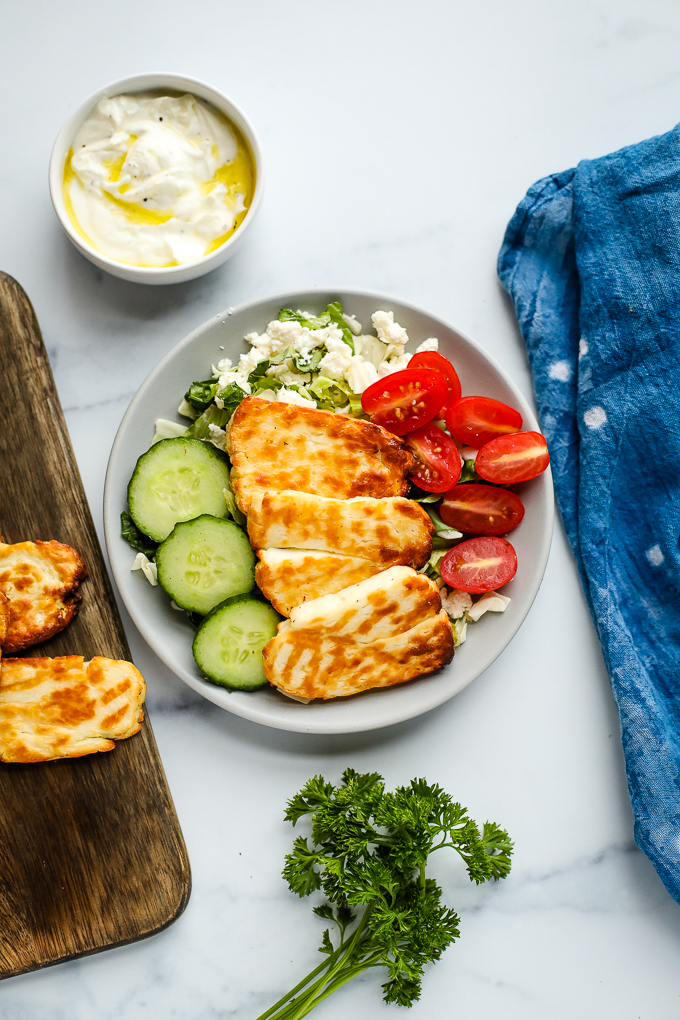 If you've been reading my blog or following me on Instagram for any amount of time, you probably know I'm obsessed with halloumi cheese. I first tried halloumi a few years ago and I've been hooked ever since! If you're new here, let's dive into it!
What is Halloumi?
Halloumi is a type of cheese that is salty and firm. It has a high melting point, so instead of melting when heated, it holds its shape and gets crispy on the outside. The flavor is like a cross between salty feta and creamy mozzarella. It's made from sheep's milk.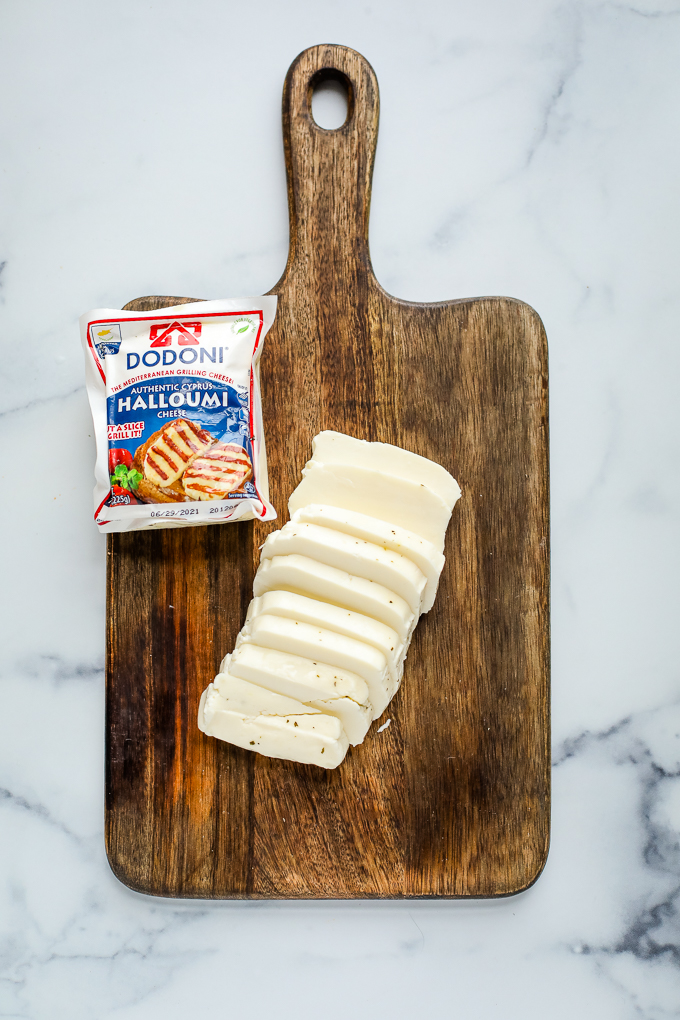 Where to Buy Halloumi Cheese
I can usually find it in the "specialty" cheese section at larger grocery stores like Kroger, Publix, or Wegman's. I've also found it at smaller specialty stores like Whole Foods, local markets, and even Trader Joe's! Unfortunately, this cheese isn't cheap. It's typically between $6-$9 for an 8oz package. Luckily, it does keep for a while so if you find it on sale, stock up!
How to Make Halloumi in an Air Fryer
I love my air fryer and it's perfect for making crispy halloumi without any additional oil. I use the Ninja Foodi Grill Air Fryer which has a large fryer basket. I slice a block of halloumi into 9 pieces (about 1/2″ wide) then I lay the pieces in a single layer in the fryer basket.
My fryer basket has a great non-stick coating, but if your air fryer has a tendency to stick, I'd recommend spraying the basket with a layer of non-stick baking spray, just to be safe. Be sure your pieces aren't overlapping. It's important for the air to be able to circulate around each piece so it gets nice and crispy!
Once you've sliced your halloumi into even pieces and arranged them in the basket, you're ready to go!
Preheat the air fryer to 390 degrees. Once the air fryer is preheated, add the halloumi. Cook for 7 minutes, then use a spatula to flip the halloumi over.
I recommend flipping the halloumi over, and also flipping it sideways. Sometimes the outer edges of the air fryer cook faster than the inside. So flipping sideways and over ensures the most even browning.
Cook for an additional 2-3 minutes until browned and crispy.
How to Reheat Leftovers
If you have leftover halloumi, you can easily reheat it in the air fryer! Just preheat the air fryer to 390 degrees then cook the halloumi for 1-2 minutes until heated and crispy.
The Best Type of Air Fryer
I get a lot of questions about the best types of air fryers, so I thought I'd share my favorites! The most important thing to look for is the size of the basket. If you have a large family or you're often cooking for more than 2 people, be sure you have a large frying basket. When air frying, it's important that the basket isn't too full or crowded, otherwise the air fryer can't effectively crisp your food.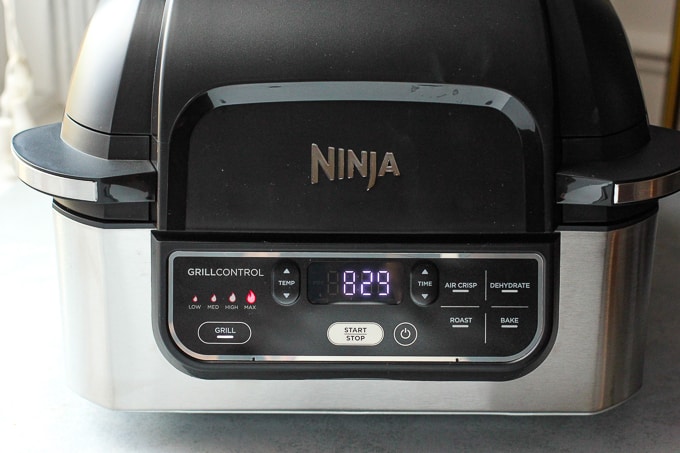 Also, consider how easy the air fryer is to clean. I like the Ninja Foodi because I can put the basket in the dishwasher when needed. The non-stick coating makes it easy to clean by hand, but every few uses, I like to run the pans through the dishwasher.
Lastly, consider how much room it will take up in your kitchen. I definitely don't think it's a must-have appliance but if you have the room, it's a fun tool to use! Mine doubles as a grill and a dehydrator so, to me, it's worth the space!
Curious about air frying? Don't miss my Air Fryer Tips & Tricks!
How to Enjoy Halloumi
This crispy halloumi is delicious on top of a bed of greens to enhance your salad! Try my easy halloumi salad recipe for my favorite combination of crispy veggies and an easy homemade dressing. It can also be served on a baguette or with roasted vegetables. I think of it almost like a substitute for meat. It's hearty and filling so it's easy to round out your plate with vegetables!
Frequently Asked Questions
Is halloumi good for you? Like most cheese, halloumi is high in saturated fat and this salty cheese is also quite high in sodium. So I don't recommend eating more than one serving at a meal. But it pairs well with vegetables so it's easy to make it part of a balanced plate!
Is halloumi expensive? It does tend to be a pricy cheese since it's a specialty cheese made from sheep's milk. But since it can be the centerpiece of your meal, I think it's worth the splurge! You may be able to find it at Trader Joe's or Aldi for a bit less.
How long does halloumi last? Unopened, halloumi will typically last a long time in the fridge, but be sure to check the expiration date to be sure. Once it's open, I recommend eating it within 3 days.
Can you eat raw halloumi? You can, but I don't recommend it. It's really delicious when it's warm and crispy.
The Best Sauces to Serve with Halloumi
Looking for a sauce to drizzle on top? Try this easy cilantro pesto or whip up a batch of this romesco sauce. Or serve it with a little aioli on the side. It's also delicious with balsamic glaze or even just a light drizzle of olive oil.
Print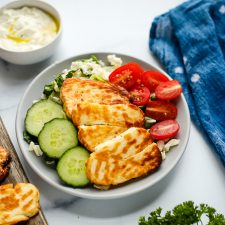 Air Fryer Halloumi
Author:
Prep Time: 1 minute
Cook Time: 9 minutes
Total Time: 10 minutes
Yield: 8 slices 1x
Category: Cheese
Method: Air Fryer
Cuisine: Middle Eastern
Diet: Vegetarian
---
Description
This crispy air fryer halloumi is made without any oil and it only takes a minute to prepare! It makes a great salad or sandwich topping and it's a unique cheese that will have you hooked!
---
8 oz block halloumi cheese
---
Instructions
Preheat the air fryer to 390 degrees
Slice the halloumi cheese into 1/2″ slices
Place the halloumi in a single layer in the air fryer basket
Cook for 7 minutes, then flip the halloumi slices
Continue to cook for 2-3 minutes until browned and crispy
Add to your favorite sandwich or salad
---
Keywords: air fryer halloumi
Ways to Enjoy Air Fryer Halloumi
Looking for some tasty halloumi cheese recipes? Here are a few of my favorites!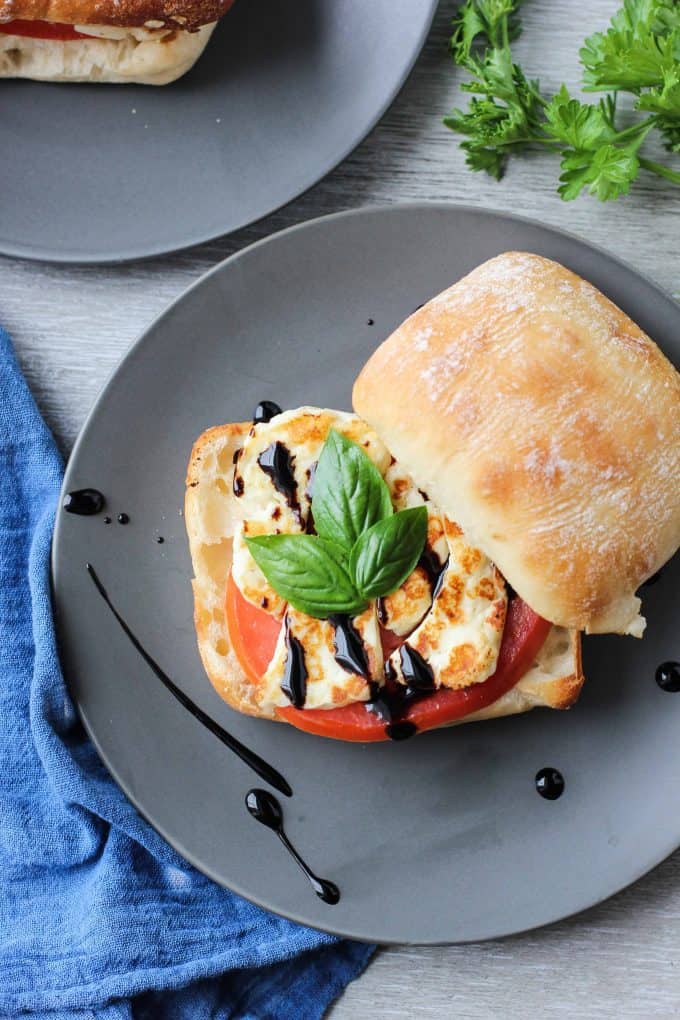 If you give this recipe a try, leave a comment below!