Easy Halloumi Salad
This easy halloumi salad is a great low carb vegetarian meal! I love the cold, crunchy vegetables mixed with the crispy halloumi!
After Alex and I got hooked on these easy halloumi sandwiches, I wanted to make a slightly healthier option to our dinner rotation. I'm obsessed with this salty, hearty cheese and it's perfect on top of a bed of vegetables! This salad is big enough to serve as a main dish for two people or a side dish for four!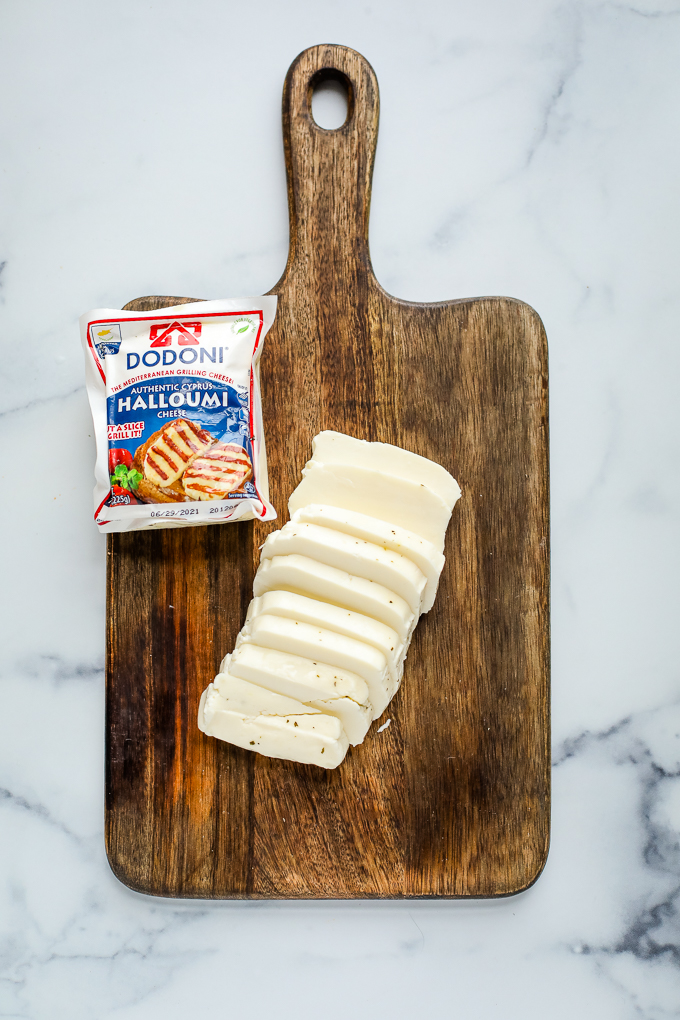 What is halloumi cheese?
Halloumi originated in Cyprus, in the middle east. It is traditionally made with goat and sheep's milk, but a lot of the halloumi you'll find in the United States is made with cow's milk. Try to grab authentic halloumi if you can find it! You can usually find halloumi cheese in the specialty cheese section of the grocery store near the feta cheese.
What does halloumi cheese taste like?
Halloumi has a "squeakiness" that you'll only understand if you've eaten a cheese curd. (If you're unfamiliar with the "squeakiness" of cheese then you're clearly not from the midwest.) It's very salty, like feta but the texture is very firm and not crumbly. And like feta, Halloumi cheese doesn't really melt, but when heated in a pan or a grill, it gets a gorgeous, crispy brown crust.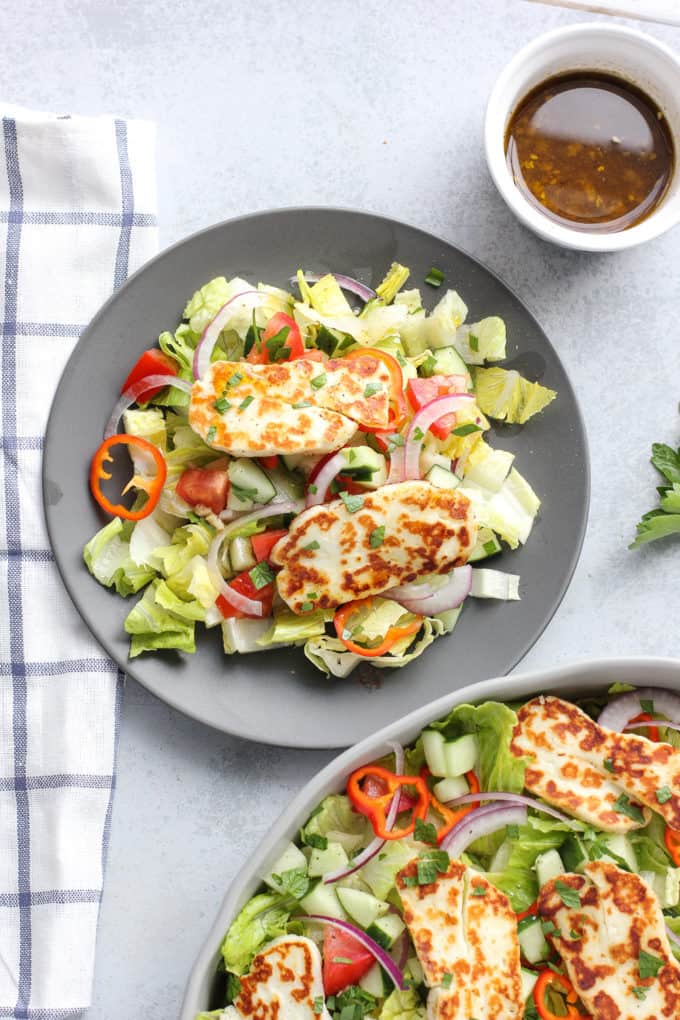 Tips for the perfect halloumi salad
When "grilling" halloumi on the stove, I find it easiest to do it in a non-stick pan. The halloumi will get a crispy brown crust without the need for a lot of oil.
If you have an air fryer, be sure to check out my air fryer halloumi recipe! It's quick and easy and you get perfectly crispy halloumi, every time!
You can also make crispy halloumi in the air fryer, no oil required!
This homemade dressing is simple and light. Feel free to substitute a store-bought dressing, if you prefer.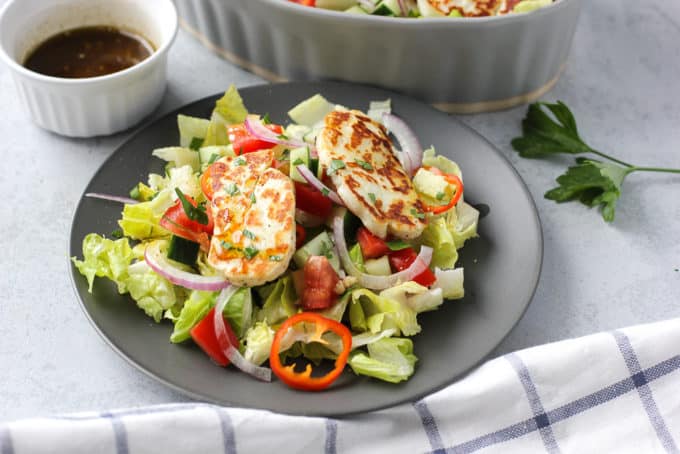 How to Store Leftover Halloumi
The halloumi is best served hot, but if you have leftovers, you can keep the salad and halloumi stored separately in the refrigerator. Simply reheat in a pan or in an air fryer before serving.
Print
Easy Halloumi Salad
Author:
Prep Time: 10 minutes
Cook Time: 5 minutes
Total Time: 15 minutes
Yield: 4 1x
Category: Salad
Method: Stovetop
Cuisine: Salad
---
Description
This easy halloumi salad is a great low carb vegetarian meal! I love the cold, crunchy vegetables mixed with the crispy halloumi!
---
2 tablespoons olive oil, plus 1 teaspoon divided
1 tablespoon red wine vinegar
1 teaspoon fresh lemon juice
1/4 teaspoon za'atar seasoning
1/4 teaspoon salt
2 cloves garlic, minced or grated
6 oz halloumi cheese, sliced into 1/2 inch slices
1 heart romaine lettuce (about 3 cups chopped)
1/2 cucumber, seeds removed, diced
1/2 small red onion, thinly sliced
1 red or orange bell pepper, seeded and diced
---
Instructions
Whisk two tablespoons of olive oil with the vinegar, lemon juice, za'atar, salt, and garlic in a small bowl.
In a non-stick skillet over medium heat, swirl the remaining teaspoon of olive oil.
Add the cheese in a single layer and cook until browned, about 1-2 minutes on each side.
Toss the romaine, cucumber, onion, and bell pepper in a large bowl.
Drizzle with dressing and toss until coated. Top with cheese and serve immediately.
---
Notes
This salad could serve two people as a main dish or four people as a side dish. The nutrition information below is for 1/4 of the salad.
Keywords: easy halloumi salad
If you have friends or family members that are skeptical of vegetarian food, I highly recommend introducing them to halloumi. This cheese is so hearty and satisfying, and it makes an excellent substitute for meat!
I also really like this simple salad dressing. I've eaten this salad as a side dish without the halloumi, and it's still delicious!
If you have leftover cheese, give these easy halloumi sandwiches a try!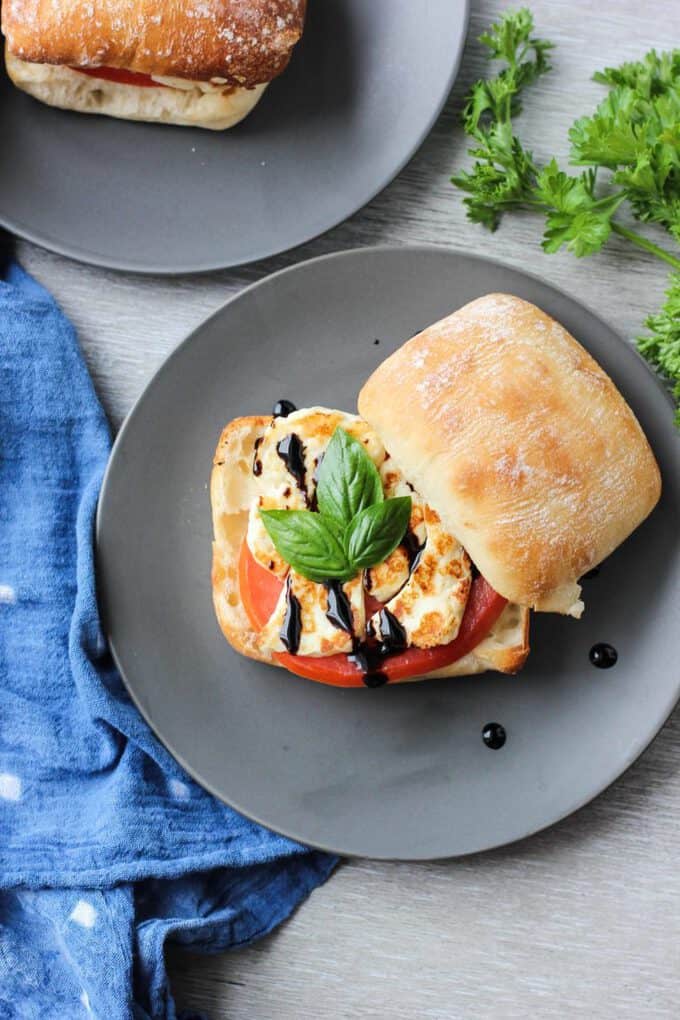 Have you ever tried halloumi cheese?