Easy Pineapple Salsa
This easy pineapple salsa is sweet and crunchy! It's a delicious dip for chips, but it's also great on tacos or veggie burgers!
The other day, I wanted to make salsa, but I found myself tomato-less. Salsa without tomatoes? Was it possible? Spoiler alert: Yes, it's possible. This sweet and spicy pineapple salsa is delicious with your favorite tortilla chips, but it's even great on top of a black bean burger. I've also eaten it with a fork, but that's nothing new.
I made this over Memorial Day weekend, and it was a perfect cookout side dish because it was easy to make ahead of time. You can even make it a day in advance, and it'll only get better. Just keep it in the fridge in an airtight container until you're ready to serve it. If you like this recipe, be sure to try my fruit salsa recipe and my pickle de gallo!
How to Pick a Good Pineapple
According to Healthline, "A ripe pineapple should have a firm shell but be slightly soft with a bit of give when you squeeze it. Pineapples that are completely solid or hard when squeezed are unlikely to be fully ripe. Ripe pineapples should have a firm shell that is slightly soft when squeezed." Of course, you could also buy pre-cut pineapple to save yourself some time! Look for a bright yellow color with no visible bruises or browning.
Substitution Ideas
If you like things extra spicy, you can add more jalapeno. If you want to keep it milder, skip the jalapeno altogether.
If you don't have a red onion, you can substitute a shallot instead. This will also have a more mild flavor if you don't like the taste of raw onions.
You could use a yellow or orange bell pepper in place of red. I don't recommend green peppers, because they aren't as sweet.
Once you're done chopping your ingredients, this comes together quickly! Technically you could make this with cans of diced pineapple and save a few minutes of chopping, but I recommend fresh if possible.
What to Serve With Pineapple Salsa
This pineapple salsa is perfect when you're looking for a salsa without tomatoes, or you're craving something on the sweet side. I mentioned it would be good on a black bean burger, but it would also be delicious on tacos and salads! I think it would be delicious served alongside this elote recipe. And of course, you can just dip your favorite chips in and enjoy!
Print
Easy Pineapple Salsa
Author:
Prep Time: 15 minutes
Cook Time: 0 minutes
Total Time: 15 minutes
Yield: 4 cups 1x
Category: Side Dish
Method: No Cook
Cuisine: Mexican
---
Description
This easy pineapple salsa is a perfect dip with tortilla chips but it's also tasty on top of a black bean burger or tacos!
---
3 cups diced pineapple (about 1 pineapple)
1 red bell pepper, seeded and diced
1/2 small red onion, diced
1 jalapeno pepper, seeded, diced
1 lime
1/4 teaspoon cumin
Salt to taste
---
Instructions
Combine the pineapple, pepper, onion, and jalapeno in a large bowl.
Juice the lime over the fruits and vegetables.
Sprinkle with cumin and stir.
Add a pinch of salt, or to taste.
---
Keywords: Pineapple Salsa
Looking for more tasty salsa? Try this avocado and corn salsa! If you're looking for another taco-friendly side dish, try this Mexican street corn salad! It's one of my most popular recipes for a reason!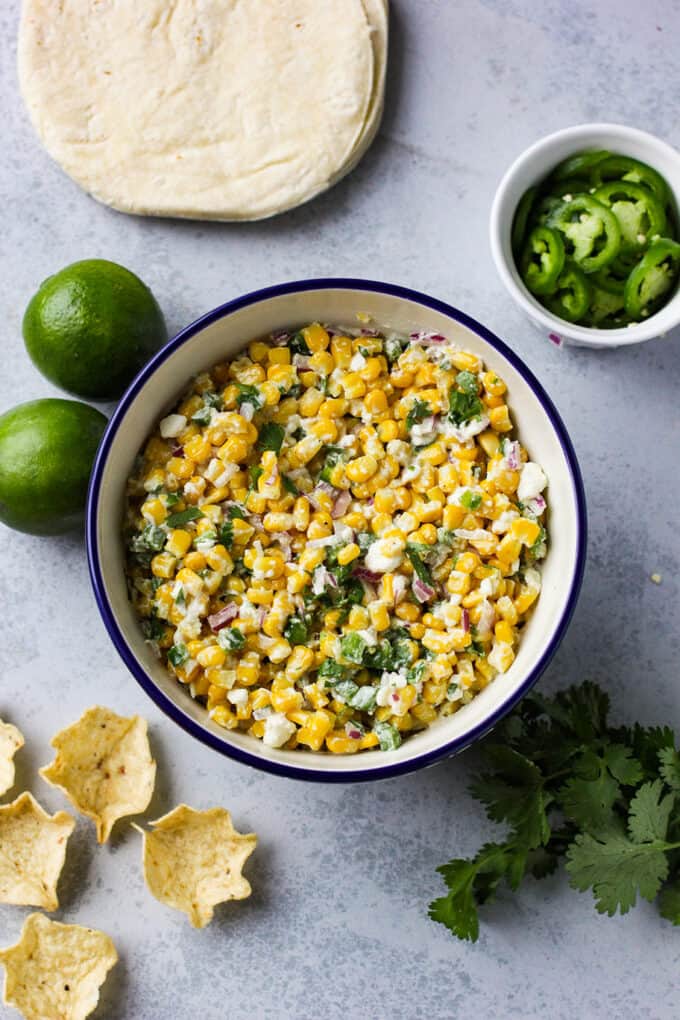 What's your favorite kind of dip?