When I posted this smoothie bowl on Instagram, a few people asked how to make their smoothies thicker. I only eat spoonable smoothies so I loved this question.
Tips for thicker smoothies? Your wish is my command! I've been blending up my breakfast for years. I got a Vitamix for my 22nd birthday (thanks, Mom & Dad!) and I've used it at least a few times a week ever since! Here are a few of my tips and tricks for making a super thick smoothie: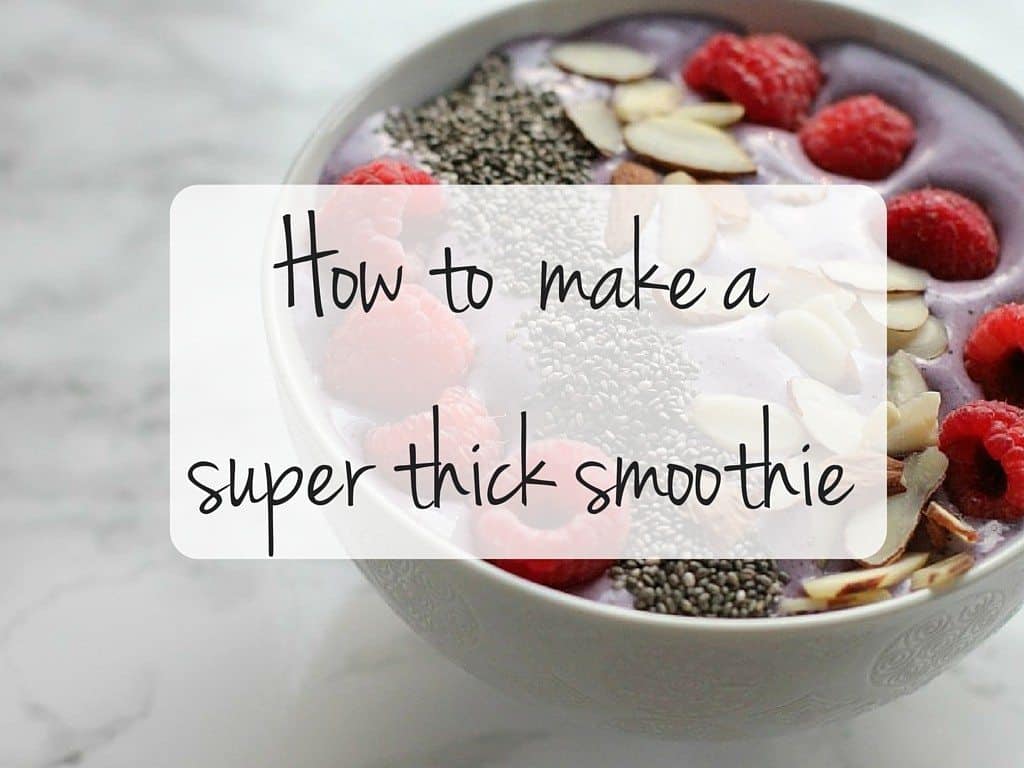 Use frozen fruit or freeze fruit overnight. I always have a stash of bananas in the freezer because they're perfect in smoothies! Mango, pineapple, strawberries, and blueberries are also great in the freezer. Plus, frozen fruit tends to be cheaper and you can find fruit that might not be in season! Budget friendly and delicious? That's a win-win.
Freeze some of the liquid. If you typically use orange juice in your smoothies, freeze some of it in an ice cube tray and add those to your smoothies! I used to freeze almond milk in an ice cube tray to make my smoothies extra thick. Our freezer is on the small side so I don't do this anymore, but it can work well if you're really trying to make a thick smoothie. (Note: Storebought almond milk will sometimes separate a bit when frozen. It tastes the same when blended up in a smoothie but it might look a little funny.) This works really well if you like using juice in your smoothie!
Use the minimum amount of liquid. The better the blender, the less liquid you'll have to use. If you don't have a fancy blender, you might need a bit more liquid but try to only use a little at a time while you're blending. If you add too much, it'll be runny. I start with a little bit and add an extra splash if it's too thick to blend.
Add some oats. A handful of oats can add thickness to your smoothie while also adding in some extra protein and fiber! I love tossing in some oats in this peach cobbler smoothie! You don't need to cook them, just add them in raw!
Toss in chia seeds. Adding in a tablespoon of chia seeds will add healthy fats that also make your smoothie more spoonable! They're a natural thickener.
If you're curious about what's in that smoothie bowl pictured above, here's the recipe!

Super Thick Blueberry Smoothie
Ingredients
1 handful of ice (about 5 large cubes)
½ medium banana, frozen
½ cup almond milk
⅓ cup frozen blueberries
2 large kale leaves
1 scoop of About Time Whey Protein Powder (Birthday Cake flavor)
Topped with chia seeds, raspberries, and almonds!
Instructions
Toss everything except your toppings into the blender and process until smooth!
Pour into a bowl and add your toppings.
Dig in with a spoon!
What are your smoothie tips? Do you eat yours with a spoon?