Vegan Lentil Sloppy Joes
These vegan lentil sloppy joes are a healthy twist on the classic sandwich! They're filled with 16 grams of plant-based protein and they can be made with simple pantry staples.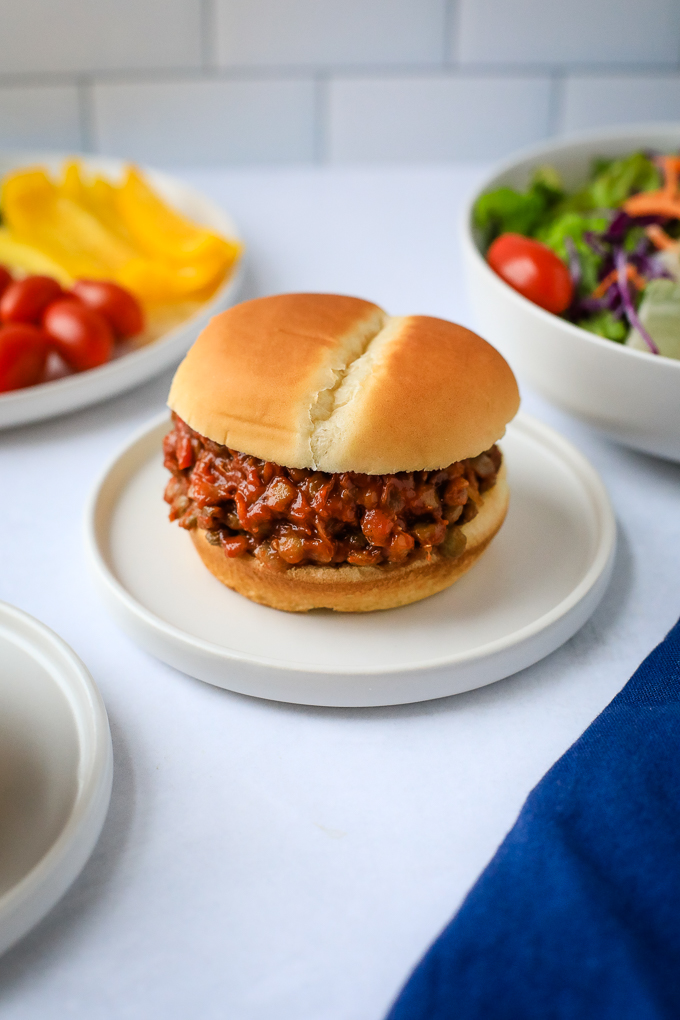 You're going to need some extra napkins for this recipe, but it's worth it. These vegan sloppy joes are just as good as the messy sandwiches you remember from childhood, but they're a whole lot healthier! I've been on such a lentil kick lately. They're so versatile. It's fun coming up with new ways to use these little powerhouse legumes.
Benefits of Lentils
Lentils are a good source of iron and they also contain a lot of fiber, which helps regulate blood sugar and keeps you full! It's a great plant-based protein and they're very affordable! You can typically find them in the natural food section of the grocery store or near the bags of dried beans. Check out this post for more plant-based protein sources!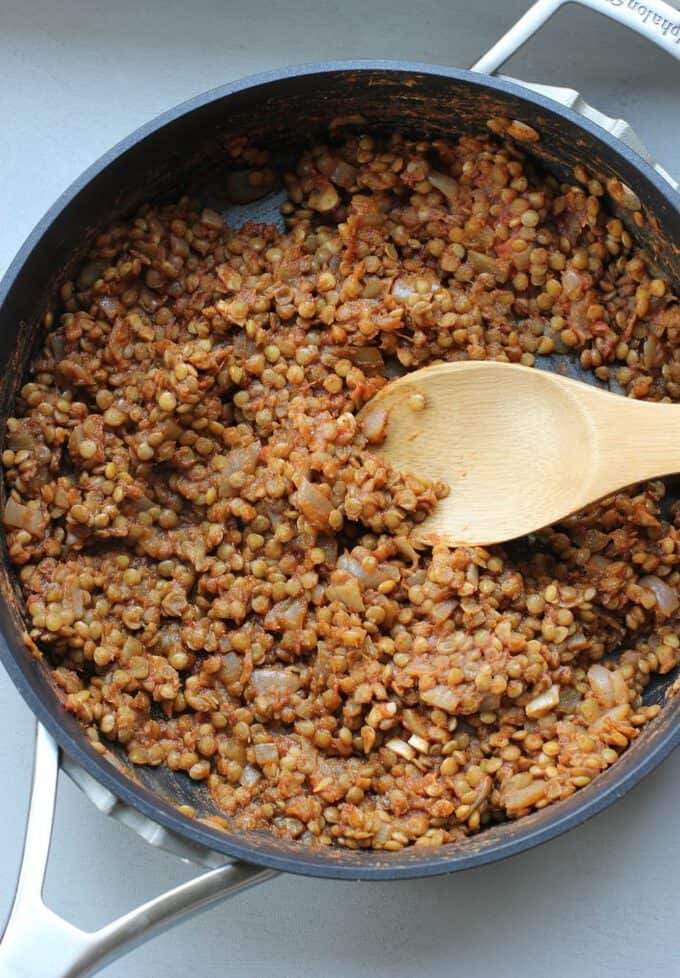 Substitution Ideas
You can use green or brown lentils for this recipe. I don't recommend using red lentils, which are a little too soft when cooked.
To keep this recipe gluten-free, be sure to use a gluten-free soy sauce and gluten-free buns. In place of soy sauce, you may also use liquid aminos or tamari.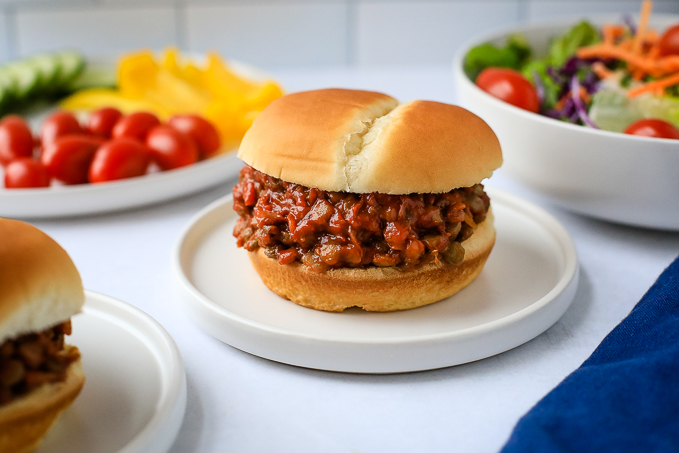 The sauce is deliciously tangy and sweet thanks to the combination of the apple cider vinegar and the maple syrup. If you don't want to make your own sauce, you could follow steps 1-6, then add your own barbecue sauce or sloppy joe sauce. But keep an eye on the ingredients list. A lot of barbecue sauce isn't much more than high fructose corn syrup and caramel coloring. Making your own only takes a few minutes and it's delicious!
Side Dish Ideas
Looking for something to serve with sloppy joes? Here are a few of my favorite side dishes!
Make-Ahead Tips
The lentil mixture can be prepared up to 3 days in advance. Store in the refrigerator, then reheat in the microwave or on the stovetop. I do not recommend freezing the lentils.
If you're looking for more lentil recipes, try these simple spiced lentils or my vegan lentil tacos!
Print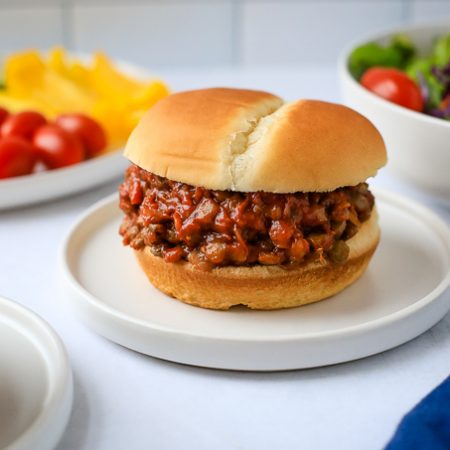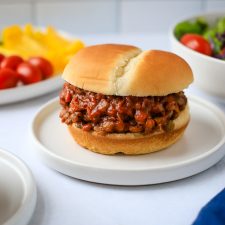 Vegan Lentil Sloppy Joes
Author:
Prep Time: 15 minutes
Cook Time: 40 minutes
Total Time: 55 minutes
Yield: 4 sandwiches 1x
Category: Sandwiches
Method: Stovetop
Cuisine: Sandwiches
---
Description
These vegan lentil sloppy joes are a healthy twist on a classic! They're loaded with 16g of plant based protein and they can be made with simple pantry staples.
---
1 teaspoon olive oil
1 medium yellow onion, diced
3 cloves garlic, diced
1 teaspoon paprika
1 teaspoon chili powder
½ teaspoon cumin
¼ teaspoon salt
1 cup dry green lentils
2 cups water
1 tablespoon ketchup
1 tablespoon maple syrup
2 teaspoons apple cider vinegar
1 tablespoon soy sauce (or gluten-free tamari)
3 tablespoons tomato paste
4 whole wheat buns (or gluten-free buns)
Jalapeño or hot sauce for topping (optional)
---
Instructions
In a large skillet, add the olive oil, onion, and garlic.
Cook over medium heat for 3 minutes, stirring occasionally.
Add the paprika, chili, cumin, and salt and stir to combine.
Continue to cook for 2 minutes over medium heat.
Add the lentils and water and bring to a boil.
Once boiling, reduce to a simmer and simmer for 25-30 minutes until the water has been absorbed and the lentils have softened. It's okay if the lentils are still a tiny bit firm.
In a small dish, whisk together the ketchup, maple syrup, apple cider vinegar, soy sauce, and tomato paste.
Continue cooking over low heat and add the mixture to the lentils.
Stir until it's well coated and the lentils have completely cooked.
Divide the lentils on to each bun and add jalapeño, hot sauce, or any other burger toppings you like!
---
Notes
Note: This recipe can be made ahead of time and reheated in a skillet or microwave just before serving.
Keywords: Vegan Lentil Sloppy Joes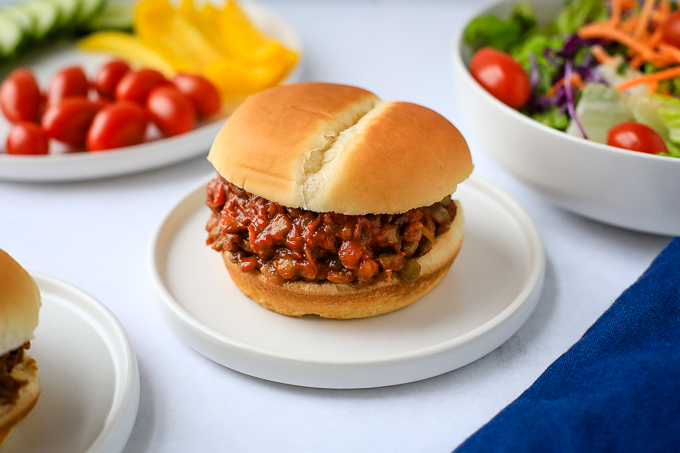 I could also see these lentils being delicious in a lettuce wrap or on top of a chopped salad!
Looking for more ways to use lentils? Try these vegan curried lentils! They're easy to make in advance, making them a perfect lunch option.