Immunity Boosting Smoothie Bowl
This post is sponsored by Patient First.

This immunity-boosting smoothie recipe is filled with good-for-you ingredients to help keep you feeling your best during cold and flu season! Read on for the recipe and follow the tips from Patient First physicians to learn how to stay healthy!
With kids back at school and many adults going back to work, we're all looking for ways to stay healthy. In order to feel my best, I've been trying to fill my diet with foods that help support a healthy immune system! I've partnered with Patient First to create a few different smoothie recipes to keep you feeling great!
Immunity Boosting Ingredients
This list of immunity-boosting ingredients from Patient First gave me some inspiration to create a healthy smoothie bowl recipe that is filled with good ingredients. From antioxidants to vitamin C, ingredients like ginger and blueberries are great for boosting your immune system! Here are a few foods you should consider adding to your next smoothie:
Yogurt
Ginger
Spinach
Almonds
Kiwi
Citrus fruit
Blueberries
Chia seeds
Mango
I also asked my friends at Patient First to share some additional tips that can help us stay healthy during cold and flu season. According to Dr. Melissa Aquilo, "This list of ingredients offers a nice variety of immune boosters including vitamin C, vitamin E, antioxidants, magnesium, and fiber- all important to the body's health. These same ingredients can be used in other ways too, such as a bowl of overnight oats with chia seeds, a bit of cocoa powder, and almond milk. For a more savory bent (though not great for smoothies), salmon, red pepper, turmeric, and garlic are great immune boosters."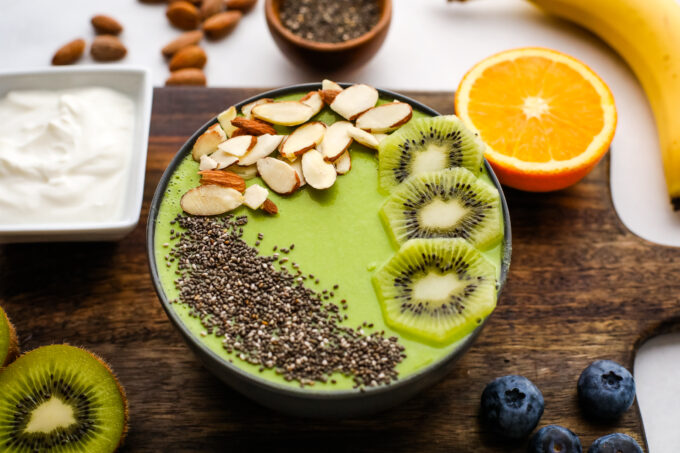 This mango ginger smoothie bowl recipe is filled with frozen mango, Greek yogurt, fresh ginger, spinach, and orange juice. I topped it with chia seeds, kiwi, and chopped almonds for a little extra protein and healthy fats. This smoothie is a powerful combination of ingredients!
Smoothie Bowl Tips
If you don't have a powerful blender, blend the spinach and orange juice first, to help blend the spinach completely. Then add the remaining ingredients.
If you want to lower the sugar content, replace the orange juice with almond milk.
You can also switch up the toppings to add more variety. Try topping it with fresh blueberries and granola or hemp seeds and fresh strawberries.
Print
Immunity Boosting Smoothie Bowl
Author:
Prep Time: 5 minutes
Cook Time: 0 minutes
Total Time: 5 minutes
Yield: 1 smoothie bowl 1x
Category: Breakfast
Method: Blender
Cuisine: American
Diet: Vegetarian
---
Description
This immunity-boosting smoothie recipe is filled with good-for-you ingredients to help keep you feeling your best during cold and flu season
---
1 cup frozen mango
1/2 cup Greek yogurt
1/4 teaspoon fresh ginger
1/4 cup orange juice
1/2 cup spinach
1 teaspoon chia seeds
1 kiwi, peeled and sliced
1 tablespoon chopped almonds
---
Instructions
Blend all ingredients until smooth. Pour into a bowl and add toppings, if desired.
Keywords: Immunity Boosting Smoothie Bowl
According to Dr. Aquilo, "A well-balanced diet which includes a variety of vegetables and fruits does not usually require any supplements. All the immune-boosting goodness our bodies need occurs naturally in food." She added, "In addition to a well-balanced healthy diet, I also recommend hand washing, regular exercise, regular sleep, and avoiding smoking or excessive alcohol."
Mini Boost Smoothie Recipes
If you don't have time to make this mango ginger smoothie bowl, there are easy ways to add a few of these healthy ingredients to your morning smoothie. Here are a few quick smoothie recipes you can make when you're on the go!
PB&J Smoothie
1 cup frozen Strawberries + 1 tablespoon peanut butter + ½ cup almond milk
Creamy Green Smoothie
½ cup spinach + 1 frozen banana + ½ cup vanilla yogurt (add a splash of milk or juice to thin, if needed)
Creamsicle Smoothie
½ cup plain Greek yogurt + ¼ cup orange juice + 1 frozen banana
Blueberry Banana
1 frozen banana + ½ cup frozen blueberry + ½ cup coconut milk
Kiwi Strawberry Smoothie
1 kiwi + ½ cup frozen strawberries + ½ cup vanilla yogurt
These smoothies a great for adults and kids! Feel free to double the recipe and pour a glass for you and your little ones. It's an easy way to get kids to start the day with a healthy breakfast!
If you enjoyed these smoothie recipes, be sure to check out my Immunity Boosting Soup recipe! It's been one of my favorite things to make during the winter season and it's loaded with ingredients that help combat illness!