Vegan Broccoli Soup
This creamy broccoli soup tastes rich, creamy, and cheesy — with no dairy required! It's easy to make and it's the perfect healthy comfort food!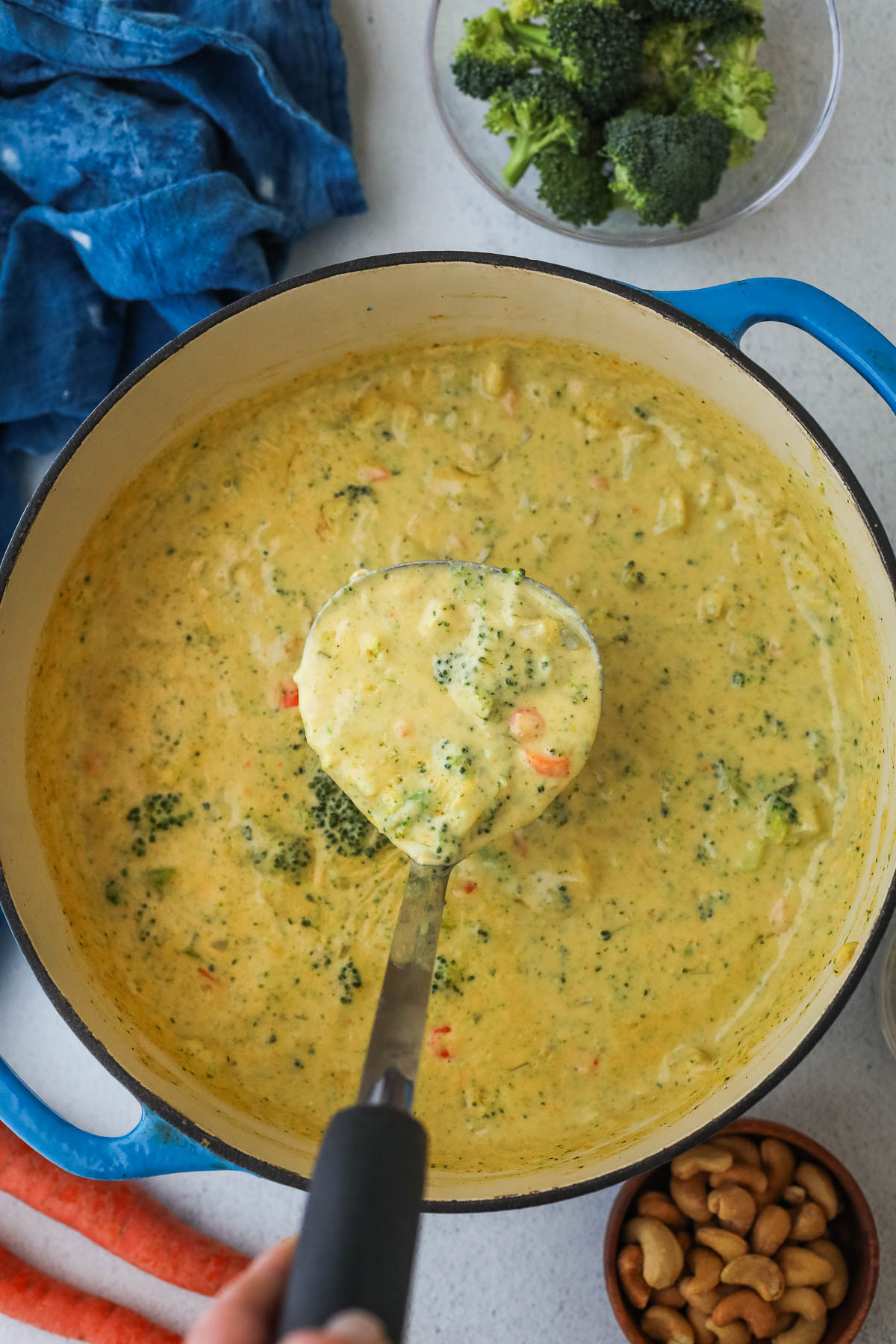 If you love rich and creamy broccoli cheddar soup, you'll love this plant-powered twist on a classic favorite! This vegan broccoli cheddar soup is made with a base of soaked cashews for a dairy-free cream. Nutritional yeast, the unsung hero of vegan cheese alternatives, lends a savory and cheesy depth to the broth, making this soup taste just as cheesy as regular broccoli cheddar soup. Trust me, this is going to become a plant-based favorite!
If you have leftover broccoli try my air fryer broccoli, my vegan broccoli tacos, or my orzo and broccoli skillet.
Ingredients & Substitutions
Olive Oil- This provides a base for sautéing and adds a rich flavor to the soup. You can substitute vegan butter in place of the olive oil if you prefer.
Onion, Carrots & Celery- This basic mirepoix adds savory flavor and depth to the soup base. It's also a great way to add some extra veggies to this soup.
Garlic: I used fresh garlic but you can use one teaspoon of garlic powder if you prefer.
Smoked Paprika- Adds a smoky and slightly spicy flavor, providing depth. You can substitute it with regular paprika or a dash of cayenne pepper.
All-Purpose Flour- This helps thicken the soup. You can use gluten-free flour if you need to keep this gluten-free.
Russet Potato- Adds creaminess and helps thicken the soup. Unfortunately, other potatoes don't work quite as well, so stick to a russet potato.
Vegetable Broth- I like to use a flavorful "not chicken" style broth like the one from Edward & Sons or Ocean's Halo.
Broccoli- Obviously you can't have broccoli soup without broccoli! I prefer fresh broccoli but frozen can be used as well.
Nutritional Yeast:- This helps add a cheesy flavor to replace the cheddar cheese that is normally used in broccoli cheddar soup.
Cashews- This is what creates a rich and creamy base. There isn't a great substitute for cashews, as they're uniquely creamy. Canned coconut milk can also add creaminess to the soup, but it does have a very slightly sweet flavor.
How to Make Vegan Broccoli Soup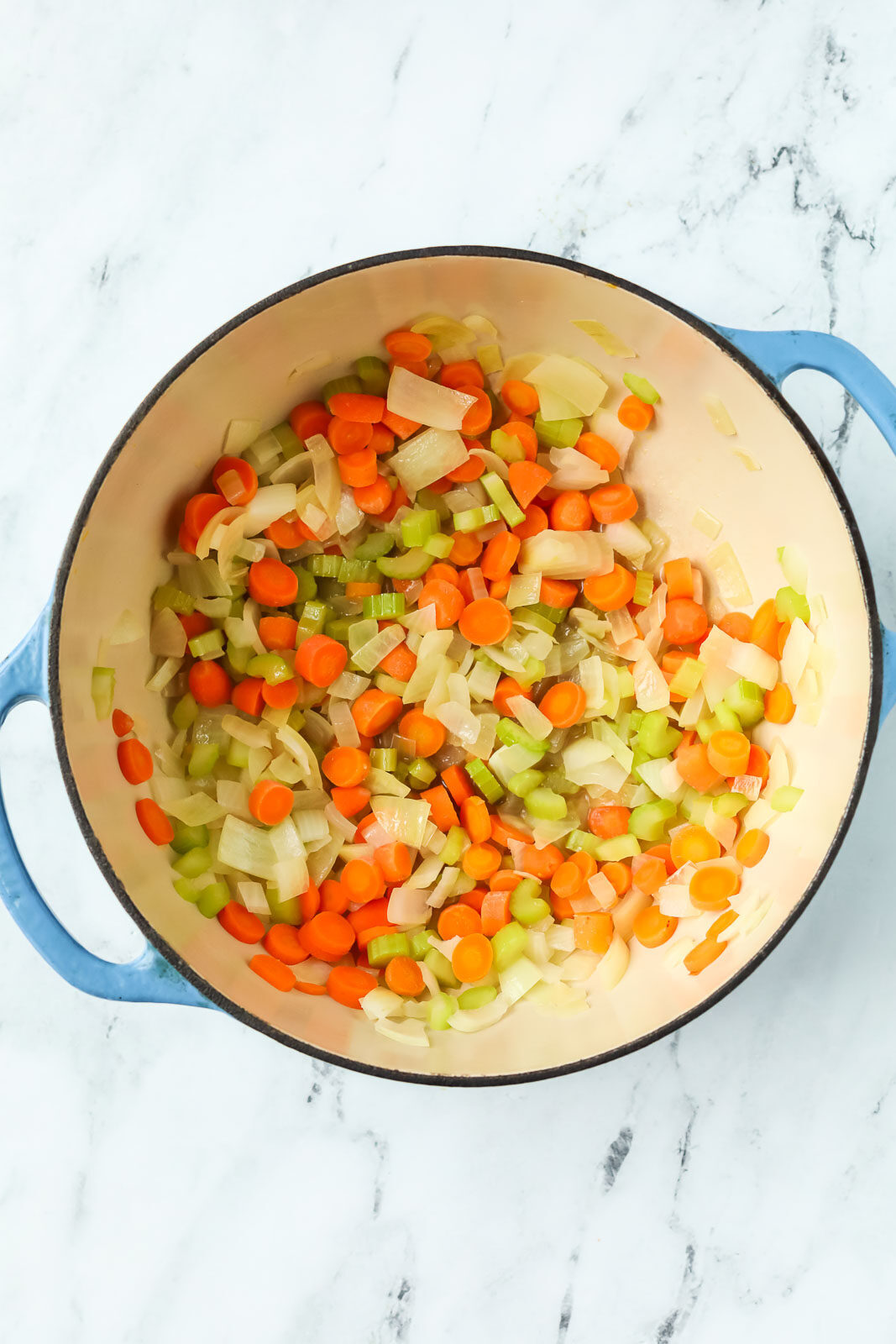 Soup Topping Ideas
Looking for a tasty topping to add to your soup? Try my homemade croutons or these crispy polenta croutons. You could also top the soup with crispy chickpeas for a fiber-filled topping!
Frequently Asked Questions
Why does my broccoli soup taste bland?– Make sure you're using a flavorful broth. I like to use a flavorful "not chicken" style broth like the one from Edward & Sons or Ocean's Halo. And don't skimp on the seasoning. Nutritional yeast has a cheesy flavor but it's not salty, so you need to add additional salt to give it a true cheesy flavor.
Is Panera broccoli cheddar soup vegetarian?– No, Panera's broccoli cheddar soup is made with chicken broth. This recipe is a great alternative if you're vegan! If you want a dairy version, try my broccoli cheddar soup.
Why is broccoli soup good for you?– Most broccoli cheddar soup is filled with cheese and heavy cream, making it high in saturated fat and not necessarily filled with vegetables. This version is much healthier! It's still thick and creamy but with no cheese or cream.
How do you thicken broccoli soup?– A combination of flour, russet potato, and cashews create a rich and creamy soup.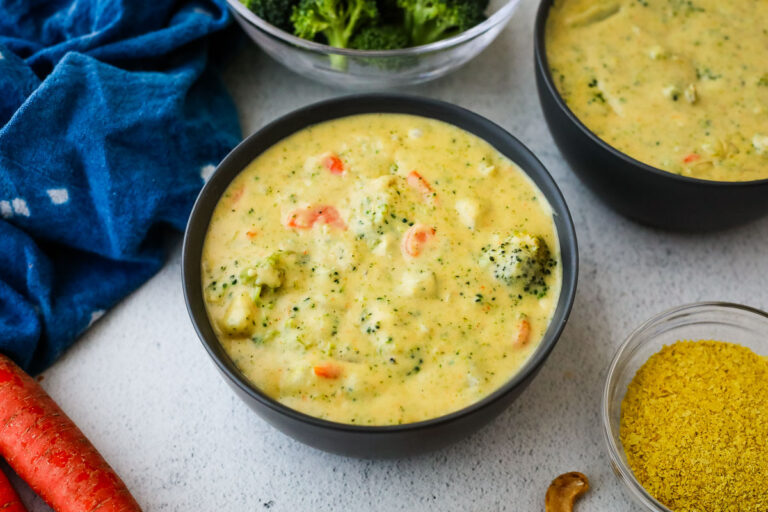 How to Store Leftover Soup
To store this vegan broccoli cheese soup, allow it to cool to room temperature. Store it in an airtight container in the refrigerator for 3-4 days for the best flavor. I do not recommend freezing this soup.
How to Reheat Leftovers
To reheat your leftover broccoli soup, transfer it to a saucepan and warm it up over medium heat, stirring occasionally. Or if the microwave is your go-to, use a microwave-safe container and heat in short intervals, stirring in between until it reaches the desired temperature. The soup may thicken up so you can add a splash of broth to thin, if desired.
More Vegan Soup Recipes
If you loved this recipe, try my vegan wild rice soup or this creamy carrot and potato soup. They're both rich and creamy and loaded with vegetables.
Print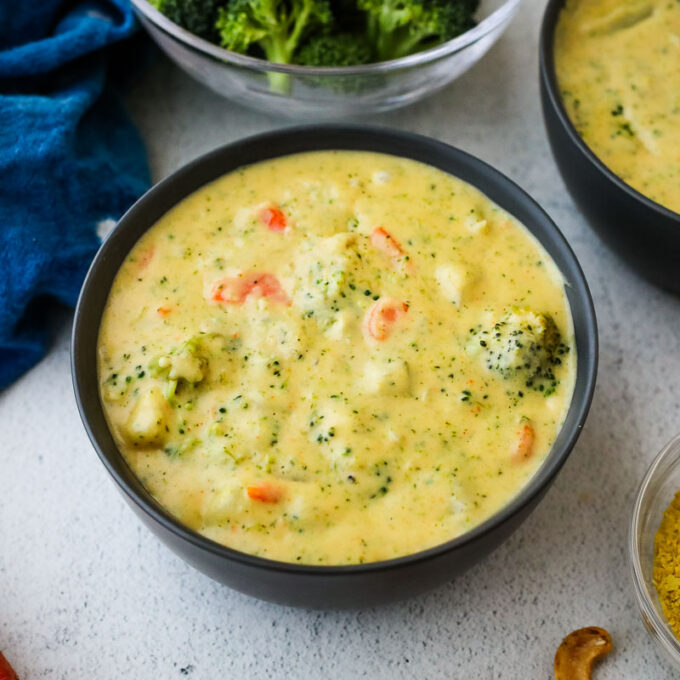 Vegan Broccoli Soup
Author:
Prep Time: 15 minutes
Cook Time: 40 minutes
Total Time: 55 minutes
Yield: 6 cups 1x
Category: Soup
Method: Stovetop
Cuisine: American
Diet: Vegan
---
Description
This creamy broccoli soup tastes rich, creamy, and cheesy — with no dairy required! It's easy to make and it's perfect for healthy comfort food!
---
1 tablespoon olive oil
1 large yellow onion, diced
2 large carrots, peeled and diced
1 stalk celery, diced
2 cloves garlic, minced
1/2 teaspoon smoked paprika
1/4 cup all-purpose flour (or gluten-free flour)
1 medium russet potato, peeled and chopped
4 cups vegetable broth (I like the not-chicken style)
4 cups chopped broccoli florets
1/2 teaspoon salt
1 cup cashews, soaked (see note)
1/4 cup nutritional yeast
1/2 cup water
Additional salt & pepper to taste
---
Instructions
Add the oil to a large pot over medium heat.
Add the onion, carrot, and celery and cook for 10 minutes, stirring frequently.
Add the garlic and smoked paprika and continue to cook over medium heat for one minute.
Add the flour and stir until the vegetables are coated with flour. Cook for one minute.
Add the broth and potato, and bring to a boil then reduce the heat to medium-low. Simmer for 20 minutes until the potato is softened.
Add the broccoli and simmer for 6-7 minutes until broccoli is tender.
Add the soaked cashews, nutritional yeast, salt and 1/2 cup of water to a blender. Blend until completely smooth. Add 2 cups of soup of the soup and continue to blend until smooth.
Transfer the blended soup back to the pot. Stir until combined.
Add salt and pepper to taste, if needed.
---
Notes
To soak cashews quickly, bring 2 cups of water to a boil in the microwave or on the stovetop. Remove from heat, carefully add the cashews, and cover them for 10 minutes. This will quickly soak the cashews. Drain the soaking liquid before adding to the blender.
Keywords: Vegan Broccoli Soup