Slow Cooker Ravioli Lasagna
This "lazy lasagna" recipe is made using ravioli for an incredibly easy hands-off dinner in the slow cooker! If you love lasagna, you'll love this recipe.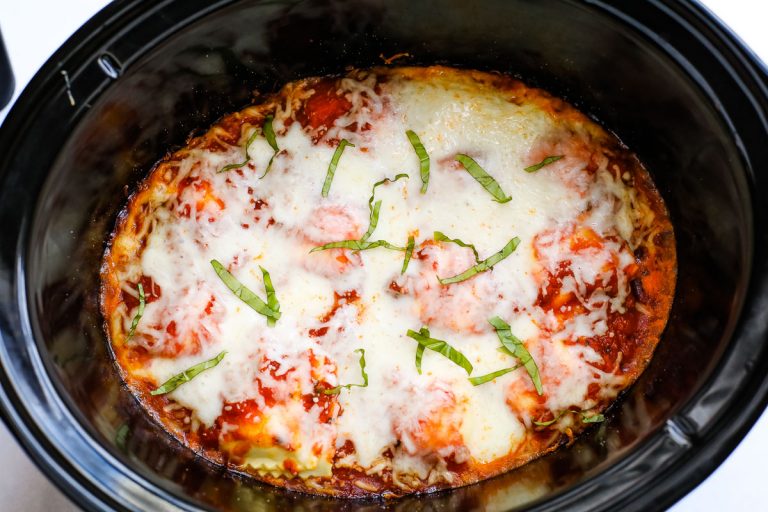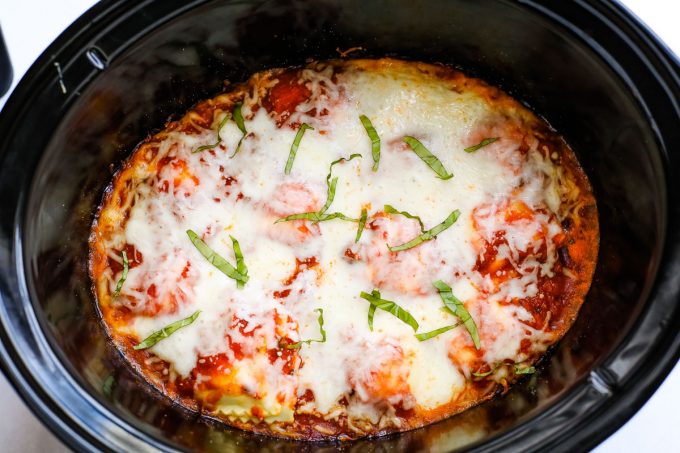 I love making this Ravioli Lasagna recipe because it's only 3 ingredients and it's delicious! So I wanted to see if I could create a version in the slow cooker for an even more hands-off version. This is also a great option if you wanted to take it to a potluck or you're saving oven space for other things. I have this 7 quart oval Crock-Pot which works great for this recipe.
What is Lazy Lasagna?
Sometimes this ravioli recipe is called "lazy lasagna" because it has all the flavors of lasagna, but with just a handful of ingredients! We layer ravioli, sauce, and cheese like lasagna, but since the ravioli is filled with ricotta and spices, we don't have to make a traditional lasagna filling. Think of it as a lasagna shortcut!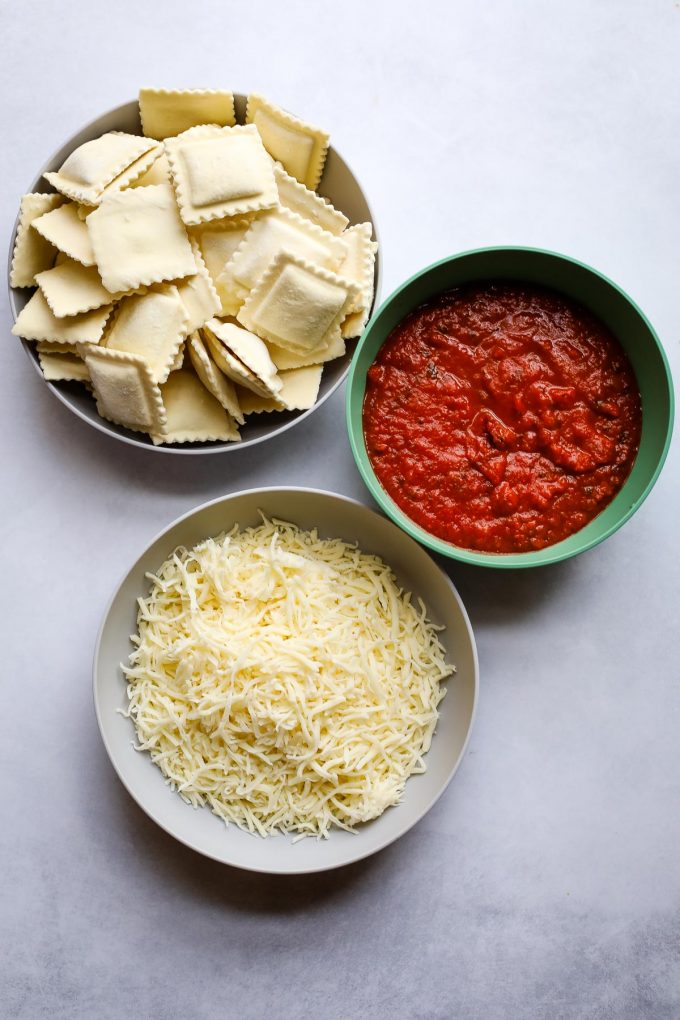 Slow Cooker Ravioli Lasagna Ingredients
Frozen ravioli– You'll need a large bag of frozen ravioli, about 24-30oz. I use cheese ravioli but you can use any kind you like. I kept my version vegetarian but you're welcome to used any type of ravioli you prefer.
Pasta sauce– I like using a tomato basil pasta sauce like Rao's Tomato Basil or Barilla's Vero Gusto Tomato Basil sauce.
Mozzarella– Shredded mozzarella cheese creates gooey layers for that perfect lasagna taste! If you want to add a richer flavor, add in a little Parmesan cheese too!
Spinach– This is optional, but if you want to add some veggies to the mix, you can add a few handfuls of spinach in between the layers!
How to Make Slow Cooker Lazy Lasagna
Add a layer of sauce to the bottom of the slow cooker. Add a layer of frozen ravioli then top with cheese and sauce.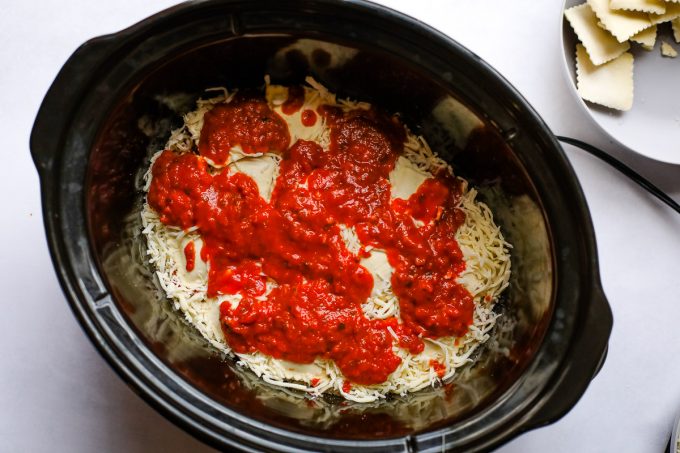 If you want to add spinach, add a layer on top of the middle cheese layer.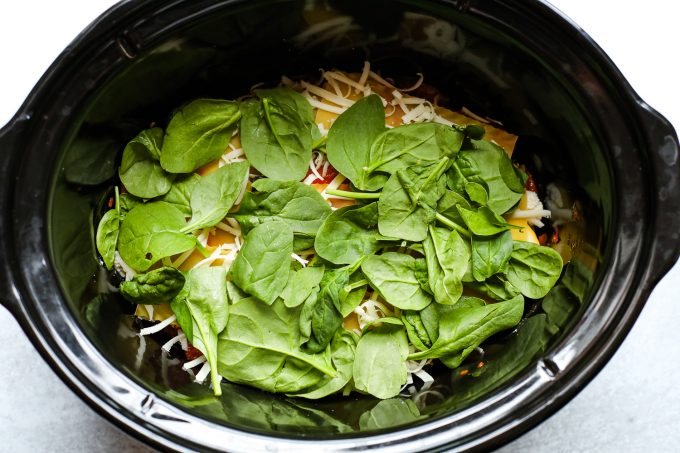 Repeat, ravioli, sauce, and cheese.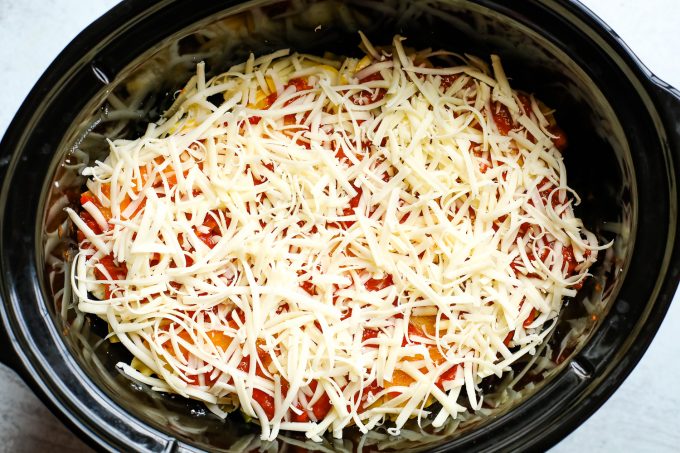 Set the slow cooker to high and cook for 2 hours. I recommend checking after 1 1/2 hours. Do not overcook the ravioli or it will become soggy. If you're using fresh ravioli, you may need to adjust the cooking time.
Tips for Perfect Slow Cooker Ravioli Lasagna
Spray the inside of the slow cooker with non-stick spray, if needed. My slow cooker has a great non-stick surface but if you have an older model, you may want to spray it with cooking spray just to be safe!
Try not to remove the lid until the end when you need to check if the pasta is tender. Taking the lid off unnecessarily will release heat and reduce the temperature, requiring it to be cooked longer.
Use a high quality pasta sauce. With such a simple ingredients list, the flavor of each ingredient is important! Try making your own meatless pasta sauce for a hearty and delicious flavor!
What to Serve with Lazy Lasagna
I have a list of the best side dishes to serve with pasta, which is packed with plenty of ideas! Since this recipe is hearty and filling, I recommend pairing it with something lighter like a salad or roasted vegetables. Some of my favorites are these air fryer green beans, spicy kale salad, and Mediterranean Chopped Salad.
How to Make Lazy Lasagna in the Oven
No slow cooker? No problem! You can easily make this recipe in the oven. Check out my Ravioli Lasagna recipe for step-by-step instructions. It's just as simple and delicious as this slow cooker version!
How to Make Traditional Crockpot Lasagna
If you're looking for a more traditional lasagna recipe with lasagna noodles instead of ravioli, check out my Vegetarian Crockpot Lasagna recipe! It's easy to make and you can add plenty of vegetables like spinach, zucchini, and yellow squash.
How to Reheat Leftovers
This dish reheats well, so don't worry if you have leftovers! Store any leftovers in the refrigerator in an airtight container. To reheat, remove each portion onto a microwave-safe dish and reheat at 50% power for 2-3 minutes or until heated through.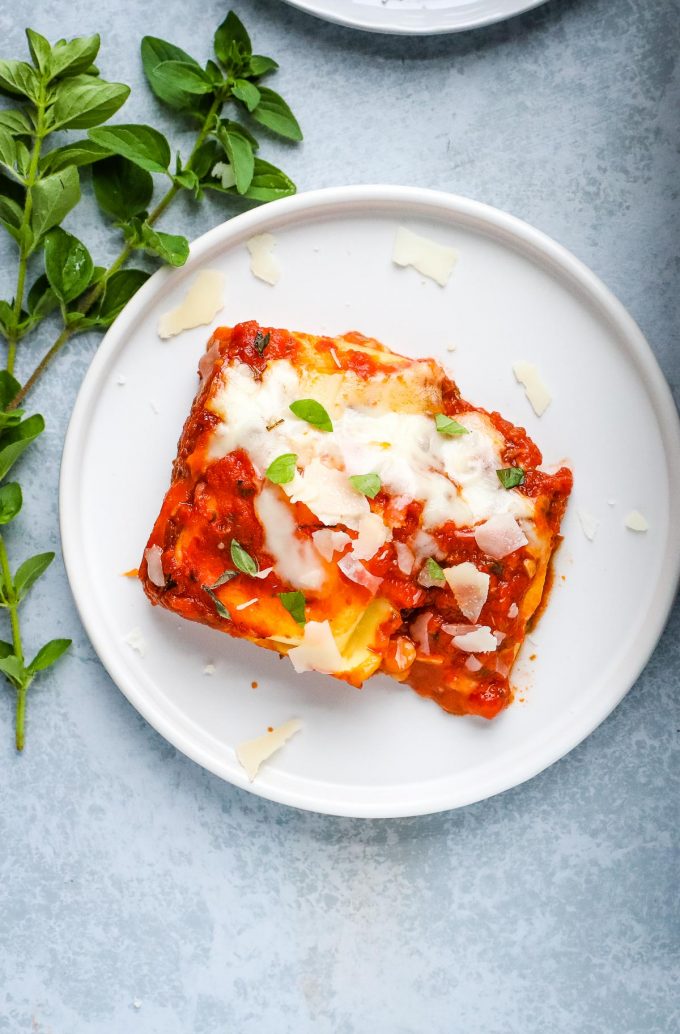 More Slow Cooker Recipes
Print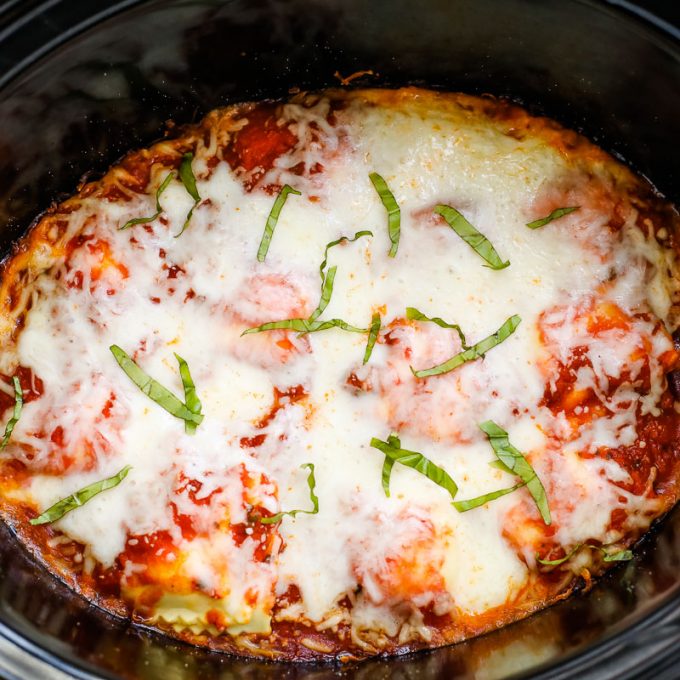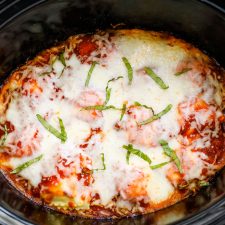 Crockpot Ravioli Lasagna
Author:
Prep Time: 5 minutes
Cook Time: 2 hours
Total Time: 2 hours 5 minutes
Yield: Serves 4
Category: Dinner
Method: Slow Cooker
Cuisine: American
Diet: Vegetarian
---
Description
This "lazy lasagna" recipe is made using ravioli for an incredibly easy hands-off dinner in the slow cooker! If you love lasagna, you'll love this recipe.
---
24oz marinara sauce
24oz frozen ravioli
2 cups shredded mozzarella cheese
1 cup spinach (optional)
---
Instructions
Add a layer of sauce to the bottom of the slow cooker.
Add a layer of ravioli, then cover with cheese.
Repeat adding sauce, ravioli, and cheese, and layer in spinach if desired.
Finish with ravioli, sauce, then cheese.
Cook on high for 2 hours, or until pasta is tender.
---
Notes
I used a large, oval Crockpot. You may need to adjust the cooking time based on your slow cooker.
Keywords: Slow Cooker Ravioli Lasagna