Mediterranean Chopped Salad
This Mediterranean chopped salad is loaded with vegetables, fresh herbs, and chickpeas for a filling meal that is easy to prepare!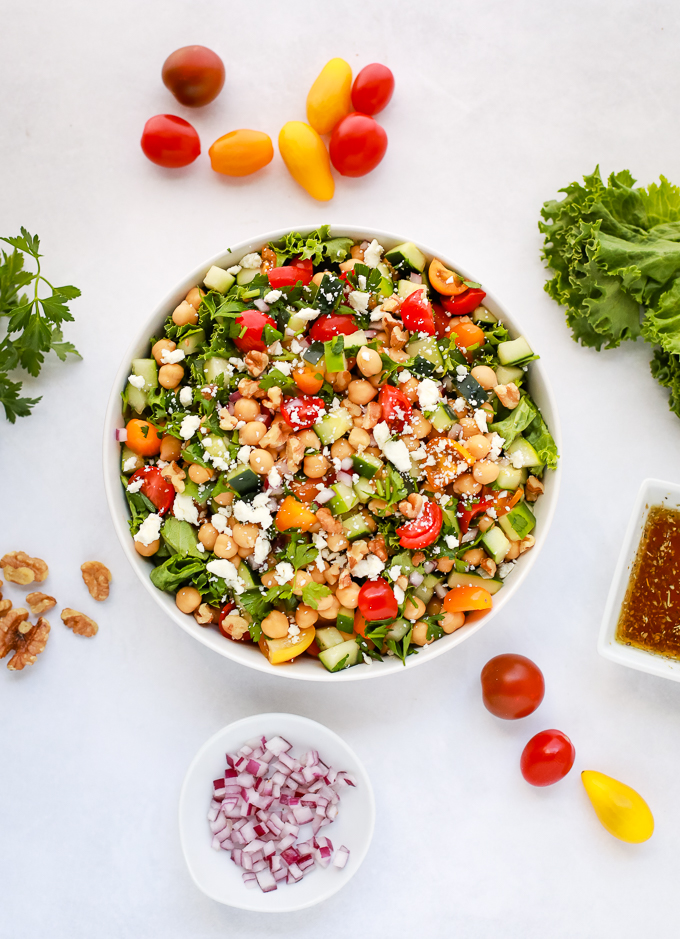 I love chopped salads. You're guaranteed a combination of flavors and textures in every bite and you don't have to worry about trying to mix a salad dressing over giant lettuce leaves. Plus, this recipe can be (mostly) prepared in advance, making it a great side dish or meal prep recipe!
How to Make a Chopped Salad
My trick to a good chopped salad is to ensure that you don't end up with a watery mixture. In order to eliminate too much moisture, I like to salt the tomatoes and cucumbers and let them drain for a few minutes while I prepare the rest of the salad. This helps draw out extra water from the vegetables, you end up with a crispy, crunchy salad.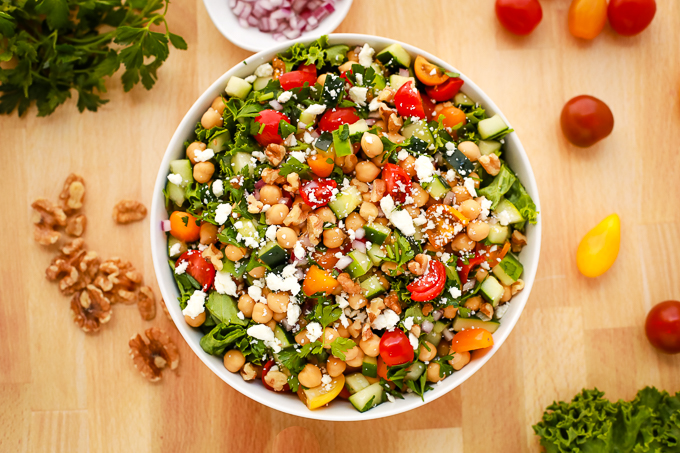 The other trick to a good chopped salad is to finely chop the ingredients. While it might take a few extra minutes to prepare the vegetables, the end result is worth it! You can chop the tomatoes, cucumbers, and red onion in advance if needed.
How to Remove Excess Moisture
As I mentioned, this recipe uses salt to draw out some of the excess moisture. First, slice the cherry tomatoes into quarters. Then slice the cucumber lengthwise and use a spoon to remove and discard the seeds. Then chop the cucumber into small pieces.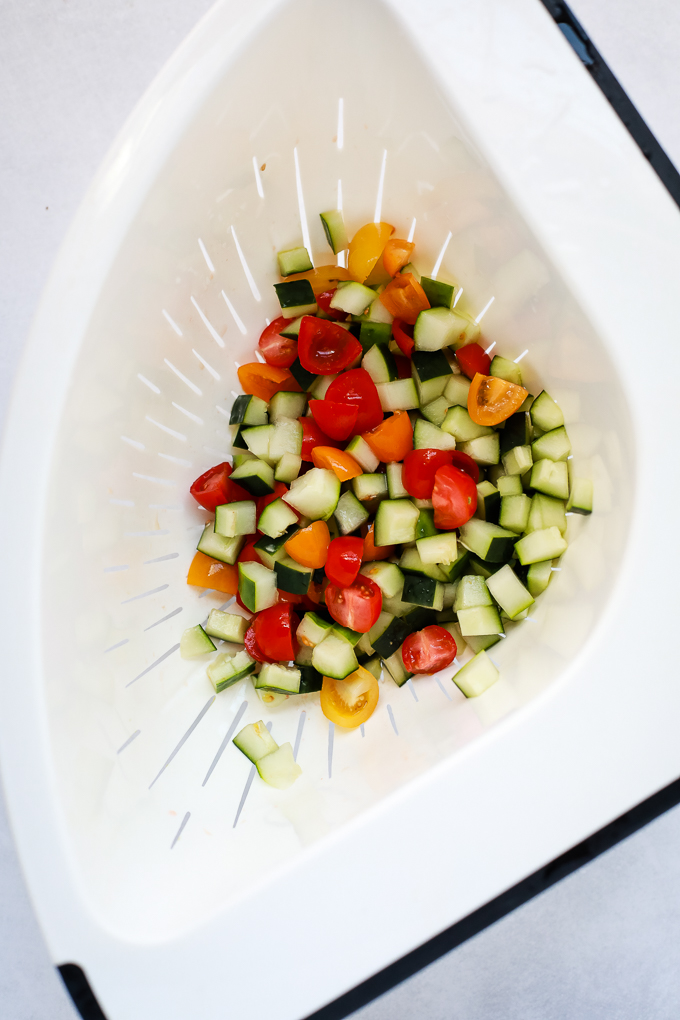 Add the tomatoes and cucumbers into a large colander. Sprinkle with salt and let sit for 10 minutes.
Substitution Ideas
If you want to keep this recipe vegan, feel free to skip the feta and just add a pinch of salt to taste.
If you don't have cucumbers, try chopped red or green bell peppers instead.
No chickpeas? Try this with white navy beans instead! Just be sure to stir them in carefully so they don't break apart.
How to Make a Homemade Vinaigrette
For this recipe, I kept the dressing simple. I mixed 1 part red wine vinegar with 1 part olive oil, then added Italian seasoning. If you don't have an Italian seasoning blend in your pantry, try 1/4 teaspoon dried oregano, 1/4 teaspoon garlic powder, 1/4 teaspoon dried rosemary, and 1/4 teaspoon dried basil. Add all ingredients to a small dish or jar and whisk until combined. Don't worry if the dressing separates. Simply give it a shake or stir before drizzling on your salad!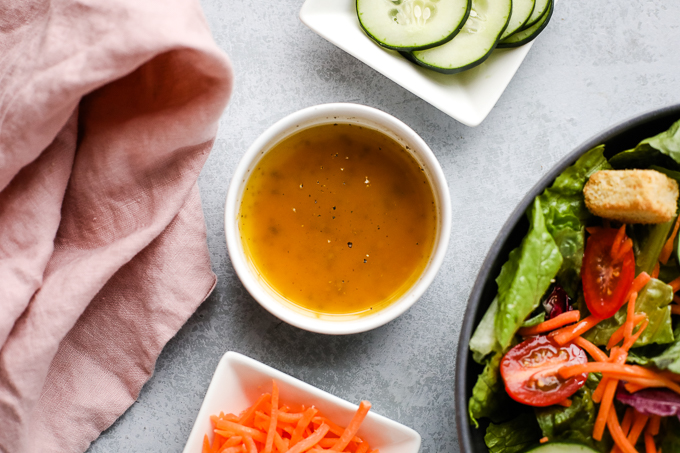 Make Ahead Tips
The dressing can be prepared in advance. You can also prepare the tomatoes and cucumbers and combine with the onion, and chickpea. Just wait to add the dressing, romaine, feta, and walnuts until you're ready to serve it.
Print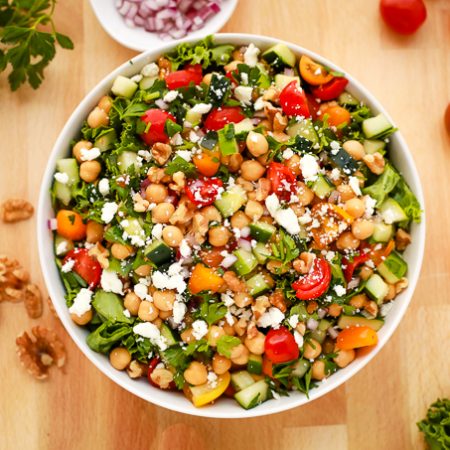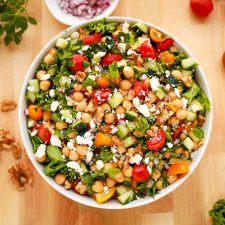 Mediterranean Chopped Salad
Author:
Prep Time: 15 minutes
Cook Time: 0 minutes
Total Time: 15 minutes
Yield: Serves 4
Category: Salad
Method: Chopped
Cuisine: Mediterranean
Diet: Vegetarian
---
Description
This Mediterranean chopped salad is loaded with vegetables, fresh herbs, and chickpeas for a filling meal that is easy to prepare!
---
For the salad
1 cup cherry tomatoes, quartered
1 large cucumber, halved lengthwise, seeded, and chopped
1/4 cup finely diced red onion
1 15oz can chickpeas, drained and rinsed
1/3 cup finely chopped fresh parsley
4 cups chopped romaine lettuce
1/4 cup crumbled feta cheese
2 tablespoons chopped walnuts
For the dressing
3 tablespoons olive oil
3 tablespoons red wine vinegar
1 teaspoon Italian Seasoning
Salt to taste
---
Instructions
1. Place the tomatoes and cucumber in a colander and sprinkle with salt. Set aside for 10 minutes to allow the moisture to drain from the tomatoes and cucumbers.
2. In a large bowl, combine the red onion, chickpeas, and parsley. Once the cucumber and tomatoes have drained, add them to the bowl.
3. Once you're ready to serve the salad, add the romaine, feta, and walnuts.
4. Drizzle 1/4 cup of dressing and toss to combine. Add more dressing if needed.
---
Keywords: Mediterranean Chopped Salad
Looking for more tasty salad recipes? Here are a few of my favorites!
Feta and Orzo Pasta Salad – This is also a great way to use up leftover parsley, feta, red onion, and chickpeas!
Vegetable Chopped Salad with Ranch – This classic salad uses tons of fresh vegetables and a drizzle of ranch for a homestyle salad that the whole family will enjoy!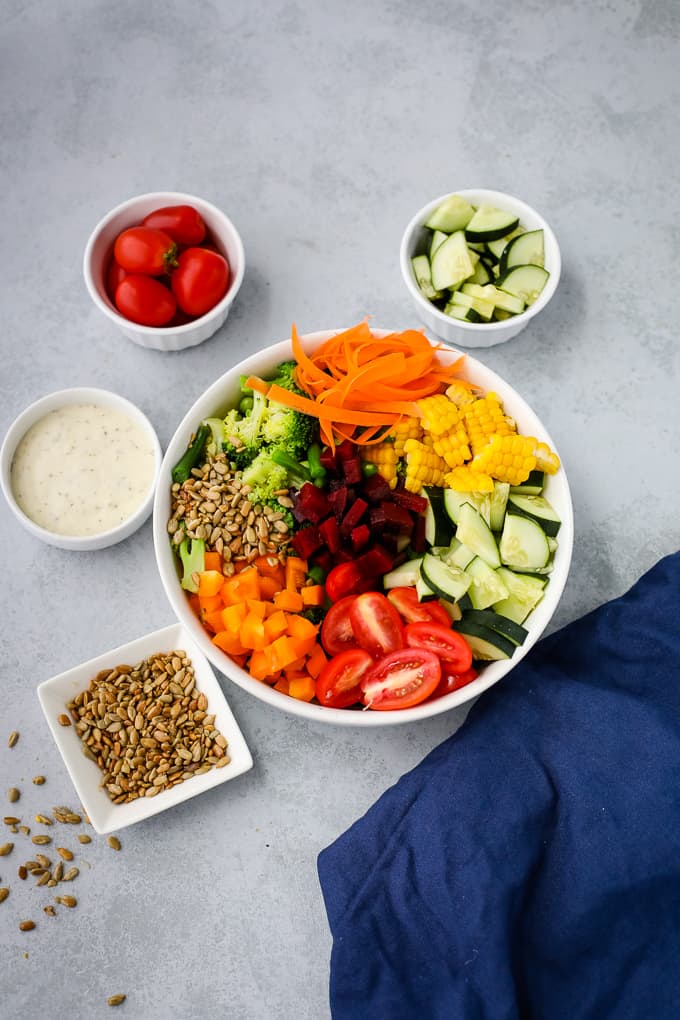 What's your favorite kind of salad?