Slow Cooker Lentil Soup
This hearty slow cooker lentil soup is filled with vegetables and packed with plant-based protein. This cozy soup is healthy comfort food at its finest and it's so simple to make!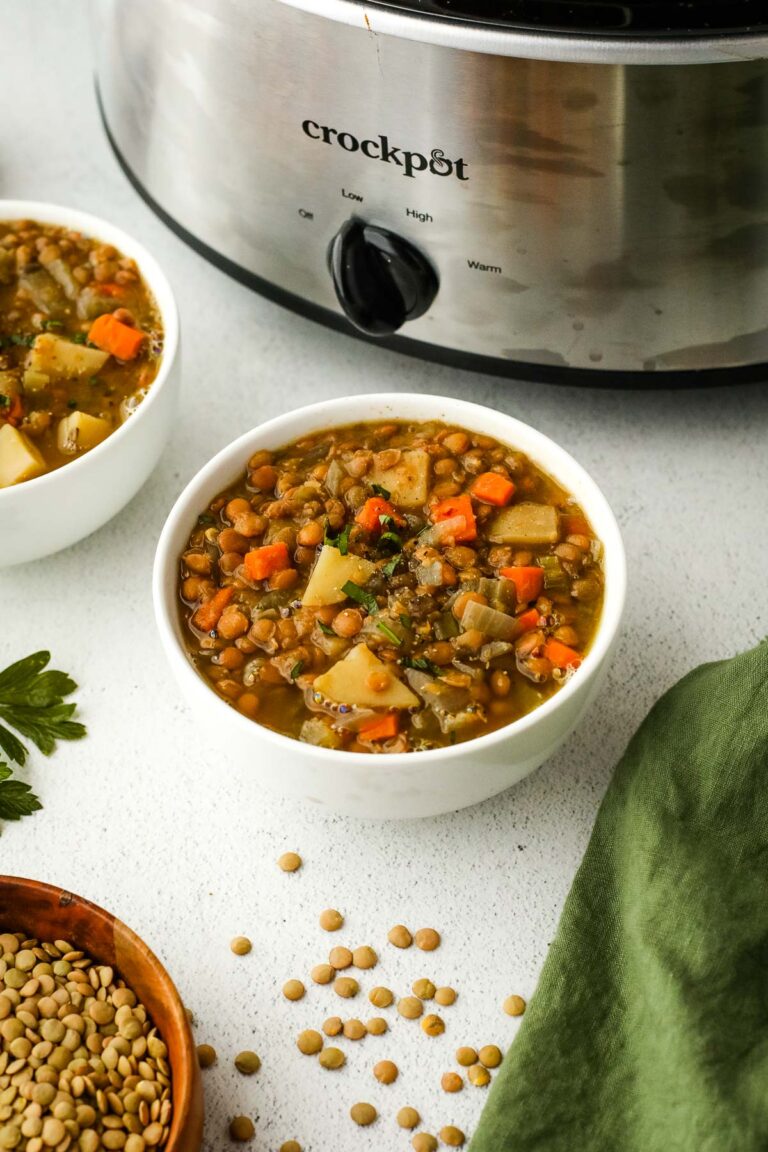 We eat a lot of lentil soup and after years of making my stovetop lentil soup, I shared an Instant Pot Lentil Soup that can be made quickly! But then I started thinking, why not share a slow cooker version, too? It's a great one to make before work so you can come home to delicious soup. This soup is surprisingly hands off. Just add everything to the slow cooker and turn the dial to start. It really is that easy!
Why I Love Lentils
As a vegetarian, I love lentils because they're a great source of plant-based protein! They're also an excellent source of fiber which means this soup will really fill you up. They add a heartiness to this meal, but lentils are very inexpensive, so it's a great budget-friendly alternative to something like beef. Plus, lentils last a long time in the pantry so you can always keep some on hand without worrying about a looming expiration date. If you're looking for another way to use them, try my Southwestern Lentil Soup!
Health Benefits of Lentils
As I mentioned, lentils are an excellent source of plant-based protein. They contain 9 grams of protein per 1⁄2-cup serving. They also contain fiber as well as vitamins and minerals. They're one of the cheapest protein sources you'll find at the grocery store. If you love lentils as much as I do, try my simple spiced lentils.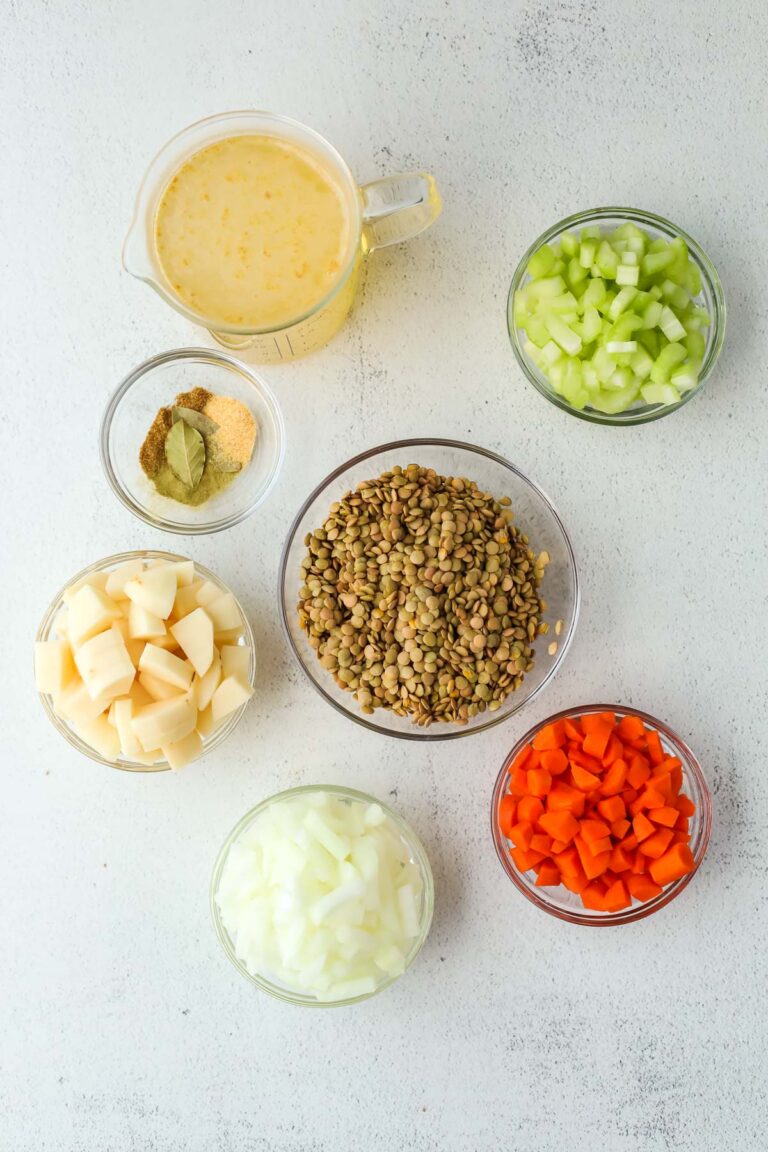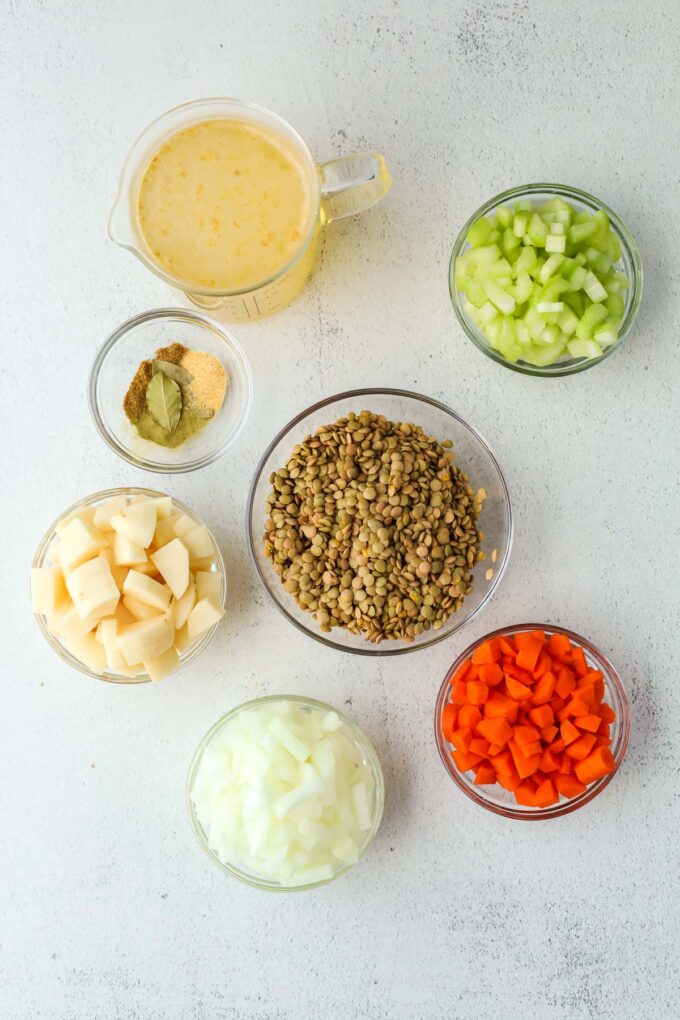 Ingredients and Substitutions
Mirepoix– The onion, carrot, and celery are a traditional mirepoix base. If you're missing an ingredient, check out this post for substitution options.
Lentils– You'll need brown or green lentils for this recipe. Red lentils and black lentils cook differently and can't be used in this recipe.
Garlic powder– Normally I recommend fresh garlic for soups, but since we're skipping the sauté I actually prefer garlic powder in this recipe.
Bay leaf– A bay leaf adds a savory, slightly citrusy flavor. You can leave it out if you don't have any.
Cumin– This adds additional flavor with a hint of earthy spice.
Thyme– Dried thyme adds a savory flavor. Substitute with 1/4 teaspoon dried rosemary if you don't have any dried thyme.
Vegetable Broth– I like Edward & Son's "Not-Chicken" style broth, but any style broth is fine.
Lemon juice– A like adding a squeeze of lemon juice at the end to brighten the flavors of the soup. You could also do this with a little vinegar.
Optional Additions
I have a few variations of this lentil soup, so feel free to play around with this recipe! You can add a can of diced tomatoes to add an additional layer of flavor and boost the vegetables in this soup. You can also add fresh spinach or kale at the end. Simply add in a few handfuls of chopped greens (be sure to remove kale stems) and stir. Let it cook for a few minutes until the greens are bright in color. This soup is also delicious with a sprinkle of fresh Parmesan cheese for additional savory flavor. As always, be sure to season your soup with salt and pepper to taste.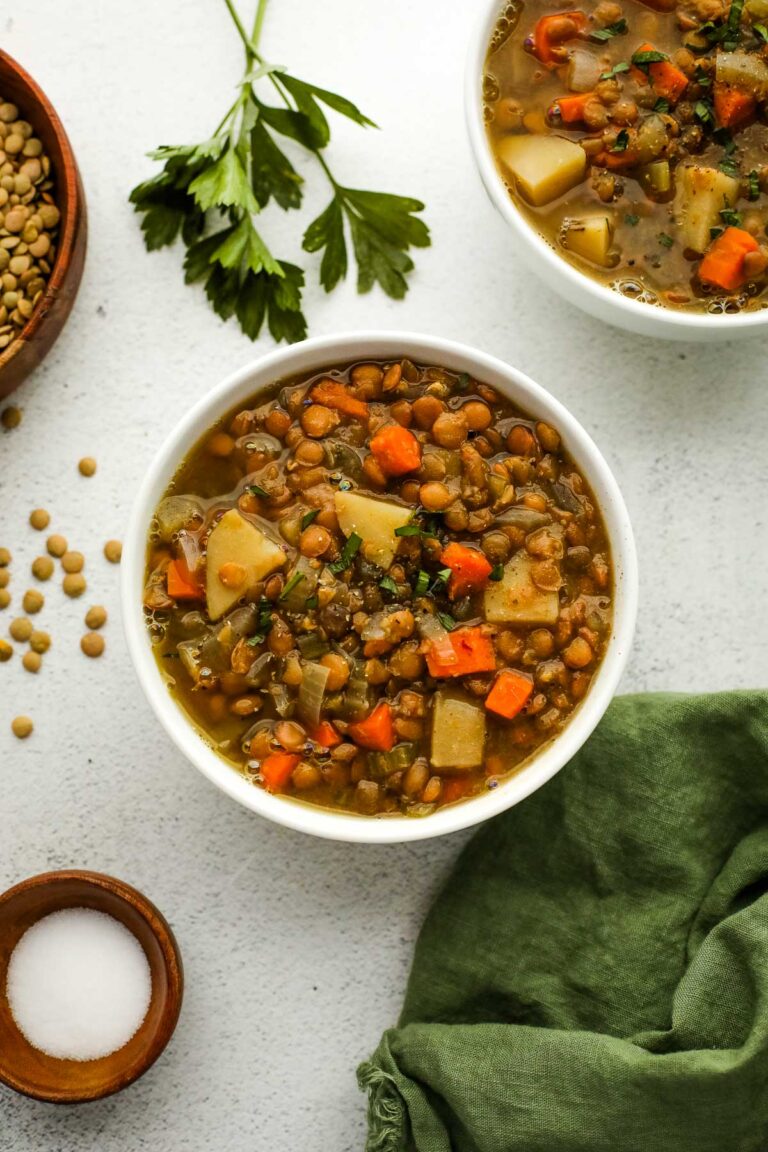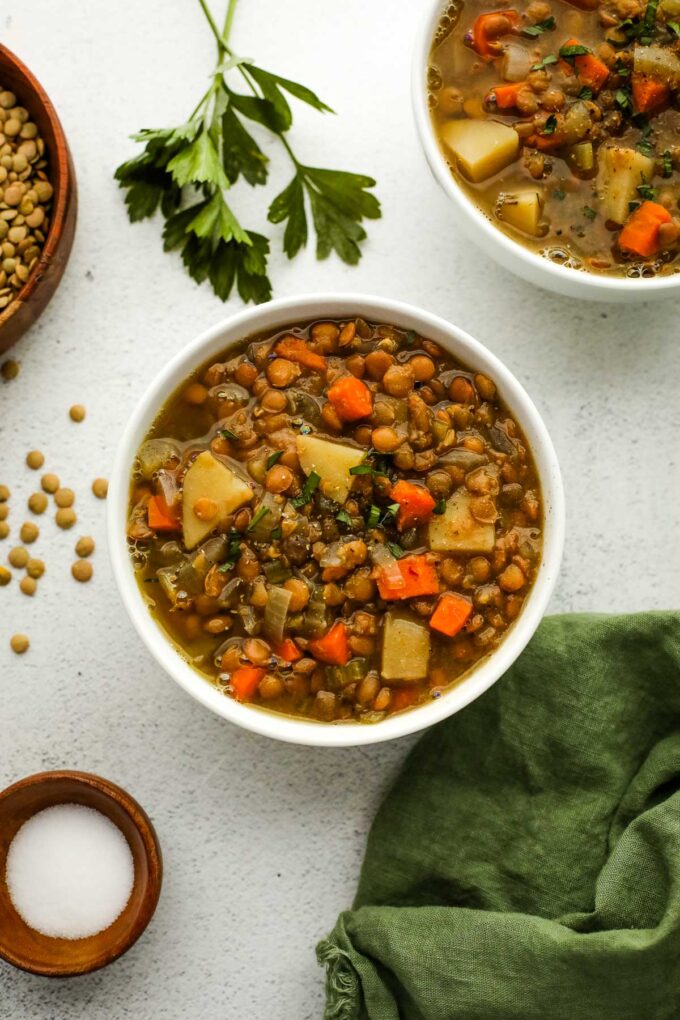 What size slow cooker do I need?
I used this large 8 quart oval-style Crockpot brand slow cooker, but any brand of slow cooker should work fine for this recipe. You'll need at least 6-quart capacity to avoid overflowing and to ensure that the soup can cook evenly.
How to Make Lentil Soup in a Slow Cooker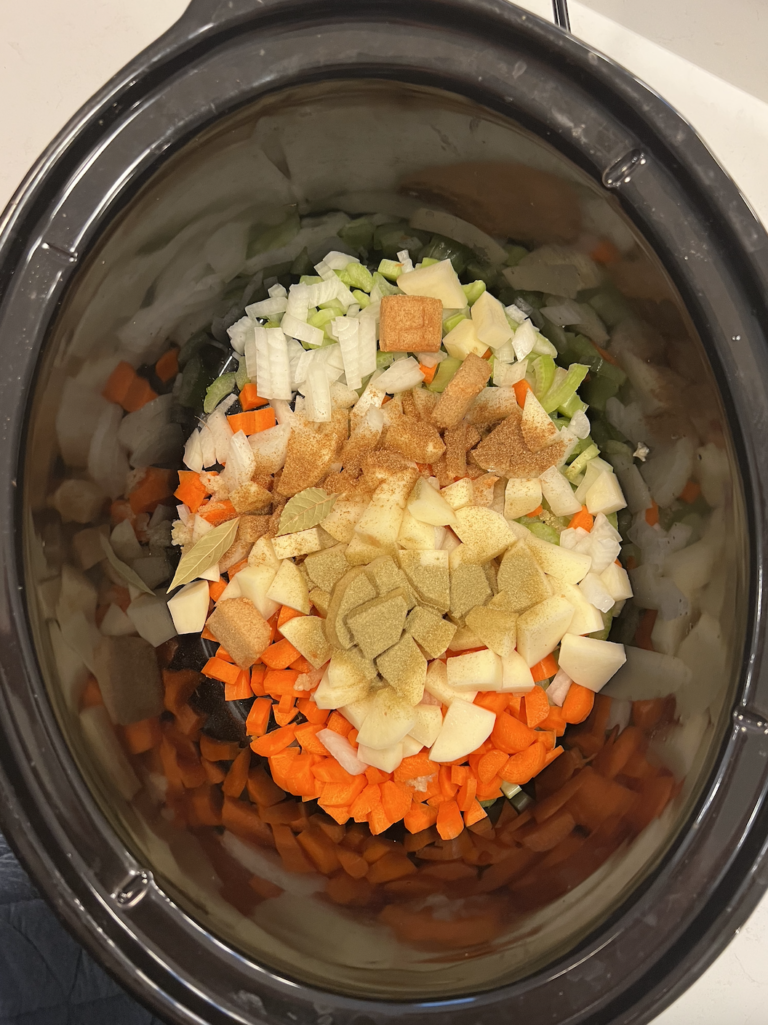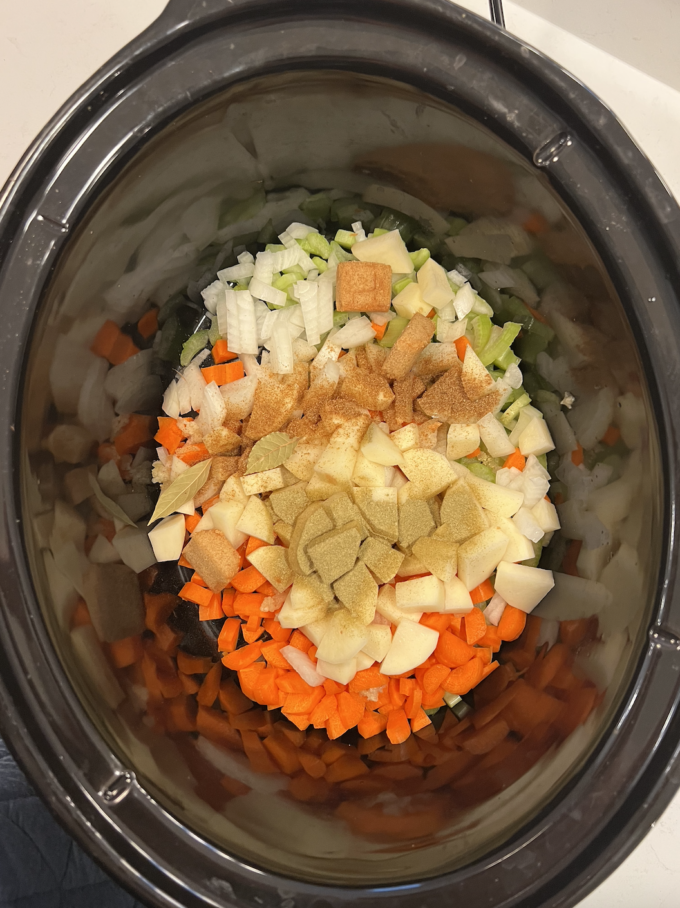 How to Make this Recipe on the Stovetop
If you don't have a slow cooker, you can still make delicious lentil soup! Check out my Mediterranean Lentil Soup recipe. It's very similar but the instructions are for cooking it on the stovetop. Or if you're short on ingredients, this Garlic Lentil Soup is made on the stovetop and it's only a few ingredients!
How to Make this Recipe Faster
If you don't have time to spare, try making this recipe in an Instant Pot or pressure cooker! My Instant Pot Lentil Soup is similar to this one but with pressure cooker instructions.
What to Serve with Soup
If you want to add even more veggies to your meal, try pairing this hearty soup with a salad! Try a chopped salad, kale salad, or a simple salad of mixed greens and a simple olive oil vinaigrette. It doesn't have to be fancy!
This soup is also delicious paired with a crusty loaf of bread. Garlic bread, Beer Bread, or a crusty loaf of my Dutch Oven Bread makes a perfect companion to a bowl of hearty soup. You can dunk it right in the bowl or enjoy or separately! Either way, it's a delicious and easy way to fill up. If you love sourdough bread, consider a subscription to Wildgrain!
How to Store Leftovers
Store leftovers in an airtight container in the fridge for up to four days. Simply reheat the leftover soup on the stove or in the microwave. You can even freeze the leftovers for up to one month. It's perfect to keep in the freezer for a busy night!
More Lentil Recipes
Print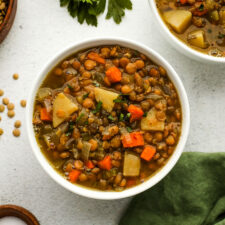 Slow Cooker Lentil Soup
Author:
Prep Time: 10 minutes
Cook Time: 3-4 hours
Total Time: 35 minute
Yield: 8 cups 1x
Category: Soup
Method: Slow Cooker
Cuisine: American
Diet: Vegan
---
Description
This hearty slow cooker lentil soup is filled with vegetables and packed with plant-based protein. This cozy soup is healthy comfort food at its finest and it's so simple to make!
---
1 yellow onion, diced
3 large carrots, chopped
3 celery stalks, chopped
3 cloves garlic, minced
1/2 teaspoon cumin
1/2 teaspoon dried thyme
1 bay leaf
6 cups vegetable broth
1 cup brown lentils, rinsed
1 large russet potato, chopped into 1" pieces
1 tablespoon lemon juice
---
Instructions
Add all the ingredients except the lemon juice to a slow cooker and stir to combine.
Cover and cook on low for 6-8 hours or high for 3-4 hours, until lentils and potatoes are soft.
Add the lemon juice and season with salt and pepper to taste.
---
Keywords: slow cooker lentil soup