Wildgrain Review
A few weeks ago, Wildgrain sent me a sample of their subscription box to review, and I wanted to share my thoughts! This blog post isn't sponsored and I wasn't required to write it but, spoiler alert, I'm in love with Wildgrain. If you want to try it, use the code IHEARTVEGGIES to save $10 off your first box!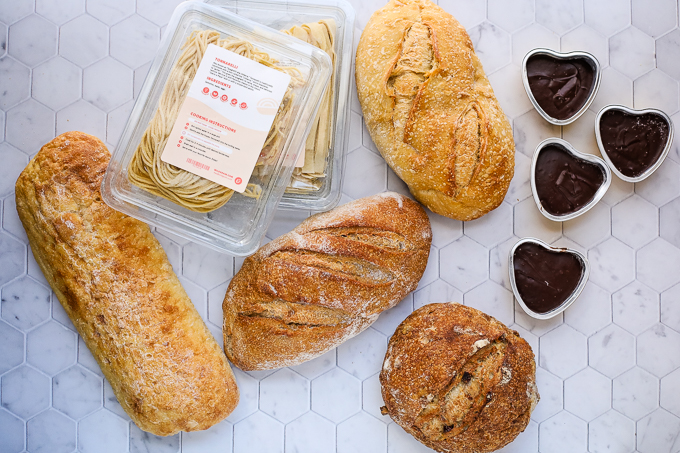 If you've been following me for awhile, you know I love bread. And while I love making fresh bread, sometimes I don't have the time or energy to make a loaf from scratch. I used to make the drive to the grocery store just to buy a loaf of bread for the dinner table. But now? I can just grab a loaf from my freezer thanks to Wildgrain!
What is Wildgrain?
Wildgrain is a subscription box for sourdough bread, fresh pasta, and artisinal pastries. Yes, it's like a dream come true. Each box typically contains 4 loaves of bread, 2 kinds of fresh pasta, and 1 pastry/dessert item, but there are options to swap in different items depending on your preferences. They also rotate products based on the season, which is fantastic. Here's what was in my first Wildgrain box:
Sourdough
Whole Wheat Sourdough
Harvest Grain Sourdough
Slow Fermented Olive Oil Ciabatta
Pappardelle pasta
Linguini pasta
Molten Chocolate Cakes
In later boxes, I've gotten other types of sourdough bread, a cranberry walnut loaf, peach pie pastries, and more! It's been such a fun way to try new products and I've never had something I didn't like. (What can I say, I love bread!) The pasta is also such a great thing to keep in the freezer for busy days. While I love making fresh pasta when I have the time, I ususally need something faster!
What Type of Bread do They Make?
Wildgrain ships sourdough bread, right to your door. The bread is made with clean ingredients and all of their products are vegetarian. So far, my favorite bread is the slow-fermented sourdough ciabatta bread. It's crispy on the outside, and so soft and chewy on the inside. Their Brioche rolls are also incredible. They're so soft and fluffy with just the right amount of sweetness. I've been so impressed with the quality of their products!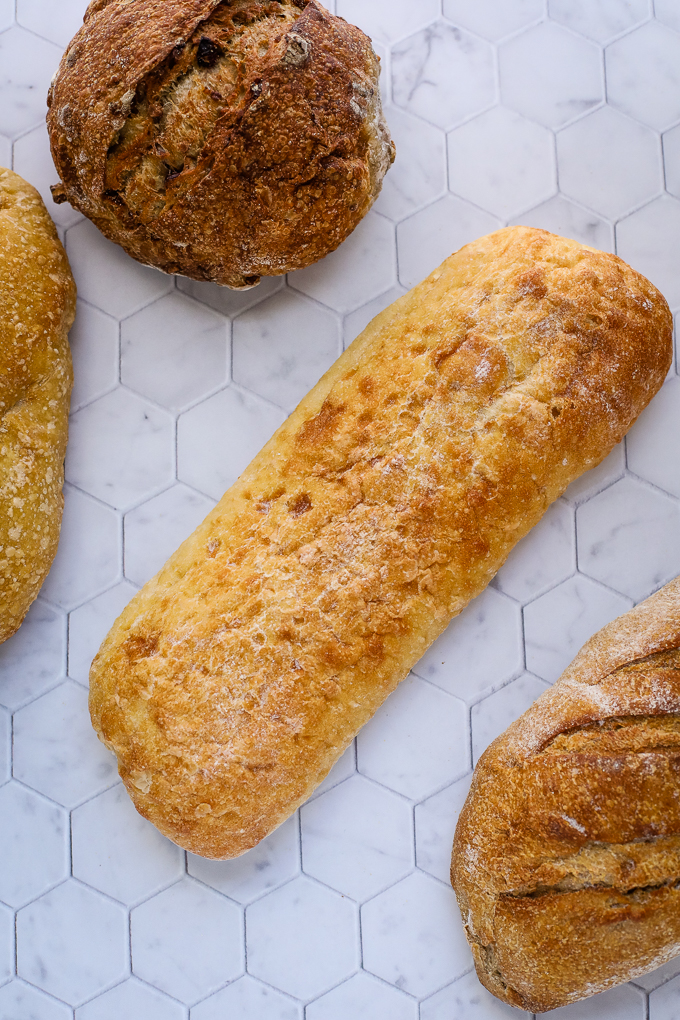 How is the Wildgrain Pasta?
Each box also contains fresh pasta, which is frozen until you're ready too cook it. It only takes a few minutes to transform frozen pasta into a delicious meal. I love that it tastes better than dried pasta, but it cooks just as fast! We love making fresh pasta when we have the time, but it's nice to have a convenient frozen option when we need something faster. We've tried the linguine, fettuccini, and parpardelle. All of them were delicious and easy to toss with our favorite sauce for a fast dinner.
How are the Wildgrain Pastries?
I'm not usually a big pastry person so I didn't expect to be too excited about some of the pastry options. But I have to say, it's been really nice to have them in my freezer for a late-night treat! In our first box, we got molten lava cakes which were perfect for a special date night dessert. In a later box, we got peach pie bites which were a lovely, summery treat that we could pull out during a last-minute get-together with friends!
Can I Skip a Wildgrain Box?
Yep! If you want to pause or cancel your order, you can do that at any time. You could even get delivered every other month if you prefer! I love that it's flexible and you don't have to sign up for a long subscription if you're just curious to give it a try. Plus, they have fast and free shipping.
How Long Does the Bread Last?
All the products come frozen and you store them in your freezer, until you're ready to bake or prepare it. That means you can have freshly baked bread, pasta, and pastries whenever you want it!
I was skeptical that frozen bread would taste just as delicious as fresh bread but it does. That's because you finished baking it in the oven, no thawing required. I can't tell you how many times I've gone to the grocery store just to get a fresh loaf of sourdough to enjoy with a pot of soup. Now I can just keep it in my freezer!
What if I have allergies?
Wildgrain posts the ingredients for all their products online. Everything is vegetarian and you'll notice that their ingredients lists are short. Everything is non-GMO, no artificial colors, nothing weird. Just the good stuff. It's the type of bread you'd get at a local bakery, but without having to make the trip!
How much does Wildgrain Cost?
Each box is $89, which includes shipping. But you can use my discount code, IHEARTVEGGIES to save $10 off, plus get free sourdough rolls added to your box!
Do you have a Wildgrain Coupon Code?
Yep! My affiliate code is IHEARTVEGGIES and you can save $10 off your first box! Right now they also have a promotion for free sourdough rolls for LIFE and you can stack those promotions! So hurry up and give it a try before the promotion ends!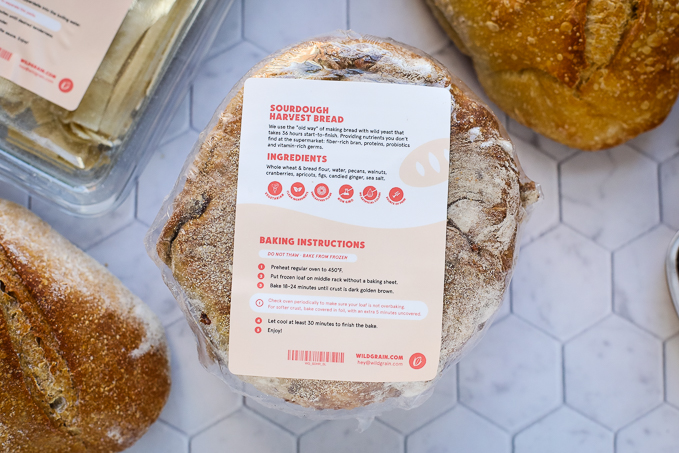 Got a question about Wildgrain? Ask it in the comments below!