How to Cook Red Lentils
Red lentils are one of my favorite sources of plant-based protein! I'll show you the best ways to prepare them and some of my favorite recipes that use red lentils.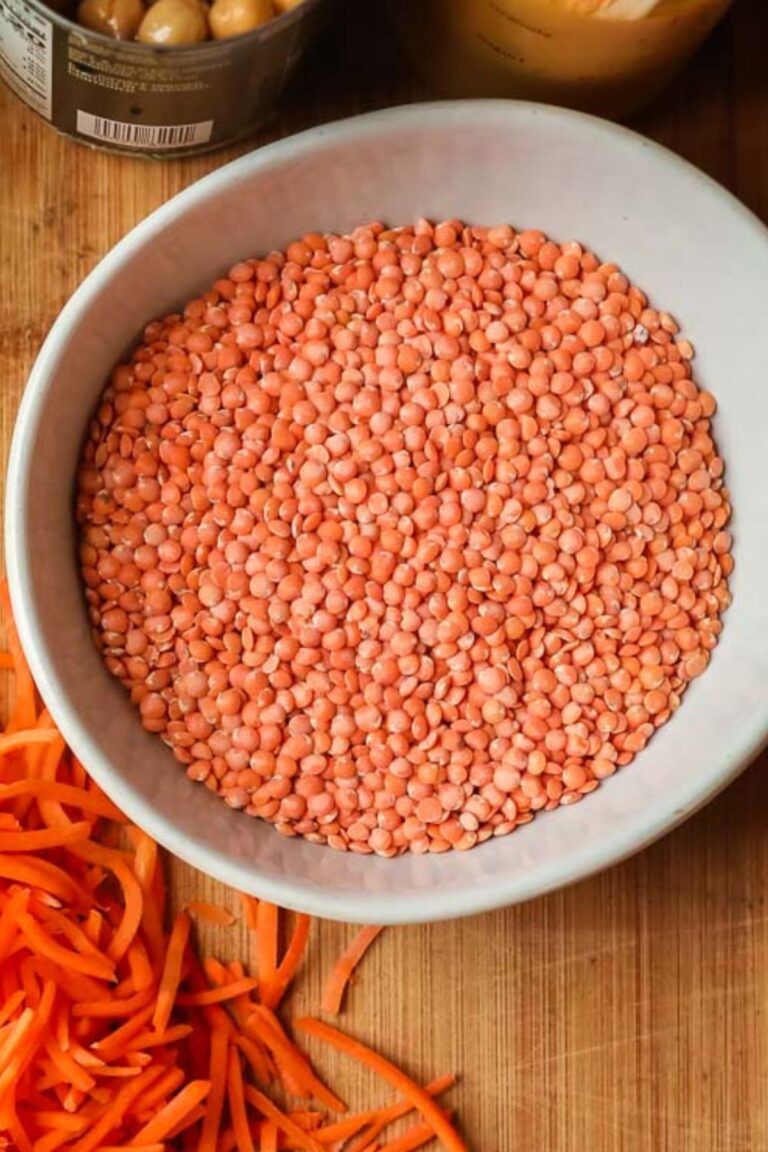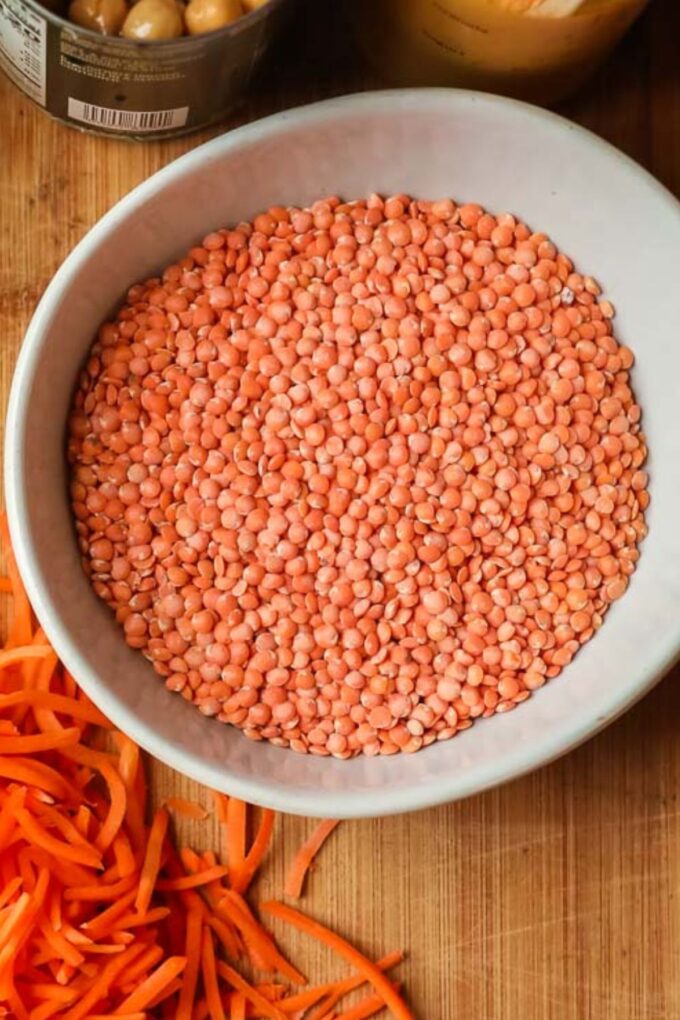 What are red lentils?
Red lentils are part of the legume family and have a mild, nutty flavor and a soft, creamy texture when cooked. As their name suggests, red lentils have a reddish-orange color. One of the benefits that sets red lentils apart is that they cook quickly compared to other types of lentils.
Red lentils are a staple ingredient in many cuisines, particularly Indian, Middle Eastern, and North African dishes. They are often used in soups, stews, curries, and dal, but you can even add them to things like pasta sauce.
Are red lentils healthy?
Yes! Red lentils are a good source of protein, fiber, and complex carbohydrates as well as vitamins and minerals, including iron, potassium, and folate.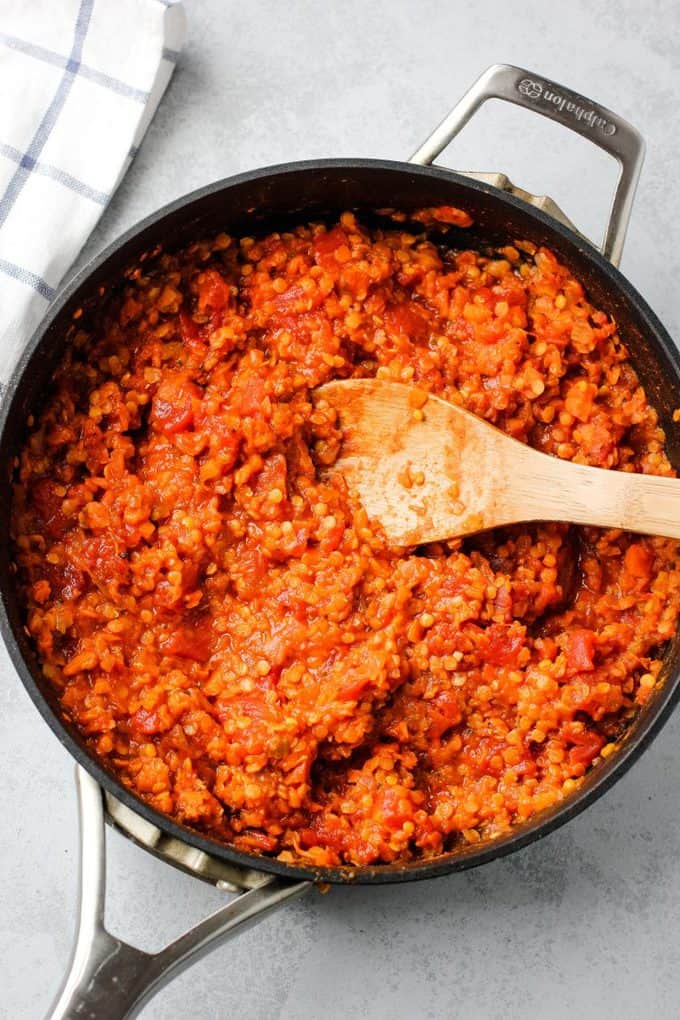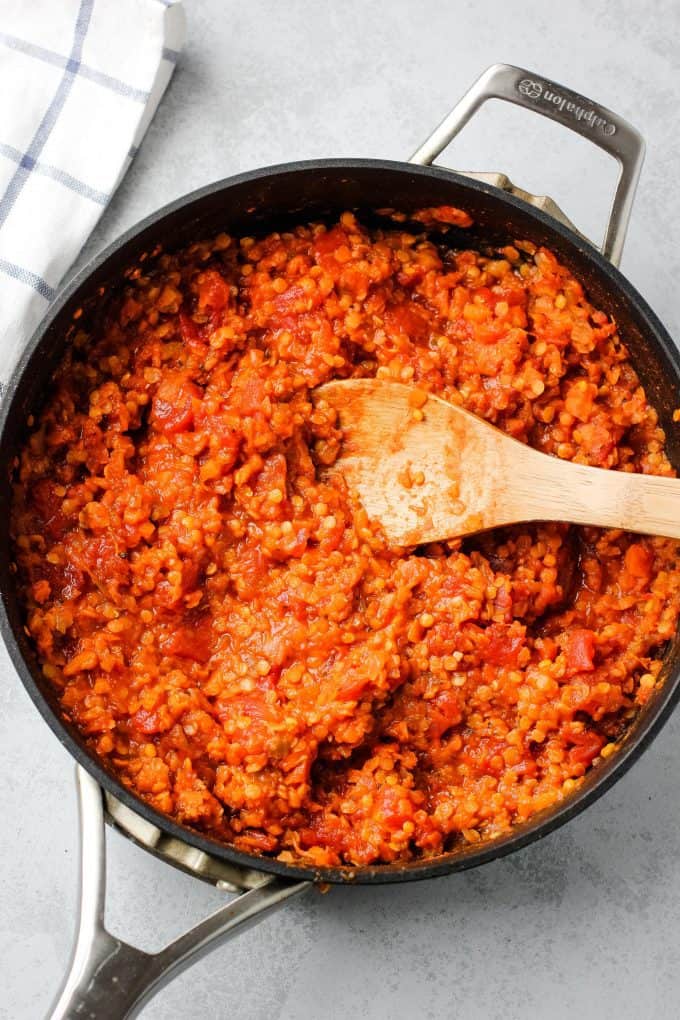 Do you have to soak red lentils before cooking them?
Nope! Red lentils don't require soaking because they cook faster than other dried beans and lentils. But you do need to rinse the lentils under cold water before cooking them to remove any dirt or debris.
What is the ratio of water to red lentils?
This depends on the recipe. Generally, the ratio is 2 1/2 cups of water or broth for every one cup of dried red lentils. However, if you want a thicker consistency, you can use slightly less water or broth.
What do red lentils taste like?
Red lentils have a slightly sweet and nutty flavor that is more delicate than the earthy taste of other lentil varieties. This mild flavor makes them an excellent addition to various dishes, from soups and stews to salads and dips.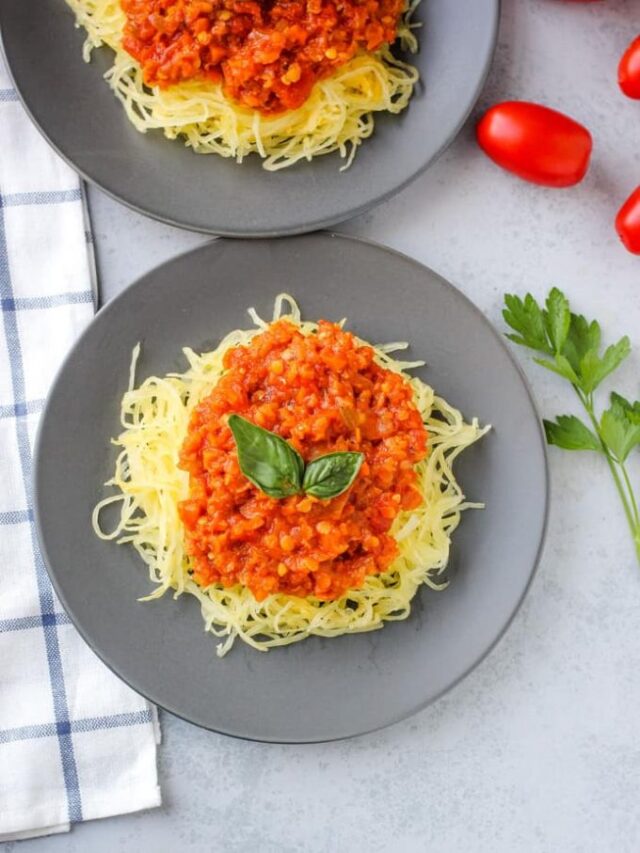 What's a good substitute for red lentils?
Yellow or golden lentils are similar to red lentils and can be substituted in most recipes. Other types of lentils, such as green, brown, or French lentils, cannot usually be substituted for red lentils as these other types don't break down the same way.
How can I use cooked red lentils?
If you like smooth, puréed soup, try my Instant Pot Red Lentil Soup which has a light, lemony flavor. If you want a thicker, spicy soup, try this Spicy Red Lentil Stew. Red lentils also make a great vegan bolognese sauce, which is a great way to add protein to your favorite pasta!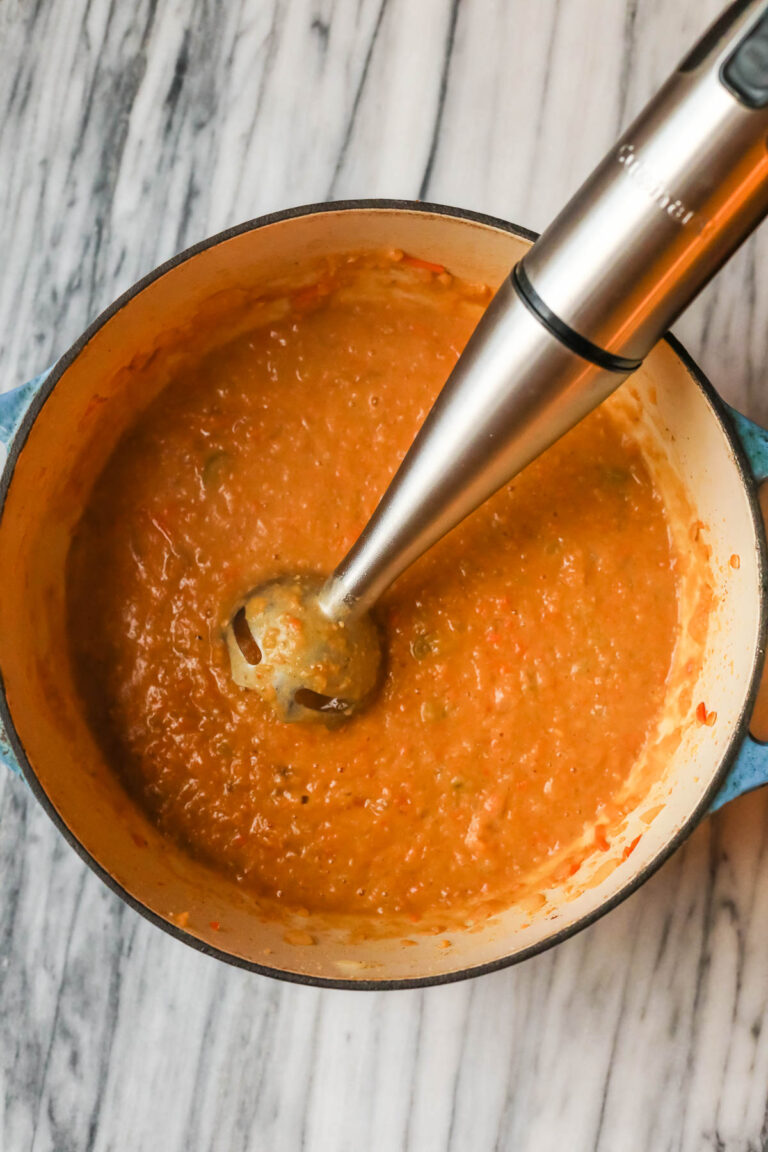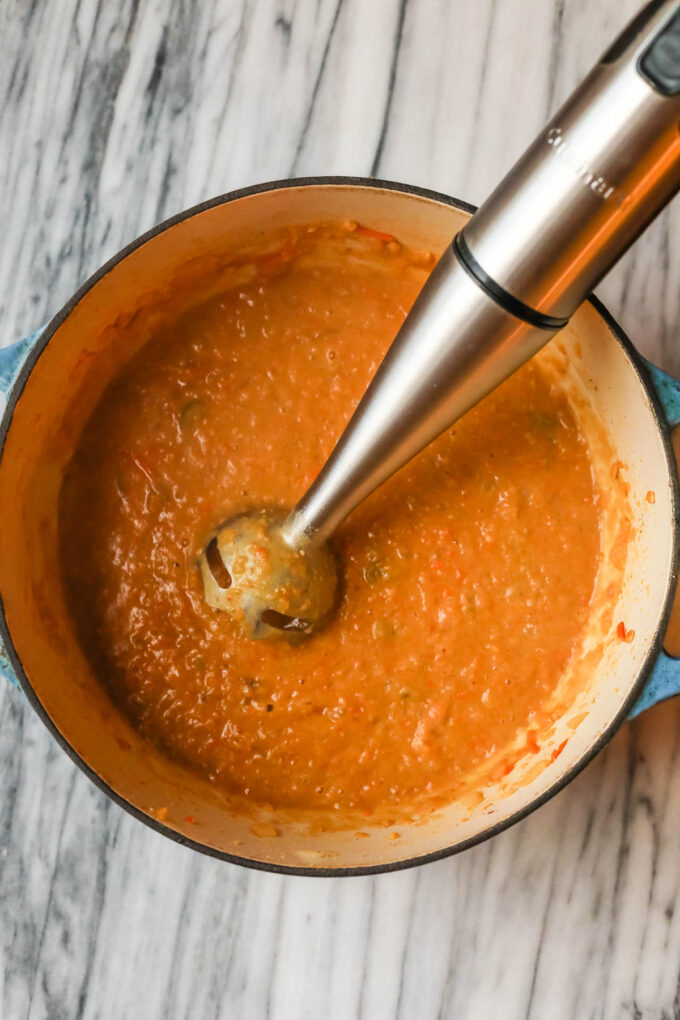 What's the best way to season red lentils?
Red lentils are delicious with seasonings like curry powder, lemon, turmeric, and ginger. This immunity boosting soup is made with red lentils, and it's packed with flavorful spices! You can also buy a jar of masala simmer sauce and stir that into the lentils to create an easy, flavorful meal.
What are split red lentils?
Most red lentils sold in the grocery store are "split" red lentils, meaning they have been hulled and split in half. Whole red lentils are less common, and they take slightly longer to cook. Most red lentil recipes, including the ones on my site, call for split red lentils.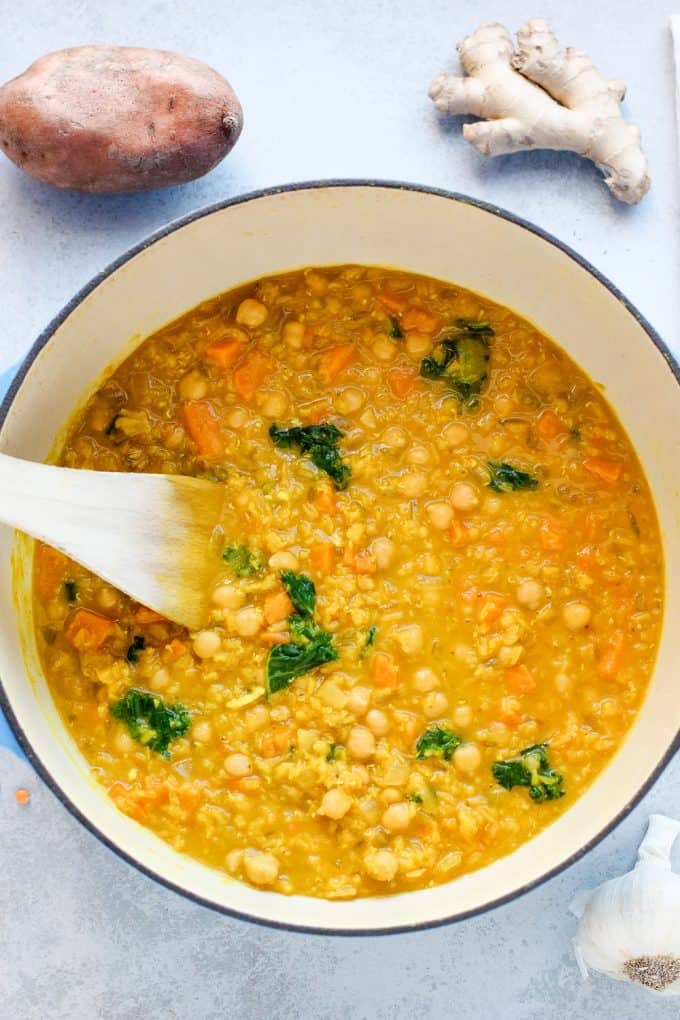 How to sort lentils
Some recipes will tell you to "sort" the lentils. This is just the process of removing any small stones or debris from the lentils before cooking them. Discard any lentils that are discolored, shriveled, or have obvious signs of damage.
After sorting, rinse the lentils under cold running water to remove any remaining debris or dirt. Then, drain the lentils and they are ready to use in cooking.
Sorting lentils is an important step to ensure that the lentils are clean and safe to eat, and to prevent any unwanted flavors or contaminants from affecting the final dish.
Do I need to rinse red lentils?
Yes, most lentils need to be washed before they're cooked. Measure out the red lentils, then place them into a fine mesh strainer. Rinse until the water runs clear. Check for any small rocks or stones that could be in the lentils, and discard them.
Frequently Asked Questions
Why did my red lentils turn to mush? Red lentils break down quickly when cooked, so they're great for thickening soups and stews. But if you wanted the lentils to hold their shape and texture, try using green or brown lentils instead.
Do you need to drain red lentils after cooking? Most of the time, red lentils are cooked directly in a soup or stew so there's no need to drain them.
How should I store red lentils? Lentils should be stored in a cool, dry place — a pantry or cupboard is a good place. Most lentils will last between 6 months and a year, so they're a great pantry staple!
Where can I buy red lentils? They're sold at most grocery stores near the dried beans. They typically come in a one-pound bag, although you may be able to buy them in bulk bins at some stores.
Can I use red lentils on a salad? I'd recommend using brown or green lentils for a salad, since they hold their shape. Red lentils might taste mushy on a salad.
Are red lentils expensive? No, they're actually quite cheap! They're a great inexpensive source of plant-based protein.
Do lentils go bad? Yes. While they do last a long time, lentils do eventually expire. When they're past their prime, they'll take a very long time to cook and break down.
Print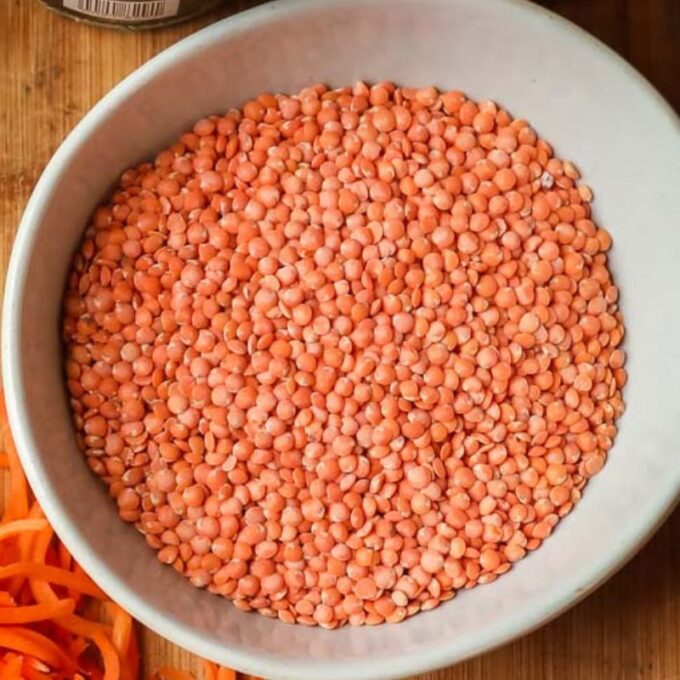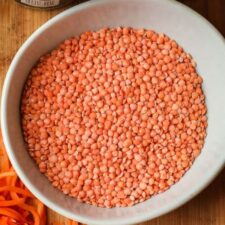 How to Cook Red Lentils
Author:
Prep Time: 2 minutes
Cook Time: 10 minutes
Total Time: 12 minutes
Yield: 2 cups 1x
Category: Side Dish
Method: Stovetop or Instant Pot
Cuisine: American
Diet: Vegan
---
Description
Red lentils are one of my favorite sources of plant-based protein! Here's the best way to prepare them and some of my favorite recipes that use red lentils.
---
1 cup red lentils, rinsed
2 –2 1/2 cups water or vegetable broth
---
Instructions
How to Make Red Lentils on the Stovetop
Add the lentils and 2 cups of water or broth to a pot and cover.
Bring to a boil then reduce heat to low and simmer 6-10 minutes or until you reach desired firmness.
How to Make Red Lentils in an Instant Pot
Combine 1 cup of red lentils and 2 1/2 cups of water to vegetable broth in the Instant Pot.
Lock the lid in place and ensure the pressure valve is set to seal.
Cook on manual pressure cook for 3 minutes.
Let the steam naturally release for 5 minutes, then turn the valve to release any remaining steam.
---